Steve Kean's Blackburn made it three wins in the last four to haul themselves out of the relegation mire. Once again it was the talents of Junior Hoilett and Yakubu that came good – providing further evidence of Blackburn's firepower which seems set to preserve their Premier League status. Here's the notes on last night's Ewood encounter…
Morten Gamst-Pedersen
Playing alongside Steve N'Zonzi in a central midfield role, the Norwegian was a hugely influential force and produced the assist for Yakubu's vital second goal. Gamst-Pedersen has now provided two goals and five assists in his last twelve league starts – a burst of form that has helped maintain a supply line to both Yakubu and Junior Hoilett.
Yakubu
Suspended for Gameweeks 22-24, the Nigerian's returns had slowed of late. Last night's goal was only his second in five games – a spell which has seen other low-to-mid price assets such as Fulham's Pavel Pogrebnyak rise in popularity. At 5.9 in the Fantasy Premier League game, Yakubu still offers value and has proven himself fixture proof enough to ensure that he can be considered, even despite Blackburn's tough short-term schedule (bol MUN wba LIV swa).
Junior Hoilett
With a 5.5 price tag, Hoilett is the alternative to Yakubu as a Rovers attacking option. Whilst he's spent much of the season in a wide role, a position that has appeared to hamper his Fantasy returns, Kean's decision to bring Hoilett in-field in a direct support role to Yakubu appears to afforded the Canadian a greater involvement. His smart volley for the Rovers opener was his sixth of the campaign and, significantly, his third goal in two games. While Yakubu has the benefit of spot-kicks in his locker, Hoilett's influence on Blackburn's overall play is greater and, if he can maintain his newfound levels of goal threat, he could yet justify a punt as a third striker options.
Sunderland's slipping form
The honeymoon period appears to be over for Martin O'Neill. While the results were dropping in, statistically the Black Cats were always producing few efforts on goal. That doubt has come to the fore in recent matches, with Stephane Sessegnon's absence robbing them of a creative spark. Last night, O'Neill's side mustered just three goal attempts – they have scored just four goals in their last six league games. Sessegnon's return from suspension can't come quick enough but there will be concern that, even with his presence, O'Neill's side are struggling for a cutting edge. Sessegnon will be reinstalled for the visit of QPR at the weekend with O'Neill likely to drop Frazier Campbell back to the bench. Meanwhile, James McClean has now failed to notch a Fantasy return in his last four matches. Although he provided a strong supply of crosses last night, with other budget options flourishing, the left winger's stock is now in decline. Sunderland badly need to find a higher gear against the R's.
4pt hit to bring in suarez for ba this week? just for this week then im bringing in ade.

chasing a lead so would love the differential vs wigan. what do you guys think?

for a hit, no. Ba away at west brom isn't exactly a tough fixture to go into with +4 points.

i realize thats the safe option, but im chasing a lead and everyone at the top of my league has ba. if suarez scores big then i gain a great deal of points..

nor at home was also not exactly a tough fixture. maybe the bawagon is over?

im giving Ba one week only then he's out for sure. Suarez is maybe worth a punt if you like but he hasn't scored 2 in a game all season. when you add -4 into the equation from the start it makes it a bigger risk, and if Ba gets any points even more so. Depends how suarez goes tonight..

so if suarez scores today @ QPR and since ba didnt score home to NOR. can i take that as a sign to bring in suarez?

its still a risk for a hit imo. But if he's on fire tonight you could decide whether its worth a shot. ba is on pens as well, away at west brom isn't the worst fixture. If it was away at city or united maybe, but i could see Ba picking up some points. i'm also not a fan of 1 week punts as next week you might spot a player you want to get in and will need to take another hit to get suarez out for Ade.

unless you plan on keeping Suarez from here on in I see no point in taking a hit for him, you may as well just hold Ba for 1 more week then draft in Ade.

:D, so, bench from this competitive front 8:

valencia,siggy,bale,mcclean,silva

....rvp,ba,rooney....

Narrow it down to Silva & Ba

Please RMT:
Mignolet
Evans Enrique Caulker
Silva Bale Valencia McClean
Ba RVP Rooney
Subs: Schwarzer Bardsley Simpson Dempsey

2 free transfers, and 0.1 M in the bank

Don't see much wrong there tbh. Although you have 2 FTs I'd think about just losing 1 as you'll want Clint at home to Norwich next week. Maybe lose Silva in order to fund Ba - Ade GW31 or just hold for 1 more week then downgrade Clint to do it.

My very very early scout picks predictions for GW 30:

Ruddy
Evans-Skrtel-Caulker
Walcott-Sigurdsson-Valencia-Surman
Rooney-RVP-Suarez

Subs; Sessegnon,Yakubu,Sagna

So I'm thinking Moses -> Valencia this week... anyone gonna stop me? No... I thought not! 😀

ahhhh I keep forgetting how cheap Valencia is!! You really want to keep Silva?

I'm going to get rid of moses anyway, so I might as well just get Valencia now... can always trade silva later on

Don't know why I even said anything:

Keeping McClean one more game against QPR
Moses is best away from home, next away fixtures are Liverpool, Chelsea, Arsenal
Valencia is a must have and an amazing upgrade for Moses

Conclusion....DUHHHH!

😉 no brainers suite me just perfectly!

My only problem will be who to bench from my front 8 this week?!

Take out a bank loan if you're going to buy beer!

wow, that'll be a good match. Benfica have been superb in the champs league so far.

Should be a cracker, have fun.

What are the French police doing, just go in and blast that prick and stop wasting time

Bookmark this:

Drogba will score a hat-trick tonight if Kompany doesn't play.

Bookmark this: Mancini will beat up a water bottle (Wenger style) if Drogba scores a hat trick! 😉

Torres will score tonight IMO.

*Note: I accept no responsibility for any bets lost from people backing what is clearly a stupid opinion intended entirely sarcastically, unless of course he actually does score in which case I meant to say it*

It's a silly point you're trying to make, Brian. We all know that any life lost is a sad thing. There are also people dying in Syria, Iraq and all over the world.

The point of Optimus's post (I think) was to highlight how strange it is that 3 athletes have collapsed in the same circumstances over a period of a few days. It's normally every few years that we hear about it.

yep..in ireland there must be about 5 gaelic players itself in last 2 or 3 years that have died as result of "sudden death syndrome"..my point was just how strange these supposed fit athletes

There are often deaths in running from people who are fit, but have a cold and run anyway! I think athletes can push their bodies too far...

One person dying is sad. 1000s of people dying is a statistic. Shouldn't be that way, but sadly it is.

Hey fellas. Havent posted in a while..

Vorm.
Evans. Enrique. Caulker (Shotton. Simpson)
Mata. Valencia. Bale. Siggurdsson. (Dempsey)
Rooney. Holt. RVP

Thats my team for next week. Any comments or thoughts people? thanks in advance

Play Demps or McClean next week? Not sure how I feel about Demps @United...

+1

Could have got 2 or 3 assists last night if Sunderland could finish, from all accounts he was far and away their best player, plus Sess is back, which will be a major boost for them.

For talks sake, lets say Chelsea beat Man City 2-0 tonight. They will then be on the same points and same goal difference of +18 as Arsenal.

Will they overtake Arsenal or will they still be behind? Why? Goals scored? Alphabetical order? Anyone know?

See Fulham West Brom at the mo, Fulham have scored more but points and GD is same

he means GD compared to Arsenal's

If points and GD are equal it goes to Goals Scored, if that is equal it goes by H2H result (unless it is the end of the season, not sure what they do then)

No that's just what I thought, you may be right.

I think it goes to teams points hits and then number of players out on loan.

I kid.

It goes to number of wins in which case Arsenal would keep their spot. I think...

arsenal scored more goals

I can't believe that you don't know that IT

1. Kaboul & Adebayor
OR
2. BAE & Balotelli

Wait for Ade news. He is injured atm

Quick RMT please.

Schwarzer - Lindegaard

Verm - Senderos - Bardsley - Evans - Santon

Bale - Demps - McClean - Walcott - Nani

RVP - Aguero - Yak

I know, no Rooney, though Nani would be a nice diff, in times when everyone is bringing in Rooney. But he's freaking injured, so what to do with him now ? Any chance of him starting this w/e ? Also I'm hoping Aguero can rip chelsea apart, but after tonight he's gone anyway. So question is which of these trades seem best to you.

2FT, 0.7m, I can do :

A) Aguero -> Rooney, Yak -> Suarez, Nani -> Siggy (-4)
B) Aguero -> Rooney, Nani -> Valencia, Lindy -> Foster/Vorm (-4)
C) Aguero -> Suarez (short term), Lindy -> Foster/Vorm
D) Other Ideas

Thanks for replies!

Kun > Rooney,
Nani > Siggy

Ok the game is WBA vs NEW.
The players are: Morrison and Ba.

Recent quote on Morrison "James Morrison is a little fatigued - he's been playing a lot of games recently - so he didn't train yesterday. That means he is rested in order to have strength to start or rested means he won't start the next game?

I have tough decision to play, who to play: Ba or Morrison? Ba is penalty taker but haven't scored for a while, also they are away.

Opinions are more than welcomed.
Thanks,

It's a tough one, Hodgson has also stated recently that he will be rotating his players a lot (annoying for me as I will be getting Andrews in for Bale :shock:) The fact that Newcastle are away is certainly a big one to factor in, and isn't Olsson back for Albion?

In short if you think Ba will score, play him, if you don't then play Morrisson. I am playing Ba but only as my alternatives are Santon (wba), Taiwo (SUN) and Dempsey (mnu)

I have 10.7 m to replace Ba. I already have RVP and Rooney. Who should I go for?
A. Odemwingie
B. Adebayor
C. Drogba
D Demba Cisse
E. Progrebnyak

I asked a similar qustion on the other page

Ade is my top choice, but I think Odem will do well.

Balotelli is your flair pick. Not keen on Drogba's rotation with Torres and Cisse and Pog are lesser mortals compared to the above.

Ade looks ok but I have another idea to consider,Weimann for 5 mill bench fodder and spend the excess elsewhere

I've already made 1 transfer this week and now looking to shift Ba next week. The only way I can do that for a decent replacement is to take a 4 point hit either this week or next to free up funds. What do people think to these moves :

This week (4 point hit) Dempsey – Valencia
Next week (free) Ba - Adebayor

This would leave me 0.1 in the bank. I hate taking hits and I think I've only done 2 this season but this seems the only way.
Scout Picks
Gameweek 25
Janmaat

Williams

Alderweireld
Wijnaldum

André Ayew

Dele Alli

Roberto Firmino

Sánchez
From the Community…
Comments
Hot Topics
Articles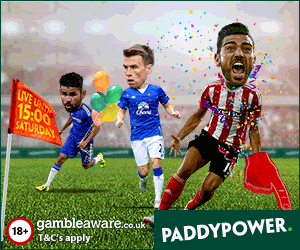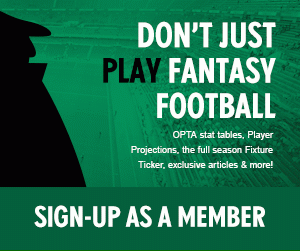 The Watchlist
Goalkeepers
Player
Club
Factors

Up

Forster
SOT

A

,

Vs

Down

Butland
STO

C

,

Vs

Up

Schmeichel
LEI

A

,

Vs

Up

Courtois
CHE

B

,

Vs

No Change

Boruc
BOU

B

,

Vs

Up

Hennessey
CPL

C

,

£

No Change

Cech
ARS

A

,

VsX

Up

Fabianski
SWA

B

No Change

De Gea
MUN

B

No Change

Adrián
WHM

B
Defenders
Player
Club
Factors

Up

Fuchs
LEI

A

,

Vs

,

£

Up

van Dijk
SOT

A

,

Vs

Up

Daniels
BOU

A

,

Vs

,

£

Up

Dann
CPL

A

No Change

Ivanovic
CHE

B

,

Vs

No Change

Alderweireld
TOT

B

No Change

Bellerín
ARS

B

,

VsX

Up

Johnson
STO

C

,

Vs

No Change

Cresswell
WHM

B

Up

Van Aanholt
SUN

A

No Change

Williams
SWA

B

,

£

Up

Smalling
MUN

C

Up

Coleman
EVE

B

,

Vs

Down

Dawson
WBA

C

Down

Moreno
LIV

C

,

Vs

Down

Kolarov
MCI

B

,

Rest

,

Inj
Midfielders
Player
Club
Factors

Up

Mahrez
LEI

A

,

Vs

No Change

Payet
WHM

B

,

Vs

No Change

Dele Alli
TOT

A

,

Inj

Up

Arnautovic
STO

C

,

Vs

,

Inj

No Change

Ozil
ARS

C

,

VsX

Up

Eriksen
TOT

A

Up

Antonio
WHM

A

,

Vs

,

Rest

,

£

Up

Sigurdsson
SWA

A

,

OoP

Down

Barkley
EVE

B

,

Vs

Down

Roberto Firmino
LIV

A

,

VsX

,

OoP

Down

Sánchez
ARS

C

,

VsX

Up

Lingard
MUN

B

,

Rest

,

£

Up

Khazri
SUN

B

Up

Oscar
CHE

B

,

Vs

No Change

Wijnaldum
NEW

B
Forwards
Player
Club
Factors

Up

Vardy
LEI

B

,

Vs

No Change

Kane
TOT

A

Down

Aguero
MCI

A

Up

Diego Costa
CHE

A

,

Vs

,

Inj

Up

Rooney
MUN

A

Down

Ighalo
WAT

C

,

VsX

Down

Lukaku
EVE

C

Up

Afobe
BOU

A

,

Vs

No Change

Giroud
ARS

B

,

VsX

,

Rest

No Change

Defoe
SUN

A
Selection Factors
| | |
| --- | --- |
| A, B, C | Current Form |
| Vs | Favourable Fixtures |
| VsX | Unfavourable Fixtures |
| Rest | Rotation Risk |
| Inj | Injured/Returning from Injury |
| OoP | Out of Position |
| £ | Potential Bargain |
| Sus | Suspended/Near Suspension |
| Player | Team | YC |
| --- | --- | --- |
| Colback | NEW | 9 |
| Byram | WHM | 9 |
| Lucas | LIV | 8 |
| Jones | SUN | 8 |
| Yacob | WBA | 8 |
| Westwood | AVL | 7 |
| Diego Costa | CHE | 7 |
| Huth | LEI | 7 |
| Can | LIV | 7 |
| Mangala | MCI | 7 |
| Shelvey | NEW | 7 |
| Pieters | STO | 7 |
| Dele Alli | TOT | 7 |
| Dier | TOT | 7 |
| Noble | WHM | 7 |
"All players will blank a few times during the season. When almost all do it in the same Gameweek, it is tough to take, but that's just the dark side of probability."

Abreu 42 Community regular