Mario Gomez is amongst the goals as Germany see off Israel and return to winning ways. Franck Ribery helps France to a 2-0 home win over Serbia as the hosts ring the changes and trial a 4-3-3, while Kyriakos Papadopoulos gets the only goal of the game as Greece chalk up a narrow win in Armenia:
France 2 Serbia 0
Laurent Blanc rolled out a 4-3-3 formation for France's 2-0 win over Serbia last night, with only two players – Karim Benzema and Philippe Mexes – keeping the same position from Sunday's win over Iceland. There were plenty changes to the backline, with Laurent Koscielny, Gael Clichy and Anthony Reveillere all handed starts, though Blanc's midfield plans were disrupted after just four minutes as Yann M'Vila limped off with a worrying ankle injury. Franck Ribery opened the scoring after 10 minutes, netting after the opposition keeper had spilled Clichy's cross, before Florent Malouda fired home the second from the edge of the area just six minutes later as Les Bleus extended their unbeaten run to 20 matches. Post-match, Blanc was reported to have said M'Vila has "a big ankle sprain" but didn't expect the player to miss the tournament – further tests are expected today.
France Starting XI: Lloris; Reveillere, Koscielny, Mexes (Rami 72), Clichy; Cabaye (Martin 61), M'Vila (Diarra 5), Malouda (Ben Arfa 76); Nasri, Benzema (Giroud 61), Ribery (Menez 61).
Armenia 0 Greece 1
Greece recorded their first clean sheet in six games as they clinched a 1-0 win in Armenia. Fantasy managers will be frustrated with a change in keeper, as Michail Sifakis replaced Konstantinos Chalkias between the posts. Sokratis Papastathopoulos started at right-back with Vasileios Torosidis afforded the night off after picking up an injury at the weekend – this allowed Schalke man Kyriakos Papadopoulos to return to centre-half and he offered further evidence of his attacking potential by grabbing the only goal of the game. Priced at 4.5, Papadopoulos is one of the most popular players in the McDonald's game and currently has over 16% ownership, though this will no doubt increase after last night's display. Sotiris Ninis failed to shake off an injury, allowing Kostas Fortounis to make his first start for the national team in a night where Fernando Santos' side failed to make the scoreline more substantial by missing two second half spot-kicks; Georgios Samaras (70) and Kostas Katsouranis (86) were the culprits.
Greece Starting XI: Sifakis; Papastathopoulos (Makos 62), A. Papadopoulos, K. Papadopoulos, Holebas (Tzavellas 60); Katsouranis, Maniatis, Karagounis (Fotakis 46); Fortounis (Samaras 46), Gekas (Ioannnis 62), Salpingidis (Mitroglou 85).
Germany 2 Israel 0
With seven of their Bayern contingent back on board, Germany bounced back from their weekend 5-3 defeat by Switzerland to see off Israel 2-0. Joachim Low made a host of changes, as Toni Kroos partnered Sami Khedira in the double pivot due to Bastian Schweinsteiger's injury, while Mario Gomez was given the nod ahead of Miroslav Klose up front – Gomez justified his selection by opening the scoring five minutes before the break, with Thomas Muller providing the assist. Low made five changes later in the second half, with Mesut Ozil the only attacking player to be afforded the full 90 minutes, as Andre Schurrle – on as a sub for Lukas Podolski – firing home a superb second.
Germany Starting XI: Neuer; Boateng, Badstuber, Mertesacker, Lahm; Kroos (Gotze 86), Khedira (Bender 88); Muller (83), Ozil, Podolski (Schurrle 66); Gomez (Klose 66).
What would be your dream midfield?

Danny Murphy released from Fulham.

KLAXON GONNNNNNE!

If Dempsey stays at Fulham then those penalties are going to be a huuuuge asset for him. If he leaves, Pogrebnyak will most likely take them and could be a bargain!

So...Funkyav, you chose your partner in the end? Or did anyone not bother answering your questions? 😉

Pick three of these:

A) Iniesta
B) Sneijder
C) Ribery
D) Özil

B, C, D Iniesta is not a great fantasy football prospect not saying he is a bad player or anything

Can anyone suggest some good changes to this team?

Akinfeev/Given

Boateng/Zhirkov/Papdop/Evra/Olssen

Nasri/Ozil/Srna/Mandz/Sneijder

Ibra/Rohmmedahl/Lewand

Srna -> Shirokov, Lewandowski->Muller, if you can. I don't think you should double on Croatian attack.

Akinfeev --> Tzorvas
Rohmmedahl --> Baors/ Shevchenko

No point in Denmark players IMO

Key point here is Evra, Toast, who's not even made the cut for the comp.

He has Frazek, he's in the squad and will likely start at LB unless Clichy changes Blanc's mind.

Yes, trust a Demi-shaped poster to note my shoot-from-the-hip mistake. I'd think Clichy has the starting spot sewn up though.

I agree, definitely based on currently form. They need M'vila to be fit too, but it doesn't look like he'll make the England game.

Hi guys,

Have any of you read my book on yahoo - "Yahoo Fantasy Football - Dominating the competition"? I'm trying to get an idea of whether the ideas inside have been as useful in the EPL version (they should be).

Muller or Podolski ?

And that is where we at Stamford Bridge bid adieu to one of our legends...Carried us for 8 years on his strong shoulders.

There is no one like Didier! *

*sheds a tear.

I know people hate him, but I'll miss him. He's been a good presence for the Permier League.

cannot imagine stamford bridge without didier! just not ready to come to terms with it.

Is he going to join Anelka's team?

Well I've not changed the team for a few days now so I think I'm good to go. Polish clean sheets in last two friendlies very pleasing, have a feeling Lewandowski will score in the opener too so kicking off with him as el capitan. Papa goal for Greece the other night was nice too.

Plan is to play two Dutch forwards against Denmark. As I intend to have Hart in goal for England I've avoided French attackers but will poss sell Wesley or Robben in GW2 for Ribery or Benzema to give a better spread. Plan is good lets see if it works!

Hart/Lindy

Kadlec/Piszczek/Papa/Strinic/MOlsson

Ozil/Sneijder/Iniesta/Mandzukic/Andrews

Ronny/Lewandowski(c)/Robben

sorry for reposting,,, it posted it just after 9am this morning for some reason, way back on another page.

Afternoon people!!!!!

Chech Given
Kadlec Strinic piszczek K.Papa
young Ozil sneijder mandzukic
lewandowski, Ibrahimovic robben

ive got 13.5 left for a defender and mid, who would you get?

Perhaps you wouldnt get anyone because you think its total gash?? Its all good , let me know.

Planning GW1 wildcard.

cheers mate,

Not sure about both,,, lol,,,, worried about already being 'group A' heavy.

I'm finding the Auction game rules a bit cloudy. Could someone clairfy the transfers for me please?

Do you get your money back on players you sell? The rules talk about transfer windows, but I'm chairman and wasn't given an option about when transfers could be made, nor can I find any way to alter that. Does that mean they can just be made at any point?

You should have options for that, find them. Or they will apear after the draft. You will have different cash for the transfer windows, dont know if that can be modified as well.

I'm in a similar boat mate and unsure of how I can set the country quota to change after different stages of the competition. As Kostja says, maybe all will become clear after the auction (I'm running a traditional one, don't know if that chanegs anything) has been done but anyone out there who has done this before and cold clarify would be greatly appreciated if they took the time.

P.s. are you in Korea by any chance- your username tells me you might be a waygookin.

No, I'm not in Korea. It's taken from the TV show Arrested Development (everyone thing Annyong is his name so he repeats it to be polite whenever anyone says it) http://www.youtube.com/watch?v=uoHLaIrbNQ4

I find the whole site a little confusing. I don't know how to change the quota either.

Ah fair enough, thanks for the explanantion- that show has been recommended to be so many times but I still haven't watched it for some reason. Annyeong means "hello" in Korean so that's why I guessed at it.

Anyway, back to more pressing matters....I've emailed the support team re all of the above and will hopefully hear from the soon. I'll relay what they send back to me on here and hopefully you'll see it.

Hopefully one of us gets some good answers

Hopefully indeed mate. That league situation you mention below would be a disaster. Really hope that's something we can easily and obviously omit.

I asked them about what happens with players signed on freebies after managers run out of money at the auction. This whole chairman lark could turn out to be a lot more work than expected- let's hope the Euro's make it all worthwhile!

I agree with the confusing nature of the situation. I emailed the people on the site to see if I can get a few more answers about how it goes after the auction is done. I know in the one league we did that was set up as "traditional" had an interesting issue where the manager was able to set how much he was selling a player for and how much he was buying a player for so at that point money didnt matter. In one fell swoop you could sell Andrews for 100 mil and buy Oezil for 0 mil. I do not know the exact rules for the transfers in that league though, so I can't pinpoint a reason for it.

I believe I did read something about changing the quota and having "transfer windows" during the tournament. Maybe once the tournament starts there are more options that become available.

Is Ibra worth having post GW 1? 😛

Cahill or Evra for GW1? Want some England/France coverage and am leaning towards a patriotic punt on Cahill.........

Not Evra, he's out of favour. Cahill might not be bad, i can see England conceding unfortunately but Jones might be OOP if you want a punt.

since when is Evra out of favor? he started a friendly last week, and i haven't seen Clichy play for them recently...

I've gone for Joe Hart, but Cahill was my second choice option in defence. Might get Evra or Debuchy to gamble on the 0-0 as both teams go out with the main aim of not losing.

OK, made some of the suggested changes...

This better?

Tzorvas/Given

Boateng/Zhirkov/Papdop/Debuchy/Olssen

Nasri/Ozil/Yarmalenko/Mandz/Sneijder

Ibra/Shevvers/Lewand

Yeah Shevchenko, really? Jelavic surely better?

I'd avoid the German defence too. Get Cahill instead.

I actually read today that Zhirkov is not completely nailed on. From the official russian reporter at the Euros.

Nah, he didn't start last game but came off the bench, but Zhirkov plays at LB no doubt. I swerve to him because I know the player, but Anyukov had most assists in qualifying.

I did not say that he aint playing. Just the official reporter of Russia at the competition believes that He and Kombarov are battling it out tonight for the starting pos at LB.

Which team is better

Team A:
Given Chalkias
J.Olsson Zhirkov, Kadlec Piszczek Strinic
Yarmolenko Ozil Iniesta Sneijder Ribery
Ibrahomic Jelavic Lewandowksi

or

Team B
Given Chalkias
M. Olsson M. Kadlec Strinić Piszczek Zhirkov
Sneijder Yarmolenko Özil Błaszczykowski Mandžukić
Ibrahimović T. Müller Benzema

thanks

Cech | Given
Kadlec | Alba | K. Papadoupoulos | Debuchy | J Olsson
Ozil | Ribery | Sneijder | Mandzukic | Andrews
Muller | Lewandowski | Ibra

Double-up Czechs? 'Is it because I is Russian?' (said in Ali G styling).

Yeah, I get it BAD, but I really quite fancy the Ruskies to be a bit of a dark horse. I've also got Kaddy-shack, but fully expect the Ruskies to score and win GW1. I'm also more of a Poland believer over Greece, although that game could very easily end 0-0.

Good luck to you.

The money you would save from Lew/Zlatan -> Jelavic and Kadlec->Selassie, could allow you to upgrade Andrews significantly. I think the points difference is worth it. I can see Lew/Zlatan scoring 1 goal max, same with Jelavic, only he is a huge 3m cheaper.
Scout Picks
Gameweek 25
Janmaat

Williams

Alderweireld
Wijnaldum

André Ayew

Dele Alli

Roberto Firmino

Sánchez
From the Community…
Comments
Hot Topics
Articles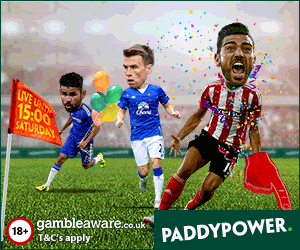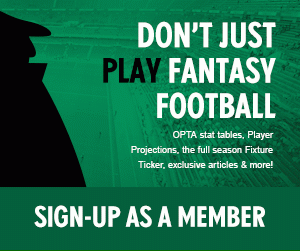 The Watchlist
Goalkeepers
Player
Club
Factors

Up

Forster
SOT

A

,

Vs

Down

Butland
STO

C

,

Vs

Up

Schmeichel
LEI

A

,

Vs

Up

Courtois
CHE

B

,

Vs

No Change

Boruc
BOU

B

,

Vs

Up

Hennessey
CPL

C

,

£

No Change

Cech
ARS

A

,

VsX

Up

Fabianski
SWA

B

No Change

De Gea
MUN

B

No Change

Adrián
WHM

B
Defenders
Player
Club
Factors

Up

Fuchs
LEI

A

,

Vs

,

£

Up

van Dijk
SOT

A

,

Vs

Up

Daniels
BOU

A

,

Vs

,

£

Up

Dann
CPL

A

No Change

Ivanovic
CHE

B

,

Vs

No Change

Alderweireld
TOT

B

No Change

Bellerín
ARS

B

,

VsX

Up

Johnson
STO

C

,

Vs

No Change

Cresswell
WHM

B

Up

Van Aanholt
SUN

A

No Change

Williams
SWA

B

,

£

Up

Smalling
MUN

C

Up

Coleman
EVE

B

,

Vs

Down

Dawson
WBA

C

Down

Moreno
LIV

C

,

Vs

Down

Kolarov
MCI

B

,

Rest

,

Inj
Midfielders
Player
Club
Factors

Up

Mahrez
LEI

A

,

Vs

No Change

Payet
WHM

B

,

Vs

No Change

Dele Alli
TOT

A

,

Inj

Up

Arnautovic
STO

C

,

Vs

,

Inj

No Change

Ozil
ARS

C

,

VsX

Up

Eriksen
TOT

A

Up

Antonio
WHM

A

,

Vs

,

Rest

,

£

Up

Sigurdsson
SWA

A

,

OoP

Down

Barkley
EVE

B

,

Vs

Down

Roberto Firmino
LIV

A

,

VsX

,

OoP

Down

Sánchez
ARS

C

,

VsX

Up

Lingard
MUN

B

,

Rest

,

£

Up

Khazri
SUN

B

Up

Oscar
CHE

B

,

Vs

No Change

Wijnaldum
NEW

B
Forwards
Player
Club
Factors

Up

Vardy
LEI

B

,

Vs

No Change

Kane
TOT

A

Down

Aguero
MCI

A

Up

Diego Costa
CHE

A

,

Vs

,

Inj

Up

Rooney
MUN

A

Down

Ighalo
WAT

C

,

VsX

Down

Lukaku
EVE

C

Up

Afobe
BOU

A

,

Vs

No Change

Giroud
ARS

B

,

VsX

,

Rest

No Change

Defoe
SUN

A
Selection Factors
| | |
| --- | --- |
| A, B, C | Current Form |
| Vs | Favourable Fixtures |
| VsX | Unfavourable Fixtures |
| Rest | Rotation Risk |
| Inj | Injured/Returning from Injury |
| OoP | Out of Position |
| £ | Potential Bargain |
| Sus | Suspended/Near Suspension |
| Player | Team | YC |
| --- | --- | --- |
| Colback | NEW | 9 |
| Byram | WHM | 9 |
| Lucas | LIV | 8 |
| Jones | SUN | 8 |
| Yacob | WBA | 8 |
| Westwood | AVL | 7 |
| Diego Costa | CHE | 7 |
| Huth | LEI | 7 |
| Can | LIV | 7 |
| Mangala | MCI | 7 |
| Shelvey | NEW | 7 |
| Pieters | STO | 7 |
| Dele Alli | TOT | 7 |
| Dier | TOT | 7 |
| Noble | WHM | 7 |
"All players will blank a few times during the season. When almost all do it in the same Gameweek, it is tough to take, but that's just the dark side of probability."

Abreu 42 Community regular