Ghost Ship – a Fantasy Football team picked for the first Gameweek and then left to drift without a crew or rudder for the rest of the season. It would stand to reason that such a vessel would hit the rocks and sink without trace. Sometimes, however, they can navigate an unlikely route to glory.
Tell us about. This latest episode is a timely one given the time of year and it's a "Ghost Ship" lineup, "managed" by the most unlikely member of the team to be up amongst the top ranks that takes up a good proportion of our time, leaving Granville and myself pondering the meaning of it all.
Around all that, we both manage to find the motivation to bring you the regular topics with the concept of "chasing points" coming under discussion, alongside "all aboard", the weekend preview and a long tale of Granville's injury list. Ouch.
Climb aboard this haunted vessel via this link, or use the handy player below to stream away.
Begovic (mannone)
rafael baines cueller (demel davies)
nasri michu pienaar morrison cazorla
rvp defoe (Ba)

Have 0FT and 0m.

Not sure how to improve this team (esp midfield) for this gw.
A: nasri >> barfa for a hit
B: nasri >> yaya for a hit
C: Save the transfer
D: any other options?

What is your Fantasy Football biggest bugbear?

Mine is definitely the way that this year, seemingly more so than other seasons, everybody is doing their transfers at the earliest possible time and driving up the prices of players to ridiculous levels.

So in previous seasons I've always held out until friday evenings, but now I'm doing mine on saturday or sunday nights for the following GW to aviod paying 0.2/0.3 more for the same player.

And by the way I am aware of the irony of my complaint, that I am indeed now part of the problem.

I would happily sign up to an agreement whereby nobody does any transfers until friday dinner time

Yeah...this is only my second season playing FPL so I don't know what it was like before...but it does seem that this year...if you even blink you could miss out on players because their price will have rocketed. I think if you've not been paying attention to value/prices you're pretty screwed this year...seems like it's really important to do so.

Especially with the likes of RVP being so expensive...it means you need to squeeze value out of every area to make owning him or others appropriate.

I think there is a fair degree of truth in this Gaffer. Only in my fourth season myself and have certainly noticed less time to make decisions.

I think as the total number of players increases year on year, then statistically then number of people who prefer to make early transfers increases, as do the number of people unaware of the benefits of holding off (unless you're chasing price rises!).

Personally I'd like to see a bit more skill brought into the game (transfer window each week), culling dead teams (not login in since GW1 for example), and a few others. At the moment, not enough respect to those dedicated to the game.

Currently once you've got yourself into the top 100K, it is as much down to luck as anything, where you end up...

I imagine it will calm down in the latter half of the season though. I for one have been jumping on bandwagons early in the week, occasionally for hits, just to secure a good overall team value. Now I'm starting to slow down and will wait until friday/save a transfer.

Dont agree with most of this thread.
Have made only six transfers this season , have a fairly high team value , and in top 2k

There is such a thing as too much micro management , for example how many have wasted transfers buying Tevez , then selling , then buying again , same with Berbatov

People need to slow it down a little

Yeh I hope so. It's the first week doing this have has bitten me, with Ba possibly out injured and Lambert likely to be rotated away, I'm now in a position where I could have just one striker playing. But I have already taken a hit this week (Guth>Morrison & Santi>Bale) so cant sort it out

I need to go to a self help group to help me stop making transfers by Friday, seriously! Not fr tge price saving, no will power. A bit like the rush you get placing a bet.

Find it asap and let me know

I couldn't agree more, I've started doing it as well, just knowing that if I don't I'm spending another .1 or even .2. I think the further you go on in the season the more people are happy and settled with their teams and the less transfers people will be making.

Which of these am I better off doing -

A) Nolan --> Gera /McAnuff for a 2 week punt (and to free up cash for a possible fletcher upgrade)
B) Demel --> Cameron
C) Save the FT

Demel>Cameron then worry about Fletcher another day

thoughts on this team

begovic
rafael hangeland clyne
hazard michu bale C pienaar
aguero RVP berba

sterling, jenks demel

HBA/Aguero to Taarabt(or 5.6)/RVP -4?

A go, or should I hold off. HBAs form is bothering me, even though his fixtures are nice.

Any transfer that includes getting RVP can only be a good move

Foster

Cuellar, Hughes, Cole

Hazard, Bale, Fellaini, Cazorla

Ba, Berba, Tevez

Jussi, Demel, Michu, Rangel

0.3 in the bank. Squeezing my brain on what transfers to make, don't think I need to, but with Ba and Cole doubts, a bit worried. Any of you lads give me some help on this please?

REPOST

Captaincy.

RVP 10/11
Bale 7/5
Tevez 10/11

Odds are for anytime goalscorer.

This is my current team for the weekend:

Begovic

Rafael Baines S Taylor

Michu Cazorla HBA Lennon

RVP Tevez Pog

Still got 1 FT, where should I use it? Im willing to take a hit too if you have any suggestions.

Thanks very much

Have I got the right set-up for this GW? Also any suggestions for improving my squad in the coming GWs?

Foster (Fed)
Hang Baines Cuellar
Morrison Bale(vc) Haz Pie Sterling
RVP(c) Ba

Bench: Lambert, McCartney, Gibbs
Bank: 0.4m (already took a 4pt hit too)

Not overly happy with my team (know it's not terrible either). Need to replace Lambert, Hang, Fed and do Haz>Mata at some point. Would like some Stoke DF coverage & Tevez coming in the other way.

What do people reckon in the morrison/lallana debate? need a replacement for gervinho this week, cheers

I bought Morrison this week. I'm hoping that he's in for a solid few weeks but as mentioned above there is a question over his role in the side.

However, football isnt as black and white as that, and I think that whatever his role in the team, he will still be a threat on the pitch. It would just be a lot more helpful if Clarke plays him in the hole again instead of Gera.

Two goals three assists

Women lie, men lie, numbers don't

Haha sure, planning on getting him in soon

Here's my current team. Do you guys approve of these transfers?

McCarthy; Jaaskelainen

Hangeland; Ivanovic; McAuley; Shawcross; (Demel --> Rafael)

Santi; Cazorla; Pienaar; Walters; Michu; Hazard

Lambert; Tevez;Torres --> Berbatov

Ba, Crouch, Tev
Morrison, Mata, Bale, Lallana
Baines, Shawcross, Kolarov
Krul, Begovic

Subs: Boyce, Lallana, Barnett

Ba listed as doubtful, wanted to go 8pt hit get RVP, Baird and Leigertwood for Kolarov, Yaya and Ba

Is it worth it?

Plus any one think Lukaku might outscore RVP this weekend?

Plus, will Lukaku start over Shane Long?

Thoughts?

hey guys

ivanovic/cameron/mcauley/jenkinson/nelsen
sahin/nolan/bale/mata/sterling

used my ft on cameron already.

should i go jenkinson>sagna?
or sahin> mcanuff
or sahin>fellaini

for a 4 point hit this week?

Jenkinson to Sagna but not this week

yo guys
thoughts on this team?

begovic
hangeland rafael clyne
michu pienaar hazard bale C
aguero, berba, rvp

bench: sterling jenks demel

Sagna could drop a tin of beans on his foot 😀 Love the idea of Sagna doing himself beans on toast for breakie

is it wise enough to do
ba caz skrtel out
rvp fellaini nelsen in
already have
berba tevez
bale michu pienaar?

i have RVP and Rooney... who will u cap and why ?

i personally think Rooney will do well tml.. and high chance hes on pens over rvp ? ( is it ? altho i prefer rvp )
and Rooney have a good record playing against arsenal.. i am lacking behind on my league and with a 8 pt hit. Rooney is a differencial as most ppl in my league will be capping RVP.

shld i play safe and cap RVP ? or just go Rooney

If anyone has any Fantasy League questions or needs help with their team, leave your questions here.
Only comments/questions submitted before 10pm Friday will be answered.
I will give my honest opinion and a detailed answer.

ok

1) Who is your Daddy and what does he do?

2) To get RVP in, would you lose Mata?

3) Would you play Davies against Chelsea or get another player for a hit?

I expect detail and unimpeachable honesty. Ta.

1) As I said Fantasy League questions only.

2) It is a huge risk but Manchester United have brilliant upcoming fixtures and are nearly in the Last 16 of the CL, whereas Chelsea may be forced to turn their attention away from the Pl towards the CL, resting players such as Mata and Hazard. I also think that van Persie will deliver tomorrow against his old club as I believe playing against his old team will suit him. Also, with the added excellent performance of Moses in midweek, Di Matteo might risk resting his 3 attacking mids. It is a tough call but I would go for van Persie.

3) Difficult question there are not many alternatives for such a low price. With a run of easier fixtures and 4 CS's to their names I would maybe look at getting in a Stoke defender for £4.5, but I expect Norwich to deny Stoke the clean sheet at Carrow Road. I would stick with Davies this week then look at your alternatives the next. Swansea are not the same defensively as they were under Rodgers. Good Luck.
Scout Picks
Gameweek 25
Janmaat

Williams

Alderweireld
Wijnaldum

André Ayew

Dele Alli

Roberto Firmino

Sánchez
From the Community…
Comments
Hot Topics
Articles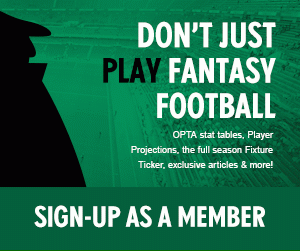 The Watchlist
Goalkeepers
Player
Club
Factors

Up

Forster
SOT

A

,

Vs

Down

Butland
STO

C

,

Vs

Up

Schmeichel
LEI

A

,

Vs

Up

Courtois
CHE

B

,

Vs

No Change

Boruc
BOU

B

,

Vs

Up

Hennessey
CPL

C

,

£

No Change

Cech
ARS

A

,

VsX

Up

Fabianski
SWA

B

No Change

De Gea
MUN

B

No Change

Adrián
WHM

B
Defenders
Player
Club
Factors

Up

Fuchs
LEI

A

,

Vs

,

£

Up

van Dijk
SOT

A

,

Vs

Up

Daniels
BOU

A

,

Vs

,

£

Up

Dann
CPL

A

No Change

Ivanovic
CHE

B

,

Vs

No Change

Alderweireld
TOT

B

No Change

Bellerín
ARS

B

,

VsX

Up

Johnson
STO

C

,

Vs

No Change

Cresswell
WHM

B

Up

Van Aanholt
SUN

A

No Change

Williams
SWA

B

,

£

Up

Smalling
MUN

C

Up

Coleman
EVE

B

,

Vs

Down

Dawson
WBA

C

Down

Moreno
LIV

C

,

Vs

Down

Kolarov
MCI

B

,

Rest

,

Inj
Midfielders
Player
Club
Factors

Up

Mahrez
LEI

A

,

Vs

No Change

Payet
WHM

B

,

Vs

No Change

Dele Alli
TOT

A

,

Inj

Up

Arnautovic
STO

C

,

Vs

,

Inj

No Change

Ozil
ARS

C

,

VsX

Up

Eriksen
TOT

A

Up

Antonio
WHM

A

,

Vs

,

Rest

,

£

Up

Sigurdsson
SWA

A

,

OoP

Down

Barkley
EVE

B

,

Vs

Down

Roberto Firmino
LIV

A

,

VsX

,

OoP

Down

Sánchez
ARS

C

,

VsX

Up

Lingard
MUN

B

,

Rest

,

£

Up

Khazri
SUN

B

Up

Oscar
CHE

B

,

Vs

No Change

Wijnaldum
NEW

B
Forwards
Player
Club
Factors

Up

Vardy
LEI

B

,

Vs

No Change

Kane
TOT

A

Down

Aguero
MCI

A

Up

Diego Costa
CHE

A

,

Vs

,

Inj

Up

Rooney
MUN

A

Down

Ighalo
WAT

C

,

VsX

Down

Lukaku
EVE

C

Up

Afobe
BOU

A

,

Vs

No Change

Giroud
ARS

B

,

VsX

,

Rest

No Change

Defoe
SUN

A
Selection Factors
| | |
| --- | --- |
| A, B, C | Current Form |
| Vs | Favourable Fixtures |
| VsX | Unfavourable Fixtures |
| Rest | Rotation Risk |
| Inj | Injured/Returning from Injury |
| OoP | Out of Position |
| £ | Potential Bargain |
| Sus | Suspended/Near Suspension |
| Player | Team | YC |
| --- | --- | --- |
| Colback | NEW | 9 |
| Byram | WHM | 9 |
| Lucas | LIV | 8 |
| Jones | SUN | 8 |
| Yacob | WBA | 8 |
| Westwood | AVL | 7 |
| Diego Costa | CHE | 7 |
| Huth | LEI | 7 |
| Can | LIV | 7 |
| Mangala | MCI | 7 |
| Shelvey | NEW | 7 |
| Pieters | STO | 7 |
| Dele Alli | TOT | 7 |
| Dier | TOT | 7 |
| Noble | WHM | 7 |
"All players will blank a few times during the season. When almost all do it in the same Gameweek, it is tough to take, but that's just the dark side of probability."

Abreu 42 Community regular