Granville may well be exotic but he's not Manchurian, despite what the spellcheck told me a few weeks back. He's also a happy man. Winning on all fronts, he's dishing out "one helluva beating" to yours truly right now.
Reveling in his position of power, the Hungarian Mancunian brings me to task on my jerky knee transfers, with the regular ScoutCast favourites scattered around that particular discussion.
Get your ears around our foreign tongues via this link or stream the nonsense through the player below.
Morning fella's day off work so what better than to waste it on here.

Anybody seen 'Number 10' around. I've drawn him in the cup. Well ranked.

Let's hope so... may be he's like a stalker, always around but rarely seen.

The reality of it though is that he might past all of the time but have a different nickname, e.g. Mine is dwebsterlfc, which was my name on here for the last couple of years, it was then .... Borini's not his style, and is now Joga Bonito.

Bego (Foster)
Baines Hangeland McCartney (Shawcross, Gorkss)
Bale Fellaini Cazorla Michu (Noble)
Suarez Tevez Berbatov

2FT, £1.8
Want Tevez and Hangeland out eventually, but that can wait.
Caz -> Silva and/or Michu -> Valencia?

Lsot at bottome of last page:

Jussi
Simpson, Clyne, Baines (Clark/Nelsen)
Cazorla, Fellaini, Walters, Mata (Gera)
RVP (c) Suarez Ba
0.2m spare

Thinking Caz to Walcott (sideways I know)
Or should I be getting Gera out? Who for though – Kanack / Maloney?

You're starting Clyne ahead of Nelsen?

I would be tempted to give up on Walters. Maybe consider someone like Ramirez or Lallana and use the spare cash to solidify your defence next week?

Yeah Walters has done nothing but disappoint of late - 2 points week in week out
Surely Ramierez is goign to be the same kind of return?

A fan of the cheap defence so not worried about upgrading them at the moment

Another cheapy midfielder I was considering was Schneiderlin (not fashionable I know!)

Ramirez will get points playing in the hole in a side that score goals as much as it pains me to say it as I've got Lallana

Schneiderlin I don't know much about so can't give an opinion

bego
baines, rafa, demel
bale, valencia, pienaar, michu
rvp (c), ba, lambert

bench: foster, saylor, maloney, sagna

1ft and 0.0 in the bank

thoughts?? am willing to take a hit if necessary

Looks strong to me

Lambert out seems like a good move. Maybe downgrade Bale to up Lambert to Giroud for Arsenal cover?

think i'd rather get walcott for arsenal coverage... though how essential do you think ars coverage actually is? i mean i've got sagna...

Think i prefer ARS attacking coverage as opposed to defensive at the moment

Not tempted by Berbatov then?

Can you get Long in for Lambert? He's a good differential who scores pretty consistently.

think i might be able to. don't you think keeping lambert for this week and maybe 1-2 more is fine though? he's got pretty nice fixtures

do you think i should take a hit (bale to walcott or michu to ramirez/sterling) to bring in afro?

Personally yes, but I have no problem with taking hits. I'm doing decent and have made 18 transfers so far this season.

I put Taarabt in this week to generate more funds. He's another option.

Rate my team!?

Jussi (Foster)

Reid, Ivanovic, Rafa (Ridgewell, Gorkss)

Bale, Carzola, Michu, Pienaar (Sterling)

Berb, RVP, Crouch

...couple of things...I don't like the fact I'm doubling up on west ham defence but see that as a better option. Thinking of taking a hit this week with Santi > Silva & Michu > Felliani...leaves me with 2 Everton midfielders but could lead to Pienaar out next week..

Thoughs please

For the record "You'll Never Walk Alone" didn't place as favorite in the race. 0-1 Wigan please.

He didn't really want to...concentrating on Europe this year

But he controlled the race well and with a few more additions to the group and a bit of luck he can keep the project going..

Did he fall over at the mere sight of the finish line? 😉

What are the chances of Sagna starting vs Spurs. He is yellow flagged and is apparently suffering from fatigue

Mad to play Sagna? Chris Glover's model rates an Arsenal CS fairly high this week.

As well as the goal-rich history of the tie, Sagna may be 'fatigued' - he'll either play 90 or none I think but if he's tired he's less likely to bomb up and down the wings.

Alternatives would Cameron or Gorkss. Already playing Bego.

Play Sagna and let your bench cover if he's doesn't play. Cameron before Gorkss on the bench?

Both teams to score in the derby.

Bet of the weekend..

Cover both teams to come from behind at half time and win.

Arsenal/spurs 30 to 1
spurs/arsenal 18 to 1

Hey folks

I have 1 FT and £1.5m in the bank.

Foster, Begovic

Baines, Davies, Demel, Cuellar, Gorkks

Nolan, Michu, Bale, Fellaini, Sterling

Ba, RVP, Aguero

Thinking of Aguero to Suarez?
And how to fit in sterling? Aguero to bench?
Opinions please!!

Thank you

Lots of people disagree buy I'd get Michu out now, seems to have simmered out. Can you get Valencia in for him? As a big differential may be even Young, he had a shocker last week but looked really sharp for England midweek.

Foster | (Federici)
Baines | Cameron | Sagna | (Cuellar, Demel)
Hazard | Cazorla | Michu | Pienaar | (Kacaniklic)
RVP | Ba | Lambert

Foster to Mignolet yeah?

Yeah, Ming's a great option but unfortunately not for this week. 2-3 points tops for him. Is it worth sacrificing those points to do any outfield transfers you had planned? Get Ming next week. Just a suggestion.

I'd be wanting to play Demel this week. He played some of the last game so he must be ready to start by now.

Was planning for Demel but I wasn't sure who to sacrifice for him.
I have 0.8 in the bank so my minor priority was to upgrade Lambert as he's really pissing me off...
Lost for choices other than that..

Sideways. I know Foster is out, but Fed has not horrible fixtures for the next 2 weeks or so (the time Foster will be out). Three weeks from now you will have either Foster/Fed or Migs/Fed: much of a muchness. So the only reason to do it is if you're pretty sure that in the next few weeks Migs would get you points Fed will not. No guarantee there. Point is, you might find better ways to spend a transfer.

Yeah, I feel that..
I really don't know what I need improving on, my team is getting average every week but on paper it looks great!

Is the removal of Lambert to Kone bad?

Maybe Cuellar to a Newcastle defender even?
Not so confident in that change however..

I think you are right to concentrate on Lambert, but you want Berb, not Kone. Save the transfer and do a double with Hazard to Mata to fund your Berb acquisition (I think that would do it).

Yeah, I agree.
Kills me to trade in Mata as I dumped him after Hazards bunch of assists, then Hazard slowed down...

Hey, I guess his name did warm me 😉

Made the mistake of actually watching the football last weekend. Knee-jerked Bale out and Suarez in for a 4 point hit, now realizing should have kept Bale as stuck with home-shy Cazorla. I just panicked when I saw how woeful and isolated Bale was against City.

Nelson or Gorkss for the weekend?

Re-phrase as 'Southampton or Everton more likely to score' and it becomes clearer

Yeah, I get that. My problem is that (a) I kind of trust Reading more than QPR to keep it together, and Gorkss is a (sometime) goal threat. I have Nelson in there now following all the rules, just seeing if I was missing anything.

Oops. Missed a (b) before Gorkss.

This is my first season in FPL, Im doing ok so far, could you take a look at my team and see if you got any advice. Linked.

My thoughts are Ba > Berbs this week or next. Also Hazard > Mata at some point in order to sort the Guthrie problem and still be able upgrade a defender.

yeah i plan on doing hazard to mata next week
wudve done it this week but ive already taken a -4 hit

who should i play out of these
clyne , gorkss or demel?
gorkss has everton , toughest fixture out of the three

Im not sure West Ham will bring Demel straight back in, last 2 games clean sheets against Man City and Newcastle. O'brien has been filling in well, think Demel will need to earn his place back.

Front 8 of

Michu,Silva,Nolan,Bale,Fellaini
Ba,Suarez,Lambert

Who should I bench?

nolan or lambert..
id say nolan but lamberts a forward..
coin toss between em lol

ChelsaChris. I'm thinking of ditching Bale too

Current midfield is Fellaini Sterling Michu Hazard Bale

I have 1.6m in the bank with 2 transfers this week, thinking Valencia and Walcott IN!

Please help

who to vice captain since rvps still doubtful?
michu, fellaini , berbs ( got sunderland at home) or aguero (aston villa at home but might be rested)

Jussi (Foster)

Reid, Ivanovic, Rafa (Ridgewell, Gorkss)

Bale, Carzola, Michu, Pienaar (Sterling)

Berb, RVP, Crouch

...couple of things...I don't like the fact I'm doubling up on west ham defence but see that as a better option. Thinking of taking a hit this week with Santi > Silva & Michu > Felliani...leaves me with 2 Everton midfielders but could lead to Pienaar out next week..

Thoughs please

who to bench out of Nolan Morrison Michu? Im doubling up on west ham defence, hoping for a win against stoke..tripling up if they fail will be disastrous..thoughts please?

Jass (Bego)

Demel Rafael Bertrand (Ridgewell Nelsen)

Nolan Fellani Mata Michu Morrison

Van P Rooney Berba

Is Ba ok to start this weekend? I seen he pulled out of the Senegal squad

If anyone has any Fantasy League questions or needs help with their team, leave your questions here.
Only comments/questions submitted before 10pm Friday will be answered.
I will give my honest opinion and a detailed answer.
Scout Picks
Gameweek 25
Janmaat

Williams

Alderweireld
Wijnaldum

André Ayew

Dele Alli

Roberto Firmino

Sánchez
From the Community…
Comments
Hot Topics
Articles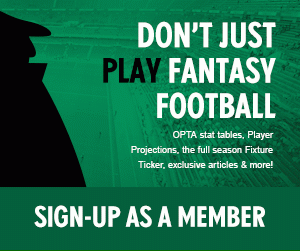 The Watchlist
Goalkeepers
Player
Club
Factors

Up

Forster
SOT

A

,

Vs

Down

Butland
STO

C

,

Vs

Up

Schmeichel
LEI

A

,

Vs

Up

Courtois
CHE

B

,

Vs

No Change

Boruc
BOU

B

,

Vs

Up

Hennessey
CPL

C

,

£

No Change

Cech
ARS

A

,

VsX

Up

Fabianski
SWA

B

No Change

De Gea
MUN

B

No Change

Adrián
WHM

B
Defenders
Player
Club
Factors

Up

Fuchs
LEI

A

,

Vs

,

£

Up

van Dijk
SOT

A

,

Vs

Up

Daniels
BOU

A

,

Vs

,

£

Up

Dann
CPL

A

No Change

Ivanovic
CHE

B

,

Vs

No Change

Alderweireld
TOT

B

No Change

Bellerín
ARS

B

,

VsX

Up

Johnson
STO

C

,

Vs

No Change

Cresswell
WHM

B

Up

Van Aanholt
SUN

A

No Change

Williams
SWA

B

,

£

Up

Smalling
MUN

C

Up

Coleman
EVE

B

,

Vs

Down

Dawson
WBA

C

Down

Moreno
LIV

C

,

Vs

Down

Kolarov
MCI

B

,

Rest

,

Inj
Midfielders
Player
Club
Factors

Up

Mahrez
LEI

A

,

Vs

No Change

Payet
WHM

B

,

Vs

No Change

Dele Alli
TOT

A

,

Inj

Up

Arnautovic
STO

C

,

Vs

,

Inj

No Change

Ozil
ARS

C

,

VsX

Up

Eriksen
TOT

A

Up

Antonio
WHM

A

,

Vs

,

Rest

,

£

Up

Sigurdsson
SWA

A

,

OoP

Down

Barkley
EVE

B

,

Vs

Down

Roberto Firmino
LIV

A

,

VsX

,

OoP

Down

Sánchez
ARS

C

,

VsX

Up

Lingard
MUN

B

,

Rest

,

£

Up

Khazri
SUN

B

Up

Oscar
CHE

B

,

Vs

No Change

Wijnaldum
NEW

B
Forwards
Player
Club
Factors

Up

Vardy
LEI

B

,

Vs

No Change

Kane
TOT

A

Down

Aguero
MCI

A

Up

Diego Costa
CHE

A

,

Vs

,

Inj

Up

Rooney
MUN

A

Down

Ighalo
WAT

C

,

VsX

Down

Lukaku
EVE

C

Up

Afobe
BOU

A

,

Vs

No Change

Giroud
ARS

B

,

VsX

,

Rest

No Change

Defoe
SUN

A
Selection Factors
| | |
| --- | --- |
| A, B, C | Current Form |
| Vs | Favourable Fixtures |
| VsX | Unfavourable Fixtures |
| Rest | Rotation Risk |
| Inj | Injured/Returning from Injury |
| OoP | Out of Position |
| £ | Potential Bargain |
| Sus | Suspended/Near Suspension |
| Player | Team | YC |
| --- | --- | --- |
| Colback | NEW | 9 |
| Byram | WHM | 9 |
| Lucas | LIV | 8 |
| Jones | SUN | 8 |
| Yacob | WBA | 8 |
| Westwood | AVL | 7 |
| Diego Costa | CHE | 7 |
| Huth | LEI | 7 |
| Can | LIV | 7 |
| Mangala | MCI | 7 |
| Shelvey | NEW | 7 |
| Pieters | STO | 7 |
| Dele Alli | TOT | 7 |
| Dier | TOT | 7 |
| Noble | WHM | 7 |
"All players will blank a few times during the season. When almost all do it in the same Gameweek, it is tough to take, but that's just the dark side of probability."

Abreu 42 Community regular