Brede Hangeland's dismissal hands Sunderland the chance to register their first away win of the season. Steven Fletcher and Adam Johnson both play a part in two of the Black Cats' three goals, while Dimitar Berbatov draws a rare blank as Fulham lose for the first time with the Bulgarian in their starting XI:
On the Up
Steven Fletcher
Without a strike since Gameweek 5, the Scot returned to form with a goal and assist as Sunderland made full use of their extra-man advantage following Brede Hangeland's first-half dismissal. With four home fixtures in the next four, including double Gameweek 16, Fletcher chose the perfect time to serve a reminder of his capabilities.
Adam Johnson
The winger added to last week's goal at Everton by providing a pair of assists as the Black Cats scored more than a single goal for only the second time this season. Johnson had previously failed to produce any attacking returns prior to Gameweek 11 but is starting to suggest he may be finally settling at the Stadium of Light.
Carlos Cuellar
Providing he's injury-free, the Spaniard seems nailed-on at the heart of the Sunderland defence and found the net for the first time since moving to Wearside. His cut-price valuation means Cuellar is another likely candidate for his side's upcoming fixtures, bearing in mind O'Neill's side have conceded just three goals in four home games so far.
Stephane Sessegnon
For many a month he's flattered to deceive but the Benin international fired home a superb effort to score for the first time since March. If Sessegnon can return to the form that produced seven goals and 12 assists last term, he could be another differential to consider over the next few.
Going Down
Brede Hangeland
Dismissed for a two-footed challenge on Lee Cattermole, the Cottagers centre-half now faces a three-match ban. Hangeland's absence should afford Philippe Senderos a chance alongside Aaron Hughes ahead of trips to Stoke and Chelsea and a home clash against Spurs.
James McClean
A nailed-on starter under Martin O'Neill last term, the winger was omitted from the starting line-up for today's showdown. The return of Lee Cattermole saw Seb Larsson move to the right and Adam Johnson shift over to the left as McClean dropped out for the second time in three Gameweeks.
Dimitar Berbatov
The Bulgarian was snapped up by over 230,000 FPL managers heading into today's game after producing returns in five of his first six starts for the Cottagers. With injuries and dismissals disrupting the hosts' rhythm, Berbatov returned a rare blank but was nevertheless full of creativity and attacking threat for Jol's side.
Fulham Defence
There's no denying Hangeland's sending off played a part in today's result but Jol's defence continue to leak goals at an alarming rate. Fulham have now conceded three goals in all but one of their last four matches and have shipped 22 this term – only QPR and Southampton have conceded more.
** Just a heads-up to let you know that the Big Numbers article, which usually follows Sunday evening's Stock Check, should now be published tomorrow. Mark has been laid low by a bug and is having a rare night off.
after tinkering (probably too much) for 12 weeks i'm heading very shortly for this:

bego McCarthy
nelsen gorks garriddo wilkinson cuellar
mata fellaini santi michu maloney
rvp suarez tevez

i don't care what you think i just like seeing it in black and white on the screen.

thanks for your time!

PS all out attack is the way forward !!!

I could only dream for a team that costs that much.

What do you think about such team:

Begovic / Foster
Demel / Jenkinson / Ivanovic / Gorkss / Baines
Arfa / Cazorla / Guthrie / Michu / Bale
Suarez / Jelavic / Lambert

1 FT

2.6 in Bank

Problems i got

Ivanovic,Guthrie,Jenkinson,Ben Arfa

Whom would you replace first and with whom ?

Suggestions appreciated

Repost as lost on last page

As a rookie to the game after some experienced advice.
I got michu early and he is now worth 6.9 to me but would be 7.3 to buy back.
Can I ever ship him or is he a forced season keeper??? What does the experienced player do?



Hey guys!
Thinking of the WC even though I don't have many injuries. I feel that I'll gain I nice profit from the future rises and it's all round better. Not confident in Baines and some others so it's better off investing in other places and strengthen the squad.
http://oi49.tinypic.com/6741z5.jpg

What do we think? So many choices! Haha. Best to make my mind up today so I can avoid potential price rises and commit. Thanks in advanced gentlemen

Your team is fine. Definitely not wildcardable.

Yeah, I see that...
Always nice to freshen it up and take a gamble at current form.
Would you recommend Cazorla + Hazard --> Walcott and Silva leaving me 2.0 for Ba to Suarez? Just a -4 point hit..

Cazorla and Hazard are great. Look at this week! I would keep them.

Simple answer is no I would not recommend that.

I think your defence sucks balls, and you need some Chelsea cover. Other than that looks good.

Hmmm... yeah, defence could take some work but at the moment no-one is really producing the goods.
IMO, Baines too simply too much cash consuming. By getting rid of him it would help me free up some funds to upgrade where needed.

Don't recommend a Silva swap? At the end of the day, I have no City players otherwise and Silva is hit for a price hike and a point boost.
Lambert and Ba need to leave, don't have faith in the one bit.

Yes because people are fickle and racist

Season keepers. This is the group just below 'must-have' players (I dont believe there are any of those btw). I define them as players you can play every week without worry, and could reasonably keep and never drop, barring injury. Who do you think is on this list? My initial thoughts:

GK: none
DEF: Baines, Rafael
MF: Hazard, Mata, Bale, Cazorla, Silva, Fellaini, Michu, Morrison
FWD: RVP, Suarez, Tevez, Berbatov

Any others?

Can someone explain to me why Hang get a -1 for 3 goals conceaded. He wasnt on the pitch when any of those went in?

Continue to lose points when sent off, always been the way (apart from when it wasn't in the old days)

Because that is the rule regarding red cards

Go to the FPL 'Rules' section. There's all you need to know in there.

Ruiz>Tevez for -8 hit? Fell suspended, Ruiz was doing well for me in recent weeks, but now injured, and my 5th mid is Dyer, not wanting that and Ivan moved back to CB so not too keen on him (vs Mancity too) and Gorkss and Nelson won't help. should i?

A)Yes
B)No

Anyone within 10.2 (got Suarez)

hello lads ,
here is my full team

Begovic/ cerny

ivanovic mtscker Mccartney Baird Williamson

Mata Hazard Bale Maloney britton

Suarez Ba Tevez
got 2.4 in the bank , 1 FT

was thinking to Get RVP for a 4 point hit , which should i get rid of, tevez or Ba ?

Hazard/Ba to sterling/RVP perhaps ?

Replied on previous page. Lot of work needs doing imo

Looking at fixtures and form, Liverpool look strong weeks 14 - 21

Maybe a defender and Suarez looking very good options

don't recommend a defender, but f u really want a LIV defender, it's gotta be Skrtel or GJ

Having the same grav is going to be confusing 😐

Suarez is a very good option.
Not sure on the defence but Wisdom is probably worth a look.

Who do you think is a better long term option.
A) Tevez
B) Suarez

Why?

Tevez clearly. He plays for a team that will win the league probably. Liverpool are going to struggle at different points and they won't be smashing teams 5-0 on the reg.

Not as clear as you think, imo.

Then why did you ask for our opinions?

So its invalid to disagree over the same?

B) Cuz he's more secure and he's he creates a lot more chances, he's the focal point of the team too so he'll almost always receive the final ball

Would like both, but look at Liverpools upcoming fixtures and the fact Suarez scores nearly all the goals, has to be Suarez.

Mate, I appreciate your joining of the Santi fanclub...but did you have to pick the same grav??

lol, 1 of u gotta change ur grav 😆

Good H2H. My transfers cost me a narrow win i think, but i think my moves will hold good in the long term. Whadya think?

Yeah looks like I've nicked it.. Transfers close to call ... all 4 look like decent options at the moment to me. Some thinking to do at my end this week ...

Too close to call imo. Suarez would shave it as hes the focal point of Liverpools attack while Citys goals can come from Aguero, Dzeko, Silva, even Kolarov and Toure! Liverpools goals dont seem to be coming from anyone else atm

@Tinkerman...when I said Ba is better value than Suarez I didn't literally mean he has scored more points than Suarez since I bought him. I mean he is better value because he has got a lot of points and is cheaper...yes I probably would have been 20 points better off with Suarez...but I wouldn't have had other players in my team because of it. Therefore he is better value as I could accomodate other points scorers in other areas.

7.7 vs 9.5 (Suarez's price back then)

I don't regret buying Ba for one second over Suarez.

Of course, I just get annoyed that it's all about who is the most 'supreme' value. It's all relative to your team's setup. And no-one anticipated this Suarez form...Ba has more history of form in the league so it was a no brainer.

not really
while suarez did not always score heavily, he was always a dangerous man in front of goal
everybody anticipated this run for suarez especially since borini' injury
the only history ba has is scoring 16 goals in 20 games and then scoring 1 in the remainig of the season

LOL

That's not a good history, is it?

He played out of position when Cisse arrived. Now he's back being the main man. 16 goals in 20 games!! This is why I bought him you buffoon!

I feel like this is the season suarez shouldnhave had last year coming off the back of a successful copa america. But it didnt work out. Also he was prolific for ajax, people seem to forget

Is anyone else getting twitchy about Baines? Not producing the goods at the moment.

sacrified next week's potentially rewarding fixture and transferd him out to raise funds for silva

Sticking till after the Arsenal game myself.

Absolute nightmare week, so would really appreciate some advice. I only have 0.2 in bank, so not sure if I can do anything with Fonte with that budget. Considering just sticking and addressing it next week with a 2 FT. Is this good enough though, any ideas guys appreciated?

Begovic

Rafael - Fonte - Baines

Mata - Sterling - Bale (vc) - Nolan

Suarez - Berbatov - RVP (c)

McCarthy - McCartney - Nelson - Fellani

good call
there isnt much u can do about fonte so keep him adn see what happens next week especially with everton bad run of fixtures

thanks, you have a bad week and it makes you feel like you need to react, the old patience runs thin. I would like Silva but Bale looks good this week. Team needs some adjustments and I cant do much with the one transfer.

yeah and i especially like to take a hit when i have 2 FTs
historically it always works wonders and feels like a semi WC

FPL GODS, PLS get Silva a blank and a yellow next week so his price won't rise more :pray:

With the emergence of "Tier 2" strikers in the 8-10m range such as Ba, Giroud, Tevez and Suarez, is anyone considering downgrading RVP for them? You could save up a significant amount of cash (5m) and get pretty much the same kind of scores.

I'm not quite brave enough to do this as I know how RVP can explode but it could be a nice tactic that could pay off.

Check Mr. Van Persie's fixtures.

Yeah of course you would hold short term but long term it could work

Would like to offload one of either Baines, Jelavic or Pienaar but with NOR up next I am unsure?

I'd also like to do Foster > Ruddy

Shall I just my 1FT for now?

With 1ft, who would you trade out for the next GW

a) Baines
b) Pienaar
c) Jelavic
d) Foster
e) No-one, save it

B) he is playing poorly IMHO

Sticking with Baines for Norwich and Arsenal then thinking of.switching to raf or Enrique (if nailes on) mad to keep him for Arsenal?

did anyone see on here yesterday this guy who'd done a breakdown of where the points were being scored (def mid attack) and then worked out as a percentage how much of your budget you should spend on each position? i probably haven't explained it very well but it was probably one of the best pieces of stat usage i've seen on here. he must be a gmabling man. brilliant info. anyone see it? i want to look at the figures again!!
Scout Picks
Gameweek 25
Janmaat

Williams

Alderweireld
Wijnaldum

André Ayew

Dele Alli

Roberto Firmino

Sánchez
From the Community…
Comments
Hot Topics
Articles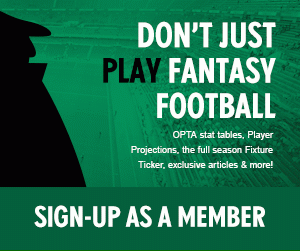 The Watchlist
Goalkeepers
Player
Club
Factors

Up

Hennessey
CPL

C

,

Vs

,

£

Down

Butland
STO

C

,

Vs

Up

Schmeichel
LEI

A

Up

Forster
SOT

A

Up

Courtois
CHE

B

,

Vs

Up

Fabianski
SWA

A

No Change

Boruc
BOU

B

No Change

De Gea
MUN

B

No Change

Cech
ARS

B

,

VsX

Up

Foster
WBA

C

,

VsX
Defenders
Player
Club
Factors

Up

Ivanovic
CHE

A

,

Vs

Up

van Dijk
SOT

A

Down

Baines
EVE

B

,

Vs

Up

Dann
CPL

C

,

Vs

Up

Cresswell
WHM

B

,

Vs

Up

Williams
SWA

A

No Change

Dawson
WBA

C

Down

Alderweireld
TOT

B

No Change

Daniels
BOU

A

,

£

No Change

Fuchs
LEI

A

No Change

Van Aanholt
SUN

A

,

VsX

Down

Bellerín
ARS

C

,

VsX

Down

Smalling
MUN

C

Down

Moreno
LIV

C

,

Vs

Down

Johnson
STO

B

Down

Kolarov
MCI

B

,

Rest

,

Inj
Midfielders
Player
Club
Factors

No Change

Payet
WHM

B

,

Vs

Up

Roberto Firmino
LIV

A

,

Vs

,

OoP

Up

Dele Alli
TOT

A

,

Inj

Up

Barkley
EVE

C

,

Vs

Up

André Ayew
SWA

A

,

OoP

Up

Eriksen
TOT

A

Down

Ozil
ARS

C

,

VsX

No Change

Mahrez
LEI

C

,

VsX

Up

Sánchez
ARS

C

,

VsX

,

Inj

Up

Antonio
WHM

A

,

Vs

,

Rest

,

£

No Change

Willian
CHE

B

,

Vs

,

Inj

No Change

Wijnaldum
NEW

B

Down

Arnautovic
STO

C

,

Vs

,

Inj

Up

Silva
MCI

C

No Change

Johnson
SUN

B

,

VsX
Forwards
Player
Club
Factors

No Change

Aguero
MCI

A

No Change

Kane
TOT

B

Up

Vardy
LEI

C

Up

Diego Costa
CHE

A

,

Vs

,

Inj

No Change

Ighalo
WAT

C

,

VsX

Up

Rooney
MUN

A

Down

Lukaku
EVE

C

,

Vs

No Change

Giroud
ARS

B

,

VsX

,

Rest

Up

Afobe
BOU

A

,

£

Down

Austin
SOT

B

,

Inj
Selection Factors
| | |
| --- | --- |
| A, B, C | Current Form |
| Vs | Favourable Fixtures |
| VsX | Unfavourable Fixtures |
| Rest | Rotation Risk |
| Inj | Injured/Returning from Injury |
| OoP | Out of Position |
| £ | Potential Bargain |
| Sus | Suspended/Near Suspension |
| Player | Team | YC |
| --- | --- | --- |
| Colback | NEW | 9 |
| Byram | WHM | 9 |
| Lucas | LIV | 8 |
| Jones | SUN | 8 |
| Yacob | WBA | 8 |
| Westwood | AVL | 7 |
| Diego Costa | CHE | 7 |
| Huth | LEI | 7 |
| Can | LIV | 7 |
| Mangala | MCI | 7 |
| Shelvey | NEW | 7 |
| Pieters | STO | 7 |
| Dele Alli | TOT | 7 |
| Dier | TOT | 7 |
| Noble | WHM | 7 |
"All players will blank a few times during the season. When almost all do it in the same Gameweek, it is tough to take, but that's just the dark side of probability."

Abreu 42 Community regular