Alan Pardew made his second acquisition of the winter transfer window yesterday by snapping up Mapou Yanga-Mbiwa from Montpellier on a five-and-a-half-year contract. The centre-half moves to Tyneside for an undisclosed fee and follows fellow French international Mathieu Debuchy to the club this month as the Magpies look to bolster their bid for survival.
Having accrued a single point from their last five league games, Pardew's side sit just two points ahead of the drop zone following last Saturday's home defeat by Reading and are in real danger of being dragged into a relegation fight. With club skipper Fabricio Coloccini apparently keen to return to his native Argentina, the Newcastle boss has turned to the highly-rated 23-year-old to shore up his defence:
"We needed to strengthen the team and bringing in Mapou will give the whole squad a boost. He is precisely the sort of player we've been looking to bring to the club. He is a good age for us but has plenty of experience at club and international level. Mapou is a talented footballer, good in the air and on the ground and has all the attributes to succeed as a quality defender in the Premier League. He's a good character too and that will be important for us over the next few months."
The Statistics
Born in the Central African Republic, Yanga-Mbiwa moved to France as a youngster and joined the Montpellier youth set-up in 2005. As an 18-year-old, he made his debut towards the end of the 2006-07 and, quickly establishing himself as a regular in the heart of defence, helped his side gain promotion to Ligue 1 a couple of seasons later.
His leadership qualities saw Yanga-Mbiwa named skipper of the club and last term he captained Montpellier to their first ever Ligue 1 title, where they ended the campaign three points ahead of big-spending PSG. Over the course of seven seasons, Yanga-Mbiwa made 186 league appearances, scoring four times and providing three assists. Having featured five times for the France U21 side, he has since picked up three senior caps and was narrowly omitted from the final squad for last summer's Euro 2012.
The Prospects
With reports once again surfacing this morning of Coloccini's unrest, it's looking more likely that Pardew will be without the Argentine by the time February comes around. The Magpies skipper has had an average season by his own high standards in a campaign also blighted by injury – a situation similar to that of Steven Taylor. Without the stability of his first-choice central defensive pairing at the back, Pardew has seen his side register just four clean sheets all season – a far cry from the resilient displays that kept our their opponents 15 times last term.
As a result, Pardew has mainly relied on Mike Williamson but with Taylor edging towards a return, Williamson – who has started 18 of the Magpies' 23 league matches – could well be edged out the picture and revert to the role of squad player once again. Strong in the air, Yanga-Mbiwa reads the game well and is composed on the ball at the back – there seems little doubt he's set to be installed in the heart of the back-four.
Faith in Newcastle's Fantasy assets is understandably low right now, though. Pardew's side started the campaign with two defeats in their opening 10 but, in a season which has seen many of their main men sidelined by injury, have since lost 10 of their last 13 matches – it's little surprise the Newcastle boss has been linked with a handful of new players as he looks to quickly address his side's dire form. Confidence may be dented at present but as the new acquisitions continue to arrive, we may once again find the Magpies offering us a source of mid-price Fantasy alternatives.
Likely to come in at 5.0 in Fantasy Premier League (FPL), Yanga-Mbiwa has a trip to fellow-strugglers Villa up next and while games against Chelsea and Tottenham dent his appeal, Newcastle then face a kind run of matches (SOT, swa, STO, wig) that look crucial to their prospects. While Pardew is clearly delighted with his new arrival, reports in the French suggest that Montpellier boss Rene Girard is set to leave the club this summer as a result of his annoyance over Yanga-Mbiwa's sale – a show of appreciation over Newcastle's new boy if ever there was one. His lack of attacking returns in France, however, suggest Yanga-Mbiwa is likely to be overshadowed by 5.0 priced Debuchy for goals and assist potential, though the stability he brings at the back could well boost his side's appeal from a defensive perspective.
Further Reference
Mapou Yanga-Mbiwa Wikipedia
Mapou Yanga-Mbiwa Statistics
Mapou Yanga-Mbiwa YouTube
Trivia (this was on here the other day, so if you saw the answer then, please don't answer now!)

Who are the 2 clubs that have been in the top division of English football, but never been relegated.

Yep. The other one is a bit of a trick question, but technically right.

Swansea

Oh it's not this Woolwich Arsenal nonsense is it?

It's Arsenal and Everton, i'm surprised everyone else didn't know this...

those on the fletcher bandwagon how long u keeping for? have read most for 2 weeks but his fixtures look tasty till gw30.....

who is your player with lowest % teams selected by? that you play.

Garrido, but not for much longer

Nice. Hes' funny looking but you don't mock the poor guy.

Voted most mercenary I wonder? *cough... Drogba...*

Talking about margins which are catchable. Last year at this time i was around 120 points behind my ML leader and won. I was 120,000 and finished within the top 10k.

season before i was 2nd 100 points behind with 5 gws to go..won by 15 points i finished 700 rank for the month though

Outstanding! If i was the ML leader id have been gutted.

I'm effectively chasing United for my mini league. What are the chances?

is there any chance bego could be dropped for a while? conceded loads recently and sorensen saved a penalty in the cup to keep them in it recently

hope so hes my only keeper to play all season now

Tevez and Punch

OR

Bale and Pog

on a WC?......No other City or Tottenham cover....

bale, too much uncertainty around tevez gametime

The latter. Tevez not nailed on...

What would you score this team out of 10 ?

Bego - Bunn

Zab - Azpi - Davies - Demel - Clyne

Mata - Michu - Fellani - Bale - Guthrie

Aguero - RVP - Fletcher

Thoughts are appreciated

Solid effort. Only changes I would consider are;

Kun > Dzeko

Fletcher > Sturridge

Guthrie > AJ

currently on WC and am currently trying to decide between:

a) Aguero / AJ; or
b) Sturridge / Mata

Don't own Mata so would cost me 10m – what do you reckon?

A. Suarez, Fellaini, Nastasic, 0.1 in bank
B. Sturridge, Bale, Zabaleta, 0.3 in bank

B with fletcher for two weeks

afternoon gents - rmcwct please

begovic / federici
bdavies / onouha / cameron / r.martin or turner / demel
michu / mata / fellaini / walcott / puncheon
rvp / suarez / agueroooo-oo

0.7m in the bank

premature question but I'll ask anyway..

Small issue with my team this week is to play

A Gibbs(LIV)
or
B Davies (sun)

Thanks for your answers

Anyone been to Chicago? Worth going?

Mignolet Henderson
Davies Rafael Onuoha Zaba Clyne/4.0
Fellaini Michu Walcott Mata Marv
RVP Aguero Fletcher

How's this WC looking? 0 in the bank and planning on Fellaini > AJ & Fletcher > Sturridge in a couple of week.

Any changes you'd make?

Who is the only player in World Cup history to score for two different national teams?

Own goals don't count.

Anichebe or Pog?

Have Suarez and RVP, plus four of the 'power mid' and Puncheon; plan is to rotate one of these two with Puncheon H/A, with the other six playing every week

Difficult to say about anichebe. With mirallas back his opportunities could be seriously cut. Then again he could replace jelavic upfront. There's no doubt he's more effective than pog if hes given the same amount game time. For safety I'd say pog

Assuming he plays later, is anyone planning on keeping Podolskl for the near term? Arsenal seem to have the best next 4 fixtures at least.

I'll be at the match scouting him.

e.g No. 28 = Hull (city)

Cryptic Clues for English and Scottish Football Clubs
> ~~~~~~~~~~~~~~~~~~~~~~~~~~~~~~~~~~~~~~~~~~~~~~~~~~ ~~~
>
> 1. Heavyweight Toilet
> 2. Wild Dogs
> 3. Professor on Rollers
> 4. Glass Mansion
> 5. Male Meadow
> 6. Animals Car
> 7. Dirty Water
> 8. Squash a weight
> 9. Males Together
> 10. Steel City Day
> 11. Always a Hundred
> 12. Famous for buns
> 13. Not an Eastern Meat
> 14. Where the wombles meet Henman
> 15. Detectives need them
> 16. Famous football brothers
> 17. Vehicle surrounded by water
> 18. Opposite of dull off
> 19. Cotton Factories own barrier
> 20. Lock the door
> 21. Royal Leisure Area Guardians
> 22. Cows have them
> 23. Collection of Arms
> 24. Famous Jockey
> 25. Keep the fire burning
> 26. Where to send the enemy
> 27. Not a North or South County
> 28. Bottom of ship
> 29. Put underground
> 30. Famous Haircut of yesterday
> 31. A U.S president
> 32. Complete bacon joint
> 33. Larger than a duck pond
> 34. Bonnies vicious partner
> 35. Hawaiian greeting
> 36. We need this to live
> 37. Latest fort
> 38. What burglars do
> 39. Naked lights a candle
> 40. Organ on a small lake
> 41. What a son might say after a parents illness
> 42. Car outside a Spanish House
> 43. Prison Clock
> 44. A letter beneath the Earth
> 45. Dark Stream
> 46. Heavy Dear
> 47. Stupid Special Agent
> 48. Golfers cry goes a distance

10 - Sheffield United
11 - Everton
13 - West Ham
14 - Wimbledon
18 - Brighton
23 - Arsenal
25 - Stoke
27 - Middlesbrough?
29 - Bury
30 - Barnet?
32 - Fulham
35 - Alloa

Some tough ones in there!

30 is Barnet, the best team in the world

steel city day is sheffield wednessday

11. Everton
23. Arsenal
28. Hull
29. Inter/Bury
35. Alloa Athletic
36. Ayr
22. 'Uddersfield
13, West Ham
9. Man United

12. Chelsea
13. West Ham
14. Wimbledon
17. Carlisle
20. Bolton
23. Arsenal
24. Leicester
29. Bury
34. Clyde
42. Aston Villa

Beat ya

de Gea Federici
Hughes R. Martin Davies Demel Clyne (Wilson in for Clyne when he's back)
Bale Walcott Mata Michu Fellaini
Berbatov RVP Lambert

What do you reckon?
Your thoughts would be greatly appreciated!

0.0 in the bank

berbatov? hes possibly a good punt provided he feels sufficiently aggrieved by united.

Thanks!
What do you think of de Gea?
Scout Picks
For Gameweek 29
Snodgrass

Lallana

Mata

Hazard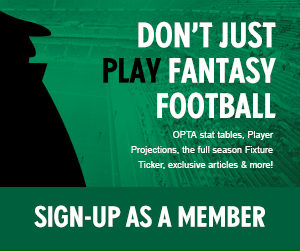 Watchlist
Goalkeepers
Player
Club
Factors

No Change

Boruc
SOT

B

,

Vs

Up

Begovic
STO

C

,

Vs

No Change

Ruddy
NOR

B

,

Vs

No Change

Cech
CHE

A

Up

Speroni
CPL

B

,

£

Up

De Gea
MUN

B

No Change

Howard
EVE

B

,

Vs

No Change

Adrián
WHM

B

,

£

Up

Mannone
SUN

B

,

Vs

,

£

No Change

Krul
NEW

C

Up

Foster
WBA

C

Up

Hart
MCI

B

Down

Marshall
CAR

C
Defenders
Player
Club
Factors

Up

Terry
CHE

A

Up

Evra
MUN

B

Up

Shawcross
STO

C

,

Vs

No Change

Fonte
SOT

B

,

Vs

No Change

Olsson
NOR

B

,

Vs

,

£

Up

Ward
CPL

C

,

£

No Change

Coleman
EVE

C

,

Vs

Up

Collins
WHM

A

,

£

Up

Bardsley
SUN

C

,

Vs

,

£

Up

Kompany
MCI

A

Down

Caulker
CAR

C

Up

Ridgewell
WBA

C

,

£

No Change

Skrtel
LIV

B

No Change

Williamson
NEW

C

,

£

Down

Koscielny
ARS

B

,

VsX
Midfielders
Player
Club
Factors

No Change

Hazard
CHE

A

No Change

Lallana
SOT

B

,

Vs

Up

Mata
MUN

C

Down

Snodgrass
NOR

B

,

Vs

,

Inj

Up

Brunt
WBA

C

,

£

Up

Walters
STO

B

,

Vs

No Change

Ince
CPL

C

,

Rest

,

£

Up

Y Touré
MCI

B

No Change

Nolan
WHM

A

Up

Johnson
SUN

B

No Change

Gerrard
LIV

A

Down

Mirallas
EVE

B

,

Vs

,

Rest

Down

Noone
CAR

C

,

Inj

,

£

Down

Cazorla
ARS

B

,

VsX
Forwards
Player
Club
Factors

Up

Suárez
LIV

A

Down

Sturridge
LIV

A

Up

van Persie
MUN

A

Down

Adebayor
TOT

A

,

VsX

No Change

Lambert
SOT

B

,

Vs

No Change

Rodriguez
SOT

C

,

Vs

,

£

Up

Crouch
STO

B

,

Vs

,

£

Up

Hooper
NOR

C

,

Vs

,

£

Up

Aguero
MCI

C

,

Inj

Up

Lukaku
EVE

C

,

Vs

,

Inj

Up

Remy
NEW

B

,

Vs

No Change

Jelavic
HUL

B

,

£

Up

Borini
SUN

B

No Change

Bony
SWA

B

Up

Carroll
WHM

C

,

Inj
Selection Factors
| | |
| --- | --- |
| A, B, C | Current Form |
| Vs | Favourable Fixtures |
| VsX | Unfavourable Fixtures |
| Rest | Rotation Risk |
| Inj | Injured/Returning from Injury |
| OoP | Out of Position |
| £ | Potential Bargain |
| Sus | Suspended/Near Suspension |
Suspension Tightrope
| Player | Team | YC |
| --- | --- | --- |
| Olsson | WBA | 9 |
| Delph | AVL | 8 |
| Luiz | CHE | 8 |
| Ramires | CHE | 8 |
| Chamakh | CPL | 8 |
| Barry | EVE | 8 |
| Rooney | MUN | 8 |
| Tioté | NEW | 8 |
| Walters | STO | 8 |
| Yacob | WBA | 8 |
"He's working hard at it and so are we. Sometimes we play well but not all the time. We don't have luck on our side. It's easy to point the finger at someone but I'm not like that. We have to do better ourselves."

Robin Van Persie on criticism of David Moyes.