He may have finished third in this year's Scout Cup, but in Sunday's inaugural Fantasy Football Shield final, Mr KK emerged triumphant.
In a close final with former FFS Cup winner Fuzzy Dunlop, Mr KK won by just four points in a competition that pits the quarter finalists from our Scout and Members Cups against each other in a season-ending clash of tournament titans.
Both our finalists captained Liverpool forward Daniel Sturridge, who returned just four points, and they also profited from Chelsea midfielder Juan Mata's and Tottenham star man Gareth Bale's 10 point hauls. In the end, though, it was Stoke defender Geoff Cameron's assist and Liverpool defender Jose Enrique's clean sheet and three bonus points that proved the difference for Mr KK, who sat tight on his lineup, making no transfers in the final Gameweek.
Mr KK's finishes the season with a final overall rank of 406 and wins our top prize of a £100 Amazon voucher. Congratulations Mr KK!
For Fuzzy Dunlop, his decision to transfer out the suspended Christian Benteke for a gamble on Tottenham's Emmanuel Adebayor ultimately proved costly. Nevertheless, Fuzzy ends the season ranked a creditable 2,373rd and takes our runners-up prize of a £50 Amazon voucher.
We'll be focusing on all our Fantasy Football Scout Leagues and Cups in a round-up article later this week.
Final Results
"The 29-year-old is expected to miss two league games: June 1 at Chivas USA and June 8 versus Vancouver."

Perfect, just the 2 games I need him

I Already have him

Jeepers it's dead here.

I don't suppose anyone has a nicely formatted spreadsheet of all the results for the season just gone?

I know. thanks for your feedback btw, was rather helpful.

not that i'm aware of... why doesn't the fixtures list work?

No probs.

I just want it all nicely formatted in a spreadsheet so I can do some analysis on clean sheets. Hoping to write a 5-way rotation generator but I want some insight into the way clean sheets fell this year.

Wowzers. 29 minutes between 2 posts. Deadest deadzone ever.

Shall we talk about the new City shirt??? FFS how have we allowed Nike to take over the football kit market!!!

Did they buy Umbro? The new Germany...I mean England shirt is a bit of a p take too!

Regardless of how it/they looks anyway, 55 quid!! 55 quid!

It will cost me 140 dollars or there abouts to have a Zabaleta 5 shirt sent over here to Florida (ex-pat Blue).

Over my dead body!!

There are always better deals available if you don't want to go original..

What does the new kit look like?

Indeed, the next three months is going to be painful times for us. RMTs could start as early as June.

When does the fpl site close down for summer?

Want to do some reearch on correlation between hits/team value nd finishing position, before they close it up

When it comes to style and class, there's none better than Puma. Those are lovely!!!

Gladly would have taken Puma at City.

City moved to Nike right?

The first kit is incredible.... It's like a usual Arsenal first kit but........ It has a Puma on it!! OMG

Since West Ham sign Rat, do you expect Demel to be in the starting XI next year?

No offence to the legend, but a back four of Rat-Collins-Reid -O'Brien with Jaaslelainen under the sticks, looks really solid.

I came back after I checked the comments on my posts. Csn we just leave that topic?

Jussi
Joey---Reid---new CB---Rat

The Hammers will be solid next season, especially if they sign Ambrosini to shield the back 4. Diame can now become a box-to-box mid.

Why not Collins? He is pretty solid, anf has good aerial ability.
I remember that 0-0 vs Liverpool, he was simply brilliant.

And Diame? Weren't we planning to buy him in the summer?

Good aerial ability, yes, but not a particularly good defender imo.

Diame is an awful DM. That guy bombs forward more than Song. Thank God we didn't sign him.

I don't know, but ideally, we need a proper DM to play alongside Arteta, so that we can Wilshere behind the striker- he likes that position. Diaby is finished.

I think Wilshere is better in the double pivot rather than in the hole.

Yeah maybe, but we really need a lot more fron Wilshere next season.

And well, how good/bad is Yaya Sanogo, the Ligue 2 guy we are close to? Any reason why he won't end up being the next Chamakh?

Just needs to to get back to full fitness. Hoping he has a big year next season.

6'3, big target man that can play with the ball at his feet. That's all I know atm. Heck, why not? It's a free transfer anyway. You never know, could be another Wenger gem.

I don't mind him as an addition to the squad. What worries me is that Wenger will use it as an excuse not to buy any more strikers this season- after all , he will have two target men- what will he do with more?

Another instance where we compromise quality for bargain deals.

Was he awful this season?

Rat is an offensive left back, he will most probably replace Joey O'Brien. I am from Romania and I know him pretty well, he used to be very promising a couple of years back, even linked with Real Madrid, but in the last couple of seasons he declined. Still think he has a couple of good years in him, could be a really good signing for West Ham. With Carroll on the receiving end his crosses could prove a usefull resource over the season.

I like to play Fifa games with my friends in my league post-season fantasy game with our top scoring players. The hardest part is trying to fit your best players into a formation.

We played an alternate league-rules this time around, so here is my

Where is the rest of my post? Is there a character limit?

How long did it take to type all that?

That must be miserable, turning up 7 times in a row and paying good money to watch your team get crushed. Twice.

291: Luis Suárez had almost twice as many dribbles as any other player. Adel Taarabt was second with 159

363: Luis Suárez touched the ball 363 times in the opposition penalty box this season, 140 more times than any other player in the Premier League (next most – Van Persie with 223).

Amazing stats.

Champions League final fitness update: Götze is waiting for results of an MRI scan after pulling out of training due to leg injury. Lukas Piszczek will be fit for the final, but after Wembley he will miss the next five months (!) due to a hip operation.

More importantly for Dortmund, two oriental small-clawed otters in Aue zoo have predicted that BVB will win the CL final by choosing the yellow corner of their cage over the red one. The zoo originally asked the octopus to perform the task, but couldn't agree a fee with the animal's agent.

https://www.facebook.com/photo.php?fbid=10151690377744203&l=42a9e373fa

Cheers, PB. Any news on Bayern?

I am worried that there will be a defensive reshuffle after their first choice backline conceded three in their last league match. Van Buyten , maybe?

I'd take Bayern's final 4-3 win against Gladbach about as seriously as Man Utd's 5-5 draw with WBA. It was an end-of-season fixture, with Bayern coach Jupp Heynckes bidding an emotional farewell to the Bundesliga at the club where he became famous.

It won't affect the choice between Boateng and van Buyten for the defensive spot alongside Dante.

PB,what do you think,will mandzukic start in final?

his form hasn't been so good lately(goal scoring form) but he still making goodpressure at opponents defences

I think he'll start, yes. It's not so much his goals as what he does for the rest of the team in terms of movement and workrate. Last year's CL final showed that Gomez is too static.

I read yesterday that West Ham had 'lined up' Wilfried Bony' as an option in case Carroll didn't accept their offer. Surprised that Carroll is thought to be a better option, and also if Bony was to go to a club of that level

I think Bony is one of those strikers that tears it up in the Eredevisie then proceeds to falter in other leagues. Think Bas Dost and Bjorn Vleminckx.

I agree, he looks like he lacks desire and is lazy from what I've seen of him, a lot of his goals look a little fluky.

he's one of the best players I have seen come to the Arena, you can't possibly compare him to Dost & Vleminckx, they are just poachers, and Vleminckx really only had 1 decent season. Bony is a really good all round player. I would love him at Ajax, but he wants to leave NL.

He does give off the lazy vibe tbh.

think maybe you could be looking at it from an English mentality. Football is no longer about constantly running down the channels and 'putting a shift in'. He keeps the ball well and creates and scores when he has it. Not making a comparison as it would be unfair but Litmanen & Bergkamp were hardly workhorses.

Seen the last episode of GOT? Quite liking how they are developing the Dragon mother's character.

Yep. This season is all about building her up.

I do know a ton of spoilers though. Awful feeling.

Of course I won't spill.

Tip: never read anything online about GoT. Don't read any comments on GoT YouTube vids as well.

i like spoliers , what will happen ?

Don't ruin your experience Forca!

majetic_23@hotmail.com

feel free to spiol everything

specialy if you read books prehaps

yeah,she is absoulity brilliant

3 weeks ago i started watching from season 1 and i really enjoyed the show

this season is the worst in my opinion as well...

Still love it nonetheless..

yeah,but early episodes has been much better in my opinion

i miss ned stark

joffery is so annyoning

kingslayer characther is interesting now,i used to hate him but seems like he is good now

but my favorite part of this season is dragon mother story

how do you rate neymar as player?

i just read that City will bid 100M for him

shocking,since he didnt do anything in international football just yet

Seen him play a fair few times..Still looks raw to me..Don't get the hype..yet.

Bags of potential probably but i haven't seen much..

Neymar is headed to Barcelona. I do think he's a tad overrated but the kid has skills.

Napoli have already confirmed that they're in talks with City for Cavani.

i've just read that in bar while i was drining nice coffe

dzeko-cavani deal should be brilliant transfer for both clubs

Currently my favorite striker in the world. City will be scary with Cavani.

Plus there are reports of Gomez to Chelsea.

yeh i've seen that too

cavani is so good and with him city could grab title so easily

Gomez to chelsa is another possible brilliant transfer since guy is a goal machine and i think that he will score 30 in his first season in chelsa

if all those transfers happens UTD wont have much chanses for first 2spots i think and they should be happy with UCL spot

i already miss SAF

Weren't Chelsea going to win the title this season too?

I don't know why they need a striker to be honest. Lukaku is the bees-knees.

i never said that chelsa gonna win this season,i actually predicted them 5th spot pre season...

but with new coaqch and hazard/Oscar 2nd season in club they will be some club

Lukaku is beast but he is still young and expirienced player like Gomez could do great for them

if MOU will become coach i perssonaly see only City vs Chelsa fight for 1st spot

Always like the underdog tag does United

fecking moyes is a new coach....and legend is gone for good

i dont have any expetecions from UTD in next season

When was the last time United were called underdogs?

Because of the nature of this particular team, quite a few times in the last few years. Of course there is uncertainty with moyes, but i'll back him. Will be patient.

pelegrini could be good , i like his style and he will suit fpl mamangers as well

not much rotations,atacking football,you can't ask for more than that

Thoughts on Coutinho doing so well for Inter? I remember you talking him down..i love the look of him..

to be fair he always had brilliant potential but he didnt preform in Inter like people expected him to do,maybe he was on big pressure and people expected him to do great,he also had problems with injurees and he had limated game time

kid is a true gem and classy player

Hey Forca, is Kovacic good?

yeah,he is fantastic,the only good player who constantly preformed well in Inter poor season

with age of 19 kid playing like Gerrard with so much confidence

i was so excited when he finally play for our national team and he did not let me down,was one of the best players

hopefully he will play in UTD in 3-4 years time

not at all since he has been playing for my local club with age of 16 and i watched him numerous of times,brilliant player

True, but with Aguero and Cavani in their ranks, it will be difficult to choose the right Citeh striker.
Will both play together? Don't think so.

why not? Aguero is more suporting striker and he could play behined Cavani

i do belive that they could fuction well together

Last 4 episodes of Breaking Bad left. Almost done.

Well in time for the new season.

Thinking of starting a lightish comedy next. Arrested Development maybe since a friend wants me to see it badly..

my recmoned is ,,the league''

it's about NFL fantasy league

you should see who really fantasy freaks are,show is so funny and hillarious as well

Ah yes. A friend mentioned it too. Will watch.

Seen it

Not seen. Noted.

A great show. Good at the start, briliiant a couple of series in. Anything that puts a naked Danny De Vito in a sofa can only be good.

Yea I agree, it does tail off a bit around season 6 I reckon - though Kaitlin Olsson's character just gets better and better, she ends up almost carrying the show.

Am I the only one who thinks that stoke will struggle, now?

Like Charlton post Curbishley, perhaps. I suppose it depends on who replaces Pulis.

+1. problem with pulis is that he made many useless signings. The new manager should ditch all deadwood and get some real talent, only then i can see them having any chance to survive next season.

I personally think that Pulis did very well. Ah well ...

He did OK to keep them in the PL, but I think he could have done better with a wage bill of £55m. Consider that West Brom's wage bill is in the same ball park and they finished with 7 points more than Stoke last season.

Especially if this is true:

Bosnian paper Dnevni Avaz this morning suggests Reina will be replaced by the "younger and better" - and cheaper - Stoke City goalkeeper Asmir Begovic.

- Phil McNulty on Twitter

Will depends who comes in & if the can keep their defensive unit imo - Begovic, Shawx, Huth & Wilson mainly. Obviously can't compare them to Wenger's defence when he took over, but keeping what works well, & is used to playing together, will at least give them some sort of foundation.

No, you're not alone. I think they will likely find it very hard indeed and I will be very surprised not to see them fighting relegation.

what do you mean by struggle "now"?

Evil Kagawa @evilkagawa

Stoke order Pulis play sexy football like Kagawa. He say this no possible! Same happen Mourinho at Madrid. BOTH SACKED! 'The Kagawa effect'

evilkagawa ftw

Are people gonna stay here over the summer, or are you taking a break to refill powers for next season? Last summer was actually quite many people around, with the Euros fantasy going on.

I'm really looking forward to it - slower turnover of pages, better chat, and best of all from my perspective we'll have a team of mods so I won't have to do that anymore.

Well said. On a match-day here, the pages be flyin' like madness.

Complete break for me, just waiting a few days to process this season. Need to have my mind off everything FPL related for at least a month every year, seeing as I think about it so much for most of the year.

I think the majority is thinking the same. Always good with a break, FPL is bloody fun, but it takes a lot of time and thinking over a season with all the ups and downs. As stupid as it sounds, it's true.

Oh I've seen it, it happens!

every summer so far there have been people around, obviously not as busy but it goes up and down.
I will probably duck in and out depending on how busy work is!

Sounds good. No vacation over the summer?

Nothing like a bit of afternoon gymnastics

don't think so because people like JK are trying to become admins to avoid the drop

they're published - check the site
Scout Picks
For Gameweek 15
Hazard

Gerrard

Ozil

Shelvey

Nasri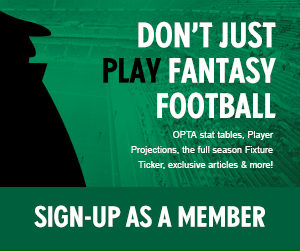 Watchlist
Goalkeepers
Player
Club
Factors

Up

Howard
EVE

B

,

Vs

,

Sus

Up

Marshall
CAR

B

,

Vs

Up

Krul
NEW

A

,

Vs

Down

De Gea
MUN

C

,

Vs

No Change

Cech
CHE

C

Up

Guzan
AVL

A

Up

Ruddy
NOR

C

Up

McGregor
HUL

C

,

Vs

,

£

Up

Lloris
TOT

B

No Change

Speroni
CPL

A

,

Vs

Up

Pantilimon
MCI

B

,

Rest

,

£

Down

Szczesny
ARS

A

,

VsX
Defenders
Player
Club
Factors

No Change

Terry
CHE

B

Up

Coleman
EVE

A

,

Vs

Up

Williamson
NEW

B

,

Vs

,

£

Down

Evans
MUN

C

,

Vs

,

Rest

,

£

Down

Mertesacker
ARS

A

,

VsX

Up

Olsson
NOR

C

,

Vs

,

£

Up

Turner
CAR

B

,

Vs

,

£

Up

Bardsley
SUN

B

,

£

No Change

McAuley
WBA

C

,

Vs

Up

Walker
TOT

B

Up

Clark
AVL

A

,

Vs

,

Rest

,

£

Up

Davies
HUL

B

No Change

Ward
CPL

A

,

Vs

,

£

Down

Flanagan
LIV

C

,

VsX

,

Rest

,

£
Midfielders
Player
Club
Factors

No Change

Hazard
CHE

A

No Change

Ramsey
ARS

A

,

VsX

Up

Gerrard
LIV

A

No Change

Ozil
ARS

B

,

VsX

No Change

Y Touré
MCI

B

,

VsX

Up

Nasri
MCI

A

,

VsX

Up

Fer
NOR

A

,

Vs

Up

Walcott
ARS

C

,

VsX

,

Inj

Up

Bannan
CPL

B

,

Vs

,

£

Down

Sessegnon
WBA

C

,

Vs

,

Rest

Up

Whittingham
CAR

B

,

Vs

,

£

Up

De Guzmán
SWA

C

,

Vs

,

Rest

No Change

Lallana
SOT

C

,

VsX

Up

Morrison
WHM

B

,

Rest

,

£

Up

Brady
HUL

C

,

£

,

Sus

Up

Barkley
EVE

B

,

Vs

,

Rest

,

Sus

Down

Arnautovic
STO

B
Forwards
Player
Club
Factors

No Change

Suárez
LIV

A

,

Vs

No Change

Aguero
MCI

A

,

VsX

No Change

Lukaku
EVE

A

,

Vs

No Change

Rooney
MUN

A

,

Vs

No Change

Remy
NEW

A

No Change

Giroud
ARS

B

,

VsX

No Change

Negredo
MCI

A

,

VsX

No Change

Rodriguez
SOT

A

,

£

Up

Deulofeu
EVE

A

,

Vs

,

Rest

,

£

Up

Hooper
NOR

A

,

Vs

,

£
Selection Factors
| | |
| --- | --- |
| A, B, C | Current Form |
| Vs | Favourable Fixtures |
| VsX | Unfavourable Fixtures |
| Rest | Rotation Risk |
| Inj | Injured/Returning from Injury |
| OoP | Out of Position |
| £ | Potential Bargain |
| Sus | Suspended/Near Suspension |
Suspension Tightrope
| Player | Team | YC |
| --- | --- | --- |
| Wilshere | ARS | 4 |
| Agbonlahor | AVL | 4 |
| Westwood | AVL | 4 |
| Ivanovic | CHE | 4 |
| Barkley | EVE | 4 |
| Barry | EVE | 4 |
| Howard | EVE | 4 |
| Parker | FUL | 4 |
| Javi García | MCI | 4 |
| Valencia | MUN | 4 |
| Sissoko | NEW | 4 |
| Turner | NOR | 4 |
| Fonte | SOT | 4 |
| Wanyama | SOT | 4 |
| Cameron | STO | 4 |
| Huth | STO | 4 |
| Colback | SUN | 4 |
| Gardner | SUN | 4 |
| Chico | SWA | 4 |
| Rangel | SWA | 4 |
| Paulinho | TOT | 4 |
| Dawson | TOT | 4 |
| Yacob | WBA | 4 |
"I'm delighted, having time to re-evaluate his future, Christian has decided to commit to the Club. It's a huge bonus and I'm sure the supporters are every bit as delighted as me to have him on board and raring to go."

Paul Lambert revels in convincing Christian Benteke to revoke his transfer request