In our second selection guide for The Sun Dream Team, we turn our attention to the defence, casting an eye on the strategies involved in selecting a back four and the prime candidates on offer.
While the big points scorers can be found further up the field, with a quartet of defenders a pre-requisite for our lineups in The Sun Dream Team, we can ill-afford to neglect this area. As with our goalkeeper selection, we're looking for regular starters first and foremost, although, as we'll see, attacking instincts and the potential for goals is also key.
Before we begin looking at specific player options, let's analyse the factors that govern our selection – including last season's performance, the influence of cup fixtures and possible transfer window strategies.
The Strategies
Top Ten Sun Dream Team Defenders by Overall Points 2012/13
| Name | Team | Starts | 7+ Ratings | Star Man | Goals | CS | GC | Points |
| --- | --- | --- | --- | --- | --- | --- | --- | --- |
| Baines | Everton | 44 | 32 | 5 | 7 | 12 | 48 | 196 |
| Ivanovic | Chelsea | 54 | 21 | 3 | 8 | 18 | 60 | 177 |
| Vertonghen | Tottenham Hotspur | 48 | 28 | 3 | 7 | 13 | 59 | 164 |
| Luiz | Chelsea | 50 | 18 | 1 | 7 | 19 | 55 | 153 |
| Agger | Liverpool | 38 | 20 | 1 | 3 | 17 | 41 | 138 |
| Shawcross | Stoke City | 40 | 22 | 5 | 1 | 13 | 44 | 135 |
| Johnson | Liverpool | 41 | 20 | 2 | 1 | 18 | 46 | 135 |
| Williams | Swansea City | 41 | 25 | 3 | 0 | 13 | 47 | 129 |
| Jagielka | Everton | 41 | 18 | 4 | 3 | 11 | 44 | 129 |
| Mertesacker | Arsenal | 43 | 14 | 1 | 3 | 17 | 43 | 124 |
Looking back at the previous campaign's data, it's clear that some familiar names from other Fantasy games also dominate in The Sun Dream Team. Leighton Baines' status as the top defensive asset is compounded by his standing, here: he finished the season some 22 points ahead of his nearest rival in The Sun Dream Team, despite claiming just 12 clean sheets. Everton's progress to the FA Cup semi-finals boosted another eye-catching Premier League season for Baines, who achieved a points per game stat of 4.5 – by far the most impressive amongst the top ranked defenders.
The Chelsea pairing of Branislav Ivanovic and David Luiz benefited from a successful Europa League campaign but turned in points per game numbers of 3.2 and 2.9 respectively – emphasising Baines' efficiency. Tottenham's Jan Vertonghen was also aided by Europa League appearances and, overall, it's significant that these top four defenders all claimed seven or more goals over the season – underlining the importance of targeting those capable of contributing at the sharp end.
While goals are clearly an important factor, we should also consider the role played by points gained for Star Man and 7+ ratings.
Baines, Stoke's Ryan Shawcross and West Ham's James Collins all topped the Star Man charts for defenders with modest totals of five awards. In 2011/12, Baines, along with Shawcross, were two of eight defenders tied on just three at the top. Compare this to Juan Mata's 15, and the 13 accrued by both Gareth Bale and Luis Suarez last season, and it's clear that, like goalkeepers, defenders struggle to overshadow their attacking team-mates when it comes to picking up man-of-the-match status.
Points from 7+ Sun Ratings are easier to obtain, however. There were ten defenders who earned 7+ ratings on 20 or more occasions last season, with Baines registering a hugely impressive tally of 32 from his 44 starts, gathering 96 points in this area. Vertonghen also gained heavily here – he collected 7+ ratings on 28 occasions from 48 starts, while Swansea's Ashley Williams earned the same accolade in 25 of his 41 Dream Team starts.
As a rule, aside from the obvious benefit of scoring in a match, dominant central defenders and full-backs with strong attacking impetus are the most likely to earn a 7+ rating. Baines has featured in the top five rankings for 7+ ratings over the last four seasons – emphasising the importance of a consistent attacking presence. Similarly, both Shawcross and Williams have made the top ten for 7+ ratings in the past two seasons (with Star Man awards also a factor) – it's obvious that the duo have something to offer in this area.
Cup Campaigns
There's no question that a Cup run and, in particular, a European campaign can be big factors behind the number of appearances, and therefore the points tallies, of your defenders. In some cases, defensive stalwarts can be less prone to rotation than their attacking counterparts.
Vertonghen was a key benefactor of Tottenham's Europa League campaign last term, earning 41 of his 164 points in Europe. Similarly, both Ivanovic and Luiz collected 17 and 25 additional points from Champions League and Europa League matches, with Liverpool's Glen Johnson fetching 18 additional points.
We're not talking big margins here, but clearly, targeting players with the potential of regular starts in European matches is another factor to consider.
Domestic cup runs can also be considered, but these are far trickier to anticipate, with rotation in the FA and Capital One Cups likely to be rife amongst those sides also competing in Europe. Typically, we'll see all the Champions League contenders rotate across the board in the domestic cup competitions, leading us to look to those teams outside of these four, perhaps honing in on those sides who will field strong lineups in both domestic trophies – the likes of Everton, West Ham and Norwich, perhaps.
Window Watching
Planning transfer strategies according to The Sun Dream Team Transfer Window is crucial, not least in defence where you can tailor your tactics to give yourself the best opportunity of earning clean sheet rewards.
Transfer Window 1 opens with just three Premier League fixtures played out, on September 3. You'll have three transfers to use before the Gameweek 4 on September 14 and, with a "use them or lose" policy, it's wise to examine the options of signing defenders with this in mind.
It's worth considering a policy of adopting one or even two slots in your back four that can be used to rotate a defender in and out in each Transfer Window according to fixtures and cup progress. Of course, such best laid plans can be ripped up by untimely injuries, however.
The Season Ticker is your key weapon here. We can easily identify those with the easier fixtures over the first three Gameweeks and, if you're a member, you can use the "clean sheets" filter on the interactive ticker to find those defences most likely to earn shut-outs in this spell.
Our members can also tailor their ticker to examine the next Transfer Window that opens on November 12. By restricting the full Members Ticker to Gameweeks 3-11 you can analyse the difficulty of fixtures between Transfer Window 1 and Transfer Window 2, revealing some valid strategies and targets.
As an example, Southampton face home matches with West Ham, Crystal Palace, Swansea, Fulham and Hull all before Transfer Window 2, therefore, switching in a defender from St Mary's in Transfer Window 1 for this spell looks an option.
With the Capital One Cup reaching the fourth round by October 28, you will be able to adjust your defence according to those teams who have made progress by the time Transfer Window 2 comes into effect.
It's not so easy in Europe, with the Europa League and Champions League both on matchday four of the group stages by the time Transfer Window 2 opens.
The FA Cup Third Round does not take place until January 4, so progress here only becomes a factor for the Transfer Window 3 that opens on January 21.
The Players
Baines and Vertonghen are obvious draws once again this season with both set to offer a significant attacking threat and assured league starts. There are caveats that might curb investment prior to Transfer Window 1, however, with Baines' future at Goodison still not uncertain and Vertonghen looking a doubt for the opening fixtures with a pre-season ankle injury. Once settled, however, both look hugely tempting as heavy-hitter investments with Vertonghen's price tag of £5.5m, coupled with Tottenham's kind schedule of fixtures up until Transfer Window 2, perhaps giving him the edge once fit.
Coverage of both Man City and United will be high on the agenda given their potential to harvest clean sheets, although the fixture list suggests that initial investment should go the way of Manuel Pellegrini's side. City have Newcastle, Cardiff and Hull before the first transfer window, while United's defence face both Liverpool and Chelsea in the same spell.
Vincent Kompany seems likely to be the most secure option in the City rearguard with both full-backs and the Belgian's central defensive partner set to shuffle on the domestic front and in Europe. If you're not spending on Joe Hart in goal, the City captain looks a shoo-in, at least until Transfer Window 1 swings open and the United defence comes into play.
That will also give us time to assess how David Moyes will approach his back four. With the likes of Nemanja Vidic, Rio Ferdinand, Jonny Evans and Phil Jones all available for the centre-half roles, the full-backs – Patrice Evra and Rafael, could be the safer routes to take. Jones, if he can cement a start, either in defence or midfield, looks the one to watch given his modest £4m price tag.
Chelsea's defensive assets are difficult to sift through. Jose Mourinho will surely rotate at the back and, aside from Ashley Cole (£6.0), few look assured of regular starts in the league, let alone the cup competitions. Luiz, with a significant goal threat, looks to be the crown jewel but at £6.5m, his potential comes at a price. With a difficult start to the campaign (United, Everton, Tottenham and City all before Transfer Window 2), it may be wise to look elsewhere in order to assess Mourinho's selection pattern.
Lower down the brackets, Ashley Williams, with a valuation of just £3.5m, has attracted more interest than any other defender – he's been selected by over 31% of managers in The Sun Dream Team so far. Swansea's Europa League campaign is presumably a factor, here, with Chico (£2.5) finding his way into over 21% of sides. Both could be set to plummet should Swansea falter in qualifying, although arguably, the duo have merits regardless of potential European returns.
Liverpool's Kolo Toure looks a stronger option in the same bracket. Having figured prominently in pre-season and with Martin Skrtel's future at Anfield far from certain, Toure looks exceptional value at just £3m. As we mentioned in our previous guide to The Sun Dream Team goalkeepers, there is real merit in acquiring both Toure and Simon Mignolet given their price and Liverpool's strong early schedule.
Baines' team-mate Seamus Coleman (£3m) offers an interesting alternative. Classed as a midfielder last season, Coleman is expected to claim the start on the right side of Roberto Martinez's defence, either as a full-back or wing-back. That should see him contribute regularly to attack and draw plenty of 7+ ratings should Martinez start his Goodison career strongly.
In the budget bracket, West Ham's defence offers new signing Razvan Rat for just £1m – a hugely attractive option going into Transfer Window 1 with the Hammers facing Cardiff and Stoke at Upton Park, with a trip to Newcastle sandwiched in between. Rat could be a keeper over the season given that price tag, although a transfer out to cash in on Southampton's aforementioned run up to Transfer Window 2 looks a good tactic.
Full-backs Luke Shaw and Nathaniel Clyne can each be acquired for £2.5m and if Jose Fonte or Jos Hooiveld can secure at start, they can be snapped up for just £1m. Beyond those two clubs, Norwich City's Michael Turner, at just £1.5m, looks another bargain. If he can gain continue to command starts alongside Sebastian Bassong, he should offer value, particularly if Chris Hughton's side can translate their summer spending into a domestic Cup run.
The Sun Dream Team Scout League
The Sun Dream Team is long established as one of the biggest players in the UK Fantasy Football market, attracting a huge audience wowed by the most substantial prizes on offer. Once again, this season, there's a huge £500,000 prize pool to be divided up. Registration for teams and leagues opens on August 1 but you can select your lineups right now.
We also have our own Fantasy Football Scout League with a £1000 top prize on offer to the winner.
Once you register and create your team or teams, simply use the following PIN and password to enter.
League Name: Fantasy Football Scout
Password: ReWOZhn1T1
PIN: 8061654
You'll find these details on the middle column of the homepage from this point on.
Does anyone actually enjoy pre-gw1 team selection?

It drives me nuts, closely followed by the Jan wildcard. Hate them both !

Wait for the GW2 WC RMTs. 😉

At the start when the prices are released, but its got a wee bit boring now. Not long to go before things kick into gear though...

Aye, I think there are 1 or 2 left that could alter people's thoughts. For this reason I haven't put much time or thought into my own team.

I feel like I'm stumbling blind. There's a good case for WCing GW2 😆

I do
And the closer the 1st deadline, the more sense and joy it makes.
Not a big fan of the January Wildcard, but for another reason: it makes teams very similar.

How risky is it going with Mignolet and a 4.0 keeper.

Should I find 0.5 for a 4.5 sub keeper?

Nope, not risky at all unless he gets injured.

I'm doing exactly that, and did last year. Not with M1nge tho.

Then who are you on?

a 6.0 and a 4.0?

There's more than one way to play. I prefer Ruudy/Marshall because if there is a Liverpool blank at any point though just be ready to use up a FT on your keeper. He's unlikely to be injured or suspended though so little risk really.

I need to start reading through my posts before I click 'Post Comment' 😀

Which would you prefer for first few weeks:

A) Paulinho, Coutinho, Dzeko

B) Navas, Chadli, Aspas?

Rest of front 8 would be Hazard (c), Walcott, Wanayama, Lukaku and Benteke.

Advantages of wildcarding after GW 3:

- Get in Rvp just before Utd's good fixtures start
- Will know who is Man Utd midfielder to have (possibly defender)
- Season would have settled in a bit, so you would know which players to pick
- Transfer window would have closed. No new arrivals to disrupt your plan.
- Gain team value
- Lets you go all out by picking a team just for first 3 GW's, if you are sure to WC after gw 3.

Feel free to add any more points..

That's the plan. Plus it allows you to load up for the DGW

I agree with all of this. WC'd just before week 3 last season for the same reasons (including RVP) and it was hugely beneficial.

However, I'd still like to be in a situation where it's not a necessity, and I think it's possible to build a team that's very strong for the first 3 but doesn't back you into a corner. You can get RVP with 2 Chelsea downgrades, and avoid Villa players altogether, and you can have your cake and hopefully eat it too.

If you're planning to WC in GW3 then i can't understand why you would triple up on Villa. Cheap fillers for one GW and field Chelsea plays v ManU and then they're gone.

Is Kun injured at the moment? Why is Dzeko getting so many preseason minutes if he's going to sit on he bench?

A brace today, is he playing his way into the managers affections?

Because Dzeko is the best striker on this earth at the moment bar Heskey ofc

Bentdner's lawyers will be paying you a visit to discuss trademark violations.

Kun is injured, yes he is. Kun is injury prone, yes he is. Look elsewhere for your expensive striker.

And still it isn't moving anywhere.

Who will be more attacking when City need a goal, Yaya or Fernandinho? 😕

Swansea City: The Fall and Rise is on BBC1 at 11ish tonight f you're interested. Should be a decent watch

I despised Swansea when they were in league 1. never seen a more despicable set of away fans. now im quite fond of the team.

So I'm playing poker and have FF scout opened in between hands so can't bring any more pages up.

A question relevant to the Scouts article. Do you get a free entry in the Sun game?

No one could ever convince me that spewing a wildcard in GW2 is a good idea.

Go on, try giving me a good reason.

Not sure if i have a reason but i use my wildcard very early every season it seems

I used mine GW3 last season, the earliest ever, but I felt I had a very good reason to. I'd never plan it that way normally.

if ur gona do it then you might as well go 3x chelsea, 3 x arse, 3x city n 2 villa with 1 4m gk, 2 4.0 defs and a 4.5m mid

Is GW1 really that predictable anyway. United, Liverpool and Spurs all lost their first games last season and Arsenal drew 0-0 with Sunderland

GW2, no. First international break, yes.

It isn't, you're right. Why would people make their team with the intention of wildcarding straight after, just doesn't make sense. They could make a great team that also does well in the next few weeks and get the price rises from it. There's then TWO international breaks before GW 10 to sort any problems out. Just a massive waste. And because the winner did it last season, it seems to be accepted as a valid strategy

I consider it every year as my GW1 teams are always awful. I;m not suggesting its a good strategy, it just makes up for my biggest fpl failings quite well.

I took two -8's last year and my team was still terrible. Didnt pick up till christmas

I saved my transfer in GW2 and transferred in Baines, RVP, Michu and Pienaar for Rooney, Fabio, Lampard and Ivanovic for -8, completely transformed my team with only 4 transfers.

hamstring injuries to Hazard,Lukaku,Benteke,Walcott,Silva,Coutinho,Miralles,Mignolet,Zabaleta,Ivan,Luiz gw1?

yes

Could happen with all the International games before the season

The guy that won it last year WC in GW 2 or 3........ Can get you off to a good start. He who dares Gran.

it's a marathon not a sprint...as I cruelly found out by losing my mini league on the last day of the season....

Sets up your team for the season. A dgw ruins it.

I didn't even know that, but I reckon if you ask him, he'll tell you it made no difference to him winning it. Course it didn't.

One gameweek is 2.6% of the whole season

I feel that a wildcard is a 'get out of jail free' card that should be played when your team is not performing and you are dropping in the leagues. Planning to WC is planning to fail

Think of an early WC as prevention rather than cure?

Spiderm4tt did it with the Chelsea/Reading DGW. Yup, READING. Villa are better.

By then we might know Sunderland keepers, Rooney's role, Tottenham striker/CBs/LB etc...

That's not a fair challenge. There is no good reason.

SpiderMatt's successful experience sounds like a good reason, doesn't it?
But to be honest, I think he lucked out in the second half of the season.

here goes...

- maximise returns on dgw and clean-up immediately for next rounds (like batting first in cricket. runs on the board)
- Better guide on nailed on-ness... chance to make the GW1 team you would have made if you knew who was playing where
- Beat the price rises of the early season rush and knee-jerks
- No hits (hopefully) needed for next 5-6 weeks after having a more confirmed 15

i'm not 100% doing it. trying to build a 3 gameweek clean-up plan. Do want 4 DGW'ers. Like racing from the front

I'll argue for it.

The most price changes occur after GW2 and those players tend to carry on gaining into GW3. That cash adds up over the season and gives you a much stronger team for a much longer period of time (since you're getting the cash earlier in the season).

Should you plan to do it, maybe not. But on the other hand if you tend to WC early to get in on the next Michu/Lambert etc then it may not be a bad idea to factor that in and design a team that is more focused on GW1

Evening all,

Is Coutinho as good as is being made out and does no Suarez effect his opening points haul? Sturbridge is decent but can't help but think Liverpool are a better defensive outfit than attacking. 9 mil better spent on michu, silva or mirallas?

What are peoples thoughts on Stoke clean sheet potential this season?

Britannia is still a narrow pitch, they haven't lost any of their defensive assets and Hughes isn't exactly known for adventurous football. Think back to the days of Blackburn and Fulham. Fixtures aren't bad in a rotation with Palace, Norwich, West Brom, Southampton, Sunderland, Cardiff and Villa all turning up at the Britannia before the Jan WC

Thinking Eric Pieters

I was looking at Turd graphs and thinking, Begovic is gonna have to do a lot of work, and no one in that Stoke team is gonna rival him for baps, so if Stoke do stay tight defensively he is gonna be invaluable. To big an if for me though.

Bego is too rich for me but at 5mil, Pieters could sneak in a rotation is my thinking

Not arguing for or against Stoke defenders, but don't let the pitch sway you. Beginning last season, all Premier League pitches are now required to be the same dimensions.

My ML is called that this year

Never seen that name before, very funny

The "No Imagination Whatsoever" comes up far too often in my MLs!

Great read. So what are everyone's team names this season?

What are people thinking in terms of City attack cover, given the early fixtures?

Plenty of options...Aguero, Negredo, Dzeko, Jovetic, Silva, Navas, Yaya, Nasri...

Which is kinda the problem.

So many people pushing Dzeko that I am starting to doubt my instincts/wisdom.

Just two more weeks and I can relax.

City's points are usually very diluted. In Pelle's set up there seems to be one man the attack will go though. Mr. Dzeko 😉

"I very much trust him and I can say that every other player that have come are a support for a squad that needs to have more than one player in every position"

I expect City will be in the top three scoring teams in the league...and that those three teams will score significantly more tham most other teams...Rotation at a club like City is not the same as being rotated at some other clubs. The only consideration is surely that the players you choose get enough minutes to get a decent share of the points available....Dzeko scored 14 goals in each of the last two seasons playing only 1500 and 1800 mins...any improvement in his game time will render him an absolute steal but he's still decent value even at those levels.

I'm expecting a Silva resurgence, now that he has a more attack-minded manager.

Fantasy League auction tonight and this is what I ended up with. This squad has to remain the same, except for the chance of free transfers when the window shuts. Thoughts?

Vorm/Mannone
Monreal/Ben Davies/Cameron/Luiz/Distin/K.Toure
Coutinho/Mirallas/Sissoko/Noble/Koren
Giroud/Hooper/Walters

We use the Fantasy League.com rules so 3 pts for a clean sheet, 3 for a goal and 2 for an assist, with -1 point for every defender/GK goal conceded (first goal doesn't count).

You did quite well. Shame you didn't get RVP though. Good luck!

Looking forward to CONRADS draft thing very soon

whats not to like about Anelka this year?

Gona play, proven goalscorer and a good start for WBA.
Cant believe hes only 5.5m

a. Dzeko and Morrison

or

b. Anelka and Mirrallas

???

Analysis of migs possible extra bonus after move to Liverpool based on results from the3rd's fine work in the hot topic.

Apologies as this is typed on a tablet (probably not quite as painful to do as the lad who did the 12 commandments but pretty sore all the same).

Reina would have received 13 extra bonus under the new system in 2011/2012 according to the3rd fines work in the hot topic.

In 2011/2012 pool had 4 cs and 9 wins 2-0 or less (four 2-0), they also had six 1-1 results and he made no penalty save.

In 2012/2013 pool had 5 cs and 8 wins 2-0 or less (zero 2-0), they also had three 1-1 results and he made 1 penalty save.

In conclusion last season I would estimate reina could have got 13-15 bonus extra under the new system.

While juusi or bego might have got a few more each I don't think we would have benefited from them all due to three of stokes 12cs (to 2-0 or less) coming v arsenal home, liverpool home and toon away. By rotating you could have missed out (not sure how the rotation worked for these fixtures) on 18 bonus of the combined probable 25 (estimate based on krul and vorm getting circa extra bonus each for 15 and 14 cs respectively compared to stoke 12 and wham 11 last year) or so extra bps these gk would likely have got.

Any chance you have edit post powers evs? If you could change cs to "0-0 results" for pools results last two seasons I would appreciate it.

No chance Dino.

Good post btw.

Ps this is partly for you ginkapo as I don't know if you got my reply on the3rds post

I replied to said reply...

Yeah, rotating Begovic was a nightmare last season. Caused a lot of moaning on here, most of which was coming from Daniel if I remember correctly
I'm not a fan of rotating goalkeepers and that epic analysis only convinced me to go with Ming.

Certainly looks like more keepers are going to be getting BPS this season compared to last.

Is Dzeko really finding a spot in peoples squads?

All liars me thinks 😉

Come on it's sub bench, disappointment, Edin Dzeko. Belongs in the Kolarov hopeful brigade

worth the risk at 7.5..easy swap to lambert/aspas/jrod/anelka

Hmm, Sturridge - Soldado - JRod looks like a tasty pro GW 1 strikeline to me..

Believe so. Not yet, but I'm confident it will happen.

Second draft taking bale out, £97m:

Mannone (boruc)
Toure Collins (sh
Hazard (c) coutinho Walcott Sessegnon (mirallas)
Anelka Giroud lukaku

Going through a panic moment - RMT to calm the nerves please!

Migs

Rat Coleman Ivan

hazard valencia silva sess

dzeko lambert giroud

bench - brunt garrido figueroa boruc - 2.5m in the bank.

Dzeko bandwagon in full steam I see, as expected...

Might work the first week or two but we all know he won't play enough to lock down a spot, could always hope for a sneaky Negredo injury though 😉

Don't understand the bandwagon... he surely won't play alongside Negredo they'll just steal gametime from each other.

Happens every year these kind of things. He looks oh so tempting at 7.5 though

Folks, I've had no Internet for the past couple of weeks, so I was just wondering if anyone would be kind enough to round up some recommendations/band wagons/must have players etc?

Thanks!

Today's RMT favourites include Dzeko and Kolarov.
Scout Picks
2014/15 Team of the Season
Clyne

Ivanovic

Terry

Bertrand
Cresswell

Sigurdsson

Giroud
From the Community…
Comments
Hot Topics
Articles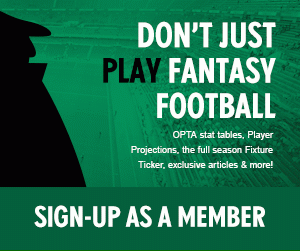 "All players will blank a few times during the season. When almost all do it in the same Gameweek, it is tough to take, but that's just the dark side of probability."

Abreu 42 Community regular