Following a frantic last few hours of the summer transfer window, most of the new acquisitions have been quickly added to the Fantasy games earlier this afternoon. We take a look at some of the new names making their way into the Premier League and assess their potential impact.
Mesut Özil
Coming in at 10.0 in Fantasy Premier League (FPL), Arsenal's new signing is the joint-costliest midfielder in the game alongside Chelsea's Juan Mata and has already earned 20,000+ new owners over the last few hours. With Santi Cazorla at 9.9 and Theo Walcott 9.5, the Gunners have a trio of premium priced midfielders vying for our consideration ahead of a kind upcoming schedule (sun, STO, swa, wba, NOR, cpl) which looks potentially prosperous for the in-form Gunners. Özil's role in "the hole" and outstanding creativity looks set to boost his team-mates' chances of picking up further points and with Olivier Giroud facing little competition for the lone forward berth, he arguably looks the best value of any Arsenal asset right now at 8.7 in FPL.
Özil comes in at 8.8 in the Sky Sports game and 5.5 in the Sun Dream Team; plenty of passing bonus can be expected for the former, while he'll surely pick up his fair share of Man of the Match awards. The German international should also benefit from the Star Man award and receive plenty of 7+ marks for his showing in the Sun game, though with no assists awards here, his appeal is a little less enticing.
Willian
Handed a price of 8.5 in FPL, the Brazilian is cheaper than Mata, Eden Hazard (9.3) and Oscar (8.6), than will set you back more than Frank Lampard (8.1) as a route into Jose Mourinho's midfield. As we've quickly ascertained, however, Chelsea look set to be a Fantasy nightmare this season for managers, with the multitude of options available to the Blues boss ensuring rest and rotation is the only real certainty over the season ahead.
With Kevin De Bruyne and Andre Schurrle also earning game time over the first trio of fixtures, Mourinho is clearly keen to keep all his attacking midfielders happy ahead of next year's World Cup, making Willian –for all his undoubted talents – simply too risky an option for Fantasy managers to consider. Fantasy managers can pick up the former Anzhi playmaker for 7.4 in the Sky Sports game and 4.0 in the Sun Dream Team, but run the risk of disappointment from one Gameweek to the next.
Samuel Eto'o
Mourinho's selection policy is likely to apply to the Cameroon international. Having picked Fernando Torres, Demba Ba and Schurrle as the lone striker against Hull, Villa and United respectively, the Chelsea manager has made his intentions crystal clear. Priced at 9.0 in FPL, Eto'o's previous time spent under the Portuguese boss at Inter may persuade some he's more likely to earn starts but judging by what we know so far, splashing that sum of money would seem folly when the likes of Christian Benteke, Daniel Sturridge, Giroud and Roberto Soldado are all available in the same price bracket with a guarantee of starts. At 9.0 in the Sky Sports game and 5.0 in the Sun Dream Team, Eto'o's reputation has ensured he is one of the priciest forward options around.
Mamadou Sakho
Described by Brendan Rodgers as "a marquee signing", Liverpool's new £15m defender has hardly arrived to take on the role of bench-warmer. Sakho seems odds-on favourite to get the nod ahead of Kolo Toure as the preferred central defensive partner of Daniel Agger, with Martin Skrtel forced further down the pecking order.
Handed a price tag of 5.5 in FPL, he's sprung onto Fantasy radars immediately – with the rest of Rodgers' first-choice defenders all listed in the 6.0 bracket, Sakho offers a relatively budget-friendly route into a backline that has produced a clean sheet in each of their three league fixtures so far. The centre-half should also benefit from the new Bonus Points System and with a schedule which pits the Merseysiders against only two of last term's top 6 in the next 10 Gameweeks, he could be quick out the blocks. Priced at 6.6 in the Sky Sports game and 3.5 in the Sun Dream Team, the Frenchman has the chance to make himself a favourite right across the Fantasy games.
Christian Eriksen
Tottenham's new Danish playmaker has been handed an 8.0 price tag in FPL following his arrival from Ajax last Friday afternoon. While this is cheaper than team-mate Erik Lamela (9.0), Andre Villas-Boas' recent tactics may be a little concerning – the Spurs boss has rolled out a 4-3-3 in recent games but is expected to return to 4-2-3-1 in order to accommodate Eriksen in "the hole" behind Roberto Soldado, with the north London outfit looking devoid of creativity in the last couple of fixtures.
Certainly, the price looks enticing given the new boy's talents, and with Lamela situated wide right, Eriksen looks set to be the chief playmaker at the Lane this term. The only downside is the Argentine looks assured of game time regardless of formation, whereas Eriksen is far more suited to a 4-2-3-1 and could be sacrificed from time to time of Villas-Boas opts for a little more resilience in the centre of the park. Eriksen comes in at 7.0 in the Sky Sports game and 4.0 in the Sun Dream Team and is another whose talents will surely earn him Man of the Match awards and 7+ Star Man ratings aplenty.
Vlad Chiriches
Another new face at the Lane, the Romanian has been slapped with a 5.5 price tag by FPL. While Jan Vertonghen remains the premium option at 7.0 and Kyle Walker comes in at 6.0 for the north London side, Chiriches is costlier than fellow centre-halves Michael Dawson and Younes Kaboul at 5.0 and 4.9 respectively. Dawson has started all three of the league games thus far but his security of starts may well be under threat here, both from the new boy and Kaboul, who continues to pick up in match sharpness after a long spell on the sidelines.
Villas-Boas has, occasionally, fielded Vertonghen at left-back and with Benoit Assou-Ekotto off on loan to QPR, he could trial this tactic on occasion. At present, though, it's still uncertain who will get the nod as the Belgian's preferred central defensive partner, ensuring Fantasy managers hold fire on any possible transfer in for Chiriches. Bearing in mind Spurs have shipped just one goal and have home games against Norwich, West Ham and Hull, in addition to trips to Cardiff and Villa in the next six, the former Steaua Bucharest man – priced at 6.3 in the Sky Sports game and 3.0 in the Sun Dream Team is certainly one to monitor if he can nail down a regular slot.
Martin Demichelis
City's new defender comes in at 6.0 in FPL, making him the priciest available centre-half for Manuel Pellegrini's side. With 6.4 priced Vincent Kompany sidelined due to a groin problem, Demichelis has been listed as costlier than both Matija Nastasic (5.5) and Joleon Lescott (5.6) and, having played under the Chilean twice before, certainly looks a decent short-term shout in terms of starts. Once Kompany is fully-fit, though, question marks must surely be raised over Demichelis' ability to retain a regular role – Lescott owners will certainly be on edge over this transfer, with Nastasic believed to be above the former Everton man in the pecking order.
At present, Pablo Zabaleta looks the best route into City's backline – not only in terms of attacking returns but his only competition, Micah Richards, is still sidelined with a hamstring problem. Demichelis – at 7.3 in the Sky Sports game and 4.0 in the Sun Dream Team – is far from cheap, though, and with the likes of Arsenal, Spurs and Liverpool all offering better upcoming schedules for those shopping for a premium priced defender, his impact may well prove to be rather limited, providing Kompany returns within the four-to-six week timeframe.
Marko Arnautovic
Mark Hughes' new Austrian acquisition will be keenly scouted by Fantasy managers looking for a possible out of position option. Mainly utilised as a right winger by former club Werder Bremen, Arnautovic has subsequently been classified as a midfielder across the Fantasy games but at six foot three inches tall, he offers the Potters a definite alternative to Peter Crouch and Kenwyne Jones up top.
Having grabbed five goals and eight assists in the Bundesliga last time out, the Stoke new boy is clearly capable of producing and is likely to be a pivotal figure as Hughes continues his rebuilding programme at the Britannia. Jon Walters has been fielded on the right of the Stoke midfield over the first three games but, should Hughes decide to keep the new boy on the flank, his starting berth could come under threat – something unheard of during Pulis' tenure. Coming in at 5.5 in FPL, 4.9 in Sky Sports game and 2.0 in the Sun Dream Team, his budget-friendly appeal will take a real upturn if he can nail down the lone forward role for the Staffordshire outfit.
Morgan Amalfitano
West Brom's new signing has been priced at a very respectable 5.0 by FPL following his arrival from Marseille. Bearing in mind his fellow Baggies midfielder such as Stephane Sessegnon (6.8), Scott Sinclair (6.0) and James Morrison (6.0) are all considerably more expensive, Amalfitano may well be an option for those eyeing up a cut-price midfielder.
Steve Clarke has been quick to praise the Frenchman and reckons he could play "in a number of attacking positions" – a role on the right of a front three may also be on the cards should the Baggies boss retain the 4-3-3 rolled out against Swansea last Sunday, though with Sessegnon set for a central role, Morrison owners will be hoping he doesn't lose his place to the new arrival. Amalfitano comes in at 5.4 in the Sky Sports game but has yet to be added to the Sun Dream Team.
Adrian Mariappa
The Crystal Palace new boy will be hoping to stake a claim as a first-teamer after arriving from Reading last night. Versatile enough to feature at both centre-half and right-back, comes in at just 4.0 in FPL and may appeal to Fantasy managers looking for a cut-price option for their five-man defence. Joel Ward and Danny Gabbidon are similarly-priced for Ian Holloway's side, though Mariappa's extra mobility may see him threaten Gabbidon's starting berth at the heart of the Eagles' back-four. Mariappa is listed at 4.0 in the Sky Sports game but hasn't yet been added to the Sun Dream Team.
NGranv ile as theres no scoutcast care to reveal yours n Marks early trfs?

anyone liking fulham defensively.....fixtures look decent??

New Article Posted

Everton have sold Marouane "10 great games a season" Fellaini and Victor "10 goals a season in his dreams" Anichebe for a total of £33.5m.

Laughing.

I think Mark & Co should set up a YouTube channel.

Perhaps do the scoutcast on that

I could be the topless hunky waiter

Team at the moment:
Mignolet / Lewis
Ivanovic / Touré / Collins / Shaw / Chester
Walcott / Silva / Nolan / Whittingham / Williams
Dzeko / Soldado / Benteke

1 FT, £5.0m in the bank.

How would you shave off 1.4m from this this team.
Need that amount to fund Dzeko --- >RVP.

Dont fancy Toure much given the competition and Liverpools new centre back.

Downgrade Nolan to Noble.

Hmm this is tough. I'd go Soldado > RVP and Dzeko > Lambert. Don't want to make your midfield/defence too weak.

There is a lot of love for Sturridge but Suarez is back in two weeks and I can't quite work out what that means for Sturridge. Can't see Suarez nit bei g the lead forward personally.

Suarez will play in the hole with Coutinho on one wing and Sturridge up front. The other wing will be a battle between Moses and Aspas. I would expect Henderson to get some games off the bench in the middle of the park.

Quick Doubt
need (2) Defenders for total $10: A,B, or C
i have Zabaleta, JEnrique,Coleman...cheers

A--$6 DEF Walker/Terry/Vidic/or Agger + $4 DEF (choice of: Gabidon, Chambers, Chester, Ward)

B--$5.5 DEF Merts/Sakho/RFerdinand/Jagelka + $4.5 DEF (choice of: Collins, Mbiwa, Whitaker 4.2, Clark Avl, Hughes)

C--TWO $5 DEF (choice of 2: Dawson,Colocini, Distin, Williams, BDavies, Hangeland, Olson)

Metersaker and the newcastle guy both nailed on

I have an all English team. (170 points so far) Has anyone else tried this before?

I think Roy Hodgson is trying it. Not very successfully though.

a) 4-3-3 or
b) 3-4-3

a)
___________Mignolet___________
Zabaletta__Vidic__Collins__Ivanovic
Lamela_____.Walcott_____Lampard
Benteke_____Giroud_____Sturridge

Subs: 4.0GK, Barkley, Coleman, Ward-Prowse

b)
______________Boruc_______________
Zabaletta______Sakho________Coleman
Lamela___Walcott___Silva_____Lampard
Benteke_______Giroud_______Sturridge

Subs: 4.0GK, Ward-Prowse, Chambers, Chester

Yaya toure to rise 0.2 more?

Do we expect Taarabt to start Fulhams home matches?

I think so. I would have though Bent will be used as a sub in home games whilst starting away from home (counter), freeing up a place in that attacking 4. Loads of people disagree though.

tough one. im in similar doubt.Was thingking Walker + J Enrique

what are people doing with Dzeko ? Keeps or get rid ?

Gone for Giroud, I have lost patience this and can't wait till next week.

Been working on an Ozil template for those on a WC... I think its pretty snazzy.

G1 - Migs
(G2) - Daniels

D1 - Zab
D2 - Ivanovic
D3 - Sakho
D4 - Collins
(D5) Baker

M1 - Ozil
M2 - Lamela
M3 - Silva
(M4) - Barkley
(M5) - Brady

F1 - Benteke
F2 - Giroud
F3 - Studge

I like this idea, I'm thinking the same
You have a few options different from me
Vidic and Ben Turner
Lamela, Ward-Prose, Redmond

But yours gives me new thoughts

u think Sakho > mertz? both 5.5
Lamela not sure if will b efficient.Eriksen was a prven scorer at ajax.Also phernandez w swa doing well 3 games.
Ure betting Studge will come close to RVP? i have bentke + giroud n sacrificied the extra $ for rvp/

Sakho will get more bonus points than Merte. I think Arsenal will continue I look a bit leaky. They have great fixtures though. I have both in my WC team.

Lambert v.s (Wham) (H) > Giroud v.s ( SUN) (A) for - 4

Yay

Nay

I actually think Lambert is still a good pick. He has had almost as many shots as Giroud and is on free kicks and pens. If you haven't already caught the price rise I would stick for now.

do you guys think that its pointless to play campbell against hull if i have a hull defender? should i play barkley instead?

Play both. You're more or less guarenteeing yourself 4 points.

Played my wildcard as I needed to sort out my under performing midfield, 2 assists in 3 weeks...

Currently changed to

Mig
Zab Coleman Collins
Nolan Hernandez Walcott Lamps
RVP Lukaku Soldado

Given (won't ever play) Chester, Whiitaker Jedinak

As am doing pretty crap so far, should I try to get a few differentials in.
So thinking so combo of...
a) Mig > De Gea
b) Soldado > Negrado
c) Zab > K.Walker
d) Walcott > Ozil

Any thoughts?

a)Zabaleta ,Mertesacker, Whitaker
or
b) Ivanovic, Mertesacker, Coleman
need helppp

Is Anyone else Trippling up with arsenal midfielders nd strikers?

1. Giroud.. has been in impressive goal scoring form and looks confident and clinical with finishing

2.Walcott playing almost as a second striker playing furtherest up the pitch when Giroud drops in and with him cutting in off the right a lot has been recieving plenty of ball and unlucky to not score a few himself..

3. Ozil.. dont need to state why, his name speaks for itself..

I like the sound of that a lot.
May even do Mirallas to Ozil for a 4 point hit.
Haven't watched Everton play yet though.
Anyone got any thought on Kevin?
Scout Picks
Gameweek 25
Janmaat

Williams

Alderweireld
Wijnaldum

André Ayew

Dele Alli

Roberto Firmino

Sánchez
From the Community…
Comments
Hot Topics
Articles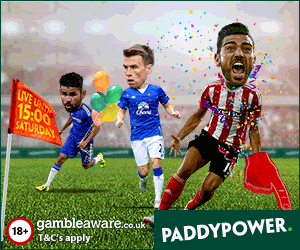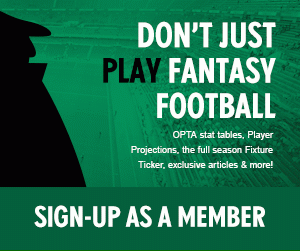 The Watchlist
Goalkeepers
Player
Club
Factors

Up

Forster
SOT

A

,

Vs

Down

Butland
STO

C

,

Vs

Up

Schmeichel
LEI

A

,

Vs

Up

Courtois
CHE

B

,

Vs

No Change

Boruc
BOU

B

,

Vs

Up

Hennessey
CPL

C

,

£

No Change

Cech
ARS

A

,

VsX

Up

Fabianski
SWA

B

No Change

De Gea
MUN

B

No Change

Adrián
WHM

B
Defenders
Player
Club
Factors

Up

Fuchs
LEI

A

,

Vs

,

£

Up

van Dijk
SOT

A

,

Vs

Up

Daniels
BOU

A

,

Vs

,

£

Up

Dann
CPL

A

No Change

Ivanovic
CHE

B

,

Vs

No Change

Alderweireld
TOT

B

No Change

Bellerín
ARS

B

,

VsX

Up

Johnson
STO

C

,

Vs

No Change

Cresswell
WHM

B

Up

Van Aanholt
SUN

A

No Change

Williams
SWA

B

,

£

Up

Smalling
MUN

C

Up

Coleman
EVE

B

,

Vs

Down

Dawson
WBA

C

Down

Moreno
LIV

C

,

Vs

Down

Kolarov
MCI

B

,

Rest

,

Inj
Midfielders
Player
Club
Factors

Up

Mahrez
LEI

A

,

Vs

No Change

Payet
WHM

B

,

Vs

No Change

Dele Alli
TOT

A

,

Inj

Up

Arnautovic
STO

C

,

Vs

,

Inj

No Change

Ozil
ARS

C

,

VsX

Up

Eriksen
TOT

A

Up

Antonio
WHM

A

,

Vs

,

Rest

,

£

Up

Sigurdsson
SWA

A

,

OoP

Down

Barkley
EVE

B

,

Vs

Down

Roberto Firmino
LIV

A

,

VsX

,

OoP

Down

Sánchez
ARS

C

,

VsX

Up

Lingard
MUN

B

,

Rest

,

£

Up

Khazri
SUN

B

Up

Oscar
CHE

B

,

Vs

No Change

Wijnaldum
NEW

B
Forwards
Player
Club
Factors

Up

Vardy
LEI

B

,

Vs

No Change

Kane
TOT

A

Down

Aguero
MCI

A

Up

Diego Costa
CHE

A

,

Vs

,

Inj

Up

Rooney
MUN

A

Down

Ighalo
WAT

C

,

VsX

Down

Lukaku
EVE

C

Up

Afobe
BOU

A

,

Vs

No Change

Giroud
ARS

B

,

VsX

,

Rest

No Change

Defoe
SUN

A
Selection Factors
| | |
| --- | --- |
| A, B, C | Current Form |
| Vs | Favourable Fixtures |
| VsX | Unfavourable Fixtures |
| Rest | Rotation Risk |
| Inj | Injured/Returning from Injury |
| OoP | Out of Position |
| £ | Potential Bargain |
| Sus | Suspended/Near Suspension |
| Player | Team | YC |
| --- | --- | --- |
| Colback | NEW | 9 |
| Byram | WHM | 9 |
| Lucas | LIV | 8 |
| Jones | SUN | 8 |
| Yacob | WBA | 8 |
| Westwood | AVL | 7 |
| Diego Costa | CHE | 7 |
| Huth | LEI | 7 |
| Can | LIV | 7 |
| Mangala | MCI | 7 |
| Shelvey | NEW | 7 |
| Pieters | STO | 7 |
| Dele Alli | TOT | 7 |
| Dier | TOT | 7 |
| Noble | WHM | 7 |
"All players will blank a few times during the season. When almost all do it in the same Gameweek, it is tough to take, but that's just the dark side of probability."

Abreu 42 Community regular