Among the key issues being mulled over on the boards this week were whether Arsenal's Welsh midfield dynamo Aaron Ramsey is now essential and which of Liverpool's sharp shooters to invest in. We also find our resident "falling stars" expert in fine fettle, there's an analysis of a new phenomenon of goalkeeper assists and we also take a look at the latest goings on in our community leagues.
Hottest Topics
A Defender's Nightmare wonders whether Arsenal's Aaron Ramsey is now essential. The self-confessed "bitter non-Ramsey owner" asked for the community's views after missing out on yet another points haul from the talented young Welshman.
Another transfer headache to vex the community this week is which of Liverpool's star strikers to invest in. Among those to answer Giggs Boson's post on the issue was Viperstripes and Daniel, who advocate finding a place for both Luis Suarez and Daniel Sturridge in our Fantasy teams.
Just how do we measure the potential of strikers like Suarez and Sturridge? Goals is the obvious attribute to consider but The Sports Guy has gone further creating a mathematical way of measuring a raft of other key indicators. Among the factors he has considered are fixtures, form, set piece potential, risk of injury and whether the striker is captain material.
Wakey was in jubilant mood this week after scoring some notable successes with his Falling Stars selections, a tag handed to those whose price has dropped since Gameweek 1. Michu and Stephane Sessegnon were among his successful Gameweek 5 picks. For his Gameweek 6 selection he gains further bragging rights as it included Luis Suarez and Romelu Lukaku, who both went into the weekend below their initial price tags and returned with heavy points hauls.
Mark and Granville will be among those wishing they'd read Isacki's illuminating post on Stoke's Marko Arnautovic. The pair both drafted in the out of position Austrian midfielder ahead of Gameweek 6 but Isacki's analysis takes the wheels and axis off this particular bandwagon. Damningly against Arsenal in Gameweek 5 Isacki refers to the player as "very apathetic" – will his new owners now be saying hasta la vista to Arnautovic after another abject display against Norwich in Gameweek 6?
Many of the community's more experienced Fantasy managers are struggling to gain a foothold on this season. We offered five top tips to climbing up the rankings for the community to mull over. Among those to offer further advice was falling star man Wakey, who urges poor performing managers to keep an eye on the plummeting prices of players set to return over the coming weeks. Bows and Bluetiger were among those to also advocate some pride-swallowing points-chasing.
Never captain, never bench is the old saying for Leighton Baines. But is that the case this season? Going into Gameweek 6 Viperstripes certainly thinks he is a credible contender for the armband, although his blank against Newcastle this week provides an equally powerful counterargument.
Sarjeant was putting his abacus through its paces this week as he looked at the teams with the highest average ownership. This offers an interesting insight into where the majority of Fantasy managers are investing their money and a handy guide to were some hidden differentials may reside. West Brom looks an ideal place to find differentials in particular, he found.
Gameweek 6 saw the start of what Nedfoo believes could a new trend of goalkeeper assists. American goalkeepers Tim Howard and Brad Guzan both assisted during the week and Nedfoo wonders whether goalkeeper training in the US is a factor.
Scored asked for the community's ideas for new rule changes to the Fantasy Premier League (FPL) game, with quirky suggestions especially welcome. Among ideas that caught the eye were Jafalad's suggestion that any player under 5m be awarded 10 points. Tokyored wants to see any player who bites an opponent immediately docked 10 points; a sure fire way to ensure the Sturridge versus Suarez debate ends swiftly.
Another rule change some are calling for surrounds player sell-on prices. Hooperman sparked this interesting debate on whether the current system is fair.
Community Leagues
In HeelsOverHead's Worst To First – 2Million+ Club, for those with an overall rank below 2,000,000 in the first five game weeks, there are now four teams that have breached the 500,000 ranking barrier. Ten of the 23 entered are now in the top 1,000,000. Bales of Fury and Norfolk-In-Chance top the league with an overall rank of 288,416.
Bowie topped Torres Magic's Last Man Standing competition with a haul of 89 points. There are 801 players remaining with 46 eliminated. The safety score this week was 38. Meanwhile, Mike Knight got 69 points in his Early Bird competition, where there are just 11 survivors after 3 got knocked out. Entry is still open to those who qualify, details here.
The In Tommy We Trust All Things league leaders are La Roja, Chilin, Dude, Lawndart, Crouch Potato and Binij.
The Long and Winding Road league leaders are Hay Number 2, Canadian Football, IAmSuarez, Demented Flamingo, ManAmongst, Iain_90 and Beric, who also tops the LAWR main league.
In Thomas and Peppie&Felix's Friends Life the league leaders are Thomass, Daniel and Al Pacino.
Meanwhile, in the FFS UEFA leagues Grubs, the manager of Villarreal, was the round's highest scorer with 82 points. He was followed closely by EpicFail with 80 points, who also gets the Order of Valour Award by handling Suarez the armband in his first game in the Premier League, along with owning Lukaku.
Doctor X, who represents AZ Alkmaar in the Rest of Europe league, is the only manager to have an unblemished record as he celebrated his sixth consecutive victory. FFS UEFA also have a new team H2H competition starting soon. Full details will be revealed this Sunday on their blog.
3 questions:

1. Why no podcast
2. Chances of rooney playing this weekend?
3. Chances of Haz playing?

thanks

Rooney will start 90%, Hazard like 60-70% maybe. Will get pressie today/tomorrow from both, so.. no point speculating.

1) apparently it's tonight.
2)100%
3)will know on friday.

repost.
RMT for the week guys.

took a hit .

boruc
evra koscielny walker
michu lamela benarfa barkley
rooney(vc) suarez(c) giroud

bench - 4.0, turner,chester,ward prowse ,

Very good. I would get rid of lamela and Ben arfa though. much better off spending the money elsewhere

hows this team looking??

mignolet
coleman, zabaleta, ivanovic
barkley, ozil, michu, ramsey
suarez(c), giroud, sturridge(vc)

davis, ravel, b turner, rosenoir

strong team.
net week stu tolukaku ?

yeah thats the plan, or maybe sturridge to benteke

Well the WC has been played. Really enjoy this week playing around with the team. Why can we not get one every week! Thoughts/Opinions/Changes much appreciated lads.

Mignolet - Davis
Terry - Dawson - Coleman - Davies - Clyne
Ozil - Michu - Sigurdsson - Ramsey - Barkley
Suarez - Giroud - Lukaku

This leaves me with 0.0 in the bank.

How safe is Davis' value? Worth switching to another so that I am not affected by a drop?
The age old debate of Sigurdsson or Paulinho.

Davis is -47%. Might be an issue before Jan. I'd probably go with someone else.

Yeah this is what I noticed. He does have a high ownership, but I am a little worried he drops before January. Who would be a possible replacement? Lewis or Daniels I think....

Regardless it would be 0.1 max.

Lewis looks the best choice.

Yeah, a minor detail really. Every little helps though.

His strip also adds a different colour to my team. Done.

Being on WC = sort it out. I have Etheridge & have no issues.

Very nice team good use of the wildcard

Thank you. Have put some thought into it. Should make my team (certainly the DF) different to most in my Mini League. Lets hope it pays off. A lot of ground to make up after two weeks of less than 30 points.

Dawson and Siggy rotation may come back to bite you.

Its a good point. I have thought this. Dawson surely seems nailed on at present? Siggy is in form and can easily be replaced by Paulinho if rotation comes into play? The bench is strong enough in my opinion to be able to deal with rotations before replacement transfers.

Boruc - Mignolet
Coleman - Vidic - Zabaleta - Collins - Chester+
Barkley - HBA - Michu - Paulinho - Whittingham
Giroud - Sturridge - Rooney

Bank = 2.2

What needs to be done as of GW8?
Was planning to do Vidic > Terry and HBA > Walcott if fit.

Lamps out, Eriksen in
Vidic out, Baines in

What do you think?

Maybe next week for the 2nd one.

keep vidic.
baines plays man city.

i would prefer sigurddson to eriksen.

Help Please Chaps:

Migs,
Terry, Mertesacker, Coleman,
Ozil, Michu, Eriksen, Barkley,
Rooney (C), Sturridge, Giroud,

Boruc, Collins, Chester, Brady,

0FT, 0.2 in Bank.

A) Leave as is and hope all start and eve dont get smashed by MCI.
B) -4 to get Collins or Chester out for 4.7 or 4.2 def?
C) -8 to get COllins and Brady out for DAWSON and 4.8 mid?
D) -24 to do Mertesacker, Chester, Collins, Brady, Rooney and Sturridge TO Dawson, Vidic, Wilson, Whittingham, Suarez, Lukaku?



Celustka Watch:

Owned by: 3,143
NTI Today: -2
NTI Total: -91.1%

You're welcome.

Torres Watch

Owned by : 50,290
NTI : 128
NTI Total : -59%



-128

Try lamela -26 people per day is enough for a weekly drop

Is Vermaelen fit? As a Koscielny owner i'm a bit worried that Wenger will give him a change against Norwich. Don't think he would drop Merte.

I'm 80% sure he was on the bench for the Napoli game but I may be wrong

Wouldn't it be great in a few weeks to get snod at 6.0 wally at 9.1 hazard at 9.0 and benteke for 8.5
Mouthwatering.

If that's mouthwatering to you then I don't know what a lush naked girl is

Geezus Frodo, you picked up a few things on your way to Mordor didn't you

I'm sorry, I thought I'm in FPL forum not in hobbitporn.com

Think you take FPL a bit too serious with your watery mouth

is lush back in as a word?

it's up there with 'moist'

Now, where did I put that wild card......?

Nah. Still got it here somewhere.

Despite me having taken shed laods of hits (I always do the first few months of the season then I calm down a bit) is it possible that TVs / price rises are higher this season than previous seasons? Despite the threshold for a rise being higher than last season?

I seem to have more dosh than previous at this stage of the season

TV which is currently 105.9 (103.2 cash in bank)

Brady is out and Mirallas is 50-50 do I take a hit to ensure 11 ?

If you can't field 11, then I would

Any Early Birders around?

Could this be the week we have a winner? Probably not with all the juicy fixtures.

I might still be in there.

You scraped in this week.

probably not(at least not me) my team doesnt looks so good tbh
i hope i will survive this week

Have some Pool coverage will go a long way.

Please RMT for the weekend:

Migs
Baines, Vidic, Clyne
Ozil, Erikson, Barkley, Michu
Sturridge (c), Rooney, Giroud

4.0; Burner, Ravel, Wilson

Cheers

Very nice.

I'd be tempted to play Burner over Clyne, though.

It increases your upside potential, IMO (as you'd have Michu playing against Clyne). Plus, I fancy a Cardiff cleanie over a saints one this week

Very strong team.
I would play Burner for Clyne as well

Very solid, wish I had Baines

Would you start Coleman or Burner? Cheers guys

I have both & may go Burner.

Thanks both. Probably will go Burner

Only a matter of time till Mirallas hits form but keeping him during this patch is waste. jump on when he hits form.

I don't have enough FTs so, he stays. Not taking a hit when he has Hull at home after the break and Everton are starting to come together as an attacking force.

Mirallas likely to drop further 0.2m ahead of GW 8?

Doubtful in the sense his threshold for transfers out will be doubled right?

Hmm, not sure how it works with the flags and thresholds. I doubt he'll drop 0.2M ahead of GW8 though, maybe 0.1M.

Wrong. No doubling anymore.

Thanks, nice to know. Byebye team value.

His value will go back up after his Hull hat trick.

I agree that it would if he got a hat trick versus Hull, I just don't see it happening in this world OR the next. Still keeping though

What would you do if you had Kim as your 5th defender and Mirallas as 4th...? I'm thinking start Mirallas as he has a bigger upside, and I think he'll either start or be out completely.

Yeah I'd do the same. Chances are they will both get 2 points. But if any of them will do something it will probably be Mirallas.

Needs 13K out for another drop. Should be a while.

I'm personally holding on the basis that his ownership was so low in the first place, it only takes one inevitable double figure score and he will triple rise that week, so he'll make back the value lost easy enough.

@ Fellow Mirallas owners

Don't leave him. If you've playbale 5th MF then just bench Kev. Protect the guy from further price fall.

Trust me. The stage is set for his 1st Premier league goal of the season against Hull. I'm benching him.

So I got Dawson, Clyne and Yanga Mbiwa starting Defence for me with Whitaker and Chester on my bench.. Question is , should I take a -4 and take Yanga-Mbiwa out or will he start this week after his dreadful showing against Everton? If I transfer him out who is the best option for 4.8?.. Thoughts? .. Thx for the feedback in advance

Morning All,

I'm after some advice from Fantasy UCL players - when is the best time to play the 'floating' wildcard? Now?

Is there any time that historically seems preferable to others?

Cheers.

For game 6 when everyone is rotated and you can see the team sheets.

And then the squad can be corrected with the last 16 wildcard - I see the logic.

Yep. In game 6 loads of teams will have already qualified or been knocked out. You can take advantage of that on day 1 with the team sheets, then it's unlimited transfers for the knockouts anyway.

Does anyone know why all the games showing in the fixture list post January 2014 all seem to be on a Saturday at 3pm? Is it just that the TV companies haven't agreed which fixtures to show yet?

Yes, TV games haven't been selected/confirmed yet.

my current midfield: Michu, Ozil, Barkley, Barfa, Jedinak (unused sub)

thinking of taking a -4 to get Barfa out for either

A) you fool! dont keep holding off !! Get Ramsey in
B) Take a Punt on Amalfitano and free up some cash
C) What about that Mata character?
D) Keep Barfa, dont take a hit!

A now B for gw 10 v Palace

Walker or Davies for long term?

Boruc
Vidic, Kompany, Burner
Ozil, Michu, Eriksen, Barkley
Rooney, Suarez, Lukaku

(Davies, Ravel, Clyne, Wilson)

Save FT this week or do Kompany -> Terry/Walker?

New Post

Why is Roberto Martinez holding a news conference today? Thought they were always on Fridays

Hi all

Blue Baggers posted a couple of very useful posts recently on favourable/unfavourable run of fixtures for each club. Tried getting my head around it but it was hard to do visually so I came up with a gantt-chart like graphic using his analysis.

Thought i'd share it on here. Credit to Blue Baggers for the analysis and work, just made it visually digestable. Enjoy!

https://www.dropbox.com/s/4whcaoip53gtdqb/Fixtures%20FPL.pdf
Scout Picks
For Gameweek 15
Hazard

Gerrard

Ozil

Shelvey

Nasri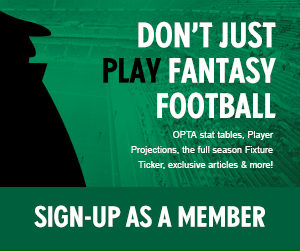 Watchlist
Goalkeepers
Player
Club
Factors

Up

Howard
EVE

A

,

Vs

,

Sus

Up

Marshall
CAR

B

,

Vs

Up

Krul
NEW

A

,

Vs

Down

De Gea
MUN

C

,

Vs

No Change

Cech
CHE

C

Up

Guzan
AVL

B

Up

Ruddy
NOR

B

Up

McGregor
HUL

C

,

Vs

,

£

Up

Lloris
TOT

B

No Change

Speroni
CPL

A

,

VsX

Up

Pantilimon
MCI

B

,

Rest

,

£

Down

Szczesny
ARS

A

,

VsX
Defenders
Player
Club
Factors

Up

Coleman
EVE

A

,

Vs

Down

Terry
CHE

B

Up

Williamson
NEW

B

,

Vs

,

£

Down

Evra
MUN

C

,

Vs

Down

Mertesacker
ARS

A

,

VsX

Up

Olsson
NOR

B

,

Vs

,

£

Up

Turner
CAR

C

,

Vs

,

£

Up

Bardsley
SUN

B

,

£

No Change

McAuley
WBA

C

,

Vs

Up

Walker
TOT

B

Up

Zabaleta
MCI

B

Up

Davies
HUL

C

Up

Ward
CPL

A

,

VsX

,

£
Midfielders
Player
Club
Factors

No Change

Hazard
CHE

A

Up

Y Touré
MCI

A

Up

Ozil
ARS

A

,

VsX

Down

Ramsey
ARS

A

,

VsX

Up

Silva
MCI

C

,

Inj

Up

Fer
NOR

A

,

Vs

Up

Bannan
CPL

B

,

VsX

,

£

Down

Sessegnon
WBA

C

,

Rest

Up

Whittingham
CAR

C

,

Vs

,

£

Up

Michu
SWA

C

,

Inj

,

OoP

No Change

Lallana
SOT

C

,

VsX

Up

Morrison
WHM

B

,

Rest

,

£

Up

Brady
HUL

C

,

£

,

Sus

Up

Barkley
EVE

C

,

Vs

,

Rest

,

Sus
Forwards
Player
Club
Factors

No Change

Suárez
LIV

A

,

VsX

No Change

Aguero
MCI

A

No Change

Lukaku
EVE

A

,

Vs

No Change

Rooney
MUN

A

,

Vs

No Change

Remy
NEW

B

No Change

Giroud
ARS

B

,

VsX

No Change

Negredo
MCI

A

No Change

Rodriguez
SOT

A

,

£

Up

Deulofeu
EVE

A

,

Vs

,

Rest

,

£

Up

Hooper
NOR

A

,

Vs

,

£
Selection Factors
| | |
| --- | --- |
| A, B, C | Current Form |
| Vs | Favourable Fixtures |
| VsX | Unfavourable Fixtures |
| Rest | Rotation Risk |
| Inj | Injured/Returning from Injury |
| OoP | Out of Position |
| £ | Potential Bargain |
| Sus | Suspended/Near Suspension |
Suspension Tightrope
| Player | Team | YC |
| --- | --- | --- |
| Wilshere | ARS | 4 |
| Agbonlahor | AVL | 4 |
| Westwood | AVL | 4 |
| Ivanovic | CHE | 4 |
| Barkley | EVE | 4 |
| Barry | EVE | 4 |
| Howard | EVE | 4 |
| Parker | FUL | 4 |
| Javi García | MCI | 4 |
| Valencia | MUN | 4 |
| Sissoko | NEW | 4 |
| Turner | NOR | 4 |
| Fonte | SOT | 4 |
| Wanyama | SOT | 4 |
| Cameron | STO | 4 |
| Huth | STO | 4 |
| Colback | SUN | 4 |
| Gardner | SUN | 4 |
| Rangel | SWA | 4 |
| Williams | SWA | 4 |
| Paulinho | TOT | 4 |
| Dawson | TOT | 4 |
| Yacob | WBA | 4 |
"I'm delighted, having time to re-evaluate his future, Christian has decided to commit to the Club. It's a huge bonus and I'm sure the supporters are every bit as delighted as me to have him on board and raring to go."

Paul Lambert revels in convincing Christian Benteke to revoke his transfer request