The community has spent the two-week international break assessing some long-term transfer decisions and pondering whether there is now an established template team – and, if so, how the devil do we dismantle it? The concept of a "power three" at the back was also discussed, while an array of community tournaments rumbled on.
The Hottest Topics
The Sarjeant has been undertaking some long term planning research and come up with this handy guide to the fixtures and potential form right up until Gameweek 20's January wildcard. This gives a fascinating look at the forthcoming 13 fixtures and the best teams to load up on. Among the most enticing sides over this period, according to The Sarjeant, are Chelsea and Aston Villa.
It's a double mention in this week's round up for The Sarjeant, who has also been looking at factors behind the template team that has been highlighted in our Breaking the Template articles (part one and part two). A key factor in this team, he argues, is a genuine lack of goals and increase in clean sheets compared to last year. His comparison offers a good indication as to why so few attackers are catching our eye.
The 3rdTurd has also been looking closely at our template team analysis and sparked an interesting debate about the make up of the top ten players' teams.
Last season was all about the "power five" midfield. Could this year see the emergence of the power three defence? I Love Hits certainly thinks so and plenty agree, with the likes of John Terry, Jan Vertonghen and Leighton Baines among those vying for a place in this exclusive defensive line up.
Wakey has been on hand with his latest list of 'falling stars', assessing players whose price has dropped below their initial Fantasy Premier League evaluation. His Gameweek 8 falling star side includes David De Gea, Ashley Williams and Stephane Sessegnon. It also features an astonishingly discounted front line that includes Robin Van Persie and Christian Benteke. Sadly Romelu Lukaku will now have to drop off his list, as the Belgian striker finally clawed his way back to his starting price of 8.0 earlier this week.
With Manchester United and Liverpool opting for a front two formation Kostja wonders whether we are better off investing in teams with a lone striker like Everton or Aston Villa, where their frontmen are unlikely to share points. He points to the difference in shots on target offered by Daniel Sturridge and Luis Suarez from game to game as an example of the limitations of investing in one of a strike pairing.
D1sable has been left frustrated season after season by Theo Walcott and Leighton Baines. He always seems to miss their points hauls and transfers them in when just as their form dips. He asked the community to list their most frustrating players and Matt Tomatoe, Mayor Quimbandwagon and Get Yout Baps Out! were among those to share his frustration of jumping on the Baines-wagon just as the points dried up.
After his stunning brace in Gameweek 7 there is huge anticipation surrounding David Moyes' latest young star Adnan Januzaj. Autobot RVP Brigade has used the commotion as a hook to investigate how Moyes's previous teenage talents, Wayne Rooney and Ross Barkley, have fared in terms of appearances and performance under his tutelage.
Community Tournaments
In Torres Magic's Early Bird competition just two players remain: Stephen Woods and LawnDart. TM's Last Man Standing competition has 757 survivors after 44 failed the safety score of 24. Codes for TM's other 5 leagues can be found here.
Meanwhile the FFS UEFA Beach Soccer Tournament team line ups will be released this week ahead of the competition's set of friendly fixtures in Gameweek 8. For more details visit their blog here. We have also set up a dedicated article for the community to discuss the tournament here.
After looking at the betting odds, I've switched captaincy from Michu (2.00 AGS) to Giroud (1.50 AGS). Go on you big, beautiful Frenchman.

For info, what is RvP and Lukaku?

Uhm don't remember exactly, but I think Lukaku was around 2.00 and RVP around 1.60. Of course they odds are shorted so you can't set your watch by them, but it's an indication I guess.

Suarez and Sturridge both 2.25 AGS... that's made me re-evaluate!

What site? I got mine from Paddys.

bet365... I'm now thinking about switching from Suarez to Michu!

Giroud is 2.05... it's all too close to call, so unless you have RVP go with your gut

RVP 1.90, Lukaku 2.10, Michu 2.20, Rooney 2.30, Benteke 2.75

Those odds are much closer. I just don't know about Sunderland, will they bounce back with a new manager? Swansea yet to win a game at home. I really -wanted- Michu to be the one this GW, but Giroud just seems much safer. Arsenal are banging in goals for fun this season compared to most other teams.

One of Giroud's goals for France v Australia......

http://www.youtube.com/watch?v=JPTwnwjFr_M

Now do it at home to Norwich you donkey!!!!

Wow. No doubting the man's skills.

Ya nice goal, he scored 2 in 45 mins in that match so looks to be in good form.

Who are the injury doubts from this bunch? I'm not quite up to date.

Boruc - Lewis
Terry - Toure - Coleman - Shaw - Chester*
Ozil - Michu - Barkley - Ramsey - Moses
Rooney - Giroud - Sturridge

1.6m, 0fts

With Moses(new) on the bench I have a bit of breathing room.

You're fine. Everybody in that team should play (except Chester), although there are some rumors surrounding Ozil and Shaw.

Cheers. I thought i heard something about Boruc and Sturridge...

Boruc was a doubt and was on the bench last game, reckon he'll be ready for this weekend.

For the gamblers....AGS odds(here in SA, so could be different...)

Barkley & Baines 33/10
Yaya 3/1
Siggy/Eriksen 3/1
Stevie G 3/1

Depends.

Did you get those odds from Hansie Cronje's bookie?

hhhm....I thought his Indian padded leather jacket looked odd in the 45 degrees Celsius.

Repost rmt

Vorm (not mig haha!) (Boruc)

Coleman ivan terry (shaw clyne)

Michu ramsey gerrard (barkley brady)

Sturridge giroud suarez

Vorms injury doubt gonna play?

Double up on chelsea defence too much?

What to do with ozil plan was always to downgrade after NOR/pal but as seems a doubt would you do swap now.

Ozil-michu

morning sports. which one of these would you drop?
a) eriksen
b) lampard
c) arnautovic

I have A and C and I'm giving both this weekend to impress. The Eriksen to Paulinho trade is very close. With Arnie, it's all about his position and Stoke's form - if they struggle at home to West Brom, I can't see him offering value even at 5.5 given the current midfield landscape. Desperately trying to avoid thinking short-term but it's tough when you're losing ground.

Any alternatives you have in mind that you are hoping will "break up" the yaya/Ramsey/Barkley strong hold in midf?

Silva? Mata?

Silva,Walcott,Hernandez possibly

i get excited by arnies position and stats. but then hes done nothing and stoke are ballbag.

Arnautovic mate

He's done nothing

Waste of a transfer

Waste of 5.5

Waste of a midfield slot

Mignolet - Boruc
Baines - Terry - Davies - Clark - Burner
Michu - Oscar - Ozil - Barkley - Junuzaj
Sturridge - Giroud - Lukaku

Any flaws? Only got £0.2m in bank.

Haven't picked any Spurs players as Eriksen/Paulinho being rubbish are 2 of the reasons for wildcarding! Slightly concerned about lack of Manchester coverage!

Giroud>Benteke and Ozil>Silva/Wally would be next 2 transfers all going well.

Thoughts

I have the same midfiled - I would consider Walcott for Ozil

My front 3 is Rooney Suarez Lukaku

Also have Vidic at the back, two nice home games

Ozil an injury doubt? Anything in that lads?

yeah slight knock - would expect him to feature though

Leon Britton, Ben Davies and particularly Ashley Williams injury doubts for Swansea on Sat, via @Gareth_Vincent

Thanks. Not good for their CS chances.

Is it too risky to get Schurrle in as my Ben Arfa replacement? I have a feeling Oscar will be rested for Champions League after his travelling with Brazil and Schurrle scored a hat trick for Germany so will be full of confidence.

I totally agree with this. For me Oscar will get rested. Only worry we schurrie is think long term a huge rotation risk. If a 1week punt I'd do it

worth the risk if you like your fifth mid

Cheers guys, think I will do it so as Walcott was part of my original plan but doubt he will be back. Have 2 FTs this week so can save one for next week if it backfires

I am just reading on twitter that he is fit, but no real sources just random people tweeting it. But it usually comes from somewhere, hopefully we hear something soon. I think Arsenal are yet to have a presser?

Hey guys, who to play out of Januzaj (v southampton home) and Amalfitano (v stoke away) this weekend?

Januzaj I'm guessing you took him in after Sunderland game be a waste of a swap if dont play him

Out the 2 id rather januzaj this wkend but long term amalfitano prob more nailed on

In fact did you know Januzaj is only the 2nd Man U player to ever score a brace on their first Premier League start, the other player to do it.....Ruud Van Nistelroy!

It's fate i tells ye its fate!

Coleman -> Glen Johnson a good move?

In the near future yes but not this weekend with Coleman home vs Hull

+1 camel. Coleman is a better option than GJ this GW, maybe next GW.

No, imo.

Coleman's one of the best options for his price range this week, I reckon.

I'm looking to bring him in this week

Is Steven Pienaar's imminent return expected to place Mirallas' position under threat?

I think Mirallas is first choice for flanking the striker. Even though he's had an underwhelming season he's quite good. Keeping for now, two good fixtures coming up in a row, Palace soon as well.

Play Barley or Moses? I have Lukaku, Baines, Suarez and Mignolet, so it will be three from either side..

Just realised we arsenal playing Dortmund on Tuesday if ozil is s doubt surely wenger will rest him at home to norwich

trying to change my grav but aint showing up. Been like 20 mins now. How long does it usually take?

Yeah I had to change the rating from PG to G.

Any news on RVP? Is he going toplay or out injured with a sore toe?

Pick:

A) Adnan Januzaj

or

B) Ravel Morrison

deffo B. hes a 'ravelation' + hes nailed on now.

2m
SA: "James Collins got injured playing for Wales. He's pulled a hamstring which is a blow for us."

hi guys .question when everyone is fit at man united what would be the prefered back line .
something like
rafael jones vidic evra no?

Rio will get game time.. he played every minute up to his groin injury, albeit he had a couple of bad games towards that point

Any news if he will be fit for this week mate?

Morning Gents,

Should I move Moses to Barkley for a free transfer? I am thinking with Coutinho on his way back, I have Suarez as Liverpool cover and Evertons fixtures are above average coming up...

New Post

'Craggy Island Lovely Fantasy Football Tournament'...

With my disappointment of not making the cut for the FFS UEFA Beach Soccer Tournament, i think they're should be a tournament for those 'rejects' who didn't make the cut!...

Whos up for it?!?!

Is it worth it? Lukaku(c) and Michu in RVP and Ward Prowse?-4hit

who to drop for ravel/ramsay (not decided yet)

A) lampard
B) arnautovic

Team at the moment

Migs

Toure baines Dawson
Michu Ramsey HBA siggs
Rooney giroud sturridge

I want lakaku but who do I take out

Also who's the best captain choice this week

I've got Lukaku, Saurez, Giroud and Michu. but I'm seriously considering giving Baines my armband this week. am I crazy?
Scout Picks
For Gameweek 15
Hazard

Gerrard

Ozil

Shelvey

Nasri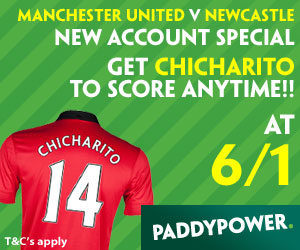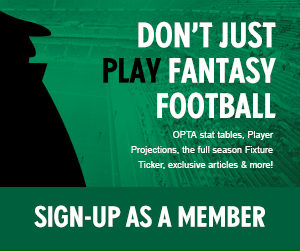 Watchlist
Goalkeepers
Player
Club
Factors

Up

De Gea
MUN

C

,

Vs

Up

Marshall
CAR

B

,

Vs

No Change

Cech
CHE

C

No Change

Szczesny
ARS

A

,

VsX

Up

Speroni
CPL

A

,

Vs

Down

Mignolet
LIV

C

Up

Ruddy
NOR

C

No Change

Guzan
AVL

A

Up

Pantilimon
MCI

B

,

VsX

,

Rest

,

£

Down

Begovic
STO

C

Up

Krul
NEW

A

Up

Howard
EVE

B
Defenders
Player
Club
Factors

No Change

Terry
CHE

A

No Change

Mertesacker
ARS

A

,

VsX

Up

Evans
MUN

C

,

Vs

,

Rest

,

£

No Change

Johnson
LIV

C

Up

McAuley
WBA

C

,

Vs

Up

Ward
CPL

A

,

Vs

,

£

Up

Olsson
NOR

C

,

£

No Change

Flanagan
LIV

C

,

Rest

,

£

Up

Turner
CAR

B

,

Vs

,

£

No Change

Vlaar
AVL

A

,

£

Up

Williams
SWA

C

,

Vs

No Change

Debuchy
NEW

B

Up

Coleman
EVE

B

Down

Pieters
STO

C

,

Vs

Down

Clyne
SOT

C

,

VsX

,

£

Up

Demichelis
MCI

A

,

VsX

,

Rest
Midfielders
Player
Club
Factors

No Change

Hazard
CHE

A

No Change

Ramsey
ARS

A

,

VsX

Up

Gerrard
LIV

A

No Change

Ozil
ARS

B

,

VsX

No Change

Y Touré
MCI

B

,

VsX

No Change

Cabaye
NEW

B

,

Sus

Up

Nasri
MCI

A

,

VsX

Down

Sessegnon
WBA

C

,

Vs

,

Rest

Up

Walcott
ARS

C

,

VsX

,

Inj

Up

Redmond
NOR

C

,

Vs

,

Rest

,

£

Up

Bannan
CPL

B

,

Vs

,

£

Up

Whittingham
CAR

B

,

Vs

,

£

Up

De Guzmán
SWA

C

,

Vs

,

Rest

Down

Lallana
SOT

C

,

VsX

Up

Valencia
MUN

B

,

Vs

,

Rest

Up

Brunt
WBA

B

,

Vs

Up

Brady
HUL

C

,

£
Forwards
Player
Club
Factors

No Change

Suárez
LIV

A

,

Vs

No Change

Aguero
MCI

A

,

VsX

Up

Lukaku
EVE

A

Down

Rooney
MUN

A

,

Vs

,

Sus

No Change

Remy
NEW

A

No Change

Giroud
ARS

B

,

VsX

Up

Negredo
MCI

A

,

VsX

Up

Rodriguez
SOT

A

,

£

Down

Benteke
AVL

C

No Change

Long
WBA

B

,

Vs

,

Rest

,

£
Selection Factors
| | |
| --- | --- |
| A, B, C | Current Form |
| Vs | Favourable Fixtures |
| VsX | Unfavourable Fixtures |
| Rest | Rotation Risk |
| Inj | Injured/Returning from Injury |
| OoP | Out of Position |
| £ | Potential Bargain |
| Sus | Suspended/Near Suspension |
Suspension Tightrope
| Player | Team | YC |
| --- | --- | --- |
| Wilshere | ARS | 4 |
| Agbonlahor | AVL | 4 |
| Delph | AVL | 4 |
| Westwood | AVL | 4 |
| Ivanovic | CHE | 4 |
| Barkley | EVE | 4 |
| McCarthy | EVE | 4 |
| Parker | FUL | 4 |
| Javi García | MCI | 4 |
| Valencia | MUN | 4 |
| Cabaye | NEW | 4 |
| Sissoko | NEW | 4 |
| Turner | NOR | 4 |
| Fonte | SOT | 4 |
| Wanyama | SOT | 4 |
| Cameron | STO | 4 |
| Huth | STO | 4 |
| Walters | STO | 4 |
| Colback | SUN | 4 |
| Gardner | SUN | 4 |
| Chico | SWA | 4 |
| Rangel | SWA | 4 |
| Paulinho | TOT | 4 |
| Dawson | TOT | 4 |
| Yacob | WBA | 4 |
"He has qualities modern football demands, he is fast, he has a good shot, he can also play on both sides or through the centre. He is multifunctional in attack and I'm very happy the club signed him."

Jose Mourinho talks up his new German forward