With little time for turnaround between Gameweeks, we roll out the Round 2 results and Round 3 Draw of the Fantasy Football Scout Cup VII, sponsored by Paddy Power, this evening. Before we look at the remaining contenders for the crown, those taking part should note that these ties take place over Gameweek 15 – the Gameweek 14 midweek matches do not count towards your tally:
Our defending champion Wild Rover seems to have risen to the occasion and, having climbed the rankings in the last couple of weeks, now faces Hillbillypete for a place in the Fourth Round. Wild Rover is one of only three previous Scout Cup winners still remaining; GoonerDave goes up against Mufcste55 – the latter is the favourite here, sitting just outside the top 10,000 – whilst sleepingmaster pits his wits against bigfourleggedbeast.
Mark's podcast co-host and Champions League tipster Granville swept aside Dullardinho last weekend and now faces The Upper Deckers, who sits just inside the top 1 million. Gaz Downright – who tops the Contributors and Moderators league – is up against 2ndMan, whilst fellow moderators applebonkers and Ryan have been drawn against ste2510 and Bedknobs and Boomsticks respectively.
Amongst the community members still in with a shout, Tommy Tynan's Left Shin Pad takes on Jafooli, The Sarjeant faces Isacki, EpicFAIL has been drawn against The Shadow and Daniel plays host to The Flying Nugget.
Giuliop11 may well be considered the favourite for the title. Sitting in 164th spot overall, he's the man to avoid – Ferenc55 stands in his way of a Fourth Round spot.
As usual, we name-check the highest scoring winner from the previous round. Realunitedfc takes the honour, after racking up 90 points in Gameweek 13 – now up to around the 17,000-mark, he swaggers into the next fixture against bcdahm.
If you fancy a glance back at the Round 2 results, click here or if you are awaiting the fixture list for the next batch of head-to-head, the draw for the Third Round is available here.
As always, good luck to those still in with a shout of the silverware.
Team Value is a Joke!

Team value is a bit of a joke mate.

First off you lose. At least half of your gains anyway.

Second if its spread around your team its worth even less. Say everyone goes up by 0.3 you only get 0.1.

Also is anyone going to sell ramsey if they bought him for 5.5. Chances are if people are going to sell him it will be the ones that bought him when he was more expensive. With his form that's not likelky. So someone with say suarez ramsey and aguero probably 'made' 3 million but that won't ever get used.

Like in school if A implies B then it does not mean B implies A.

Success leads to team value.

Team value does not necessarily lead to success.

Probably the best thing you ever posted Maxi.

Sorry mods reply fail

Meant to be for last page lad was asking about catching minileague leader

Na I think its good. It just proves they silliness in not getting in a player like Ramsey even now. His sale value will be a lot higher so people shouldn't shy away from a player who has risen in price as much as he has. If anything it gives them somewhat of an advantage over those who bought him at 5.5 (with the obvious caveat of missing out on all his points hauls of course)

I don't understand this at all. Yes, you lose half of the value from any price rises, but if you don't own the player you lose the whole price rise and don't get any points either. The only thing stopping people selling them is their own misplaced belief that it is actually 'costing' them something to get the player back compared to those who don't have to pay any more than they sold them for having already paid this premium already.

Now you tell me this!

It stops your freedom to make transfers as you please. If you wanted to sell Ramsey, then a few weeks later buy him back, sell him again and buy him back then you would lose a fortune. I understand why they have put this method in place, but it is too harsh on people who got in there quick. And all in all its unnessasary complication which takes away slightly from the enjoyment of the game.

Im not completely sold on this, as an example I got januzaj in after the sunderland game not because I expected him to ever do it again, but because I knew I could make the odd 0.2 on him low and behold last week transfer him out, got ravmo in, hes going back down and I'll be trousering the profit, I also sold giroud at 9.0 having got him @ 8.5 meaning a whole 0.5 I've made on him.So thats 0.8 just to start with. The key to team value is jumping off at the right time.

Player-------League goals at end of season based on current scoring rate from starts
Suarez--------37
Aguero--------33
Sturridge-----29
Remy----------28
RVP------------27
Ramsey------25
Nasri-----------15
Yaya-----------15
Brady----------12
Chamakh------4
Graham--------0

3 goals and 3 own goals = 0

Mignolet
Chico - B. Turner - Vlaar
Nasri - Oscar - Ozil - RavMo
Rooney - Giroud - Suarez(c)

xx - Barkley - Ridgewell - Chester

1FT and 0.7 itb - anything need changing for this week or can I finally save a free? Thanks.

Lost on bottom of last page, from Scout Tweets:

Wenger: "Sagna should be out for tomorrow, Jenkinson is likely to come in."

I suddenly feel less comfortable about bringing in Koscielny...

Think we're selling Jenks a bit short. Good attacking threat, and not SO awful at the back.

What's up!
Got a lot of work to do in defence and mid.
1 FT, 1.5 in bank

Guzan, Boruc
Ivanovic, Fonte, GJ, Rat, Baker
Oscar, Cabaye, Ramsey, Januzaj, Parker
Rooney, Suarez, Aguero

A) Baker -> Gabbidon/Luna
B) Parker -> Whittingham/Morrison
C) Januzaj -> Whittingham/Morrison
D) two of the above for -4 hit
E) A, B & C for -8 hit
F) Keep transfer

B) to Morrison, his team plays Crystal Palace!

HELP GUYS!

Mignolet (K.Davis)
Terry Ivanovic Mertsacker Clyne (Parr)
Nasri Hazard Ramsey (Ravel Thomas)
Rooney (vc) Tekkers Suárez (c)

Got 2 FT.

A) Ivanovic + Tekkers -> Evans + Negredo
B) Hazard + Tekkerss -> Gerard + Negredo
C) Ivanovic, Hazard, Tekkers -> Evra, Gerard, and Negredo (-4 hit)
D) Ivanovic + Tekkers -> Vidic + Negredo
E) Ivanovic, Nasri, Tekkers -> Evra, Shelvey, Aguero
F) Ivanovic, Hazard -> Davies & Gerard
G) Ivanovic, Nasri, Tekkers ->Davies, Gerard & Negredo

Ivan out for evra and save the other FT. Don't hurt yourself.

It's going to be very interesting to see how Wenger plays his Walcott card this season... Last year Arsenal were heavily reliant on his goals whilst the likes of Ramsey and Wilshire remained firmly in the promising young talent category...With the addition of Ozil and Flamini, and Ox and Podolski yet to teturn, Arsenal have a potentially title winning squad and simply are no longer over reliant upon Walcott's goals. Exciting times...Any thoughts on his game time ?...We'd all like to think him nailed on and a shoe in..but is he ?

Without doubt. Once he gains full fitness he may even be used up front given Wenger's joke of a back-up striker.

Yep...that's my thoughts, and hope....Arsenal are fantastic in midfield and have the best midfield squad in the country, and of course he'll get his game time there but not automaticlay...They are shockingly weak up front in terms of depth...Wenger simply can't contine playing Giroud up there every game...Welcome to my team Wally as soon as you do some decent game time.

I wouldn't be surprised to see him up top in a few games to give Giroud a rest, until the possible Real Madrid youngster comes in on loan that is.

i think he will not be an ever present in their 11
he might be used against teams with a slow LB or back line in general, also he might be imployed against big teams where arsenal are expected to defend in the hope of hitting on the break

I'd agree with that...Wenger has options to play different tactics, unlike last season when they were pretty much one trick ponies...or be it very good ones.

No, he isn't. He clearly gives them an option, but their current game is better off without him. I'd even imagine that Wenger will start to use him to rest Giroud when Arsenal are one or two up on second half and can sit back and play counters where Walcott is at his best.

I always post at the bottom of a page......

Gazzaniga (Myhill)

Kos/Flanagan/Lescott (Vlaar/Burner)

Walcott/Hazard/Coutinho/Ravel (Brady)

Suarez/Rooney/Giroud

Lescott or Vlaar this week? The plan is to save transfer next week then do Giroud/Kos > Lukaku/Distin GW 16. Or does anyone have any alternative thoughts? thanks

Want to get rid of one of these (£2,5m in the bank):
Januzaj, Mirallas, Morrison, Rat

Thinking about
Mirallas -> Walker (more money in the bank) or
Mirallas -> Hazard (safer bet)

Opinions on this please?
Is it better to keep Mirallas and transfer one of the other?

is it too late to get rooney into the squad? asking because he's on the suspension tightrope and the possibility of rotation..

current team is

Migs (Boruc)
Coleman, Dawson, Clyne, Collins, Vlaar
Hazard, Ramsey, Sess, Barkley, HBA
Suarez, Remy, Aguero

will swap HBA for Morrisson and then next week bring in Rooney with the extra cash

Sounds good if Rooney doesn't get a YC this week, HBA needs to go ASAP.

Boss: "Hull are very dynamic going forward and on set-pieces they look strong as well" #AFCvHCFC

Doesn't sound like he's willing to take too many risks 😎

New Post

Right! I'm saving my FT and doing the following 8 pointer ready for the weekend:

Mignolet > KD/Gaz
Clyne > Koscielny
Sess > Ramsey
Barkley > Amal/Brunt

Give me this lot for GW15:

KD/Gaz
Koscielny - Luna - Terry
Amal/Brunt - Cabaye - Hazard - Ramsey
Aguero - Rooney (v) - Suarez (c)

Boruc - Ravel - Coleman - Chester

Bank = 0

RMT PLEASE

Mignolet (K.Davis)
Terry IVANOVIC Mertsacker Clyne (Parr)
Nasri Hazard Ramsey (Ravel Thomas)
Rooney (vc) TEKKERS Suárez (c)

Got 2 FT.

A) Ivanovic + Tekkers -> Evans + Negredo
B) Ivanovic + Tekkers -> Vidic + Negredo
C) Ivanovi -> Evra (Save 1FT)
C) Ivanovic, Hazard, Tekkers -> Evra, Gerard, and Negredo (-4 hit)

FTB Pro's 10 Most Improved PL Players:

1. Aaron Ramsey
2. Vincent Kompany
3. Daniel Agger
4. Oscar
5. Gary Cahil
6. Adam Lallana
7. Gareth McAuley
8. Lucas Leiva
9. Kieran Gibbs
10. Pablo Zabaleta

- - - - - - - - - - - - - - - -

I found it interesting that they did not include Rooney, but then again, he hasn't improved from his prime form, he has just improved from his worst form. I guess that is where the difference lies.

Odd list non-the less.

Source: http://www.ftbpro.com/posts/omar.hamouda/532342/10-of-the-most-improved-premier-league-players

How could they possibly know the form of Vincent Kompany ?

Mig
Chico-Terry-Fonte
Ramsey-Ozil-Yaya-Brunt
Suarez-Aguero-Remy

Sub: Boruc Barkley Coleman Chambers
0.7m in the bank

Good to go or some transfers are needed? Thanks.
Scout Picks
Gameweek 25
Janmaat

Williams

Alderweireld
Wijnaldum

André Ayew

Dele Alli

Roberto Firmino

Sánchez
From the Community…
Comments
Hot Topics
Articles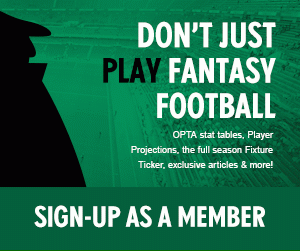 The Watchlist
Goalkeepers
Player
Club
Factors

Up

Forster
SOT

A

,

Vs

Down

Butland
STO

C

,

Vs

Up

Schmeichel
LEI

A

,

Vs

Up

Courtois
CHE

B

,

Vs

No Change

Boruc
BOU

B

,

Vs

Up

Hennessey
CPL

C

,

£

No Change

Cech
ARS

A

,

VsX

Up

Fabianski
SWA

B

No Change

De Gea
MUN

B

No Change

Adrián
WHM

B
Defenders
Player
Club
Factors

Up

Fuchs
LEI

A

,

Vs

,

£

Up

van Dijk
SOT

A

,

Vs

Up

Daniels
BOU

A

,

Vs

,

£

Up

Dann
CPL

A

No Change

Ivanovic
CHE

B

,

Vs

No Change

Alderweireld
TOT

B

No Change

Bellerín
ARS

B

,

VsX

Up

Johnson
STO

C

,

Vs

No Change

Cresswell
WHM

B

Up

Van Aanholt
SUN

A

No Change

Williams
SWA

B

,

£

Up

Smalling
MUN

C

Up

Coleman
EVE

B

,

Vs

Down

Dawson
WBA

C

Down

Moreno
LIV

C

,

Vs

Down

Kolarov
MCI

B

,

Rest

,

Inj
Midfielders
Player
Club
Factors

Up

Mahrez
LEI

A

,

Vs

No Change

Payet
WHM

B

,

Vs

No Change

Dele Alli
TOT

A

,

Inj

Up

Arnautovic
STO

C

,

Vs

,

Inj

No Change

Ozil
ARS

C

,

VsX

Up

Eriksen
TOT

A

Up

Antonio
WHM

A

,

Vs

,

Rest

,

£

Up

Sigurdsson
SWA

A

,

OoP

Down

Barkley
EVE

B

,

Vs

Down

Roberto Firmino
LIV

A

,

VsX

,

OoP

Down

Sánchez
ARS

C

,

VsX

Up

Lingard
MUN

B

,

Rest

,

£

Up

Khazri
SUN

B

Up

Oscar
CHE

B

,

Vs

No Change

Wijnaldum
NEW

B
Forwards
Player
Club
Factors

Up

Vardy
LEI

B

,

Vs

No Change

Kane
TOT

A

Down

Aguero
MCI

A

Up

Diego Costa
CHE

A

,

Vs

,

Inj

Up

Rooney
MUN

A

Down

Ighalo
WAT

C

,

VsX

Down

Lukaku
EVE

C

Up

Afobe
BOU

A

,

Vs

No Change

Giroud
ARS

B

,

VsX

,

Rest

No Change

Defoe
SUN

A
Selection Factors
| | |
| --- | --- |
| A, B, C | Current Form |
| Vs | Favourable Fixtures |
| VsX | Unfavourable Fixtures |
| Rest | Rotation Risk |
| Inj | Injured/Returning from Injury |
| OoP | Out of Position |
| £ | Potential Bargain |
| Sus | Suspended/Near Suspension |
| Player | Team | YC |
| --- | --- | --- |
| Colback | NEW | 9 |
| Byram | WHM | 9 |
| Lucas | LIV | 8 |
| Jones | SUN | 8 |
| Yacob | WBA | 8 |
| Westwood | AVL | 7 |
| Diego Costa | CHE | 7 |
| Huth | LEI | 7 |
| Can | LIV | 7 |
| Mangala | MCI | 7 |
| Shelvey | NEW | 7 |
| Pieters | STO | 7 |
| Dele Alli | TOT | 7 |
| Dier | TOT | 7 |
| Noble | WHM | 7 |
"All players will blank a few times during the season. When almost all do it in the same Gameweek, it is tough to take, but that's just the dark side of probability."

Abreu 42 Community regular