After double Gameweek 31 served up points aplenty, Fantasy managers approach the weekend's deadline with expectations high. This time around, four teams treat us to a pair of fixtures apiece, with all but one in strong form and receiving significant investment:
Crystal Palace
Three clean sheets in their last four highlight the Eagles' recent rise in resilience ahead of their home clash with Villa and trip to Everton. Tony Pulis' side have kept out Sunderland, Chelsea and Cardiff over that run, with only a last-gasp goal conceded against Newcastle in Gameweek 31 beating Julian Speroni. The following schedule sees Liverpool and City roll up to Selhurst Park, though, suggesting it's perhaps unwise to load up on their assets.
The Likely Lads
At the back, Joel Ward,  at 4.4 and with a share of corners, looks the best option – a 12-point haul against Chelsea in Gameweek 32 is indicative of his potential, though the weekend visit of Paul Lambert's side looks likely to be his main source of points, given Everton's thriving form.
Further up the field, Jason Puncheon's double against Cardiff brings him onto our radars at the perfect time – available for 4.9, he's firmly back in Pulis' first-team plans after a brief omission from the starting line-up in February. The winger's appeal is boosted by the fact he is Palace's first-choice spot-kick taker when Glenn Murray is not on the park and, given that the latter has played 26 minutes in the last three games, it's clear he's far from certain to feature. Investment in Palace's frontmen looks unwise – prior to the win over Cardiff, Palace had scored twice in six matches, with one of those goals courtesy of Chelsea skipper John Terry.
Cheeky Punt
If you feel Ward's 4.4 price tag is too steep, winter signing Scott Dann comes in at just 4.0 and has started every match since arriving from Blackburn. Adrian Mariappa is even cheaper at 3.9 but has only just returned to the starting line-up, suggesting he's not quite as secure an option – an assist against Cardiff highlights his attacking appeal at right-back, though. In midfield, Joe Ledley is a real under-the-radar option. The January signing has been fielded in "the hole" behind a lone striker in the last three matches and delivered a goal and assist at the weekend – he's started every game since arriving at Selhurst Park and is available for 4.7, with a 0.1% ownership compared to Puncheon's 4%.
Everton
Roberto Martinez' side have now won their last six league matches and approach the double in their best form of the season. The Toffees are flourishing at both ends of the pitch – they've registered three clean sheets over that run and have scored three times in each of the last four fixtures. A trip to Sunderland and home game with Palace looks very encouraging for Fantasy managers, though with games against United, Southampton and City in the following three, it's perhaps best planning an exit strategy if you're intent on loading up.
The Likely Lads
In defence, Leighton Baines and Seamus Coleman are the obvious contenders for our affections, with four and six goals to their names respectively. Indeed, with spot-kicks and set-piece duties also boosting his appeal, Baines, at 7.4 and owned by 15% of Fantasy Premier League (FPL) managers, is not only an alternative to Coleman but offers a viable double-up option for his fellow full-back's 39% of FPL owners.
Roberto Martinez' recent team sheets have taught us one thing – the three attacking midfield roles will be prone to rotation from here on in. Second-guessing the Toffees boss could prove a frustrating tactic, whereas Romelu Lukaku looks nailed on by comparison. Four goals, two assists and eight bonus points in six appearances since recovering from injury sums up the big Belgian's form ahead of the double, though having blanked against Cardiff and Fulham over that run, there's no doubt he's still an inconsistent armband option.
Cheeky Punt
Young defender John Stones has started each of the last six due to Phil Jagielka's ongoing hamstring problem and has picked up three bonus points over that run. Coming in at just 4.1 in FPL, he could prove a canny cut-price acquisition if the Toffees skipper fails to recover for the double – Martinez has admitted he will be cautious with his captain's injury, but if Jagielka is fully fit, there's no guarantee Stones will keep his starting berth, despite his impressive recent showings.
Whilst both Steven Naismith and Gerard Deulofeu have picked up the points in recent matches, both are classified as forwards in FPL and, with places in our three-man frontlines at a premium, opting for either over Lukaku would surely represent an unnecessary risk. Ross Barkley, at just 5.2, served up 20 points in double Gameweek 31, starting both matches and, given his price tag, is perhaps the least frustrating route into Martinez' midfield. Kevin Mirallas continues to pick up the points, despite a lack of guaranteed game time. The Belgian has played 203 minutes to Barkley's 290 over the last four and has only been outscored by 24 to 23 points in the FPL game, with a goal and three assists accrued.
Manchester City
Whilst a trip to Anfield is far from straightforward, the midweek home game with Sunderland looks hugely promising. Heavy investment in City's main options looks on the cards, given they also have a double Gameweek 37 and some very strong home matches to follow, with West Brom, Villa and West Ham all still to pay visit to the Etihad.
Having conceded two goals in their last seven – just one from open play – Manuel Pellegrini's backline has been one of the most resilient around, though back-to-back clean sheets is perhaps unlikely, given Liverpool's outstanding home form. With three or more goals scored in all but one of their last four, City have rediscovered their eye for goal, after notching just once in three matches over February.
The Likely Lads
Joe Hart and three of the back-four – Vincent Kompany, Martin Demichelis and Pablo Zabaleta – look nailed on from here on in, with only the left-back berth problematic. Perhaps surprisingly, the much-maligned Demichelis has comfortably outscored his defensive team-mates for points per game; an average of 4.5 ppg is far superior to Kompany's 3.4 ppg, for example, yet the Argentine is owned by just 1% of FPL managers.
In midfield, Yaya Toure's relentless consistency delivered a 31-point return in double Gameweek 31, though the likely return of a certain Argentine up top will mean the Ivorian won't have spot-kick duties to fall back on. Toure is expected to shake off a knock picked up against Southampton last weekend, and with an ownership of 47%, another bumper haul could prove costly for those who continue to overlook him.
David Silva remains in Toure's shadow, though the Spaniard has still managed to average an impressive 5.9 ppg. Pellegrini has recently conceded Silva is nursing an ankle problem which forces him to miss training on occasion but it hasn't affected his form heading into the double, with two goals, three assists and eight bonus points in his last five. With a 9% ownership, he could prove a decisive differential if Pellegrini continues with Silva in "the hole" in a 4-2-3-1 formation.
Up front, Sergio Aguero's imminent return is set to spark a major bandwagon. We should know if he's ready by Friday at the very latest but Pellegrini seemed very optimistic over his availability in last week's press conference – now down to just 7% ownership, his current price of 12.0 will quickly climb if the Argentine is passed fit. With four goals and two assists in his last four, Edin Dzeko can hardly be classified as a punt. The 7.1-priced Bosnian is one of the league's form forwards right now and could easily retain his starting role if Pellegrini chooses to ease Aguero back into action or move to a 4-2-2-2 to accommodate both.
Cheeky Punts
Aleksandar Kolarov served up his seventh assist of the season last weekend in the 4-1 win against Southampton, but bearing in mind he'd started only one of the previous four matches, it's by no means certain he'll get the nod over Gael Clichy come the weekend. Judging by Pellegrini's recent team sheets, the best-case scenario may be one start for the 5.1-priced left-back but Kolarov's explosive potential could still take advantage.
Having started 18 of the last 19 matches he has been available for, Samir Nasri is pretty much nailed on under Pellegrini. The 8.2-priced Frenchman is beginning to find his form and delivered a goal and three assists in the last four – with a 4% ownership, he looks a potential differential and could appeal to Toure owners who are reluctant to meet Silva's premium 9.5 outlay.
Sunderland
The Wearsiders' dire display at Tottenham on Monday evening hardly fills Fantasy managers with confidence ahead of their pair of doubles. Gus Poyet has already conceded his team need a miracle to survive, and with games against two of the league's in-form sides, expectations are low ahead of the weekend deadline. A home game against Everton is followed by a trip to the Etihad, where City have won 14 out of 15 in front of their own fans – with one clean sheet and four goals scored in their last seven, it's not looking good for Sunderland. Anyone bringing in Sunderland players right now may already have one eye on the schedule from Gameweek 36, where, thanks to a double the following week, Poyet's side play at home in each of the final three rounds of fixtures.
The Likely Lads
Vito Mannone's heroics have already racked up six sets of 10+ hauls this term, with the Black Cats stopper averaging 4.7 points per game. The 4.5-priced Italian is continually kept busy between the posts – only twice in 20 starts has he failed to earn extra save points, boosting his appeal over Poyet's defensive regulars.
With seven goals and three assists since the turn of the year, Adam Johnson has played a part in 10 of the Black Cats' 14 league goals. After a couple of sub appearances, his return to the starting line-up for Monday's trip to the Lane bodes well for his game time; Poyet's decision to continue with a three-man backline afforded the 6.5-priced midfielder a role behind a lone forward and, if his side are to score over these two matches, he's the man most likely to play some part.
Cheeky Punt
The recent switch to a five-man midfield has resulted in Marcos Alonso and Phil Bardsley being shifted into advanced roles as wing-backs by Poyet. Averaging 2.1 and 2.9 ppg, though, they've offered little to suggest they are worth the investment – for those who fancy rolling the dice, it's worth considering that Bardsley, who has scored four times in all competitions this term, is currently on nine yellows and would face a two-match ban if he's booked against Everton on Saturday.
Ki Sung-Yeung has started all but two of the Black Cats' league matches from Gameweek 11 onwards and, at 4.3, is a decent budget enabler, who scored his side's only goal in double Gameweek 31. The new formation has also seen Fabio Borini move to a central role as Poyet desperately searches for goals. Coming in at 6.2 and with spot-kick duties for the Wearsiders, the Italian arrives on the back of a six-match drought and with just three strikes all season, so he may be a gamble too far even for the boldest of Fantasy managers.
Evening all. So I'm currently sat on:

Mannone (Adrian)
Coleman Flanagan azpi ward zaba
Yaya nasri hazard Mutch Livermore
Suarez Sturridge lukaku

I know it's not bringing any dgw'ers but really like the look of:

Stuff + Livermore -> Adebayor + lallana (-4)

Any thoughts would be appreciated.

Cheers guys

Yay...top of the page as well!

And it's Sturridge...not stuff :/

I'd take HAZ out as he's injured (possibly out 3 GW's)

Haz to lallana is sensible.

Ok then my final pondering.

What's best...

1. -4 points this GW
OR
2. -0.3m before sat deadline

i would, aj>erik after the double if sund crap again. mannone to stay till the end imo

I am buying Mannone ...

Bottom page'd!

Who to throw the (C) on tonight?

a) Messi
b) Gotze
c) Alaba
d) Kroos

Being a United fan I'm leaning towards picking Messi because I kind of hope Bayern fail miserably despite me owning them 😆

A lad in work had a bet on 2-0 Chelsea last night.

Tonight he has bet on 1-0 United (at 16-1)...

Just herd that Messi has not scored in his last 5 matches Vs. Atletico

Okay so I have decided to get rid of Hazard for -4. Transfer is for this week only as I am bringing in Mata next week.

So price is no problem. It can't be a City player and I already have Erikson.

Surely a DGW player would make sense.

Which mid would you get?

Have two FTs and loads of cash.. how do I use it wisely?

mannone (marshall)
coleman ward fonte (davies azpi)
hazard yaya AJ punch (eriksen)
luk suarez studge
3.0, 2FTs

Just do Hazard to Silva,Sterling to Barkley and Sturridge to Aguero

Gone with Robben, good luck to you all
But more importantly, good luck Man United 😉

I know

Good for DGW? -8 points

Boruc (Harper)
DISTIN,Azpi,Vlaar
YAYA,SILVA,PUNCHEON,Gerrard
AGUERO,LUKAKU,Suarez

What do you think about this lot?

Marshall
Ivan, Zaba, Dann (Cahill, Chambers)
Yaya, Silva, Ki, Haz (Mutch)
Suarez, Studge, Lukaku

Am thinking of switching Haz to Lallana (also considering Puncheon/Ledley)

Then to pick up Mata the following week.

Please rate the old team for DGW (no points hits)

MANNONE
ZAB COLEMAN WARD Ivan
BARKLEY YAYA lallana
Suarez LUKAKU AGUERO(c)

*Boruc Snodgrass *Haz *Rosenior

Very good,but it would be better if u buy Silva instead of Hazard

(missed some details on previous page)

Speroni, K.Davies
Cahill, Azpi, Coleman, Ward, Bruce
Mata, Yaya, Hazard, Sterling, Mutch
Suarez, Sturridge, Lukaku

2FT, 1.3ITB

Should I do Mata, Hazard, Sterling & Sturridge to Aguero, Silva, Ramsey & Barkley for -8?

Seems a little excessive.
Ramsey another week and Barkley not worth a hit.

any of these worth minus 4?

A: Barkley
B: Puncheon
C: Ledley

Alternative is playing 433 with either Skrtel (MCI) or Olsson (ful)

Thanks

I've got Silva and Yaya and one more spot for a City player. For this GW, would you buy a City defender (Kompany, Zab) or a striker (Kun)??

They score a lot and their defenders are less likely for bonus when they do is my reckoning

GTG? Or take a hit on hazard?
0FT 0.0ITB

Mannone (Harper)
Distin baines dann azpil (Chester)
Yaya silva puncheon (hazard noone)
Suarez lukaku aguero

Many fantasy managers would've played 1 or 2 FTs already. With the imminent news of Hazard being sidelined for a couple of weeks - the question remains, is it worth taking a 4pt hit and bring in a 2nd/3rd substitution?

The options could I'm considering are a third City midfielder, Mirallas, Johnson or a non-DW player.

I'm tempted towards Johnson. Whilst 2 of his next 3 are tough fixtures, it's do or die now for Sunderland and he will be forced to go all out attack. Plus he has a DGW in 37.

Zabaleta > Dann, Hazard > Silva, Gerrard > Nasri for -4

Speroni

Dann Cahill Coleman

Silva Nasri Barkley Yaya

Lukaku Sturridge Suárez

Leaves 3.9 in bank enough for later moves to Agüero & Rooney if they show form.

What do you think?
Scout Picks
Gameweek 26
Coleman

Ivanovic

van Dijk

Daniels
Payet

Oscar

Roberto Firmino

Ozil
From the Community…
Comments
Hot Topics
Articles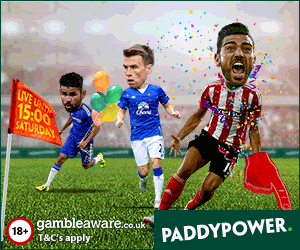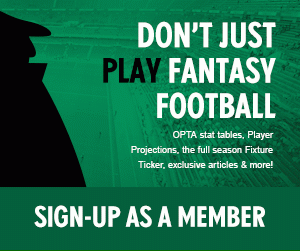 The Watchlist
Goalkeepers
Player
Club
Factors

Up

Forster
SOT

A

,

Vs

Down

Butland
STO

C

,

Vs

Up

Schmeichel
LEI

A

,

Vs

Up

Courtois
CHE

B

,

Vs

No Change

Boruc
BOU

B

,

Vs

Up

Hennessey
CPL

C

,

£

No Change

Cech
ARS

A

,

VsX

Up

Fabianski
SWA

B

No Change

De Gea
MUN

B

No Change

Adrián
WHM

B
Defenders
Player
Club
Factors

Up

Fuchs
LEI

A

,

Vs

,

£

Up

van Dijk
SOT

A

,

Vs

Up

Daniels
BOU

A

,

Vs

,

£

Up

Dann
CPL

A

No Change

Ivanovic
CHE

B

,

Vs

No Change

Alderweireld
TOT

B

No Change

Bellerín
ARS

B

,

VsX

Up

Johnson
STO

C

,

Vs

No Change

Cresswell
WHM

B

Up

Van Aanholt
SUN

A

No Change

Williams
SWA

B

,

£

Up

Smalling
MUN

C

Up

Coleman
EVE

B

,

Vs

Down

Dawson
WBA

C

Down

Moreno
LIV

C

,

Vs

Down

Kolarov
MCI

B

,

Rest

,

Inj
Midfielders
Player
Club
Factors

Up

Mahrez
LEI

A

,

Vs

No Change

Payet
WHM

B

,

Vs

No Change

Dele Alli
TOT

A

,

Inj

Up

Arnautovic
STO

C

,

Vs

,

Inj

No Change

Ozil
ARS

C

,

VsX

Up

Eriksen
TOT

A

Up

Antonio
WHM

A

,

Vs

,

Rest

,

£

Up

Sigurdsson
SWA

A

,

OoP

Down

Barkley
EVE

B

,

Vs

Down

Roberto Firmino
LIV

A

,

VsX

,

OoP

Down

Sánchez
ARS

C

,

VsX

Up

Lingard
MUN

B

,

Rest

,

£

Up

Khazri
SUN

B

Up

Oscar
CHE

B

,

Vs

No Change

Wijnaldum
NEW

B
Forwards
Player
Club
Factors

Up

Vardy
LEI

B

,

Vs

No Change

Kane
TOT

A

Down

Aguero
MCI

A

Up

Diego Costa
CHE

A

,

Vs

,

Inj

Up

Rooney
MUN

A

Down

Ighalo
WAT

C

,

VsX

Down

Lukaku
EVE

C

Up

Afobe
BOU

A

,

Vs

No Change

Giroud
ARS

B

,

VsX

,

Rest

No Change

Defoe
SUN

A
Selection Factors
| | |
| --- | --- |
| A, B, C | Current Form |
| Vs | Favourable Fixtures |
| VsX | Unfavourable Fixtures |
| Rest | Rotation Risk |
| Inj | Injured/Returning from Injury |
| OoP | Out of Position |
| £ | Potential Bargain |
| Sus | Suspended/Near Suspension |
| Player | Team | YC |
| --- | --- | --- |
| Colback | NEW | 9 |
| Yacob | WBA | 9 |
| Byram | WHM | 9 |
| Lucas | LIV | 8 |
| Jones | SUN | 8 |
| Westwood | AVL | 7 |
| Diego Costa | CHE | 7 |
| Huth | LEI | 7 |
| Can | LIV | 7 |
| Mangala | MCI | 7 |
| Shelvey | NEW | 7 |
| Pieters | STO | 7 |
| Dele Alli | TOT | 7 |
| Dier | TOT | 7 |
| Brunt | WBA | 7 |
| McClean | WBA | 7 |
| Noble | WHM | 7 |
"All players will blank a few times during the season. When almost all do it in the same Gameweek, it is tough to take, but that's just the dark side of probability."

Abreu 42 Community regular