The Scoreboard presents the Fantasy Premier League information you need from the day's matches all on one screen, including the current top five BPS (Bonus Point System) standings from each match (potential Bonus Point earners are in bold). Actual Bonus Points will be shown when added – all points are provisional until then.
Gameweek 37
Gutted Liverpool fan here. I couldn't bring myself to post here last night as I was stunned by what happened in those last ten minutes.

I read a few posts on here that said Liverpool were 'found out' and that our defence was to blame, and you can't defend as poorly as we have this season and expect to be champions.

However, I'm not sure I agree with that on the whole. City, the Champions elect, have also defended poorly and threw away precious points this season. I think back to Aston Villa and even the game at Anfield when Company's mistake took the title out of their own hands, albeit temporarily.

Sadly, as a Liverpool fan, I think the truth is a harsher reality than simply blaming a goal leaky defence which has been present all season. Up until the Chelsea game I think most would agree we looked like credible contenders even if our defence wasn't great.

Yes, I accept our defence is weak and that was always going to be the way our opponents would hurt us. However, I think the reason why we haven't (in all probability) won the league from a winning position is because...

We "bottled it".

Good honest post!

At 3-2, Rogers & Gerrard should have called for calm and to defend the lead. Park the bus (as it were)

Liverpool were too focused on the goal difference to catch up city which was practically impossible, and were trying to score more goals when really they should have shut up shop at 3-1

Tbf by that stage it should've been 5 or 6-0 and it would've been right on.

I'm not sure why all the Liverpool fans are so upset after yesterday. Before yesterday, City needed to draw or lose one of the last two for Liverpool to win. Now City need to lose a game if Liverpool are to win. It's not over yet, West Ham will park the bus hard at the Etihad on the final day, and might steal a goal.

See bottom of last page. Be interested in your take.

The Sakho over Agger conundrum?

It beats me why BR prefers Sakho. Agger is our best CB with the ball so you would think he would be the most suited to Liverpool's game.

I suspect BR has his reasons, and they may not even be footballing ones.

Ultimately I don't think this has been the difference in winning the league or not though. I do think it is about having the mental strength to not be afraid of the finish line, vis a vis the above.

Although I hasten to add, the players and BR have been brilliant this season and I certainly don't blame them for falling at the last hurdle. It happens to the best of teams and probably the most difficult thing in football or any competitive sport is to convert a winning position into a win.

Avoidable mistakes are not so forgivable.

I agree with you.

It all became too emotional and players like Gerrard lost their heads panicking whenever results weren't going their way, no composure or leadership shown to steady the ship.
Instead it was long range efforts and the obvious "boot the ball towards Suarez and hope he does something magical".

I feel for Liverpool fans and Gerrard as well, not Suarez though, he can feck off with his tears, nearly left the club in the summer.

The senior players and Rodgers have to take the blame, because the goal difference was never ever going to be overcome, the win would have been enough to put a little pressure on City. There was a slight chance Villa or West Ham could have maybe held them but now Liverpool require one of those two to beat City and I doubt that'll happen

I don't think Liverpool bottled it.

They would most likely have taken something from the Chelsea game if Gerrard had not slipped and Ba scored as a result.

Last night they just seemed to run out of steam after about 70 minutes. Whether that was a result of their high work rate up to that point or the psychological blow of losing a goal and realising they would not catch City on goal difference, I don't know.

When they conceded last night, their mentality should have been lets make sure we get the points and stop chasing goals. From my perspective I would say they lost points last night because of naivety.

I think they showed naivety in both their last two matches.

Against Chelsea they wanted to win but should have settled for at least a draw. If they hadn't thrown quite so many men forward then perhaps Gerrard's slip might not have had such disastrous consequences.

And against Palace the first priority should have been to make sure they got a win. Continuing to attack had led to some big wins in earlier matches, but they were too far behind Man City on goal difference, so they should have concentrated on holding on for the win after their lead was reduced to 3-1 with less than ten minutes to go.

They certainly did seem to run out of steam towards the end though. They have often scored their goals in the first half and slowed down in the second, so perhaps the amount of effort they have to put in to score these early goals sometimes results in the players getting tired later on, and this could be one of the reasons why they keep conceding silly late goals. They probably ought to be a bit less gung-ho after they have established a good lead.

It's a different kind of pressure when you become "the hot favourite" and the Liverpool players, by and large, haven't experienced that before. I'm sure your players will learn from it.

Whatever happens now, and you never know in football, Liverpool have had a great season.

Really, I don't think I do. Disappointed maybe.

We still have had a great season and to finish above Chelsea with their financial advantage is still very pleasing.

Oh by the way....

Six months of Benitez > a year of Mourinho

'6 months of Benitez > Mourinho' blah blah blah .Please get over it . We heard you the first time .

So after all the talking from Pool fans about their glorious, beautiful football compared to our football over the whole season, you are going to end the year with the exact same trophy haul....

mannone adrian
cahill azpi smalling williams chester
yaya mata nasri ramsey sterling
suarez aguero wickham

3.4 in the bank

any suggestions on how to use my FT and possibly a hit? offensive transfers look more exciting (maybe aguero + wickham > dzeko + sturridge(-4)?) but I'm wondering if a defensive transfer is more necessary....

What's the consensus on Aguero's chances of playing tomorrow?

Guys point predictions for these two teams:

A) Kolarov Alonso Yaya Rooney Aguero©
B) Zaba Jones Yaya© Welbz Dzeko

I think the playing strikers will edge it for B plus Yaya. I also face a ML rival with Yaya cap and Dzeko (because that's the only striker they could afford) vs Rooney an Aguero (c). I just hope you have some kind of points lead in the bag already.

i have 28 points mate. what do you think the defecit will be end of play?

Maybe about 10. Bonus points could be really good for him with that lot.

I am right now tied for first with differentials of Mata, Wickham, Mannone, Aguero (c) and Rooney (or 4pts) vs Yaya, Dzeko + 3pts. I should be well on my way, but I don't even feel confident any more I'll be leading.

It was either a total phantom injury and he will, or there was something for them to be concerned about, so he will probably be benched or nowhere. May not be a point bringing him on late on too. If I get anything from him I will feel like I should buy some lottery tickets

This year, the trick seems to be to go for the form player. So, who is the form player right now?

Or do I go for a sentimental pick in Giggsy? Nah.

Morning fellas,

What're people's thoughts on UFPL so far?

Do you reckon you'll play it next year?
How much do we reckon it will be to enter a team?
Of those who've been playing it, do you think it'll give you a slight advantage over those who'll be new to it?
Any chance they'll run smaller but-in cash leagues?
What do you reckon is a good finishing rank for this year, bear in mind, most playing are probably fairly dedicated FPLers?

It's crap.

The nonsense about the fixtures.

In an International Tournament, the fixtures are/have to be set in stone. Here, fecking Sky ensures that they are all over the shop. As a result, one's squad is more or less useless!

Secondly, the ability to buy proper back up players is not there - the budget is too small/prices too high.

I forgot that prices will be changing next year too, not fixed.

But surely that's just the nature of the game that you must plan around? I get it's not for people who don't have the time and/or interest to watch it so closely.

I take it you won't be partaking? 😉

I have the time, but not the interest, to be looking up every new TV arrangement.

No, I won't.

Mixed feelings. I like it overall as an alternative option, but think it requires far too much close attention and activity close to deadlines in order to really succeed. That and it places a bit too much bias on teams with later fixtures.

In general, I think being able to change captain after your first one fails kind of ruins half the point of the game.

See your points, but if you changed those things it's too like FPL. Think they need it to be enough different to make people buy in to it

yeah I get that, it's just it makes it slightly worse. But if it means they leave the current game untouched, then that's fair enough.

Time zones make playing for me harder as lineups are very useful but useless if I'm asleep.
£5
Big advantage having experience.
Doubt it.
Top 1K depending on entries.

I'll be playing , had a convo last page about a few issues ,
Luck more than skill has a major part to play - the loan system is costly / flawed IMO and some of the rules could be clearer as regards subs in / out etc ,
Dgws seem to be a nightmare but all in all a good game and having played last few weeks should give an advantage ,
7/10 - room for improvement.

I doubt I'll play, the only reason for that amount of commitment would be if money was riding on it. It seems so easy to miss a deadline and suffer badly, also waiting for team news is kind of essential.

It's a more strategic game that gives you a lot more back-up options so it's different enough to be interesting. I might do it if it was a series of short stints like quarter seasons. It's been a good distraction from FPL once that seemed to slip away.

Top 10% is good, Top 5% is great, Top 2% is fantastic etc.

Certainly not. Madness!

Really? Why so? He's been superb for Saints, a big part of their success this season

Dzeko averages a goal every 136 minutes, the sixth best in Premier League history

Sergio Aguero.........................115

Thierry Henry...........................122

Javier Hernandez...................128

Ruud van Nistelrooy...............128

Robin van Persie....................135

Edin Dzeko..............................136

Dzeko all the more impressive because he spent 210 minutes in my side without scoring any returns at all.

I already knew he had impressive goals per min. Partly its because he has been a super sub a lot. (same reason Hernandez is up there.)

This stat appeared on MOTD. Shearer is in tenth I believe and made light of it calling it a 'rubbish stat' or something like that cos it doesnt really mean anything. A player can play one match, score and be top of that list.

How is Sergio doing in the injuries per minute table?...quite well I bet.

Really hope Rooney misses out 2night got him as my captain as was on holiday and brother forgot to change to aguero.

Rooney to feature 2nite

Yes or no?

all this talk of Liverpool needing to buy new players this summer (which they probably do). who do you realistically think they should buy?

As above, I think Victor Wanyama would be a solid addition but better minds than mine disagree

Not better. Just different.

Caulker, if they have any sense.

Backup GK, LB if Enrique isn't fully recovered for season start, RB, DM, AM, Konoplyanka or other winger

I'm not convinced by Mignolet if i'm honest.

More depth up front as they are in the CL, Aspas just isn't going to cut it. Borini may get a chance but he doesn't score enough.

you think they should recall Reina from loan? or get someone else?

yeah the could use more depth up top. especially considering sturridge's knack for getting injured. who do you think they should get though?

and you don't think they need any new players in the back or in midfield?

I've heard talk of Arda Turan, who is pretty special but obviously that's not the area with the flashing red light over it right now.

Forget about buying new players, their biggest task it keeping hold of Suarez.

They need at least one CB, Caulker.

Could do with a DM to cover Lucas, Wanyama-esque.

Could do with a proper winger.. Griezmann would be awesome.

Liverpool should find it easier to attract top players now they are back in the Champions League, and they certainly need to improve the depth of their squad, but might Financial Fair Play be a problem?

OK lads chasing like 60 points in my mini league may got for broke and pretend i have a WC and get best possible team for next week!

BEST 11???

It's the one time there's definitely no point taking hits for defenders.

Best 7, you probably have half of them now.

mamadou sahko cost nearly 17 million.

just let that sink in for a moment......

I prefer to ignore that altogether!!! 😀

He is dreadful, i'm sure he was the PSG (c) before the big money arrived.

Last week v Chelsea. Brenda Rodgers: "defending is easy"
Yesterday : "our defending cost us today"
LOL

That question almost answers itself.

He said defending with 10 man behind the ball is easy, not defending is easy

he supports team i like to fu@k hedgehogs bareback

BEST FRONT 8 FOR THE NEXT FINAL GW?? ( either 5 - 2 Formation or 4 - 3)

What class am i in? Well I'm playing a GK and 3 DEF so i can have either 5 mid 2 forwards or 4 mids and 3 forwards! Think b4 you speak!

lol those still dont add up to 8 though...

If you can afford it then a strong front eight might not be a bad idea for GW38. Could be useful if one or more of them is unexpectedly rested.

Wait for the Scout Picks. 😉
The answer is fairly simple though imo.

its hard to tell right now with injuries.

A hypothetical UFPL Q :
If I benched Rooney say ,and played Lukaku ( take it rooney played and scored 7 pts )
I then decided before tonight that I would do Lukaku > Rooney would I have got rooneys previous points hypothetically ?

You lose points earned once you sub them out.

You can't sub in a player who has played already. The wording in the rules say if their team has played but it's the player that matters. In this case with Rooney not playing you could actually put him in if he was on your bench to begin with and you saw him starting tonight.

You can't sub in players who have played. That's the easy answer.

So long as RVP plays I don't mind what Roo does 😀

Do you think Aguero will play tomorrow night?

I think he might, but some think he might not.

I think. Maybe.

Is there some reason a comment I made over ten minutes ago is in moderation? (no swearing in it I can remember). Most odd.

Were you talking about Scunthorpe being promoted with more draws than wins?

Typical DGW scenario...

Took a 4 pointer to bring in Dzeko + Rooney for Lukaku + Sturridge...

I now need Rooney not play to definitely be in credit, due to having Jedinak with 5 points as my first sub! Worst case a Rooney 1 point late show and Dzeko not starting will leave me 3 points down!!!

And Chester injured the one time I need him!

New Post

can i just ask any mods/contributors around at the mo a quick question please?
over the last couple of seasons since ive been using the site there have been a couple of regular posters who have been banned. those in question were generally unproductive in their posts/comments but were at least occasionly funny and i dont think meant badly.
(not defending them this is for comparisons sake)

now we have these trolls who just turn up on or just after matchdays to post and NEVER say anything productive. some of them must have posted hundreds or thousands of times without even mentioning fantasy football. todays example is that charming willis chap.
why are these not banned from the site?
I believe they lower the tone far more....

Justice for the Forca one!

PSG and City fail to meet FFP.

Atleast that might end any premature Hazaar out rumors.
Scout Picks
Gameweek 25
Janmaat

Williams

Alderweireld
Wijnaldum

André Ayew

Dele Alli

Roberto Firmino

Sánchez
From the Community…
Comments
Hot Topics
Articles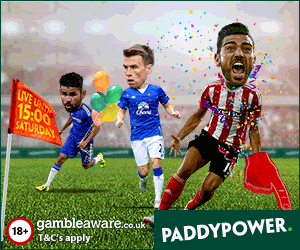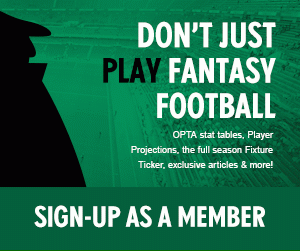 The Watchlist
Goalkeepers
Player
Club
Factors

Up

Forster
SOT

A

,

Vs

Down

Butland
STO

C

,

Vs

Up

Schmeichel
LEI

A

,

Vs

Up

Courtois
CHE

B

,

Vs

No Change

Boruc
BOU

B

,

Vs

Up

Hennessey
CPL

C

,

£

No Change

Cech
ARS

A

,

VsX

Up

Fabianski
SWA

B

No Change

De Gea
MUN

B

No Change

Adrián
WHM

B
Defenders
Player
Club
Factors

Up

Fuchs
LEI

A

,

Vs

,

£

Up

van Dijk
SOT

A

,

Vs

Up

Daniels
BOU

A

,

Vs

,

£

Up

Dann
CPL

A

No Change

Ivanovic
CHE

B

,

Vs

No Change

Alderweireld
TOT

B

No Change

Bellerín
ARS

B

,

VsX

Up

Johnson
STO

C

,

Vs

No Change

Cresswell
WHM

B

Up

Van Aanholt
SUN

A

No Change

Williams
SWA

B

,

£

Up

Smalling
MUN

C

Up

Coleman
EVE

B

,

Vs

Down

Dawson
WBA

C

Down

Moreno
LIV

C

,

Vs

Down

Kolarov
MCI

B

,

Rest

,

Inj
Midfielders
Player
Club
Factors

Up

Mahrez
LEI

A

,

Vs

No Change

Payet
WHM

B

,

Vs

No Change

Dele Alli
TOT

A

,

Inj

Up

Arnautovic
STO

C

,

Vs

,

Inj

No Change

Ozil
ARS

C

,

VsX

Up

Eriksen
TOT

A

Up

Antonio
WHM

A

,

Vs

,

Rest

,

£

Up

Sigurdsson
SWA

A

,

OoP

Down

Barkley
EVE

B

,

Vs

Down

Roberto Firmino
LIV

A

,

VsX

,

OoP

Down

Sánchez
ARS

C

,

VsX

Up

Lingard
MUN

B

,

Rest

,

£

Up

Khazri
SUN

B

Up

Oscar
CHE

B

,

Vs

No Change

Wijnaldum
NEW

B
Forwards
Player
Club
Factors

Up

Vardy
LEI

B

,

Vs

No Change

Kane
TOT

A

Down

Aguero
MCI

A

Up

Diego Costa
CHE

A

,

Vs

,

Inj

Up

Rooney
MUN

A

Down

Ighalo
WAT

C

,

VsX

Down

Lukaku
EVE

C

Up

Afobe
BOU

A

,

Vs

No Change

Giroud
ARS

B

,

VsX

,

Rest

No Change

Defoe
SUN

A
Selection Factors
| | |
| --- | --- |
| A, B, C | Current Form |
| Vs | Favourable Fixtures |
| VsX | Unfavourable Fixtures |
| Rest | Rotation Risk |
| Inj | Injured/Returning from Injury |
| OoP | Out of Position |
| £ | Potential Bargain |
| Sus | Suspended/Near Suspension |
| Player | Team | YC |
| --- | --- | --- |
| Colback | NEW | 9 |
| Byram | WHM | 9 |
| Lucas | LIV | 8 |
| Jones | SUN | 8 |
| Yacob | WBA | 8 |
| Westwood | AVL | 7 |
| Diego Costa | CHE | 7 |
| Huth | LEI | 7 |
| Can | LIV | 7 |
| Mangala | MCI | 7 |
| Shelvey | NEW | 7 |
| Pieters | STO | 7 |
| Dele Alli | TOT | 7 |
| Dier | TOT | 7 |
| Noble | WHM | 7 |
"All players will blank a few times during the season. When almost all do it in the same Gameweek, it is tough to take, but that's just the dark side of probability."

Abreu 42 Community regular