James Wilson is United's goal hero as Ryan Giggs makes eight alterations to the United XI in their final home match of the season. Robin Van Persie emerges from the bench to fire the Red Devils' third, whilst Matty Fryatt ruined the hosts' clean sheet by notching for a much-changed Hull XI as Steve Bruce looks towards the FA Cup Final:
Giggs Bloods Youngsters
With only pride left to play for this season, and a new managerial reign potentially on the horizon, Ryan Giggs chose to showcase the talents of United's academy last night. Whilst the likes of Juan Mata and Ashley Young found themselves consigned to the bench, teenagers Tom Lawrence and James Wilson both made their debuts in a United shirt, with the latter grabbing the headlines with two goals and a commanding display in the lone forward role. Adnan Januzaj was afforded his first start since a goalscoring performance against Newcastle back in Gameweek 33, and although he failed to pick up any attacking returns, the Belgian impressed throughout his 90-minute display and was heavily involved in the build-up to all three of his side's goals, suggesting he may well keep his starting berth on Sunday.
Mata owners, meanwhile, now face the decision of whether to sell after last night's no-show. In what has become one of the most disappointing double Gameweeks in memory so far, injuries and team selection leaving us filled with uncertainty and searching for alternatives as the final round of fixtures approaches. Ironically, David Moyes' departure has lessened Mata's Fantasy prospects – he's started just one of Giggs' three matches in charge, playing 96 minutes over that trio of fixtures.
Goalscoring Cameo for Van Persie
Whilst Wayne Rooney missed out once again for United with a groin complaint, Robin van Persie tasted action from the bench for the second successive game and rewarded the 1,200 managers to plump for his double Gameweek services with an 86th-minute goal and two bonus points. Although the Van Persie alternative has hardy proved pivotal across the Gameweek, those who took the ultimate gamble by investing in the Dutchman will be consoled by the fact that he outscored fellow heavy-hitter Sergio Aguero by eight points to five, and will hope to see him return to the starting line-up for United's final game against Southampton on Sunday.
Whilst his owners will now likely hold after last night's strike, Van Persie faces a tough task on Sunday at St Mary's. Given that Southampton have conceded a single goal in their last four matches, Rooney and Aguero owners are more likely to target Liverpool and City alternatives, with Daniel Sturridge and Edin Dzeko set for significant investment prior to their respective home clashes with Newcastle and West Ham.
Jones Exits Early as Vidic Waves Goodbye
As well as shuffling the pack further up the field, Giggs opted for a unconventional defensive line-up, with Patrice Evra's 11.4% ownership left disappointed by the full-back's omission from the squad and Phil Jones the only defender to survive from last Saturday's 1-0 defeat at the hands of Sunderland. Jones, however, only lasted 21 minutes before leaving the field with a shoulder injury which could dent his World Cup hopes. Post-match, Giggs gave a tentative analysis of Jones' condition:
"He knew straightaway he had done something. Usually when something like that happens it is not great. Hopefully he will be OK but it is too near [to the incident] to say."
Owned by just 3% of FPL managers, Jones' potential absence on Sunday will have minimal effect and will allow Giggs to freshen up the backline once again. If anything, last night's teamsheet highlighted the fact that the Welshman's next starting XI is likely to be equally unpredictable and with the rumours of Louis Van Gaal's installation growing stronger, investing in any United player at this point carries an unnecessary degree of risk. Many managers loaded up on their assets prior to the double but a mass exodus looks likely as we turn to more secure options for Sunday's finale.
Hull Strikers Blank Again
Having both notched in Gameweek 36, Hull's forward duo Shane Long and Nikica Jelavic harboured a fair amount of attention going into the double Gameweek, but the pair ultimately disappointed. With the former only afforded 45 minutes at Old Trafford, and the latter an unused sub despite neither being eligible for the upcoming FA Cup final, the strike partners failed to make up for their blanks against Aston Villa at the weekend. Both sit firmly in the differential bracket and with Sunday's opponents Everton conceding two or more goals three times in their last four fixtures, even a sub appearance could see Long or Jelavic get in amongst the points and give their owners that vital edge over their mini-league competitors. The only concern is that Bruce is now solely focussed on the Wembley clash with Arsenal and, as last night's teamsheet showed, the Tigers boss may look to give his other forward options increased game time in preparation for the Gunners showdown.
What is a 'natural goalscorer'?

It's never made sense to me.

Him, Van Nistlerooy, Inzaghi, etc all just have a natural knack to being in the right place at the right time and their finishing is second nature to them.

Isn't that just being good?

They're not particularly "skillfull" at much else, other than scoring goals, they can't create or carry a team, they can't defend or pass exceptionally well, they're natural goalscorers 😀

At least thats what I thought it was..

Aye I get where you're coming from 😀
I guess my view is rather pedantic, because all these goalscorers will have practised for many years, they just happen to be very good at it.

I'd be more inclined to believe someone is a natural goalscorer if somehow they just started playing football last week and hit the ground running.

Not the same thing. not the thing of being "natural goal scorer" either, just a learned skill of smelling the opportunities and using them.

you can be good in many other ways too, and these players may lack a lot of what you call "being good". Take Inzaghi for example. To me he is a perfect example really. He was an amazing goal scorer. But did he have, say, a particularly good shooting technique? No. Maybe he was an amazing dribbler then? No, not that either.

his "skill" was his fast, smart movement (which included staying in offside so much that it was a statistical certainty that the linesman will miss that at least once a match) that got him plenty of those so called "clear cut" chances and put them in. That asks little technical skill, players very seldom miss a sitter because of lack of technique - that's why they are called sitters. They miss them, because they lack that goal scoring "wisdom" of making the right, sufficient decision fast. Inzaghi had that. It's like he was a great economist really more than a footballer, he did statistically smart things on field, rather than being an extremely skilled individual. That's what "natural goal scorer" is about in this sense. whether it is natural or not is another thing.

Someone who can cushion the ball with his instep, and retain full control, 100% of the time.

I've always thought it was a term for that kid on the playground who just never missed in front of goal. One of them was in my class and he went on to play pro, something you either have or don't ala a Michael Owen who always looked like he couldn't miss 1 on 1, never thought about how to take his chance, he just did it naturally.

Is this the first question TFF? 😯

someone with their own hair, so not rooney

someone who can pass the ball into the back of the net, someone who just knows where the goal is, a player who when they are 1 on 1 you just know it's a goal. maybe they definition overlaps with a poacher a bit too

Anyone else pretty much given up on the season and just wanna have fun by taking some crazy hits?

I'm tempted to go for a -12pt

Roon - RVP
Aguero - Studge
Mata - Yaya
Ramsey - Schurrle

True, that would be crazy, although relegated clubs tend to do ok on the last game of the season, no pressure, and players looking to impress potential employers, but still, won't go with their players

Care to help me drop any one of this front 8?

Sterling (NEW) - Yaya (WHU) - Erikesen (AVL) - Mata (sot) - Arnautovic (wba)
Suarez (NEW) - Sturridge (NEW) - Dzeko (WHU)

City CS, Sunderland CS, Wickham brace and a goal form Yaya.

That can't be too much to ask for considering this DGW is pure shite?

Tell me about it. I did Gerrard > Mata and Luka > Roon for this gameweek. -8pt in total as I also brought in Rosenoir

TFF's Quiz

1/8

Identify the following players who have played/play for Chelsea from their initials
(Elaborate both the initials and give ALL ANSWERS IN ONE POST so that others dont benefit)

MK,RB,HH,HC,SE.

The biggest disappointment for me this year was undoubtedly the rearranged double gameweeks. Last year I enjoyed them, they seemed to be scattered around, making players from certain teams vital in building up to the double.

This year has been the entire opposite, a classic example is with 3 weeks to go to gameweek 31 I already had 7-8 players. Once the rearranging occurred, it was not uncommon for that number, or even full teams of doubles.

Next year I hope that they will all be spread out, so you can plan ahead a bit better, rather then luck playing its part.

This season will go down as the one that constantly catered for the 'casual'.

I will remember this season as being the one where every new player i transfered in got injured
Oh and Lukaku never getting me any goal points whenever I had him.

I don't mind it being 'the casuals season', I'm aware of my own mistakes, but the forward planning hasn't really helped for the doubles.

I even had Puncheon for the expected double, before everyone else got rearranged. Next year I hope that only 4 teams have doubles each week, it will make it a lot more interesting.

yep, too many, too congested. missed out on likes of arnautovic and eriksen as a result.
plus the 'wind week, was infuriating, had silva and kolarov against man city then, when the game was rearranged silva got injured and kolarov was playing against a suddenly reuvinated and more in form sunderland side. my subs i had to come in for that pair were palace and everton players, so ended up with 9 or 10 players

*silva and kolarov against sunderland

That was an annoying one, I think I had Everton players for that.

I prefer the days of snows, winds, strikes. It shakes it up, and I usually seem to do better when everyones players refuse to behave and play their matches!

Blackpool's multiple postponements and DGWs because of their pitch's lack of under-soil heating were great! And all those bonus points for Charlie Adam's Hollywood passes.

Winters are getting colder according to the latest TV documentary, so perhaps we can look forward to a few more of those.

Dear esteemed FF managers - do we know if there any matches on the box this evening?

Thanks for your replies - you are indeed gentlemen.

On last season's bap system Januzaj would have got 2 baps yesterday....definitely need the old system back

TFF's Quiz

IM 1

2/8

Identify the following six clubs from the clues given below

-Bank Street
-Blue Moon
-Nicola Cortese
-Lion Hearts
-Black Cats
-Molineux

Just received some posh sweets and chocolate for winning February in my mini league. Oh, back when I was getting good scores!

They made a mistake as they had my old address.

Thinkin

Rooney + Aguero + Ramsey > Sturridge + Dzeko + Gerrard. (-8)

Madness?

Not madness at all. If none of Roo/Kun/Rambo play and your bench is shit I'd say the transfers looks great. Hold though

So, is anybody actually keeping Aguero and hoping he plays on the weekend?

Thinking Jones + Mutch + Rooney + Aguero -> Baines + Sterling + Dzeko + Sturridge (-12).

Madness?

Yeah, but I have Bards (who probably won't play) and Evra (who might not play). My other 2 which I hope will play are Ivan and Dann.

So the plan is to put Ivan, Evra and Baines with Dann as first def sub.

But thanks for the responses!

Would just play Evra, will likely be the last game for Man U so reckon he'll play.

Up to you though pal, good luck.

"He called me because he told me he wanted Michael to return. I told him, no way." 😆

"This statue was a charm and we removed the luck from the club and now we have to pay the price," Fayed said. "When [Khan] asked me to move it I said: 'You must be crazy.' This is such a fantastic statue which the fans are crying out for. But now he has paid the price because the club has been relegated. He called me because he told me he wanted Michael to return. I told him, no way.

LOL

If they had got it back it might have made the last game a thriller.

I'm sure there's an easier way but I copied my 1-11 down each column and C&P'd that in.

Was gonna do a (C) one but figured there's no point with Suarez. although I did noticed I had 6 different c picks for the first 6GWs

TFF's Quiz

IM 1 DGI 1

3/8

Name (i) the English club and (ii) its nickname which plays its games at the largest stadium outside the premier league.

Sheffield Wednesday, Owls

Sheffield Wednesday
The Owls

nottingham forest. city ground

Mark's already allowed you on the Scoutcast. No need to keep brownnosing 😉

new article - say what

TFF's Quiz

IM 2 DGI 1

4/8

The following five Italian players play/have played in the premier league.Their surnames have been jumbled. Identify the players (Mentioning the surname only will be appropriate)

-ECMANRCNO

-IBNOIR

-SLOADOV

-ACNIBHI

-ENONMNA

My rival in a 75 team mini-league has Aguero captain which is nice. I'm second with Mata captain but Dzeko, Toure and Nasri to his Aguero (c) and Toure. Plus I have AJ.

Could just about do it with the wind behind me...
Scout Picks
For Gameweek 37
Cazorla

Sánchez

Gerrard

Sissoko
From the Community…
Comments
Hot Topics
Articles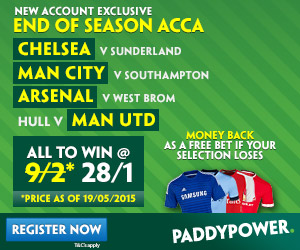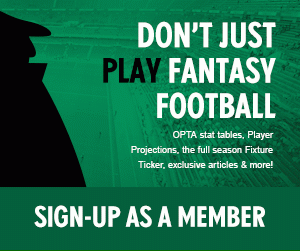 The Watchlist
Goalkeepers
Player
Club
Factors

No Change

Ospina
ARS

B

,

Vs

,

Rest

,

£

No Change

Schmeichel
LEI

A

,

Vs

,

£

No Change

Pantilimon
SUN

C

,

VsX

,

£

No Change

Howard
EVE

B

No Change

Adrián
WHM

B

Down

Harper
HUL

B

,

VsX

,

£

Up

Myhill
WBA

A

,

VsX

,

£

Up

Krul
NEW

C

,

£
Defenders
Player
Club
Factors

No Change

Koscielny
ARS

B

,

Vs

No Change

Morgan
LEI

A

,

Vs

,

£

Up

Kolarov
MCI

B

,

Rest

,

£

Down

Ivanovic
CHE

C

,

Vs

No Change

Cresswell
WHM

B

Up

Smalling
MUN

B

,

Vs

No Change

Coleman
EVE

B

No Change

Van Aanholt
SUN

B

,

VsX

,

£

Up

Vlaar
AVL

C

,

Vs

,

£

Down

Skrtel
LIV

C
Midfielders
Player
Club
Factors

No Change

Sánchez
ARS

B

,

Vs

Up

Silva
MCI

A

Down

Hazard
CHE

C

,

Vs

No Change

Ramsey
ARS

B

,

Vs

Up

Bolasie
CPL

B

No Change

Albrighton
LEI

B

,

Vs

,

£

No Change

Grealish
AVL

C

,

Vs

,

£

Up

Mata
MUN

B

,

Vs

Up

Sigurdsson
SWA

B

Up

Mirallas
EVE

B

,

Rest

Up

Sissoko
NEW

C

,

Inj

Down

Coutinho
LIV

C
Forwards
Player
Club
Factors

Up

Aguero
MCI

A

Up

Lukaku
EVE

B

No Change

Benteke
AVL

B

,

Vs

Up

Murray
CPL

B

,

£

Up

Gomis
SWA

B

,

Inj

Up

Ulloa
LEI

B

,

Vs

,

Rest

,

£

Up

Pellè
SOT

B

No Change

NDoye
HUL

B

,

VsX

,

£

Down

Giroud
ARS

C

,

Vs

Up

Ayoze Pérez
NEW

B

,

Inj
Selection Factors
| | |
| --- | --- |
| A, B, C | Current Form |
| Vs | Favourable Fixtures |
| VsX | Unfavourable Fixtures |
| Rest | Rotation Risk |
| Inj | Injured/Returning from Injury |
| OoP | Out of Position |
| £ | Potential Bargain |
| Sus | Suspended/Near Suspension |
"All players will blank a few times during the season. When almost all do it in the same Gameweek, it is tough to take, but that's just the dark side of probability."

Abreu 42 Community regular