Tuesday night's encounter between Belgium and USA brought the curtain down on a dramatic round of last 16 fixtures, with all eight group winners progressing to the quarter-finals of Brazil 2014. With another day to go before France and Germany get us underway at 5pm tomorrow, we've time to take stock and cast an eye over the FantasyiTeam game, as we analyse the top scoring Fantasy managers and players of the tournament so far:
A free-to-play Fantasy football app, FiT is available on a number of mobile devices, including iPhone, iPad, iPodTouch and Android. We're supporting FiT throughout the summer and have an official Fantasy Football Scout League, with a £500 Amazon voucher available to the winner. There's also the small matter of a £5k holiday available as the prize to the overall FiT World Cup winner.
Fantasy Football Scout League
Stefano Van Meedows reclaims his place at the Scout League summit, having dropped to second position in our last round up. Drafting in Thomas Muller, Karim Benzema and Mathieu Valbuena with his three free trades in Matchday 4, Stefano also used the option to purchase a fourth (which costs 100 FiT Credits) to snap up Lionel Messi for Argentina's narrow win over Switzerland. Now sitting on 351 points, he holds a six-point lead at the top and has set his team up in a 3-5-2 formation, with the armband currently sitting on Germany's Muller for a showdown against Argentina.
Dimi Papamichael slips into second position on 345 points. He also made four trades last time around – indeed, his transfers were identical to Stefano's as the pressure at the top builds. Dimi has doubled up on Holland, Germany, Argentina, Colombia and France and has also acquired Belgium's Divock Origi – the youngster started up front in the win over USA, yet is classified as a midfielder in the FantasyiTeam game.
Sitting just one point further back is Dansen Low. He moves up from fourth to third after making four transfers in Matchday 4 –Juan Cuadrado, Robin van Persie, Romelu Lukaku and Ezequiel Lavezzi (listed as a midfielder but fielded up front in Sergio Aguero's absence by Argentina) were all drafted in. Like Stefano, Dansen has already opted for Muller as captain ahead of Friday's deadline.
Warren Grant climbs to fourth on 336 points. Another Fantasy manager who opted for four trades in the previous round, he drafted in Benzema, Mario Gotze, Messi and Eden Hazard – at present, he has three Colombians on board and has the armband on Messi for Argentina's game against Belgium.
Peter Pickin completes the top five. Sitting a further seven points behind Warren, Peter has played the market better than any of his rivals and has boosted his team value from the initial £75.0m up to £79.8m – he's already made one of his three free trades ahead of tomorrow's deadline but with 1,135 FiT Credits in the bank, looks likely to make four transfers for the quarter-finals in his attempt to climb further up the leaderboard.
Top Scorers
After four rounds of fixtures, the midfielder still dominate. The top three places are taken up by players who ply their trade in the centre of the park, with Colombia's James Rodriguez leading the way on 43 points. Starting at a price of £6.5m, the Monaco playmaker has now risen in price to £7.0m in FantasyiTeam, having scored at least once in all of his appearances thus far – with five goals and a pair of assists accrued, Rodriguez has had a hand in seven of his side's 11 strikes so far and leads the race for the Golden Boot ahead of tomorrow's clash against Brazil.
Germany's Thomas Muller is tucked in behind on 38 points. Another consistent performer, the Bayern man has produced Fantasy returns in every appearance so far, though a goal and two assists over his last three has helped Rodriguez overtake him at the summit. With a clash against France up next tomorrow evening, Muller now sets you back £8.6m, from a starting price of £7.5m.
Arjen Robben sits in third spot after picking up an assist in Holland's late win over Mexico. In a similar situation to Muller, the Dutchman served up his most explosive display in his first appearance of the tournament and has been solid, if unspectacular, ever since – a goal and two assists over his last three matches has still ensured Robben's owners have been rewarded and with a game against Costa Rica on his agenda, his popularity is set to increase ahead of tomorrow's deadline.
In fourth spot, Lionel Messi is the top scoring forward in the FantasyiTeam game so far. Sitting on 31 points, the little Argentine is the only frontman to produce attacking returns in all four of the opening Matchdays, with an assist for Angel Di Maria's winner over Switzerland adding to his four goals in the first three fixtures. If Alejandro Sabella's side are to get the better of Switzerland, Messi – who has played a part in five of their seven goals – will be key to unlocking a backline that has conceded only once in open play so far. Unsurprisingly, given his consistency, the Barcelona man is the priciest striker around and is currently available for £11.4m.
Karim Benzema and Neymar are tucked in behind Messi on 29 and 28 points respectively. Both players been far less consistent over the tournament than the Argentine, however – Benzema served up three goals and a trio of assists in the first two games but has since drawn back-to-back blanks and has recently dropped in price from a high of £10.9m to £10.7m. Neymar, at £10.0m, has failed to produce points in two of his last three appearances, with braces in Matchday 1 and 3 keeping his tally ticking over.
Just behind Neymar is Colombia's right winger Juan Cuadrado on 26 points. Having started at just £5.3m, he's proven to be one of the bargains of the tournament for the South Americans and has delivered a goal or assist in each of his four starts – still very favourably priced at just £5.7m, the Fiorentina wide man's consistency has made him a decent midfield double-up option along with team-mate Rodriguez .
I just cannot figure out who is going to win France vs Germany. Was set on Germany, but with all this flu business and France looking to play Greizmann, I'm starting to sway the other way. Who do you think will win?

I've put £75 on Germany to win in 90 mins.

Main reasons: Germany look more settled, better team ethic, better organisation, and most importantly better players.

France have been magnificent in short spurts, Germany will tighten up and I just think their big game mentality will see them through. France have not faced a proper test yet, and I just do not believe that their mentality has changed overnight.

Everyone is saying Germany because it is Germany. They might still win but, ooking at the tournament so far and judging both you have to say France. Especially when you consider Germany's problematic back 4 coming up against Griezmann, Benzema and Valbuena plus the highly energetic Matuidi and Pogba.

yeah Germany's high defensive line coupled with Mert's lack of pace could be a problem against the pace of that French attack

It's a shame for France's sake that Mustafi got injured. As I think Jogi Low's stubbornness would have meant he'd have started there again and be awful once more. Now it is looking like Lahm rb with Khedira, Kroos and Schweinsteiger in midfield which is much more solid.

Also, this fixture has come a bit too late in the day for Gotze's sub-par performances to continue. Schurrle should start and that will be a shame for France as he's much more of a threat than the fancy Gotze outwide there. If played any earlier in the tournament, France might have gotten away with Gotze starting there.

I can't believe so many people are backing France. Their big game mentality under this set of players is weak. Germany to dominate.

"Mesut Ozil was the outstanding player of the 2010 and 2012 tournaments. I can't just forget it. Moreover, I put a lot of trust in my players, especially when things are not running smoothly for them."

sounds like he is playing ozil due to reputation/loyalty. hulk almost came good for scolari against chile but ozil still looks off the pace

http://www.espnfc.com/league-name/story/1928616/headline

Ozil could score 5 goals and he would still get slammed.

....and that's how he got injured.

Alright, so fear mongering aside, who are the genuine major doubts for the QF games?

all the big hitters are doubts! load up on differentials!

The Team Germany, Costa Rica GK, Argentina's whole defence, Neymar, all Dutch forwards, Sneijder, Sakho, Varane.

Those to start with.

It's not scaremongering....7 Germans have flu like symptoms...RVP left traing strapped up yesterday and Kaylor Navas has a shoulder injury...A quick google will show all the info you need.

In addition there's a massive clamour in Argentina for major surgery to the Argentina team starting at the back.

Everyone stop what you're doing and rate my team. Got 2M in the bank. Obviously I'll wait until the lineups before confirming Muller. Thoughts?

Cillesen -- 2 Cheap
Fernandez -- Van Buyten -- De Vrij -- Zapata -- Boateng -- 2 Cheap
Di Maria -- Mascherano -- J.Rodriguez -- Ozil -- Valbuena - 3 Cheap
Messi -- Robben -- Muller -- 2 Cheap

i'd rate that as rude. needs more manners

Who comes in for Rojo for Arg?

and prone to take a red card against KdB and whoever plays on right for Belgium.

Campagnaro to RB...Zabaleta to LB or Basanta straight swap....one or the other.

I still haven't changed a thing from my 1st draft for the QF 😯
and what is more, I think I'll stick with it...

Cillessen / xxx / xxx
Zapata / Boateng / De Vrij / Van Buyten / Fernandez / xxx / xxx
JRod / ADM / KDB / Valbuena / Wilnajdum / xxx / xxx / xxx
Neymar / Messi / Muller / Robben / xxx

Thoughts?

Virtually the same as mine, ADM >Lahm

You going big on Costa Rican defense?

Can't seem to decide on my last 2 mids
Have at the moment : Jrod masch Lahm Tejeda and cuadrado
I am looking to pick 2 of valbuena Kdb gago and Aguilar
On one side valbuena and Kdb are on set pieces but I can see both matches finishing either 1-0 or 0-0 so it really comes down to assists and balls into the box vs recovered balls leaning towards valbuena and Kdb at the moment what do you think is better ?

You have enough defensive mids in there already to guarantee 3 spots. I'd go with Valbuena and KDB for the attacking returns.

Yes but the problem is I can't see france and Belgium score more than once so i will be lucky if valbuena and Kdb get an assist or the goal itself in those circumstances!

7 midfielders seem like too many as it is, think you can accept being hard done by if none of them come through. You have 2 guaranteed spots in lahm and masch, 1/2 out of JRod Cuadrado Valbuena and KDB should get some sort of returns. Tejeda is a decent enough back up if everyone else fails.
Or drop one of the 7 and get an extra CB? More flexible and guaranteed returns.

Liverpool complete Emre Can transfer..bye bye Henderson or Gerrard will be warming up the bench more often?

neither. Can will slowly be integrated with Gerrard and Hendo remaining first choice

Nervous about going 3 Dutch at the back in Fox.But oh well what's fun without risks right?

Sorry not a WC.Already did the trannies.Besides Messi will come up with a wonder strike to beat Courtois.

One i am prepared to take since i am not WCing this round.If Dutch concede i want every team to concede.lol

Captain's choice for the QF's guys?

but they are going out in this round?

If they Beat Colombia,Yes.

You always back the 'safe' option.

on another note, does anyone have the past launching dates of fantasy premier league?

it would be a nice surprise to see it launched one day after the world cup on the 13th ?)

thanks

make it more annoying by a factor of 10 and you have it spot on

Daniel Daniel where art thou Daniel?

assuming both were starting. Who would you rather pick in MCD's

Griezmann or Schurrle?

Anyone in the mood for a quiz? Need at least 4 people to begin with

Go on, people will join in

Btw, whats up with the JuanmATA beast blanks?

I'm not too sure how many are around at the moment

He's the #1 tw@t on this website mate, I'm afraid but you picked the wrong person. He left the game in gw1, calling us lowlifes and people who take the game too seriously. We were made to forfeit the 3 gw's, due to which we lost all 3 matches. What a shame,really

My word! Literally begged me to pick him until i had no other option but to believe his enthusiasm. Had absolutely no history on this site to judge him from.

Should be banned from any future ffs tournies. Such a crapper

Whos everyones Captains for the next round on FOX sports?

assuming he isn't one of the flu victims, any chance Schurrle starts tomorrow?

*clings flimsily to last straw from sweepstakes

Big chance to start ahead of the woeful Goetze

should.. im delayin my drinkin so i can stay home and see the lineup and make a change though

I'm going to win the mirror match day prize this round 😎

(Provided the Dutch keep a clean sheet) #praying

Was gonna captain RVP on FOX but looks like he could be a doubt after leaving training with his leg taped up?

SKY FANTASY FOOTBALL 2014/15 IS NOW LIVE

Anyone know if you get to carry free unused free transfers over to the next round in Fox's World Cup Fantasy League? Cheers...

Hello guys..
In the MCd fantasy I'm 38 points behind the leader ..
Needed some tips to recover some points

I have tried to select a make or break team ..

Cillessen

Mertesacker Silva Luiz Hummels DVB
Aguilar GAGO Lahm Dimaria
Messi neymar Robben

I guess most won´t like it. I do.
Betting so much, why this strikers choice though?
Plenty of differentials there too.
I´d also pick a few backup players. spent all 100m there?

I have .5m in the bank , but other than Benz muller and Martinez which other strikers are there to be had ....
Scout Picks
Gameweek 25
Janmaat

Williams

Alderweireld
Wijnaldum

André Ayew

Dele Alli

Roberto Firmino

Sánchez
From the Community…
Comments
Hot Topics
Articles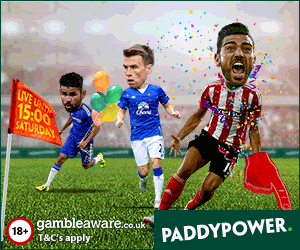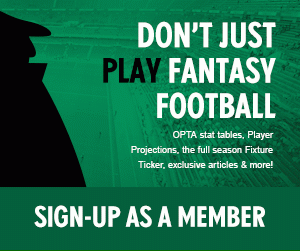 The Watchlist
Goalkeepers
Player
Club
Factors

Up

Forster
SOT

A

,

Vs

Down

Butland
STO

C

,

Vs

Up

Schmeichel
LEI

A

,

Vs

Up

Courtois
CHE

B

,

Vs

No Change

Boruc
BOU

B

,

Vs

Up

Hennessey
CPL

C

,

£

No Change

Cech
ARS

A

,

VsX

Up

Fabianski
SWA

B

No Change

De Gea
MUN

B

No Change

Adrián
WHM

B
Defenders
Player
Club
Factors

Up

Fuchs
LEI

A

,

Vs

,

£

Up

van Dijk
SOT

A

,

Vs

Up

Daniels
BOU

A

,

Vs

,

£

Up

Dann
CPL

A

No Change

Ivanovic
CHE

B

,

Vs

No Change

Alderweireld
TOT

B

No Change

Bellerín
ARS

B

,

VsX

Up

Johnson
STO

C

,

Vs

No Change

Cresswell
WHM

B

Up

Van Aanholt
SUN

A

No Change

Williams
SWA

B

,

£

Up

Smalling
MUN

C

Up

Coleman
EVE

B

,

Vs

Down

Dawson
WBA

C

Down

Moreno
LIV

C

,

Vs

Down

Kolarov
MCI

B

,

Rest

,

Inj
Midfielders
Player
Club
Factors

Up

Mahrez
LEI

A

,

Vs

No Change

Payet
WHM

B

,

Vs

No Change

Dele Alli
TOT

A

,

Inj

Up

Arnautovic
STO

C

,

Vs

,

Inj

No Change

Ozil
ARS

C

,

VsX

Up

Eriksen
TOT

A

Up

Antonio
WHM

A

,

Vs

,

Rest

,

£

Up

Sigurdsson
SWA

A

,

OoP

Down

Barkley
EVE

B

,

Vs

Down

Roberto Firmino
LIV

A

,

VsX

,

OoP

Down

Sánchez
ARS

C

,

VsX

Up

Lingard
MUN

B

,

Rest

,

£

Up

Khazri
SUN

B

Up

Oscar
CHE

B

,

Vs

No Change

Wijnaldum
NEW

B
Forwards
Player
Club
Factors

Up

Vardy
LEI

B

,

Vs

No Change

Kane
TOT

A

Down

Aguero
MCI

A

Up

Diego Costa
CHE

A

,

Vs

,

Inj

Up

Rooney
MUN

A

Down

Ighalo
WAT

C

,

VsX

Down

Lukaku
EVE

C

Up

Afobe
BOU

A

,

Vs

No Change

Giroud
ARS

B

,

VsX

,

Rest

No Change

Defoe
SUN

A
Selection Factors
| | |
| --- | --- |
| A, B, C | Current Form |
| Vs | Favourable Fixtures |
| VsX | Unfavourable Fixtures |
| Rest | Rotation Risk |
| Inj | Injured/Returning from Injury |
| OoP | Out of Position |
| £ | Potential Bargain |
| Sus | Suspended/Near Suspension |
| Player | Team | YC |
| --- | --- | --- |
| Colback | NEW | 9 |
| Byram | WHM | 9 |
| Lucas | LIV | 8 |
| Jones | SUN | 8 |
| Yacob | WBA | 8 |
| Westwood | AVL | 7 |
| Diego Costa | CHE | 7 |
| Huth | LEI | 7 |
| Can | LIV | 7 |
| Mangala | MCI | 7 |
| Shelvey | NEW | 7 |
| Pieters | STO | 7 |
| Dele Alli | TOT | 7 |
| Dier | TOT | 7 |
| Noble | WHM | 7 |
"All players will blank a few times during the season. When almost all do it in the same Gameweek, it is tough to take, but that's just the dark side of probability."

Abreu 42 Community regular