Liverpool kicked off their summer shopping spree earlier last month with the acquisition of Rickie Lambert from Southampton. Arriving at Anfield for a rumoured £4m, the 32-year-old was clearly delighted to return to a club that previously released him as a youth player:
"I can't believe it. I've loved this club all my life. I left here 17 years ago – and I haven't stopped loving it since. I have always dreamt of playing for Liverpool, but I did kind of think the chance of playing for them had gone. It wasn't a chance I was expecting to get but I've been given it now and I want to get out there that I believe I am good enough and that I will perform and that I will help Liverpool. And as much as it's a whirlwind that is happening for me at the minute with the way my career has gone, I want to make it clear that I feel I deserve to be here and what I've done deserves me to be here right now".
The History
Raised in the Kirkby district of Liverpool, Lambert was a youth player at Anfield between 1992 and 1997 before he was allowed to leave. Subsequently plying his trade in the lower leagues for Blackpool, Macclesfield, Stockport, Rochdale and Bristol Rovers, he notched 105 times in 337 appearances, with 29 strikes in 45 matches for the latter in 2008-09 persuading Southampton to snap up his services in the summer of 2009.
Lambert's contribution was key to earning the Saints' back-to-back promotions as they climbed into the Premier League within three seasons of his arrival. Over 90 League One appearances for the St Mary's side, he delivered 51 goals and 26 assists, before serving up 27 goals and 18 assists in just 42 Championship appearances in 2011/12.
Question marks were raised over his ability to produce at the highest level but Lambert answered them emphatically. In his first season in the English top-flight, he produced 15 goals and seven assists and followed that up with 13 goals and 11 assists in 2013/14 – indeed, he was one of only four players (Steven Gerrard and Luis Suarez were two of the other three) to produce double figures for goals and assists in the Premier League season gone by.
At international level, Lambert was a late developer and wasn't handed his first cap until last year – nonetheless, he has still flourished in front of goal, finding the net on three occasions from six appearances.
The Prospects
Since arriving in the Premier League with Southampton, Lambert has played in all but one of the subsequent 76 fixtures, with just nine of his appearances coming courtesy of the bench. A security of starts – boosted by a lack of European competition – and spot-kick duties ensured he was one of the most reliable mid-price forwards around, with 187 points and 179 points in the Fantasy Premier League (FPL) game over that period, but the move to Merseyside looks likely to place major question marks over his game time.
Luis Suarez' summer move to Barcelona has seen Brendan Rodgers splash the cash in order to cope with the Uruguayan's departure. The arrival of Adam Lallana and Lazar Markovic clearly illustrates the Reds' determination to strengthen in the final third, and while the club ultimately abandoned their pursuit of Loic Remy, it's clear that Rodgers is keen to bring further options on board.
Frustratingly, Rodgers' summer of restructuring leaves us with more questions than answers as to his likely formation and starting XI right now. The former Southampton striker could offer an option as the lone forward in a 4-3-3 or as part of a front two – certainly, his height and strength are viewed by many as affording Liverpool a "Plan B"; something that was tellingly lacking in the Gameweek 36 home defeat by Chelsea that proved devastating to their title tilt.
To label Lambert as a target man is doing him a great disservice, however. His touch and vision and ability to play in a more withdrawn central role could even allow him to be fielded at the tip of the midfield diamond behind a front two. This is more unlikely, with Rodgers perhaps inclined to look for the pace and trickery of dribblers like Raheem Sterling or Philippe Coutinho, but could come to fruition if the Merseysiders require an extra physical presence through the middle.
Dampening his appeal further is the fact that, in spite of a superb record from the spot which has seen him miss only twice over his entire career, Lambert confirmed in an interview with the club's official website that he "won't be trying" to take spot kicks off Steven Gerrard. A real boost for the skipper's Fantasy fortunes, bearing in mind that 10 of his 13 goals arrived from the spot in 2013/14, though Suarez' departure perhaps dents the Reds' prospects of penalty awards for the season ahead.
As the Reds attempt to recover from Suarez' departure, Daniel Sturridge seems the safest option for those starting the campaign with a Liverpool forward in place, then. In the long-term, though, Lambert's arrival may allow Rodgers to be a little more careful with the former's game time as the Reds make a return to European duties. Sturridge's propensity for picking up injuries meant he only started 26 league matches for the Reds last time around and, with Suarez now out of the picture, extra cover will be crucial.
Looking at the fixtures, Liverpool's prospects bode well for a strong start as they attempt to replicate the free-scoring form of 2013/14. Rodgers' side face just one of last season's top four in the first nine matches – a trip to City in Gameweek 2 – with home clashes against Southampton, Villa, Everton, West Brom and Hull, supplemented by trips to Spurs, West Ham and QPR, looking promising for a side that found the net 101 times last term.
While such a schedule suggests that the Merseysiders could be back amongst the goals again, whether the same applies to Lambert is another matter entirely. For now, Fantasy managers look set to steer clear and hope that Rodgers' teamsheets offer us some indication as to where his intentions lie in the first season of the post-Suarez era.
Further Reference
Rickie Lambert Liverpool Interview
Really basic q - how do I get a grav? I've clicked on my profile but can't see the option.

Last post on the page

REPOST

Shaw + Jelly

vs

Caulker/Davis + Pelle?

Here is my team at the moment, can i have some opinions please.

De gea, Myhill
Shaw, Filipe Luis, Davis, Moore, Vlaar
Silva, Hazard, Eriksen, Sigurdsson, Albrighton
Rooney, Sturridge, Weimann

I'll be playing a 3-4-3 formation.

I've been thinking of making some adjustments as i have 0.5mill remaining,
Lamela for Eriksen (depending on who will being playing behind the striker)
Silva for nasri (i will keep nasri if he gets game time)
I am not sure who too have as a third striker for weimann or whether too keep him

Who are people going for their 4.0s in defence and 4.5s in midfield?

I have 1.0 left to spend and I was thinking of leaving it just in case I need to upgrade players that perform well or a punt does not work out and I need to upgrade etc. Is my team safe enough to do such a move or should I upgrade a player before GW1

Krul Myhill
Shaw, Debuchy, Ward, Cameron, Vlaar
Hazard, Tadic, Siggy, Sanchez (Albrighton)
Remy, Rooney, Giroud

I will play a 3-4-3 formation for the most part and other than Shaw and Debuchy I am unsure of my third starter for GW1 (currently cameron).

If team plays as expected, I will change one arsenal player, most likely Giroud for Dzeko as my transfer (unless he puts in an undeniable performance).

Remy and Tadic are my obvious punts which may cause concern. Do people think they may be safe punts concidering I have 1.0 left to play with or should I make use of it and upgrade? Any suggestions to above concern or otherwise is welcome

Any 'Buy and Hands Off' leagues out there?.... don't know if I can do it but considering it...

Please RMT ladies and gents

Howard, Krul

Ward, Wisdom, Filipe Luis, Cameron, Debuchy

Coutinho, Ramsey, Henderson, Hazard, Arnautovic

Sturridge, Bony, Weimann

I want to have 3 Liverpool players for sure because they are my team so that's the only requirement. I'm flexible on which ones I have though.

Do you actually think L'pool will do any good

RMT
Team Value - 98.5m
De Gea - Krul
F.Luis - Debuchy - Mariappa - Cameron - Collins
Mata - Eriksen - De Jong - Shelvey - Tiote/Albrighton
Rooney - Costa - Dzeko/Adebayor

I will change any players that are not regular starters instantly.
Also I am considering dropping my West Ham and Palace rotation because it looks like West Ham will be poor defensively this season. Could replace with B.Davies and someone or a better rotation option.

How about Arteta? Is he out?

Hey guys i'm back for the new season. 😉

Been busy up to today, not had a chance to build the team. What the 4 to 5m defenders everyones looking at?

Any spreadsheets on defender rotation etc?
Scout Picks
2014/15 Team of the Season
Clyne

Ivanovic

Terry

Bertrand
Cresswell

Sigurdsson

Giroud
From the Community…
Comments
Hot Topics
Articles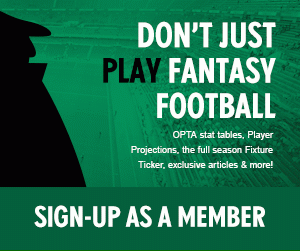 "All players will blank a few times during the season. When almost all do it in the same Gameweek, it is tough to take, but that's just the dark side of probability."

Abreu 42 Community regular