Ahead of Gameweek 12 I thought I'd take a look at how involved strikers are in their team's play. This is not just about the goals they score, but also how they interact with their team mates.
Issues to be looked at include whether they are being undersupplied by creative players and how well they work with team mates to ensure they find the net. Another issue is how well the team can turn possession into shots and goals for their forward players.
Generally, strikers are still the main attacking threat in their teams, but increasingly their duties on the pitch are multiple, and not necessarily solely related to scoring goals. Nowadays, every striker has to offer a contribution during the defensive phase by pressing the opposition or by tracking back to help their defence in their own half of the pitch.
This analysis will also look only at central strikers, so will ignore players like Stoke's Mame Diouf, who is fielded on the wing, yet listed as a forward by the Fantasy Premier League.
I have also avoided those who play in a midfield, number 10 role, such as Newcastle's Ayoze Perez (although have included Bournemouth's Josh King) and also restricted the analysis to those with significant pitch time, playing at least 400 minutes so far.
Absolute Involvement of strikers – Passes received per 90 minutes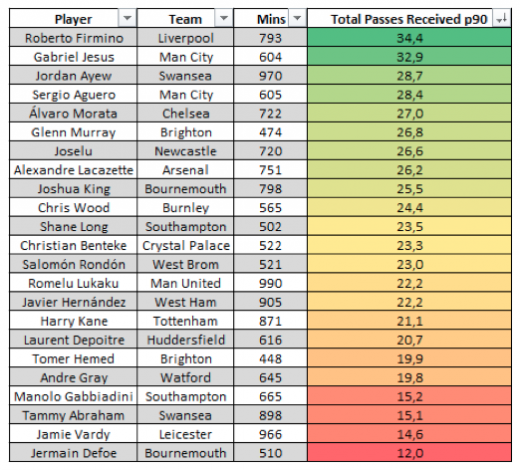 Although 11 games is a small sample the above numbers offer an interesting early insight into how strikers are involved in their teams' play.
The least involved is Jermain Defoe who receives just 12 passes every 90 minutes, approximately 11 passes less than the league average for strikers of 23.2 per 90 minutes. What is even more interesting is the amount of passes that his team-mate Josh King receives. The Norwegian, is the recipient of 25.5 passes per 90, more than twice the amount of Defoe.
King is a different type of striker, who likes to come deep to get the ball and who often roams a lot, providing the necessary links with the rest of the team, while Defoe is more of a poacher (in the modern interpretation of the role), who puts goals above everything else and prefers to stay into the penalty box as much as possible.
Yet the outcome confirms the main deficiency of Defoe's style of play: he is not particularly expert in supporting the team overall, and he spends too much time isolated on the pitch.
Overall the only strikers who receives at least 30 passes p90 are Liverpool's Roberto Firmino and Gabriel Jesus, of Manchester City. This Brazilian pair , together with Jordan Ayew, Sergio Aguero, Álvaro Morata, Glenn Murray, Joselu, Alexandre Lacazette and King, are the only attackers who receive at least 25 passes every 90 minutes. It is these players that not only offer the chance of goals, but also assists.
It's interesting to check how striker pairs performed in this metric.
Manchester City's attacking duo consisting of Aguero and Jesus receive approximately the same exact volume of passes p90. However, Ayew (28.7) and Tammy Abraham (15.1), the starting forwards in Paul Clement's side, are involved at a very dissimilar rate in Swansea's play, while Tomer Hemed and Glenn Murray have never started a game together, so comparisons on these two strikers' rates are less meaningful.
In absolute terms, Defoe is the least involved striker of the 23 examined, but every team plays a different amount of passes during a game. What happens if we look at the percentage of passes he receives against the total amount of passes made by Bournemouth every 90 minutes?
Relative involvement of strikers – Percentage of passes received over total team passes per 90 minutes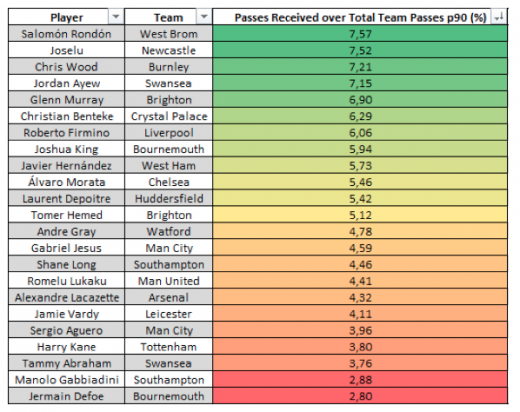 Things get even worse for the Cherries veteran: with just under 3% of passes received of the total. Defoe is still the least involved striker in the Premier League.
Salomón Rondón is the most involved in the entire league, receiving more than one pass for each seven passes played by West Bromwich Albion.
Joselu (7,52%) and Chris Wood (7,15%) are just behind him. The high percentage of passes received by these three could be explained by the fact that they are very strong in the air and so they act as the target men for their respective teams, to launch counter attacks or just to ease pressure from their teammates.
We could draw similar conclusions to the strong showings in the rankings of Crystal Palace's Christian Benteke and Huddersfield's Laurent Depoitre.
At the same time, the ranks here of strikers like Aguero, Jesus and Lacazette have decisively diminished, since they play in teams that make a lot of passes. Per game Manchester City – average 716.8, while Arsenal average 606.4.
Efficiency of passes received
So far we have analysed the volume of passes received by strikers, but essentially they are supposed to score goals so what really matters is not the quantity but the efficiency of those passes – that is the amount of passes that lead to a shot in relation to the total amount of passes received.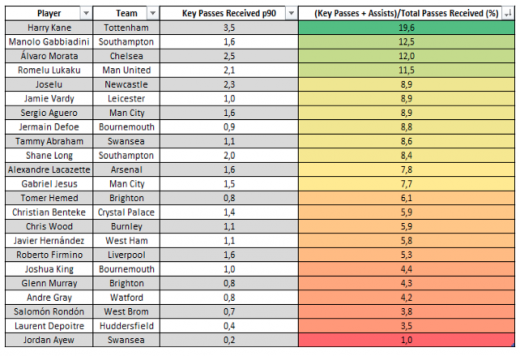 These figures produce a completely different story.
Defoe may lack quantity of involvement but he makes the most of his opportnities with quality, with 8.8% of passes received leading to a shot, compared to just 4.4% for King.
Volume and Efficiency of Passes Received
With data about both volume and efficiency of passes received, we can combine those metrics in a graph and divide them in four groups according to averages. The x-axis below shows the strikers' absolute involvement via passes received p90, while the y-axis has the combined amount of assists and key passes received p90; all the shots that were assisted.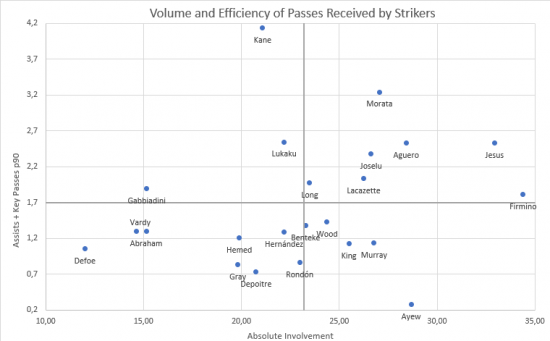 Morata, Aguero and Jesus and the other strikers in the top-right quadrant have been recipients of a high volume of passes and those passes have often led to a shot.
Jordan Ayew, King and Murray have been involved in a lot in the play of their team, but not much in finishing chances.
Strikers in the top-left quadrant like Kane, Lukaku and Gabbiadini have not been very involved in possession but are a concrete option to finishing their team's plays.
Players in the bottom-left quadrant have not been involved at a high rate and the passes they received were not necessarily dangerous, but so far this hasn't prevented them from scoring, since Vardy, for exemple, has already found the net six times so far. Once again quality wins over quantity.
Strikers are often judged by their direct contribution, like goals, assists and shots they make but they constitute only the furthest layer of a team. It is also important to look at how much they are supplied by their team mates. How many times have we seen a striker moving to a different team and radically altering his level of performance?