When Arsene Wenger bagged Marouanne Chamakh from Bordeaux in the close season, there was some uncertainty as to the Moroccan's role for the Gunners this season. Would Wenger alter his 4-2-1-3 system to accommodate the new man up front? Would be play out wide, similar to how Nicklas Bendtner was occasionally used last season? Or would Chamakh, as many expected, simply be back up to Robin Van Persie and give the Gunners a bit more strength-in-depth up front this term?
With Wenger easing Van Persie back into action after his long World Cup summer and Bendtner injured, Chamakh has been the main man up front for Arsenal so far this season. Saturday's match at Blackburn was Van Persie's first start of the season, following on from a couple of late second half substitutions, but the Dutchman once again succumbed to injury and was replaced by Chamakh in the 35th minute. The new boy has subsequently now led the line for the vast majority of both Arsenal's tricky away games, and with a total of four points taken from Anfield and Ewood Park, the Gunners seem to have the stomach for a fight this time round.
One stand-out feature of Arsenal's play so far has been the goalscoring exploits of the two front wide men, Andrei Arshavin and Theo Walcott, with six goals between the pair already. A closer inspection of Chamakh's contribution, however, shows that his movement has been an integral factor in both these players starting the season so well.
Chamakh & Van Persie at Blackburn
These two Passing Heat Maps show Chamakh's and Van Persie's distribution at Ewood Park. What is noticeable is the amount of ground Chamakh covers in comparison to the Dutchman. While Van Persie is more a "false nine", dropping deep, linking with Cesc and playing through the centre, Chamakh works the entire breadth of the pitch, drifting out to both flanks and creating the space that allows both wingers (Walcott in particular) to drift inside and be more central to the Gunners play. Van Persie played 70% of all passes from a central position, whereas only 37% of all Chamakh's passes were played from a central position.
The Effect on Walcott
Although it was Van Persie who grabbed the assist for Walcott's goal, this was the only shot Walcott had when the Dutchman was on the pitch. He had three similar scoring opportunities when Van Persie departed the proceedings, but fluffed them all.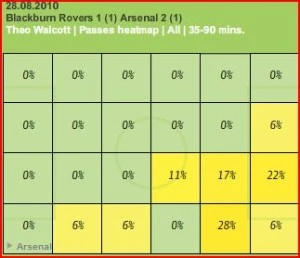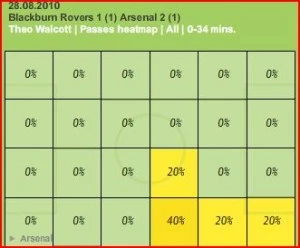 Walcott's Heat Maps are particularly revealing: with Van Persie as the lone striker, Walcott's role seems to be more of an out-and-out winger, with 80% of his passes coming from the flank. However, Chamakh's introduction changed all that: his link-up play and movement opened up central areas to for Walcott's pace to exploit. Subsequently, only 46% of Theo's passes -a huge drop- were from the right wing from the 35th minute onwards, as Chamakh's far superior mobility is a definite factor in Walcott's performances this term. Almost bizarrely, in terms of Fantasy Premier League (FPL) points, Walcott is already halfway to matching his total for all of last season, with 32 points already on the board.
The Effect on Cesc
One of the main advantages of Arsenal's change of system last season was the increased attacking nature of Cesc Fabregas' role. He works perfectly in tandem with Van Persie in this system, with the Dutchman dropping deep and Cesc working his magic in the space left open.
However, Chamakh's presence seemed to slightly alter the role of Cesc on Saturday. As these heat maps show, whilst Fabregas was able to continue his role from last season with Van Persie on the pitch, Chamakh's arrival changed things.
Although the Moroccan's link play and work-rate is advantageous to the attacking merits of Walcott and Arshavin, he didn't quite open up the space through the middle needed for Cesc to bomb forward. As a result, Cesc played a lot less passes in the final third from the 35th minute till he left the proceeding on 68 minutes, but this worked to the team's advantage, allowing him to sit slightly deeper and ensured Arsenal bossed the play, ending up with 64% possession, as they cantered to victory at a ground notorious for typically making them fight tooth and nail from first minue to last.
With this afternoon's injury news suggesting Van Persie will be sidelined for "at least a few weeks", Chamakh now looks like being Arsenal's main man in the middle for the time being. The Gunners now have a nice little run of fixtures approaching (BOL, sun, WBA, che, BIR, mcy, WHM, NEW) and with Chamakh coming in at £8.2m, his price can be expected to increase on the back of this somewhat unexpected news, given Van Persie's history of injury woes.