The top 10,000 managers in Fantasy Premier League have joined the rest of us in moving en masse for Son Heung-min (£8.8m).
The Spurs midfielder was snapped up by just over 550,000 FPL managers in the run-up to Gameweek 26 – that's almost twice as many transfers in as the next-most-bought player of this weekend.
A look at the most-owned players among the top 10k (see below) reveals that Son is the only change to the "template" squad from the previous Gameweek, with Leroy Sane (£9.6m) unsurprisingly making way.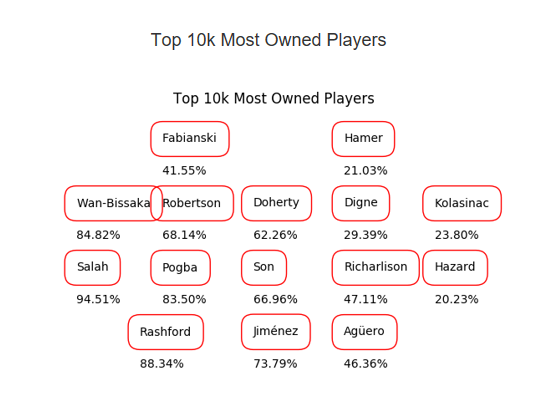 Mohamed Salah (£13.6m) remains the most-owned player in the top 10,000, followed by Marcus Rashford (£7.8m) – who was benched at Craven Cottage earlier today – and Aaron Wan-Bissaka (£4.6m).
The above template squad features four players who blank in Gameweek 27 – namely Lucas Digne (£5.3m), Richarlison (£6.7m), Eden Hazard (£10.9m) and Sergio Aguero (£11.4m).
The front eight players in the above graphic match those in the overall most-owned squad, as pictured below: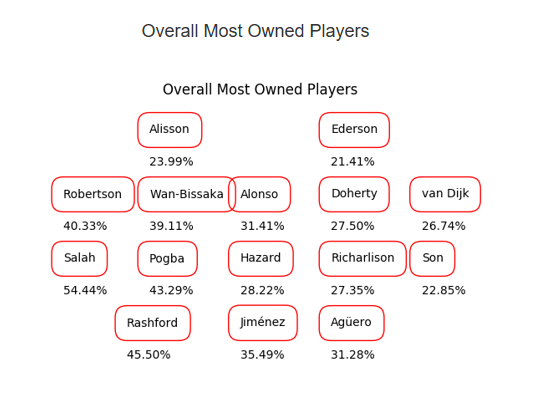 Marcos Alonso (£6.5m), Ederson (£5.6m), Virgil van Dijk (£6.5m) and Alisson (£6.0m) are the four names that differ; Alonso and Ederson being two more players without a fixture in Gameweek 27.
Son for Sane and Raul Jimenez (£6.7m) for Pierre-Emerick Aubameyang (£11.2m) are the two changes from Gameweek 25.
There unsurprisingly hasn't been a great deal of chip activity this weekend, though we may see a very minor spike in the usage of the free hit chip in Gameweek 27 among those Fantasy managers whose squads are overloaded with Manchester City, Everton and Chelsea assets.
Just over 17% of managers inside the top 10,000 have used their free hit chip already.
Over 75% of managers in the top 10k have their triple captain chip still to play, while a similar number also have their second wildcard still to burn.
Bench boost remains the least-used chip among these high-performing Fantasy managers.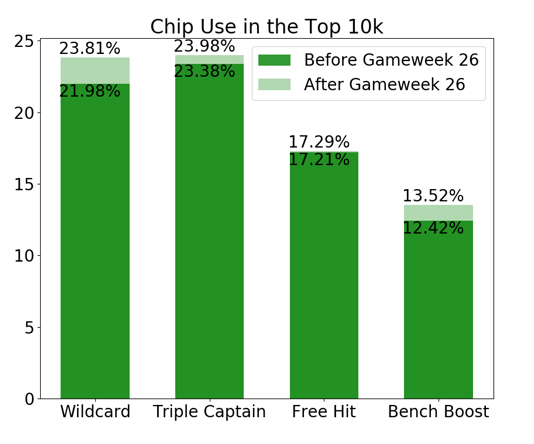 The overall picture, meanwhile, looks as follows: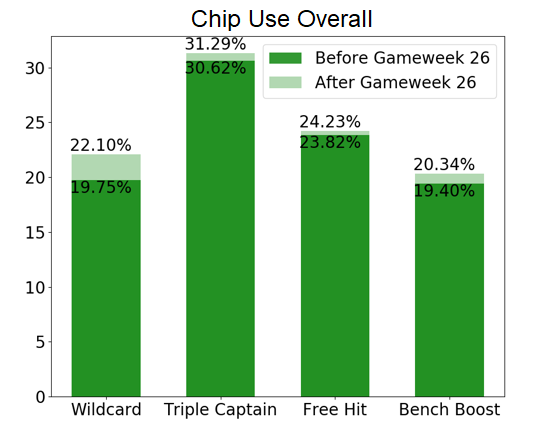 Almost exactly one in five managers inside the top 10k in FPL have used two or more of their chips already this season (see below).
Just over 50% of the top 10,000 Fantasy bosses are still yet to use a single chip, however.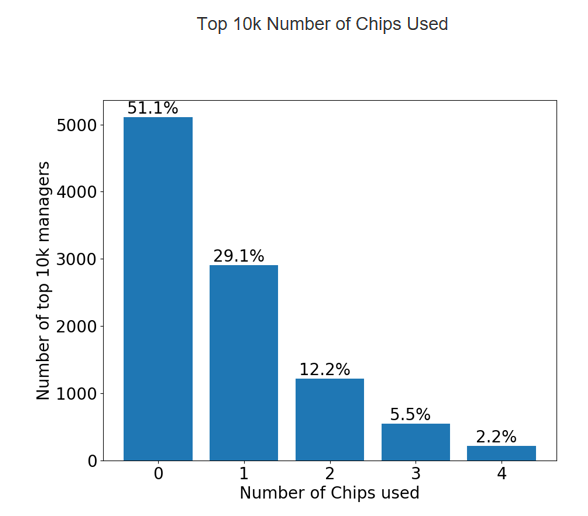 The overall situation shows a similar spread, though an increased 27.4% have used two or more of their chips as of Gameweek 26: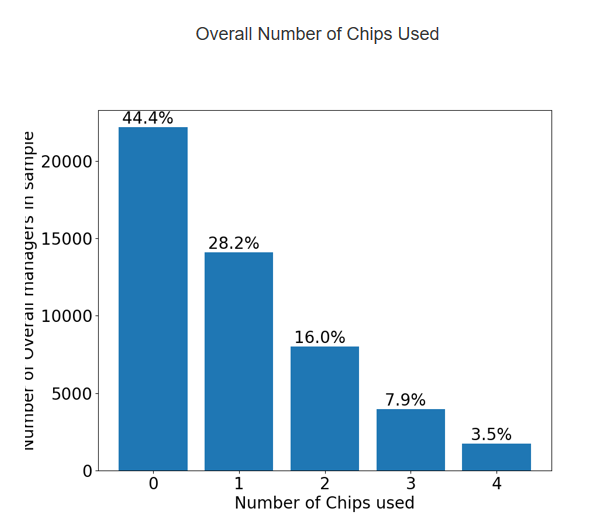 Switching our attention back to Gameweek 26, the top 10k largely backed Salah for the armband ahead of his eight-point return against Bournemouth.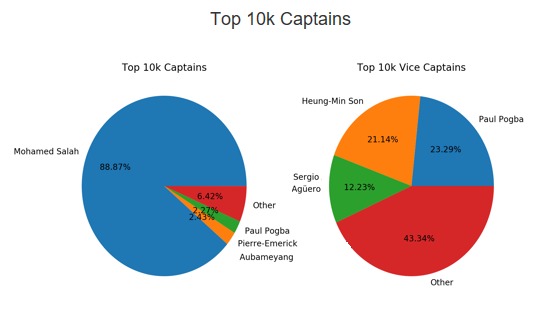 The 2.27% who captained Paul Pogba (£8.7m) will be sitting pretty on 32 points once bonus is added, while a similar number captained Aubameyang and will be relying on their vice-captain for points (Pogba being a popular choice) after the Gabonese forward's no-show at Huddersfield.
The overall Gameweek 26 captaincy picture is not quite as straightforward, as one would perhaps expect given the varying degrees of involvement further down the rankings and with those managers perhaps having less to lose by backing a differential captain.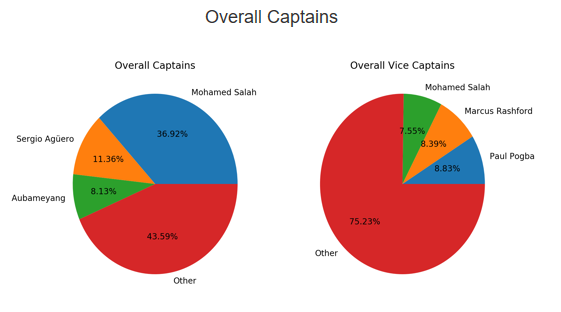 You can view more Gameweek 26 stats on Ragabolly's site here.