It was all-change among the top 10,000 Fantasy Premier League managers for Double Gameweek 34 as Wildcards were deployed en masse.
62.56% of those at the very top of the worldwide rankings hit the button to get themselves a new squad this weekend.
That means just under 5% of the top 10k have the Wildcard left in their pocket.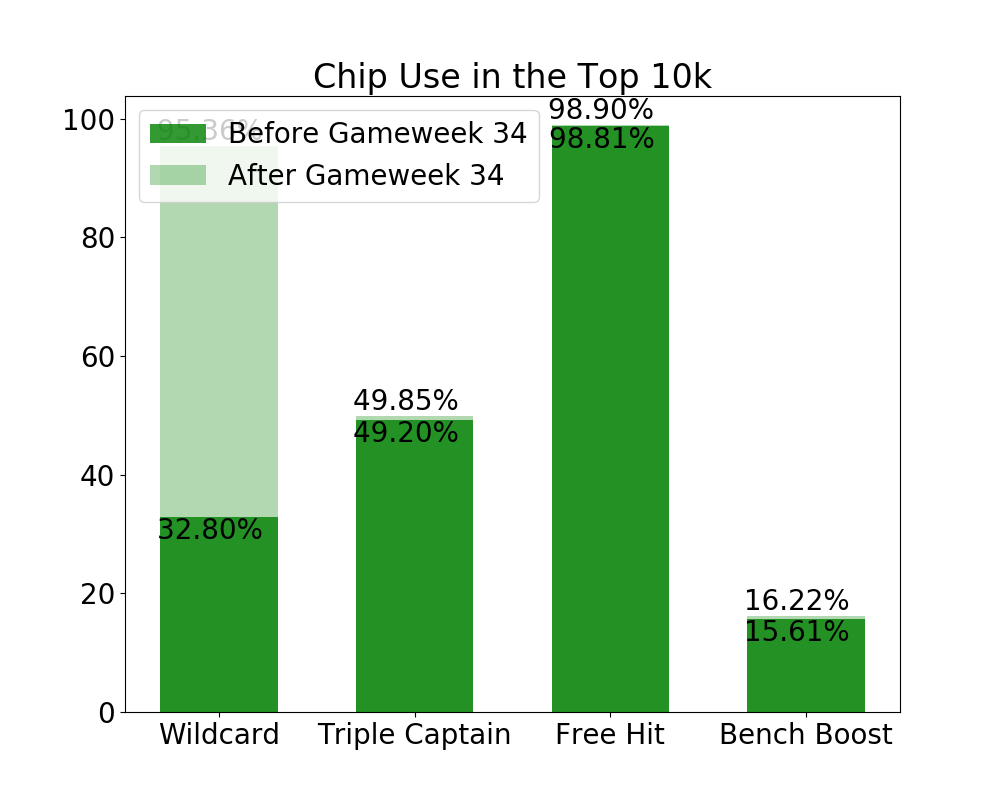 Such heavy attention for the Wildcard chip at this level means that the Triple Captain was left largely untouched.
With Brighton and Cardiff the only sides playing twice in Double Gameweek 34, it is understandable that only 0.65% of the top 10k deployed that particular chip.
The Bench Boost remains in reserve for 83.78% of the world's current highest-ranked managers, with Double Gameweek 35 expected to be the popular time to use it.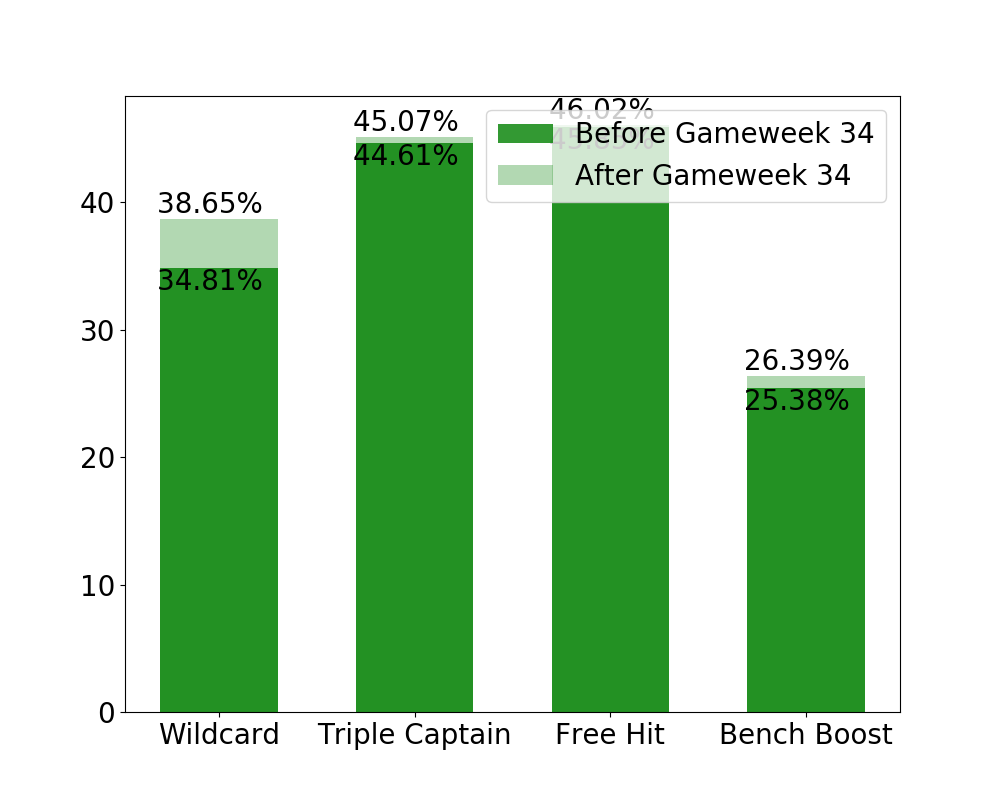 The Wildcard was also the most popular chip overall, but was used by considerably fewer.
Just 3.84% of all FPL managers played it for Double Gameweek 34.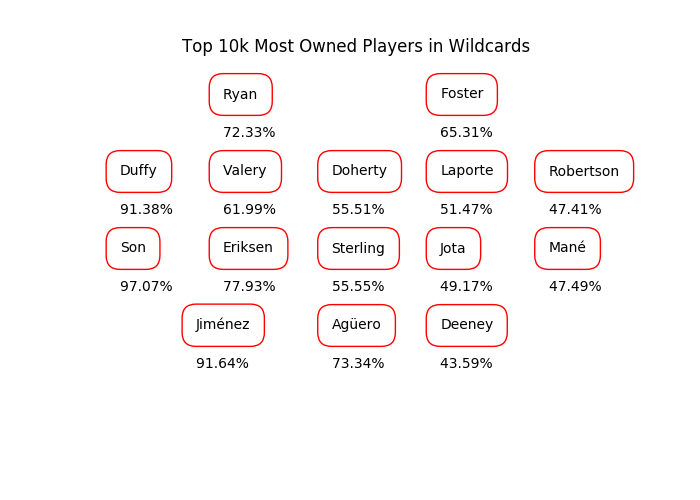 The top 10k managers who played their Wildcard this week have sensibly spread their funds around their new squads in preparation for the upcoming deployment of the Bench Boost.
They have gone cheap in goal with Mat Ryan (£4.4m) and Ben Foster (£4.6m) both in at least 65% of Wildcard teams at this level.
Not surprisingly, Shane Duffy (£4.8m) was included in 91.38%, considerably more than second-most popular defender Yan Valery (£4.1m), selected by 61.99%.
Matt Doherty (£5.3m) and Aymeric Laporte (£6.0m) were both in roughly 50% of new teams, with two fixtures booked in for Double Gameweek 35.
With the potential for rotation of Trent Alexander-Arnold (£5.5m) now that Joe Gomez (£4.8m) is nearing a return, Andrew Robertson (£6.8m) is the most popular Liverpool asset among the top 10k.
Harry Kane's (£12.6m) potentially season-ending injury has endeared the top 10,000 managers to Spurs options in midfield.
Son Heung-min (£8.7m) is by far the most popular player at this level, signed up by 97.07% of managers in the top 10k.
Meanwhile, Christian Eriksen (£9.3m) is the second most popular midfielder currently selected in 77.93% of Wildcard squads at this level.
Raheem Sterling (£11.5m), Diogo Jota (£6.1m) and Sadio Mané (£10.1m) also receiving plenty of attention.
The inclusion of the Senegalese international is indicative of the top 10k looking to save money on Mohamed Salah (£13.2m) in order to amplify a Bench Boost but remain invested in Liverpool's fixtures, as they face Cardiff (away) and Huddersfield (home) soon.
Crucially, Wildcarders inside the top 10k, largely opted not to have Jamie Vardy (£9.2m) in spite of his recent excellent form.
At this stage, it would appear that was a smart call as the Leicester man blanked in Friday's 1-0 defeat at home to Newcastle.
Instead, Raúl Jiménez (£6.8m), Sergio Aguero (£11.7m) and Troy Deeney (£5.9m) were the three most popular forwards in new-look sides at this level.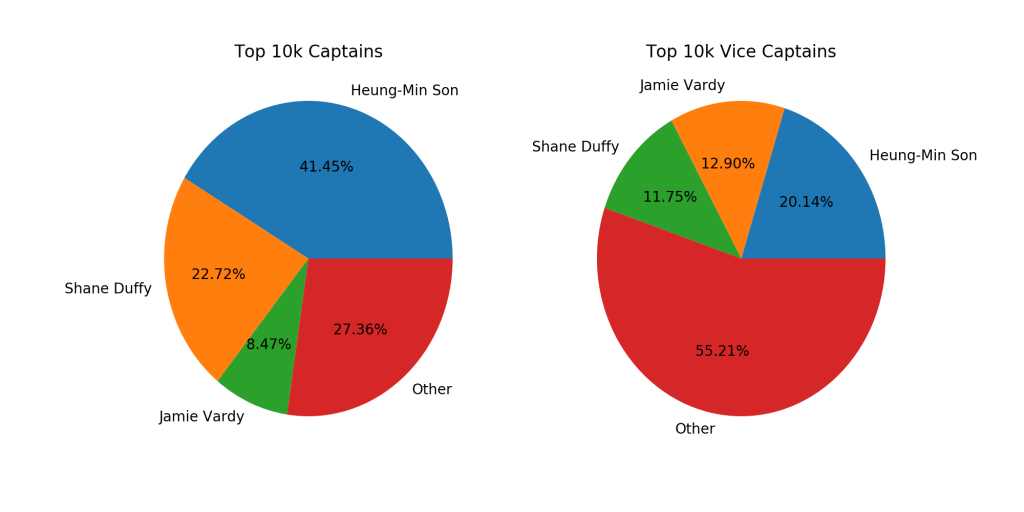 In a week where the captaincy debate was harder than ever, the top 10,000 were fairly convincing in who they thought the best candidate was.
Son, who is the most popular player among the top 10k, has been captained by 41.45% of the managers at that level.
That brings the South Korean's effective ownership in the top 10k to 123%.
Duffy is the second favourite, captained by 22.72% to take his effective ownership to 94.39%.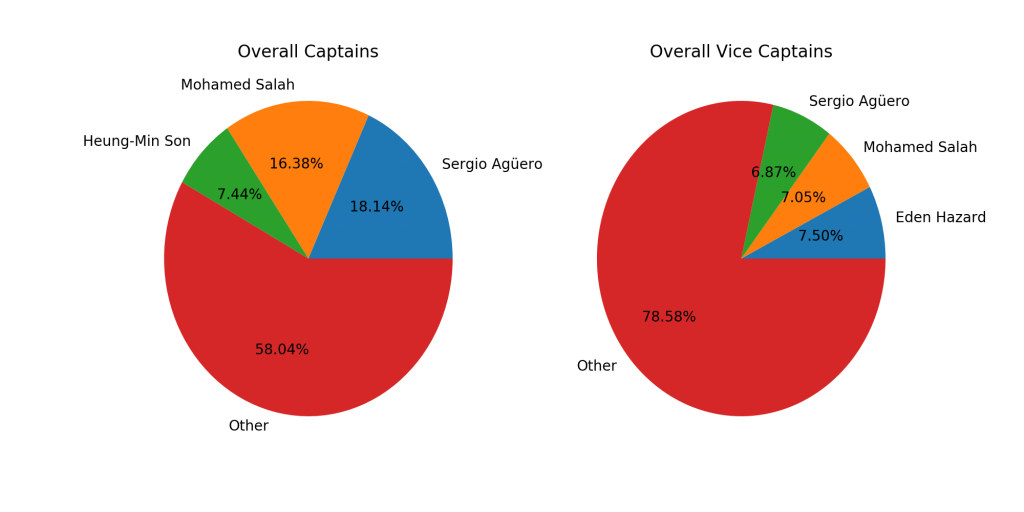 It was the more established names that led the captaincy debate overall, but there was no particular standout option.
Aguero was backed by 18.14%, and Salah by 16.38%.