Last weekend it was Dimitar Berbatov, this evening it's Rickie Lambert that will be wandering into our minds mid-conversation, over the Saturday evening tipple. Prompting nagging doubt, questioning our best-laid plans.
Lambert is the latest to cause cracks in our established Fantasy thinking. Like the Bulgarian, he arrives in a Gameweek where, once again, the likes of Eden Hazard and Michu – assets who were cemented in our squads – returned blanks. The foundations of the template team again come in question then, with Lambert joining the queue to find a place in our forward lines that looked so settled just a fortnight ago.
There's little doubt that, as we suggested in the midweek Watchlist article, Lambert has emerged as the budget striker of choice. However, we also spent some time in said article pondering if he could be more than that. If he could displace the array of mid-price assets fighting for our attentions – Dimitar Berbatov, Steven Fletcher, Jermain Defoe. Tonight, I'm even wondering if he can threaten to break up the heavy-hitter pairings.
I'll be watching Carlos Tevez carefully against Arsenal. While he's flourished in the opening matches, Sergio Aguero's return to fitness and Roberto Mancini's "nine lives" approach to Mario Baltoelli raises a cause for concern. That's before we consider that Eden Dzeko has, as he's done so often, found the net when he's given pitch time.
A Tevez blank or, worse still, an early withdrawal against Arsenal, could trigger a rethink. There's little doubt that City have the fixtures to find goals in the coming weeks, but growing concerns about their defence and Mancini's insistence that it must approve, has raised alarm bells for me.
I remember when City battened down the hatches, when they fought for 1-0 wins away from home. Should Mancini take that route again, we could see 4-5-1 with Yaya Toure behind Aguero away from home, something that would hurt Tevez' scoring potential immeasurably. While Sir Alex appears to be going all out for goals, will Mancini dare to tweak his tactics to tighten up?
Such thoughts crop up before I even consider the merits of sticking with the ultra-expensive Robin Van Persie, under the threat of rotation and rest. I'm trying to fight those doubts off, however.
There is clearly a very attractive plan B forming. Lambert, like Berbatov, offers assured starts. He offers the "big fish in a small pond" scenario. He offers spot-kicks, assists and he faces a long line of fixtures that could bring further returns. The temptation to go with this option, even over the proven class of Tevez, does begin to mount when you consider that Mancini's whims can waver and throw us the unexpected.
This kind of talk is almost sinful, "Knee Jerk" material of the highest order. We're talking about supreme Fantasy assets here, while Lambert is perhaps just a noisy new arrival at the party. Four goals in five games is a decent entrance, however, and certainly Tevez will need to offer a reminder of his class on Sunday if tonight's bout of puzzle-head isn't to transform into a fully-fledged plan of action.
Hello Good Morning All,

Is there anybody who watched Westbrom- Reading match?
or anyone watched the highlights?
FPL gave the assist for Lukaku goal to Chris Brunt.
I just watched the highlights and I think it is Shane Long who headed the ball towards Lukaku?
Does anybody know why it is given to Brunt?

Thanks and Appreciate your reply.

Then they may even adjust the bonus, right?

I would think so. Foster could even move up to 2bps if Brunt's assist goes.

I agree with Demi. The Press Association had a bad day yesterday, but I'm confident FPL will sort out the Pienaar/Long assists. PA also gave wrong (duplicate) information for Berbatov's shots on target, which affected his PPI - but I don't expect this to change.

Anyone considering Southampton midfielders? If so which one, and why?

Me me me me. Gonna give it a few games to decide between ramirez and lallana. Whoever I go for will be rotated with berba. Great rotation for ages. Who are you thinking about? Anyone any idea how they lined up yesterday?

I'm quite excited to actually have the chance to use the members comparison tool!

Uhm, Berba played away yesterday and got an 8

I did not see them play....Have only seen their entire match against United. Rest were just highlights.

I think Ramirez is gonna be my choice, but am definitely open to opinions. Please keep me updated on whom you decide.

Btw it's either a Southampton mid, Sterling, Morrison, or Felliani (would mean downgrading someone else too as I have 6.8 in the bank if I get rid of Dyer)

Get on the Gaston Martin

Puncheon agood diff imo Pratik.

Somehow am up to 318 in world. Must be because I only have Tevez & Cazorla left to play. Team was pretty shoddy on the whole this week 44 of of 9 players. Should never have captained Torres thats for sure. Looking to dump him, who would you buy for 10.2 or less?

I am looking to shift Torres too, alreadt have Tevez and Berba. I am thinking of downgrading eother a mid or def to get the extra 1.8 mil I need to get RVP....

You have the same frontline as me. I would like RVP ideally. I think a decision needs to be made today as Torres will drop like a stone this week. Is having Fletcher/Lambert a good idea or do you think that is going to cheap?

Must admit I would be a bit worried with both Fletcher / Lambert and Berba. That said, I am 203000 in the world and you are 231, so if you do it then I will for sure!!!

Torres + Guthrie ------> Lambert + Fellaini/Barfa/Nolan/Yaya for a 4 point hit? If so what

i know its a bit early but I am off on holiday! Who is the best captain choice next week?

Fletcher, Baines, Pienaar!

Foster Fed
Cashley Hangleland Demel Fabio Lescott
Hazard Michu Mcclean Noble Dyer
Berba RVP Tevez

In view of the GW7 - GW8 space i intend to WC then. Got 1 FT now should i

A) Dyer > Morrison / Sterling
B) Lescott > Baines & Dyer > Sterling for a Hit (I already gotten a hit twice in past 2 GWs)

Suggestions?

Well, I HATE taking hits but looks like I will be taking my 3rd 4 pointer on the spin.

This week.... Lampard & Zab out, Felliani and Baines IN.

feels right.

Ahh, at least the wc is still safe:-)

Well done Evs. Admirable WC restraint.

Great move, do it tonight

Only ba can save my gw now.....

not much hope from him though....

He'll only ruin it - main opponent has him (c)



hi gents, need some advice. here is my team:

foster, ruddy
baines,davies,mccartney,rafael,cuellar
michu,haz,caz,guthrie,pienaar
rvp,lambert,tevez
0 balance

got 2FT and was thinking to use it on the defence. what u think of this?

davies > nelsen (will never hold any SWA def, michu was there and that's enough given their current injuries)
mccartney > demel (previously tot that mccartney is first 11, since i don't have jaas then i guess i should stick to nailed on players)

is it a go or no go? or should i focus on cuellar, what's his chance of playing the next gmw?

pls help! thanks in advance

Hearing a lot of talk about CHE lacking width. Which of their MFs can play wide? Could become an important issue in their rotation thinking.

Ramires, but may be biggest rotation risk too.

Who are the must haves on every position?

Jaaskelainen - Begovic
Baines
Toure - Fellaini
Tevez

Anyone else?

Lescott>Baines no reason not to?
Would you do anything else?

Jussi Bego
Lescott Rafael Saylor Clyne Gorkss
Michu Yaya Pienaar Hazard Guthrie
Tevez RVP Berba

1.6M

Lescott more of a rotation risk imo

Was considering this yesterday.

I have 7 out of your front 8 and I'm quite happy with it. Probably Lescott to Baines is a no brainer.

Does Dyer's red result in a ban? How many games?
Thanks

Banned from midweek League Cup game. Fine for next weekend.

He will play this weekend (maybe on bench)....Capital Cup midweek. It was 2 yellow cards so 1 match man.

Thanks all. Seems nailed on for next weekend then.

I thought it could be curling in anyway.

Just like to point out mirallis first shot was over the line . The arguement over a second phase of play is rather irrelevant. Its a legitimate assist.

Morning chaps - any one still got their cap to play today?

Hav to say in chuffed i didn't cap hazard this week, it was close

Percy still to go - "Always captain RVP"

Ba capt.

Dodged one with hazard by the looks of it.

He was still the right choice on paper IMO.

Ivanovic -> Baines or should I sort Fabio out first?

Jussi – Fed
Fabio – Rangel – Cuellar – Ivanovic – Hangeland
Hazard – Michu – Yaya – Pienaar – Kaca
RVP – Tevez – Berbatov

EVS - I have Michu and Dyer. Fixtures suggest hold onto them. What d'you think?

Hi guys,

I currently have:

Foster ( federici)
WIlliams Hangeland Baines Reid barnett
Toure Michu Hazard Pienaar Noble
Tevez Torres Jelavic

What would you advise?

Nobel may drop in price again, i dont really like williams in the back 4 and torres isnt playing great.

My transfer was going to be torres out for podolski.

All comments greatly appreciated.

Would leave poldolski for another week.

Jelly and Torres are your priorities. There are plenty of good options out there.

Fletcher, Lambert, Ba or a punt on Cisse to replace Torres in my front 3? This is alongside Tevez and Berbatov. £10.2 to spend
Scout Picks
For Gameweek 29
Snodgrass

Lallana

Mata

Hazard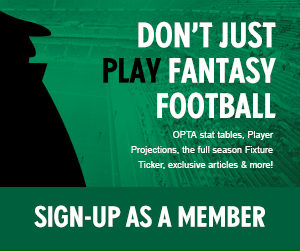 Watchlist
Goalkeepers
Player
Club
Factors

Up

Mannone
SUN

B

,

Vs

,

£

Up

Howard
EVE

B

,

Vs

Up

De Gea
MUN

A

Up

McGregor
HUL

C

,

£

Up

Adrián
WHM

B

,

£

No Change

Cech
CHE

A

Up

Vorm
SWA

B

,

Vs

No Change

Ruddy
NOR

B

Up

Hart
MCI

B

No Change

Speroni
CPL

B

,

£

Down

Begovic
STO

C

,

Vs

Up

Krul
NEW

C

Down

Boruc
SOT

B
Defenders
Player
Club
Factors

Up

Coleman
EVE

B

,

Vs

Down

Terry
CHE

A

No Change

Evra
MUN

A

Up

Bardsley
SUN

B

,

Vs

,

£

Up

Kompany
MCI

B

Up

Davies
HUL

B

,

£

Up

Collins
WHM

B

,

£

Down

Olsson
NOR

B

,

£

Down

Ward
CPL

C

,

£

Up

Skrtel
LIV

B

Up

Williams
SWA

B

,

Vs

,

£

Down

Shawcross
STO

B

Up

Williamson
NEW

C

,

£

Down

Fonte
SOT

B

Up

Kolarov
MCI

B

,

Rest
Midfielders
Player
Club
Factors

No Change

Hazard
CHE

A

Up

Y Touré
MCI

A

Up

Johnson
SUN

B

Up

Gerrard
LIV

A

Up

Nolan
WHM

A

Down

Mata
MUN

C

Down

Lallana
SOT

B

Up

Mirallas
EVE

B

,

Vs

,

Rest

Up

Sterling
LIV

B

,

£

Up

Cazorla
ARS

B

,

VsX

Up

De Guzmán
SWA

B

,

Vs

,

Rest

Up

Sissoko
NEW

B

,

Vs

,

£

Down

Snodgrass
NOR

B
Forwards
Player
Club
Factors

No Change

Suárez
LIV

A

Up

Aguero
MCI

C

Down

Sturridge
LIV

A

Up

Lukaku
EVE

B

,

Vs

Up

Rooney
MUN

B

Up

Remy
NEW

B

,

Vs

Up

Jelavic
HUL

B

,

£

Up

Bony
SWA

B

,

Vs

Up

Giroud
ARS

A

,

VsX

Up

Carroll
WHM

C

,

Vs

,

Inj

Down

Adebayor
TOT

B

,

VsX

Down

Rodriguez
SOT

C

,

£

No Change

Borini
SUN

B

,

£

Down

Crouch
STO

B

,

£

Up

Anichebe
WBA

B

,

Vs

,

£
Selection Factors
| | |
| --- | --- |
| A, B, C | Current Form |
| Vs | Favourable Fixtures |
| VsX | Unfavourable Fixtures |
| Rest | Rotation Risk |
| Inj | Injured/Returning from Injury |
| OoP | Out of Position |
| £ | Potential Bargain |
| Sus | Suspended/Near Suspension |
Suspension Tightrope
| Player | Team | YC |
| --- | --- | --- |
| Olsson | WBA | 9 |
| Flamini | ARS | 8 |
| Delph | AVL | 8 |
| Luiz | CHE | 8 |
| Ramires | CHE | 8 |
| Chamakh | CPL | 8 |
| Barry | EVE | 8 |
| Rooney | MUN | 8 |
| Tioté | NEW | 8 |
| Schneiderlin | SOT | 8 |
| Walters | STO | 8 |
| Yacob | WBA | 8 |
"He's working hard at it and so are we. Sometimes we play well but not all the time. We don't have luck on our side. It's easy to point the finger at someone but I'm not like that. We have to do better ourselves."

Robin Van Persie on criticism of David Moyes.