Welcome to the Fantasy Football Scout Head-to-Head Leagues, a community competition for Fantasy Football Scout members.
Nearly ten thousand managers are taking part with teams organised into a system of leagues and divisions.
There are nine leagues in total with an increasing number of divisions in each.
A pyramid structure is used: at the top League 1 contains just one division, and at the bottom League 9 contains 241 divisions.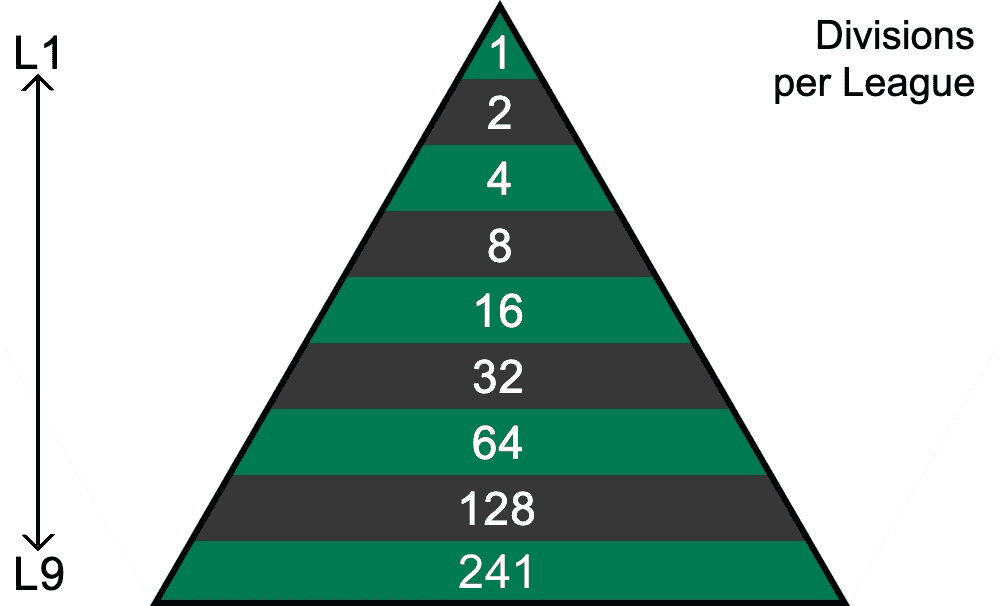 There are 20 teams in each division.
Teams play each other twice over the course of the season. Divisions are weighted equally within each league.
At the end of the year, five teams will be promoted from each division to a division in the league above. And ten teams will be relegated from each division to a division in the league below.
Managers joining the Head-to-Head Leagues for the first time will begin life at the bottom of the pyramid.
League Tables
To view tables for leagues (LG) and divisions (D) use the drop-down menus below:
Points and scores are updated every night, so while a Gameweek is in progress the table above will be 'as it stands'.
To find out which league and division you are in, start by selecting a league to search:
Each page contains a search box to find managers. The search box only finds managers within the selected league and not across all nine leagues. So you need to go through each league one by one. Enter your name as it appears on FPL.
Next year there could be an additional league, depending on the number of managers joining and leaving the competition. As a result, some teams could be relegated from League 9 at the end of this season.
Fixtures and Results
The latest Gameweek scores are shown below, use the drop-down menus to view different leagues and divisions.
All Gameweek (GW) fixtures and results can be found using the following links:
*Use your browser's find in page function (Ctrl+F) to locate managers.*
The return matches will be played between Gameweek 20 and Gameweek 38 (fixtures will be generated ahead GW20).
GW20
GW21
GW22
GW23
GW24
GW25
GW26
GW27
GW28
GW29
GW30
GW31
GW32
GW33
GW34
GW35
GW36
GW37
GW38
Results will update shortly after the Gameweek has finished.
FAQ
Q: How do I find which league I'm in?
Use the search box to search for your name as it appears on the FPL website.

If you don't come up, you're in a different league.
Go back to step 1 and try the next league.
Q: How do I see who I'm playing next?
Click on the upcoming Gameweek (GW) in the Fixtures and Results section above.
Search for your name (as it appears on the FPL website) using your browser's find in page function: shortcut on a PC is Ctrl+F on a Mac it's Cmd+F.
This will reveal your opponent's name.
Their name is linked to their team on the FPL website. However, it won't display correctly until after the GW deadline has passed. If you want to see their team from the previous GW you must edit the URL: simply subtract 1 from the last digit in the URL. For instance, if GW5 is next, change the 5 to a 4 – …/event/5 to …/event/4
Q: Can I leave the FFS Head-to-Head mini-league?
Yes, you may now leave the FFS H2H League – Entry mini-league.
However, if you want to take part in the Head-to-Head league again next season, you must rejoin before the Gameweek 1 deadline for 2024/25. This is because your FPL ID changes, and we need your FPL ID to include you in the competition.
Managers who depart and miss one or more seasons will start over from the bottom of the league pyramid.
Q: Can I still enter the Head-to-Head Leagues?
You may enter for the 2024/25 season, unfortunately the deadline for this year's competition has passed. Managers are not allowed to enter after Gameweek 1.
The code to join the FFS H2H League – Entry mini-league in readiness for next season is epbbvj.
All new entries will start in the bottom league.
Q: What happens if teams finish level on points?
Overall FPL rank will be used to separate teams that are level on points
Q: How many mangers are taking part this season?
There are 9,903 managers spread across the nine leagues.
Previous Winners
The reigning Head-to-Head League Champion is Ignazio La Rosa.
In second place heading into Gameweek 38, Ignazio won on the final day to overtake long-time leader Sameer Sohail and beat a total of 9,509 people to snatch the crown.
The leader for 31 Gameweeks across the season, Sameer lost his last round tie to the inaugural winner of the Head-to-Head Leagues Craig Johnson (aka Bouncebackability), the champion in 2019/20. Remarkably, Craig has never finished outside the top ten, gaining a top-five place on three occasions.
Ignazio dethroned Martin Stubbs, the winner in 2021/22.
Martin took an early lead only for Justin Spiegel to gradually reduce the gap, overtaking Martin as they approached the finishing line. Justin looked set to claim the title but a defeat saw Martin leapfrog him on the final day.
Ville Tuominen (aka Santigold) was the victor in 2020/21 following an equally dramatic conclusion. Three points behind Aleksander Våge Nilsen with one round to go, Ville triumphed on FPL Rank after results went in his favour.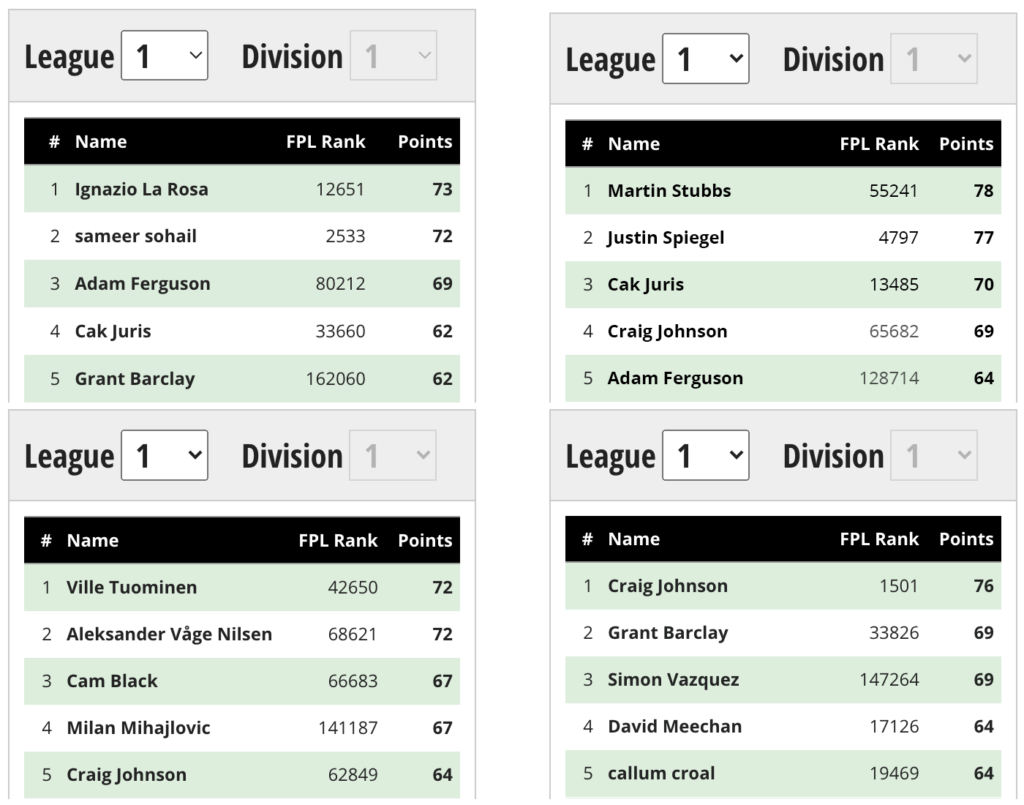 Winners from 2022/23 (top left), 2021/22 (top right), 2020/21 (bottom left) and 2019/20 (bottom right)