Fantasy Football Scout has a growing team focused on delivering the best Fantasy Football experience to managers across the globe. Here's a quick breakdown.
The Core Team

Neale: Editor, Newcastle United fan and FPL veteran, still searching for that elusive top 1k finish. Joined the team in May 2018 after years of loitering and now spends his time trying to second-guess Eddie Howe while writing the site's Team News.

Tom Freeman: Deputy Editor. Tom has a staggering record in FPL, having finished 5x in the top 1k and another 3x in the top 10k. Now Deputy Editor, Tom dedicates his spare time to eyeing up Aston Villa options.
Paul: Head of Content. The site's first writer (after Mark), Paul has been on board since 2009. Was also FFS editor for a number of years and is often the brains behind our insightful Members articles and comparisons. A strong FPL Draft player.

Geoff: Scout's Operations Manager worked his way through the FFS ranks from site regular to moderator, Community Manager, and into Operations. The Canadian has finished 49th in FPL, 49th in Eliteserien, 87th in Allsvenskan, and won the 2018 World Cup Goalscorer Challenge.
El Fozzie: The Scout's CEO and Commercial Director is far from a newbie to either Fantasy Football or the journalism scene (he reminds us 3.4 times a day that he used to write for Total Football), Chris has forgotten more about this Fantasy lark than most people learn in a lifetime, which probably explains why he's often found languishing in the lower echelons of the table.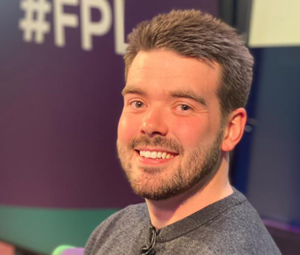 Az: As Membership Strategy Manager, Az continues to evolve FFS as the best place to go for all things Fantasy Football related. He has a top FPL finish of 817th, and is the creator and co-host of the FPL BlackBox podcast with Mark Sutherns.
Ed: Technical Director. The technical brains behind the outfit, Ed may have built these pages and the many boxes they sit on but his biggest claim to fame will be the time he topped the Premier League's own mini-league. It didn't last but, for a man who thought that Van Wolfswinkel was a particularly nasty internet virus, it was a lofty achievement.
The Contributors
Joe: After spending years dishing out advice as a community member Joe was welcomed into the team as a writer in 2011. His role has since grown and evolved over the years and he now works on video and podcast operations, hosting content for captains, and the Scoutcast.

Meltens: Born and raised in Stockholm, Meltens is part and parcel of the English community surrounding Fantasy Allsvenskan, writing articles and raising the profile of the Swedish league. He loves a cheeky punt on a perceived high-ceiling differential and is prone to letting nostalgia picks get the better of him, which swings him from the top 10k to around the 200k mark season to season. His top finish in FPL is 1,546 and in Fantasy Allsvenskan is 218.
Chris: Known as the professor among the Fantasy Football Scout community Chris is the brains behind the Rate My Team computer, which is available to our members. He is also a familiar voice, making appearances on the Scoutcast where he regularly proves machine can beat man in Fantasy Football management.
The Moderators

Rotation's Alter Ego: Having started FPL at the age of 8 in the 08/09 season, Rotation has grown up with FPL and joined the Scout moderation team at the start of the 18/19 season. As he is studying Maths and Statistics at university, he is only available when not studying – so that's 23 hours a day.

Legomané: Fond of a tongue-twisting Hot Topic title (Can you Carry a Cameo Kamara?), Legomané is a recent enthusiast to FPL with an aptitude to Excel. FFScout's Fixture expert.
TorresMagic™: This moderator from Down Under has been around the Fantasy Football Scout community for an eternity. He can mostly be found patrolling the Dead Zone (12 am to 6 am UK time) in search of those in need of advice. Custodian of the very popular community competition Last Man Standing.

Rainy: Having lived just across the downs from Nick Hornby, and now in an equally verdant corner of North America, grey skies mean home comforts to this Dead Zone denizen. Enjoys a new player and a price change, missing an Eliteserien deadline, and believing he'll better an FPL finish of 3k one of these years.

RedLightning: Played chess for many years at a fairly high level, but now prefers FPL which he started playing in 2009/10, even though he has not yet even had a top thousand finish. Joined the FFS moderation team in 2016. Also runs a few community mini-leagues including Top 10k Any Season and the January to May League.

G-Whizz: Ex sarf-Londoner living in Bournemouth who (at his age) doesn't take life too seriously, except for when life includes FPL, DS stats, and clean sheet odds. Always up for a chat and usually found buzzing around on match days, the Dead Zone, or even occasionally Twitter.
Spencer: One of the first names on our moderating team sheet, he is among the quickest at highlighting good and valuable posts and turning them deftly into 'Hot Topics'. Despite having started playing in the 2011/12 season, he is probably most (in)famous for taking a -40 hit by forgetting to activate his wildcard.
Ryan: As a New Zealand resident rugby is naturally Ryan's first sporting love. But having been persuaded by a friend to play the Fantasy Premier League game he soon started to see the joys of the "beautiful game". This moderator now pretends to be an expert in all things FPL boosted by his desire to analyse stats and fixtures.