All of our videos are also converted into Podcasts!
The graphic below displays the general weekly schedule for FFS videos / podcasts. Make sure you have subscribed to receive updates of when content is going live and / or is published.
Please note that this list is subject to change.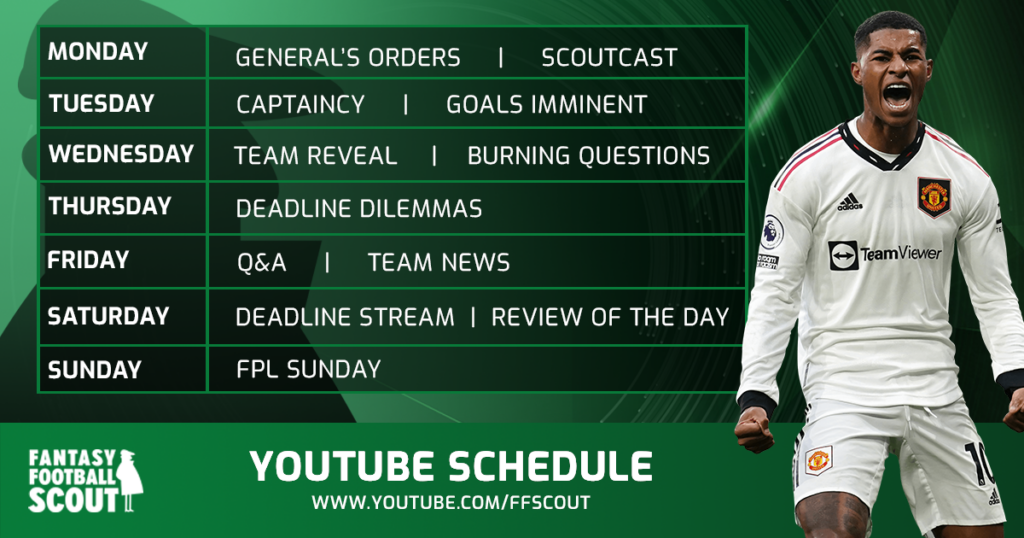 Video content:
General's Orders
New for the 2023/24 season the FPL General will be here every Monday morning throughout the season.
Captaincy
Joe and Tom run through the best captains for the week ahead, diving in to Fantasy Football Scout members area data to uncover who we should be considering for the armband.
Scoutcast
The podcast that started them all. The panel talk all things FPL in this bumper podcast. The flagship video of Fantasy Football Scout every Monday night.
Team Reveal
We will have a weekly team reveal every Wednesday throughout the season.
Burning Questions
In this long-form stream, we tackle the big debates in the FPL community.
Q&A
Have some burning questions for the week ahead? Struggling for inspiration and want some ideas for your team? Az and Sam are on hand to take your questions in this livestream. 50% of all money raised from Super Chat goes to Street Child United.
Team News
Neale delivers the most up-to-date information straight from the horses mouth. If you're after any crumbs of insight from Pep on his rotation policy for the week ahead, this is the video for you.
Members Stream
Exclusively for FFS Premium Members, Andy North chats to Mark Sutherns about their final deliberations ahead of the impending deadline.
Deadline Stream
In this informal, morning stream, David Munday (and friends) will entertain you as the FPL deadline approaches. Be prepared to see some panic as last minute moves are locked in!
Review of the Day
Karam recaps the main talking points of Satuday's games, and the key stats that all FPL managers should be aware of.