Sergio Aguero's calf injury in the 6-3 win over Arsenal has served up a potential major setback for thousands of Fantasy managers. With Manuel Pellegrini offering us little insight into the severity of the injury and a scan imminent, we can only wait on news from the Etihad. However, resident Fantasy Football Scout physio, Facer, has made a timely return to offer his early view. Analysing the incident involved and Aguero's reaction and movement, here's Facer's detailed report and his take on the likely prognosis.
The incident occurred barely a minute into the second half and gives a clear indication of the mechanism of injury. Playing a one-two with David Silva, Sergio Aguero receives the ball and with one touch plays it back into the path of Silva. Almost immediately Aguero starts to limp and, several seconds later, in an attempt to take the pressure from the injury, falls on to his back. At first glance the incident looked fairly innocuous, but with closer inspection, we see that the former Atletico man didn't quite have the time to position himself correctly and improvises a one-touch pass into Silva's run with a subtly excessive rotation at the right hip. This is significant because the contracting Gluteal muscles produce a rotatory force at the hip and, with the studs of Aguero's right boot planted firmly in the ground, severely restricting movement at the hip and ankles, this force had nowhere to go, resulting in a tear to one of the calf muscles.
As Aguero is lying on the ground his demeanour is interesting. He does not appear to be in a great deal of pain and he is not reaching for the injury. In terms of severity, these are positive signs. Suffering a severe calf strain is like being shot in the back of the leg and Aguero would have hit the ground immediately and would need to have been stretchered off. We then see the Argentine hobble from the field. It is worth noting that, although exhibiting severely restricted movement at the right ankle, Aguero is able to partially weight bear on the injured limb, giving us a further clue as to the severity and likely duration of any absence. Similarly, as Aguero is led from the field, we can observe him palpating the back of his calf towards the 'belly' of the Gastrocnemius, suggesting a tear to the meat of the muscle rather than attachments, which heals more quickly. In summary, I would suggest that Aguero has suffered a grade 1-2 calf strain, which would see him sidelined for a minimum of 10 days, but more likely 2-3 weeks. Sadly for his owners, that would see Aguero miss at least the next three league outings.
A Scout Disclaimer: While Facer offers an expert's view of such injuries, with just a remote assessment to go on, the opinions expressed here should not be taken as fact or acted on with any degree of certainty.
how about getting sterling for next week...morrisson to sterling sounds good?

If you have no other issues with your team then yeah good shout

Team for Gw 17

Guzan
Mert., Coleman, Mcauley, Zab
Ramsey, Oscar, Hazard
Roon, Suarez, Remy
subs: Gazzinga, Walker, Whittingam, Ravel

1 FT. Thinking to do Oscar to Wally.

Giving one last chance to Remy.

Does the team and subs bench look alright

i'd consider benching mert (im trying to decide myself)

Not sure whether to play mertesacker against chelsea or morrison against man u!

any advice?

Ruddy
Chester / Ward / Coleman
Morrison / Walcott / Hazard / Silva
Lukaku / Suárez (c) / Rooney (vc)

Boruc / Mertesacker / Williams / Meyler

Morrison and it's not even close

he's playing his old club so could do alright, for some reason players always score against their former teams. he has more to prove than most as well.

Play Mertesacker. He's surely more likely for a clean sheet than RavMo is to score against Man U

Cricket question
As Australia have declared
Do England only have the same number of batters to get the runs?
Or do they only have same number of overs to get them?

no they get all batters and can go to the end of day 5

Australia declared so they have plenty of time to get 10 wickets before the end of day 5

So we're hearing 6 weeks for Aguero,

Rooney, Suarez, Aguero
Walcott, Morrison, Mutch, Bannan, Lallana

2.2m in the account.. 1 ft
A simple Lukaku in for Aguero the best choice?
Aguero is dropping 0.1m tonight.

Lukaku is the safe option. Negredo is the punt option. Benteke the failed option...

If anyone doubts Negredo as a perfect replacement for Kun I would think again. I hate the fact peeps are gonna get him now as he is one of my diffs. But for the good of the community on here I will put him forward as he will deliver. Great player.

Marshall (Davis)
GJ Distin Gabbidon (Terry Burner)
Hazard Silva Ramsey Redmond (Ravel)
Suarez(c) Rooney(vc) Lukaku
4.3 in the bank
0 FT

Considerin i got exactly enough to do Ravel to Wally should i do it for a hit this week and bench redmond? Wally should rise before he plays Chelsea as it's the monday night game so if i dont get him this week i may well be priced out next week

*He should rise cause even if he survives till the deadline i wont be able to get him in till the Arsenal - Chelsea game is over to make sure he does not get an injury and he should have risen by then

repost. I must save you all from knee-jerking Suarez (c)

I have conducted an in-depth analysis, the workings of which I can't share with you, to come up with the following results.
GW 5: City 4-1 Utd. Che 2-0 Ful
GW 12: City 6-0 Tot. Eve 3-3 Liv.
GW 16: City 6-3 Ars. Che 2-1 Cpl
This shows where all the goals are when the big teas are playing each other
GW 17: Ars v Che. Liv v Car Captain Suarez at your peril

You are only looking at City home games.

if u have ramsey would u get ?

A- Shelvey > Silva

B- Shelvey > Yaya

C- Shelvey > Walcott

kun didnt drop despite being over 100 %

thought total fpl was accurate .....

Yellow flag... limit is now 150% but once news comes in about aguero it'll change to a red and he'll probably miss the drop tonight too

nice , gives more time to assess a replacement

The FPL towers all have him in their team and are waiting to hear some concrete news. If it was Danny Graham he would've dropped by now

So Arsenal at home to Chels and City away to Fulham. What would you rather have this GW:

A) Yaya, Ramsey, Silva

B) Yaya, Ramsey, Walcott

guys i have giroud...

giru --? rooney is a sensible move

or shud i play giru another week

Rooney if you can afford him, Negredo if not.

First 11 for next week, having taken -4:

Migs
Chester, Clyne (if fit), Coleman
Cabaye, Hazard, Ramsey, Silva
Rooney, Suarez, Negredo

Looking ok?

Any obvious flaws in my current team?

Mig
Coleman, Johnston, Chester (Terry, Turner)
Walcott, Ramsey, Lallana, Nasri (Oviedo)
Rooney (vc), Lukaku, Suarez(c)

As much as it pains me to say this as a Southampton fan, Lallana hasn't done much in a while, in terms of FF.

Marshall (Davis)
GJ Distin Gabbidon (Terry Burner)
Hazard Silva Ramsey Redmond (Ravel)
Suarez(c) Rooney(vc) Lukaku
4.3 in the bank
0 FT

Considerin i got exactly enough to do Ravel to Wally should i do it for a hit this week and bench redmond? Wally should rise before he plays Chelsea as it's the monday night game(should rise on saturday if not b4 the deadline) so if i dont get him this week i may well be priced out next week

Silva,Ramsey, ozil, yaya ... midfield totally stupid ?

I would consider Hazard pretty essential. Him on there for Ozil and perhaps Walcott for Yaya after Chelsea?

Team is

Migno
Coleman / mcauley / shawX
Yaya / Oscar / Ramsey / ozil
Suarez / lukaku / remy

Myhill.... Kasami / fonte / gabbidon

1FT Oscar > silva
Team value 107.9m rank 326xxx

New Post

Having a good bench is important but I'm learning to factor in how they rotate.

However, who knew a bench of Janujaz, Chester and Flanagan scores 25 this GW..

and my choice of Terry, Zab and Barkley scores 8.

These freak results catch people out, not this GW but the next few GW's, because people don't treat them as flukes but think its a trend.

Don't fall for it.

Aguero & Mcauley out.

Rooney & Zabaleta in.

Seems a fair deal for this week given my 2 FT.
Scout Picks
Gameweek 25
Janmaat

Williams

Alderweireld
Wijnaldum

André Ayew

Dele Alli

Roberto Firmino

Sánchez
From the Community…
Comments
Hot Topics
Articles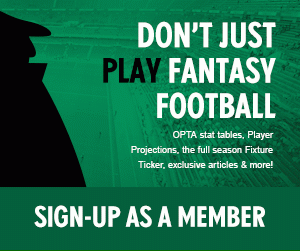 The Watchlist
Goalkeepers
Player
Club
Factors

Up

Hennessey
CPL

C

,

Vs

,

£

Down

Butland
STO

C

,

Vs

Up

Schmeichel
LEI

A

Up

Forster
SOT

A

Up

Courtois
CHE

B

,

Vs

Up

Fabianski
SWA

A

No Change

Boruc
BOU

B

No Change

De Gea
MUN

B

No Change

Cech
ARS

B

,

VsX

Up

Foster
WBA

C

,

VsX
Defenders
Player
Club
Factors

Up

Ivanovic
CHE

A

,

Vs

Up

van Dijk
SOT

A

Down

Baines
EVE

B

,

Vs

Up

Dann
CPL

C

,

Vs

Up

Cresswell
WHM

B

,

Vs

Up

Williams
SWA

A

No Change

Dawson
WBA

C

Down

Alderweireld
TOT

B

No Change

Daniels
BOU

A

,

£

No Change

Fuchs
LEI

A

No Change

Van Aanholt
SUN

A

,

VsX

Down

Bellerín
ARS

C

,

VsX

Down

Smalling
MUN

C

Down

Moreno
LIV

C

,

Vs

Down

Johnson
STO

B

Down

Kolarov
MCI

B

,

Rest

,

Inj
Midfielders
Player
Club
Factors

No Change

Payet
WHM

B

,

Vs

Up

Roberto Firmino
LIV

A

,

Vs

,

OoP

Up

Dele Alli
TOT

A

,

Inj

Up

Barkley
EVE

C

,

Vs

Up

André Ayew
SWA

A

,

OoP

Up

Eriksen
TOT

A

Down

Ozil
ARS

C

,

VsX

No Change

Mahrez
LEI

C

,

VsX

Up

Sánchez
ARS

C

,

VsX

,

Inj

Up

Antonio
WHM

A

,

Vs

,

Rest

,

£

No Change

Willian
CHE

B

,

Vs

,

Inj

No Change

Wijnaldum
NEW

B

Down

Arnautovic
STO

C

,

Vs

,

Inj

Up

Silva
MCI

C

No Change

Johnson
SUN

B

,

VsX
Forwards
Player
Club
Factors

No Change

Aguero
MCI

A

No Change

Kane
TOT

B

Up

Vardy
LEI

C

Up

Diego Costa
CHE

A

,

Vs

,

Inj

No Change

Ighalo
WAT

C

,

VsX

Up

Rooney
MUN

A

Down

Lukaku
EVE

C

,

Vs

No Change

Giroud
ARS

B

,

VsX

,

Rest

Up

Afobe
BOU

A

,

£

Down

Austin
SOT

B

,

Inj
Selection Factors
| | |
| --- | --- |
| A, B, C | Current Form |
| Vs | Favourable Fixtures |
| VsX | Unfavourable Fixtures |
| Rest | Rotation Risk |
| Inj | Injured/Returning from Injury |
| OoP | Out of Position |
| £ | Potential Bargain |
| Sus | Suspended/Near Suspension |
| Player | Team | YC |
| --- | --- | --- |
| Colback | NEW | 9 |
| Byram | WHM | 9 |
| Lucas | LIV | 8 |
| Jones | SUN | 8 |
| Yacob | WBA | 8 |
| Westwood | AVL | 7 |
| Diego Costa | CHE | 7 |
| Huth | LEI | 7 |
| Can | LIV | 7 |
| Mangala | MCI | 7 |
| Shelvey | NEW | 7 |
| Pieters | STO | 7 |
| Dele Alli | TOT | 7 |
| Dier | TOT | 7 |
| Noble | WHM | 7 |
"All players will blank a few times during the season. When almost all do it in the same Gameweek, it is tough to take, but that's just the dark side of probability."

Abreu 42 Community regular