Having analysed the Goalkeepers yesterday, the next article in our winter wildcard series focuses on defensive options. We've tried for a little variety here, offering alternatives from every price bracket and looking at the long-term fixture lists as well as short-term schedules in order to balance our selections.
Kieran Gibbs
The left-back has started every league game he's been available for this term, with only a thigh injury sustained in October disrupting his regular game time. While rotation on the right and through the middle is more of a potential issue for the Gunners, the unconvincing displays of Andre Santos at left-back suggest Gibbs' minutes look safe. Three assists in his last four Gameweeks are indicative of Gibbs' upturn in attacking displays in recent matches – backed up by a superb strike in the FA Cup draw at Swansea last Sunday in a display that earned plenty praise from his manager. So far this term, Gibbs has provided more assists (five) than any other defender, while at the back, Arsenal have racked up seven clean sheets, just two less than Stoke, for example – his potential for returns at both ends of the pitch has earned Gibbs 4.5 points per game, considerably greater than any other regular at the back for Wenger's side. Coming in at just 5.6 in Fantasy Premier League (FPL), Gibbs looks a prosperous pick for double Gameweek 23 and beyond, with the schedule remaining kind for Arsenal for the foreseeable future.
Leighton Baines
Everton may be without a clean sheet since Gameweek 5 yet Baines sits in third spot in the FPL defender standings thanks to his attacking endeavours. There's little doubt that his 7.5 cost is enough to deter many but with the lion's share of set-pieces, in addition to spot-kicks, the Toffees left-back always has the potential for double figure hauls. Back-to-back goals in his last two games in all competitions, courtesy of a free-kick and penalty, brings Baines back onto Fantasy radars ahead of a strong run of fixtures for David Moyes' men, though the ankle problem which saw him subbed off as a precaution against Cheltenham in the FA Cup last night will need monitoring. Already this term, Baines has equalled his total bonus haul from 2011/12, has doubled the number of assists and is just one strike away from equaling his goal haul – if Moyes' men can find a little more resilience at the back, that price tag could ultimately be more than justified.
David Luiz
While the recent move to a central midfield berth heightens his appeal, Luiz's share of free-kicks and penalties are both significant factors in our thinking here. Branislav Ivanovic and Gary Cahill seem to be Rafa Benitez's preferred central defensive partnership in light of John Terry's knee problem, with Luiz's forward forages perhaps best-suited to a more advanced berth as the interim manager opts for a more cautious, no-frills approach at the back. Factor in John Obi Mikel's imminent departure for African Cup of Nations duties and Luiz could well be set to continue in his new role ahead of the Blues' upcoming double Gameweek against Stoke and Southampton, though today's news of a return to training for Terry does slightly lessen his appeal. Nevertheless, a home record that has seen Chelsea concede just once in four home games under Benitez looks appealing, with Arsenal, Wigan, West Brom and West Ham all arriving at the Bridge in the next 10 Gameweeks, while trips to Reading, Fulham and Southampton all hold potential. Although Benitez's penchant for rotation will always mean no Chelsea player is 100% certain, Luiz seems to have benefitted more than most from the Spaniard's arrival.
Pablo Zabaleta
The Argentine has been picked up by significant number of Fantasy managers prior to the weekend deadline, with over 45,000 acquiring his services – the second most popular defender since the end of Gameweek 21. Having started 10 of City's last 11, Zabaleta is benefitting from injuries to fellow right-backs Maicon and Micah Richards and has demonstrated a propensity for picking up points at both ends of the pitch over that spell, with four clean sheets supplemented by two goals, an assist and nine bonus points. He seems to have edged Matija Nastasic as the most secure mid-price route into a City defence that has racked up eight clean sheets so far and with a favourable run of fixtures on the horizon for the champions, including games against five of the current bottom seven (FUL, qpr, sot, avl, WIG) in the next eight Gameweeks, continues to look strong value for a price of 5.9.
Guy Demel
With George McCartney sidelined for the foreseeable future due to a knee injury and Joey O'Brien remaining a doubt as a result of the hamstring injury that forced him off in the Gameweek 21 win over Norwich, the Ivorian has been propelled onto Fantasy radars ahead of West Ham's double Gameweek 23. Priced at a mere 4.0 in FPL, Demel's decision to quit international duties with Ivory Coast means he no longer has the upcoming African Cup of Nations on his agenda and, with security of starts looking assured, looks a strong cut-price option over the next five Gameweeks. Sam Allardyce's side travel to Sunderland before squaring up to QPR and Arsenal for the double – after that, games against Fulham, Swansea and Villa offer potential as the Hammers look to garner the points before the schedule takes a turn for the worse in Gameweek 27.
Ian Harte
The former Leeds man seems to have nailed down the left-back berth at the expense of Nicky Shorey in recent weeks for Reading. Granted, Shorey missed out in the last couple of matches due to a virus but Harte was handed the armband by Brian McDermott for the FA Cup trip to Crawley – a sign of his manager's faith. Coming in at a mere 3.8 in FPL, Harte has four enticing home games on the horizon that propel him into our thinking, with West Brom, Sunderland, Wigan and Villa all rolling up to the Madejski between now and Gameweek 29. With clean sheets in each of their last two at home, McDermott's side have shown a definite upturn in defensive resilience after moving to 4-4-1-1 and with set-pieces also in his locker, Harte also has the potential to pick up attacking points – he registered an assist in the 3-1 defeat at Spurs last time out.
Seb Bassong
Norwich's summer signing from Spurs has five home games (NEW, TOT, FUL, EVE, SOT) in addition to a trip to QPR in the next eight to take advantage of. The clean sheets that saw the Canaries keep out Arsenal, Stoke and United in successive Carrow Road clashes earlier in the season have disappeared but Bassong's attacking prowess has more than atoned for a downturn in resilience at the back. Over the last nine matches, the 5.2 priced centre-half has produced three goals and an assist, which have helped him accrue five FPL bonus points – while skipper Russell Martin has also impressed offensively in recent matches, the return of Steven Whittaker places question marks against his game time, making Bassong a more secure route into Chris Hughton's backline for the schedule ahead.
Ben Davies
The youngster has benefitted from a long-term injury to Neil Taylor and has started all but one of Swansea's matches from Gameweek 3 onwards. Davies has picked up plenty of interest since the previous match against Villa – over 18,000 FPL managers have been persuaded by his cut-price appeal and, at 4.2, the left-back is significantly cheaper than any of Michael Laudrup's defensive regulars. A pair of assists have helped add to his three clean sheets and highlight his attacking potential; no other Swansea defender has supplied a single assist, by comparison. The next seven affords him home showdowns with Stoke, QPR and Newcastle and if trips to the likes of Everton, Sunderland and West Ham don't appeal, his price makes him easy to bench as a budget rotating option at the back.
Marc Wilson
Yes, he is injured right now. Wilson is one for the radar, though, after Tony Pulis confirmed a few days ago that he's just a couple of weeks away from returning from a broken leg. Out of action since Gameweek 9, Wilson is on the verge of returning to offer us a superb value route into the league's most resilient defence – priced at just 4.0, he's far less costly than the second cheapest option, 4.9 priced Geoff Cameron. If his rehabilitation stays on course, Wilson's next four home games (WIG, RDG, WHM, WBA) look particularly appetising – the fact that the first of those fixtures falls within the winter wildcard window earns Wilson a place on our list.
Emmerson Boyce
Having filled in as part of the Wigan back-three due to injuries to others, Boyce's potential was severely dented in recent weeks but as the treatment room begins to empty, a return to his out of position berth on the right of the Latics' midfield bring him back into consideration. Moving back to a more advanced role in the Gameweek 20 trip to Villa, the 4.8 priced defender produced a goal and maximum bonus – with a clean sheet also accrued, he racked up 12 FPL points, his highest haul of the season. If Roberto Martinez is to engineer another scramble for survival, Wigan's upcoming home fixtures are likely to be crucial – Boyce's next five in front of his own fans sees Sunderland, Southampton, Liverpool, Newcastle and Norwich all roll up to the DW. As last season's late form demonstrated, Wigan tend to produce the goods as the pressure racks up and Boyce's contribution is likely to be key to their fortunes.
Ciaran Clark
The centre-half has proven to be an integral member of the midlanders' backline this term and has already accumulated more minutes under Paul Lambert than in any of his previous campaigns for Villa. While recent results are likely to deter the vast majority, Lambert's side have, nevertheless, registered five clean sheets this season; the same number as United, for example. Villa's home performances are the reason behind our decision to back Clark – while their away displays have been abysmal at the back, that have conceded 15 times in front of their own fans, just two more than Arsenal and United, and hinted at their resolve in a run which harvested three back-to-back home clean sheets between Gameweeks 13-16. With Southampton, Newcastle and West Ham paying visit in the next five, Clark – priced at 4.4 – offers a cut-price defensive differential, whose aerial threat in the opposition box could prove dividend.
Carlos Cuellar
Having limped off with a possible hamstring problem in Sunderland's FA Cup draw at Bolton last weekend, the Spaniard's short-term availability is perhaps unclear but with double figure returns in two of his last three home matches, Cuellar has clear potential. The 4.7 priced defender has three clean sheets, two assists and three bonus points in his last five at the Stadium of Light and is handed an enticing run of fixtures to boost his appeal – indeed, according to our season ticker, only United and Chelsea have a more favourable run over the next 10 Gameweeks. With West Ham, Swansea, Fulham and Norwich all paying visit during that upcoming set of matches, in addition to trips to Wigan and QPR, Cuellar's stock could be set to rise – any potential length of absence, however, could bring the likes of Phil Bardsley onto the radar as a similarly priced Sunderland alternative.
Hi,
When is the the deadline to use wildcard end? GW 24 or 25?
The statement in the rule is GW 24 end (2 feb). What is the meaning?

So, I can use it for GW 25 right? The match GW 25 starts on 2 feb

Can you guys please help me out.

http://fantasy.premierleague.com/entry/558742/event-history/21/

Do you think Mata is essential for this week? I am planning on getting him for michu as much as it hurts and downgrading shawcross (plan on getting wilson in later)

Or I could save and get gibbs and someone else for next week.

Any help and advise would be great.

my wildcard team for gw23
Begovic-Bunn
Gibbs-O'Brien-Wilson-Harte-???
Bale-Walcott-Mata-Michu-Fellaini
RvP-Suarez-???

Who is the best pair of main attacking defender and third striker for my wild card team?
A. Berbatov-Luiz
B. Fletcher-Luiz
C. Lambert-Baines
D. Ba-Debuchy

spectrum & masyuris, you teams must be worth like £110m, they are very strong teams, how have you manged to build up your cash so much to get those teams. i have the perfect front 8 and 2 gk's but my for me to achieve that my 5 defenders are poor. how have you got 3 class defendrs?!

Current wc team is

Bego/Rudd
Azpi/Zabaleta/Gibbs/Demel/Mariappa
Mata/Bale/Walcott/Michu/Guthrie
Rvp/Suarez/Ba

Worth swapping Azpi for Luiz and Zab for Collins? Gives me an extra gameweek player for next week.

spectrum & masyuris, you teams must be worth like £110m, they are very strong teams, how have you manged to build up your cash so much to get those teams. i have the perfect front 8 and 2 gk's but my for me to achieve that my 5 defenders are poor. how have you got 3 class defendrs?!

Is Shorey going to come back and regain his starting place from Harte?

Is Marc Wilson going to reinserted into the starting lineup once he is fully recover and if so, who is most likely to be taken out from the current starter? Cameron or Wilkinson?

Help!!!!!!

Need your opinion on the better option – Thinking for long term as well

a) Van Persie and Ruiz (both home)
b) Tevez Suarez (both away)

cheers

What does everyone think about Azpilicueta? Is he likely to keep his place for the DGW? I know he's a risk after terry returns but that might not be for a week or two.

guys cant decide!!! Clyne or Shaw!!! PLEASE HELP!!!

Please RMWCT:

Begovic.....Feder/Bunn
Gibbs....Zab....Demel....Wilson...Harte
Walcott....Bale....Michu....Fellaini....Mata
Ba....RVP.....Ruiz

This allows just enough in bank for: Ba>>Podolski>>Suarez over next 3 weeks.

Thanks
Scout Picks
For Gameweek 29
Snodgrass

Lallana

Mata

Hazard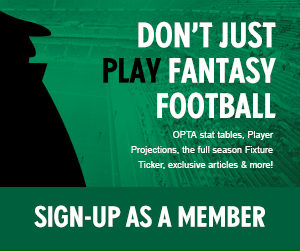 Watchlist
Goalkeepers
Player
Club
Factors

No Change

Boruc
SOT

B

,

Vs

Up

Begovic
STO

C

,

Vs

No Change

Ruddy
NOR

B

,

Vs

No Change

Cech
CHE

A

Up

Speroni
CPL

B

,

£

Up

De Gea
MUN

B

No Change

Howard
EVE

B

,

Vs

No Change

Adrián
WHM

B

,

£

Up

Mannone
SUN

B

,

Vs

,

£

No Change

Krul
NEW

C

Up

Foster
WBA

C

Up

Hart
MCI

B

Down

Marshall
CAR

C
Defenders
Player
Club
Factors

Up

Terry
CHE

A

Up

Evra
MUN

B

Up

Shawcross
STO

C

,

Vs

No Change

Fonte
SOT

B

,

Vs

No Change

Olsson
NOR

B

,

Vs

,

£

Up

Ward
CPL

C

,

£

No Change

Coleman
EVE

C

,

Vs

Up

Collins
WHM

A

,

£

Up

Bardsley
SUN

C

,

Vs

,

£

Up

Kompany
MCI

A

Down

Caulker
CAR

C

Up

Ridgewell
WBA

C

,

£

No Change

Skrtel
LIV

B

No Change

Williamson
NEW

C

,

£

Down

Koscielny
ARS

B

,

VsX
Midfielders
Player
Club
Factors

No Change

Hazard
CHE

A

No Change

Lallana
SOT

B

,

Vs

Up

Mata
MUN

C

Down

Snodgrass
NOR

B

,

Vs

,

Inj

Up

Brunt
WBA

C

,

£

Up

Walters
STO

B

,

Vs

No Change

Ince
CPL

C

,

Rest

,

£

Up

Y Touré
MCI

B

No Change

Nolan
WHM

A

Up

Johnson
SUN

B

No Change

Gerrard
LIV

A

Down

Mirallas
EVE

B

,

Vs

,

Rest

Down

Noone
CAR

C

,

Inj

,

£

Down

Cazorla
ARS

B

,

VsX
Forwards
Player
Club
Factors

Up

Suárez
LIV

A

Down

Sturridge
LIV

A

Up

van Persie
MUN

A

Down

Adebayor
TOT

A

,

VsX

No Change

Lambert
SOT

B

,

Vs

No Change

Rodriguez
SOT

C

,

Vs

,

£

Up

Crouch
STO

B

,

Vs

,

£

Up

Hooper
NOR

C

,

Vs

,

£

Up

Aguero
MCI

C

,

Inj

Up

Lukaku
EVE

C

,

Vs

,

Inj

Up

Remy
NEW

B

,

Vs

No Change

Jelavic
HUL

B

,

£

Up

Borini
SUN

B

No Change

Bony
SWA

B

Up

Carroll
WHM

C

,

Inj
Selection Factors
| | |
| --- | --- |
| A, B, C | Current Form |
| Vs | Favourable Fixtures |
| VsX | Unfavourable Fixtures |
| Rest | Rotation Risk |
| Inj | Injured/Returning from Injury |
| OoP | Out of Position |
| £ | Potential Bargain |
| Sus | Suspended/Near Suspension |
Suspension Tightrope
| Player | Team | YC |
| --- | --- | --- |
| Olsson | WBA | 9 |
| Delph | AVL | 8 |
| Luiz | CHE | 8 |
| Ramires | CHE | 8 |
| Chamakh | CPL | 8 |
| Barry | EVE | 8 |
| Rooney | MUN | 8 |
| Tioté | NEW | 8 |
| Walters | STO | 8 |
| Yacob | WBA | 8 |
"He's working hard at it and so are we. Sometimes we play well but not all the time. We don't have luck on our side. It's easy to point the finger at someone but I'm not like that. We have to do better ourselves."

Robin Van Persie on criticism of David Moyes.