Filed under: Members - Posted by: Paul
Starting the season priced at just 4.5 in Fantasy Premier League (FPL), Raheem Sterling quickly cemented his place in many a five man midfield thanks to a consistency of game time under new Liverpool boss Brendan Rodgers. Handed a first-team chance in Gameweek 2, the winger rose steadily in price to 5.7 as the bandwagon showed little sign of slowing down but a run of 16 consecutive starts was brought to an end in Gameweek 18, with Rodgers citing signs of fatigue in the youngster's play:
With the arrival of Daniel Sturridge added to Fabio Borini's return from injury, the attacking options are increasing for the Merseysiders – having started just three of the last six, Sterling's owners are starting to get twitchy. He's now dropped in price to 5.5 but, with a 17% ownership, remains the most popular sub 6.0 midfield option in the FPL game at present. As winter wildcards continue to be flourished, we take a look at the upcoming six Gameweeks and, in accordance with our Rate My Team projections, analyse the likely protagonists for those Fantasy managers eyeing up a potential transfer out…
a. Neville, Nastasic, Gibbs

b. Guthrie, Azpilicueta, (either Nasty or Gibbs)

A but Neville ---> Redknapp

I'm in my first season of FF and so far I thinking Im doing alright (in top 50K).

I just wondered do other players try to plan the season out from the start of the season (i.e. with transfers, looking at fixtures / player combos)?

I currently don't do this myself, but wondered if this would help improve my rank next year. If not plan the season out, how far ahead GW wise do you plan?

Cheers

No you cant predict injuries

I'm finding I spend far too many transfers messing about sorting out my defenders, when I think if I planned properly from the start I wouldn't have to do this?

It's my first season too, and to be honest, I think planning out the whole season won't work, the closest thing you can do to that is choosing your GKs based on fixture rotation

No planning goes out the window as form dictates who people pick last year for example Dempsey was top scoring mid, this year he is nowhere to be seen, no one would have predicted Fellaini's explosive returns going off previous seasons. Start with a team your fairly confident will start well and then adapt it getting in consistent performers.

I started my team this year with proven performers like Gerrard, Lamps and Tevez. So it started well, just recently now past the half way mark of the season, I'm planning about 4 changes to my defence in the next 5 GWs, but this seems wrong as most of my DF are cheap and unlikely to score mega points. I feel at this stage I should concentrate transfers on the players likely to make a difference (i.e mids and forw).

The thing is never take a hit for a defender you need a clean sheet to break even, teams fixtures change all the time and clubs have good/bad fixtures at different times of the year Liverpools next 2 games are a great example Arsenal/City from a defensive point of view not ideal but after that fixtures are great, best thing to do is to analyse the next 6 ticker on the homepage, this way you can see who has decent fixtures coming up, when making transfers think long term, taking out Van Persie for example because United play Chelsea would be a silly move because you would only want him back. So to summarise check the ticker compare players in your team to the difficulty of maybe the next 4-6 gameweeks and look at how you can improve your team, don't take anyone out you would only want back straight after a difficult fixture.

Thanks, think this answers my question to Jonah below. The answer being stick with Suarez, as I would want him back in a few games time!

I don't plan too far ahead. Maybe 5 games max. I've found I try and see long term plans through when I really should be doing something else.

What's planning?

Very complicated answer: Let me address it in stages:

a) There's never any point planning beyond your next wildcard, so you're never EVER looking more than half a season ahead.

b) Every manager with half a brain comes up with a plan about when they may use their wildcard at the start of the season; this then affects the players you pick at the start. If you know you're going to use it when your team is at its lowest, you can pick some more punty players at the start.

c) You should be planning ahead with things like budget defender rotation, always. You really don't want to be spending transfers on cheap players and defenders; the way to maximise your potential is to shuffle around the big players as they have good fixtures etc. I have got this wrong this year, no question.

d) Normally I plan a lng way ahead in terms of when I;m going to GET RID of people; i.e. Bale has great fixtures over the next 10, I'll get him in for that run, forget about him and assess him at the end. Deciding who you;re going to transfer in in 10 gameweeks time is far harder.

Thanks, thats REALLY helpful, I suppose its all down to how seriously you want to take it. Its certainly given me something to think about.

Funnily enough Caz > Bale is going to be my transfer this week, just waiting to see if any injury from FA cup action and if his price drops, as I've seen a few comments on here about it might be on the cards.

Whilst I have you attention, would you recommend swapping out Suarez > Aguero for a hit this week. Or stick rather than twist?

No Liverpool cover for me in my WC team. Thinking about getting both Suarez and Sturridge when they play WBA,SWA,wig.

Currently have RVP Aguero Fletcher up front

It might work but QPR have been resolute the past few games, I think that match would be harder for City than people think.

Is there any live fa cup on uk telly today?

We get 3 games in Australia from ESPN.

Got a feeling its on Espn here too but I don't have it anymore. Too expensive considering the small amount of games it shows here.

Have you sorted your wc out yet tm?

ESPN for United v Fulham, looks like Stoke v City is on ITV though. Might be more, can't find it though.

We get those 2 plus the Arsenal game in Oz on ESPN.

I like this but Gerrard maybe playing a bit too deep in the new formation. Sturridge/Suarez from GW26 looks very good.

I think that was just cause Allen was rested

Yes, considering they have no game in GW 27

For now yes. Check the situation again after city/ars games.

Not like anyone of you watch tennis... but AUSTRALIAN OPEN FINALS!

I don't always watch tennis but when I do...I WATCH DUH FINALS! (Sry I had to say it just for the LOLZ)

How can we miss watching Team GB's Murray in the finals!

Good afternoon,
Looks good for this GW? Team/Subs in order?

Bego
Zaba, Azi, Evra
Bale (vc), Mata, Walcott, Afro
RVP (C), Podolski, Lambert

Subs: Fed, Noble, Cameron, Demel

I got 0.6 in the bank and one FT but just cant see anyway for improvement this GW unless I take a hit. Any opinions guys?

Newcastle should just be called Uni du Newcastle

The new French guys will get a shock when they meet the Geordie slappers

Clubs should base their name on the players they've purchased recently?

Hey i was wondering what you thought of this wildcard

Mata, punch, Walcott, Mich, Fellani

Van P, stuttridge, Ba

Good team but be ready to bench Ba when necessary

cant decide between studge and suarez. team is currently

migs/jussi
zabs/ azpil / cameron / clyne / davies
michu / walcott / mata / fellaini / guthrie
rvp / suarez / fletcher

selling suarez for studge would let me upgrade guthrie to punch and strengthen 1 defender. on wc - what you think?

I like it fletcher is in some good form right now.

I think you can't go wrong with either of them, will score similar points I think

Planning to WC after this GW? Santi -> Fellaini with my FT sounds good? Have Walcott. Any other good one week punts? Berbatov -> Fletcher?

Anyone here heard what happened to Messi?

Precaution. Missed training, Might miss Osasuna today because he won't be risked with Copa tie against Madrid mid week

*Last 6*
Suárez......6 goals......1 assist
Agüero.....3 goals.......1 assist
Gerrard.....3 goals.......5 assists
Silva........2 goals........2 assists

1. Suárez & Silva +0.4m
2. Agüero & Gerrard

I like 1.. Most important to their club.

My honest response it that I don't think I'd have Gerrard or Silva in my team; goal threat from open play isn't strong enough when you consider the Walcotts, Bales, Michus, Fellainis of this world.

If those were the only options, from two weeks' time I'd take Suarez and Gerrard, as long as the Swansea game is on.

Interestingly ( or not ), the RMT thingy in the member's area has Silva outscoring Aguero for the rest of the season. No idea how accurate it is, but there you go. Maybe it factors in hamstring injuries. It also told me I'd be a complete fool to ever consider selling Fellaini.

Li Na looks dead.

Great. I'm so pissed she knocked out Sharapova.

I hope LI NA is ok...

It will be terrible if the finals end incomplete because of an injury

I love how everyone on here are sports enthusiasts and not just football mad. Love a good tennis match! kamaaan LI NA

any clues if dzeko will start against qpr?

Got 0.4m to improve this, any ideas?

Mignolet (Bunn)
Zabaleta Rafael Davies (Clyne Demel)
Walcott Michu Lampard Bale Johnson
RVP Sturridge (Pog)

Thanks
Scout Picks
For Gameweek 29
Snodgrass

Lallana

Mata

Hazard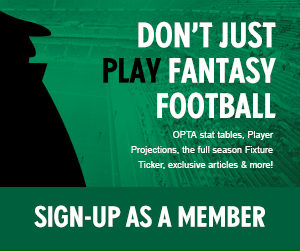 Watchlist
Goalkeepers
Player
Club
Factors

No Change

Boruc
SOT

B

,

Vs

Up

Begovic
STO

C

,

Vs

No Change

Ruddy
NOR

B

,

Vs

No Change

Cech
CHE

A

Up

Speroni
CPL

B

,

£

Up

De Gea
MUN

B

No Change

Howard
EVE

B

,

Vs

No Change

Adrián
WHM

B

,

£

Up

Mannone
SUN

B

,

Vs

,

£

No Change

Krul
NEW

C

Up

Foster
WBA

C

Up

Hart
MCI

B

Down

Marshall
CAR

C
Defenders
Player
Club
Factors

Up

Terry
CHE

A

Up

Evra
MUN

B

Up

Shawcross
STO

C

,

Vs

No Change

Fonte
SOT

B

,

Vs

No Change

Olsson
NOR

B

,

Vs

,

£

Up

Ward
CPL

C

,

£

No Change

Coleman
EVE

C

,

Vs

Up

Collins
WHM

A

,

£

Up

Bardsley
SUN

C

,

Vs

,

£

Up

Kompany
MCI

A

Down

Caulker
CAR

C

Up

Ridgewell
WBA

C

,

£

No Change

Skrtel
LIV

B

No Change

Williamson
NEW

C

,

£

Down

Koscielny
ARS

B

,

VsX
Midfielders
Player
Club
Factors

No Change

Hazard
CHE

A

No Change

Lallana
SOT

B

,

Vs

Up

Mata
MUN

C

Down

Snodgrass
NOR

B

,

Vs

,

Inj

Up

Brunt
WBA

C

,

£

Up

Walters
STO

B

,

Vs

No Change

Ince
CPL

C

,

Rest

,

£

Up

Y Touré
MCI

B

No Change

Nolan
WHM

A

Up

Johnson
SUN

B

No Change

Gerrard
LIV

A

Down

Mirallas
EVE

B

,

Vs

,

Rest

Down

Noone
CAR

C

,

Inj

,

£

Down

Cazorla
ARS

B

,

VsX
Forwards
Player
Club
Factors

Up

Suárez
LIV

A

Down

Sturridge
LIV

A

Up

van Persie
MUN

A

Down

Adebayor
TOT

A

,

VsX

No Change

Lambert
SOT

B

,

Vs

No Change

Rodriguez
SOT

C

,

Vs

,

£

Up

Crouch
STO

B

,

Vs

,

£

Up

Hooper
NOR

C

,

Vs

,

£

Up

Aguero
MCI

C

,

Inj

Up

Lukaku
EVE

C

,

Vs

,

Inj

Up

Remy
NEW

B

,

Vs

No Change

Jelavic
HUL

B

,

£

Up

Borini
SUN

B

No Change

Bony
SWA

B

Up

Carroll
WHM

C

,

Inj
Selection Factors
| | |
| --- | --- |
| A, B, C | Current Form |
| Vs | Favourable Fixtures |
| VsX | Unfavourable Fixtures |
| Rest | Rotation Risk |
| Inj | Injured/Returning from Injury |
| OoP | Out of Position |
| £ | Potential Bargain |
| Sus | Suspended/Near Suspension |
Suspension Tightrope
| Player | Team | YC |
| --- | --- | --- |
| Olsson | WBA | 9 |
| Delph | AVL | 8 |
| Luiz | CHE | 8 |
| Ramires | CHE | 8 |
| Chamakh | CPL | 8 |
| Barry | EVE | 8 |
| Rooney | MUN | 8 |
| Tioté | NEW | 8 |
| Walters | STO | 8 |
| Yacob | WBA | 8 |
"He's working hard at it and so are we. Sometimes we play well but not all the time. We don't have luck on our side. It's easy to point the finger at someone but I'm not like that. We have to do better ourselves."

Robin Van Persie on criticism of David Moyes.