With Cup football all the rage and, quick on the heels of Wild Rover's FFS Paddy Power Cup triumph, our second free cup tournament of the season, is now open for our members. With Fuzzy Dunlop and Kippax Kikkers already in the hall of fame for their victories in this tournament, we're looking for our third winner, with the Quarter-Finalists of this cup also taking their place in the first ever FFS Shield where they will face the likes of FFS Cup finalists Wild Rover and MileHigh over the final four Gameweeks of the season.
Read on for details on the Members Paddy Power cup but, if you're a member and a veteran of such tournaments, you can go straight here to make your entry. Members will need to log in first.
What is the Paddy Power Members Cup?
The Paddy Power Members Cup is our version of the Fantasy Premier League's Fantasy Cup game available to our members. Entrants who qualify for the first round will be randomly drawn against each other and the winner of the tie is whoever has the highest score from that Gameweek, minus points spent on transfers (like in the original game and in head-to-head scores). In the event of a tie, the Manager highest in the overall FPL standings will progress.
Do I have to be a Member to take part?
Yes. This annual tournament is provided as part of our offering to members. Obviously it's not too late to register as a member or upgrade your account. Details on how this is done is available right here.
How do I enter?
Simply fill out the entry form here. You will be sent a confirmation email to verify your entry. You can also check that you are entered via this list.
What do I do if I run into a problem with my entry?
Please contact support@fantasyfootballscout.co.uk and we will look into any issues with your entry. Please note, we can only do this prior to the Qualifying Round. If you make an error when submitting your team id on the entry form, you may be withdrawn from the tournament so please take care when completing the form.
When does it start?
The qualifying round takes place in Gameweek 25 but you can enter after the Gameweek is played out. All entries received before 9am on Monday February 4 will be entered into the qualifying round. In this first cup competition we will have 512 qualifiers for the first round: the 512 with the top scores in Gameweek 25 will progress to the first round proper to be played in Gameweek 26. Again, FPL rank will decide who progresses in the event of tied positions.
When will I find out if I've qualified?
Results from the qualifying round will be published on Wednesday February 6.
What is the Gameweek Schedule
Each round of the Members Paddy Power Cup will be played out over the following schedule:
Qualifying – Gameweek 25
Round 1 – 512 teams – Gameweek 26
Round 2 – 256 teams – Gameweek 27
Round 3 – 128 teams – Gameweek 28
Round 4 – 64 teams – Gameweek 29
Round 5 – 32 teams – Gameweek 30
Round 6 – 16 teams – Gameweek 31
Quarter-Finals – 8 teams – Gameweek 32
Semi-Finals – 4 teams – Gameweek 33
The Final – 2 teams – Gameweek 34
When are the fixtures released?
The fixture list for each round will be published a day or two before each Gameweek deadline – the draw for the First Round will be expected on Thursday February 7.
Are there prizes?
Sponsors Paddy Power are supplying the competition with some great prizes and we're supplementing these with Amazon Vouchers. The prizes break down as follows:
Winner – £100 worth of free bets. £100 Amazon Voucher
Runner-up – £50 worth of free bets. £50 Amazon Voucher
3rd Place – £50 worth of free bets. £25 Amazon Voucher
In addition, the Quarter-Finalists from this tournament will gain entry to the Fantasy Football Scout Shield where they will play the eight Quarter-Finalists from this season's earlier Paddy Power Cup. The shield tournament will start in Gameweek 35.
Cup Entrants will need a Paddy Power account and be aged 18 and over to be eligible for some of the above prizes. Prizes are also subject to Paddy Power's terms and conditions. You can, of course, enter without being over 18 and without a Paddy Power account but will not be eligible for the free bet prizes.
If you've yet to register a Paddy Power account, then you can sign up via this site and get a free £20 when you register and bet £10.
Mignolet Federici
Wilkinson Hughes R.Martin Davies Demel
Bale Mata Walcott Michu Fellaini
Berbatov RVP Lambert

I feel that my defense is strong enough considering I'll only ever play 3 at the back.
I'll be rotating my front 8 based on fixtures.

An alternative was Puncheon and Suarez for Bale and Lambert, with Puncheon benching the majority of the games.

What would you change?
Would really appreciate your help!
Thanks peeps!

First to three votes:

A)
bunn, fed
Zab, Rafael, Davies, Demel, Mariappa
Bale, Mata, walcott, Fellaini, Michu
Rvp, Suarez, pig

Or

B)
Bunn, fed
Azpil, nastasic, Davies, mariappa, demel
mata, walcott, fellaini, michu, Guthrie
Rvp, aguero, Suarez.

Much appreciated fellas.

That should be pig, not pig

Pog! Bloody corrective text...

I think you mean Pog..

It's Bale vs. Aguero, I think.

B looks really tempting. But I'm now set my WC team on the fundamental of Rafa + Zab, so A.

18 IMO, but we are all allowed to have different opinions.

The Djoker is gifting this set to Andy.

So…. a man walks to the grocerie store, with his wife waiting back home. He goes into the store, and up to the condom section, he grabs a a few packs and then go to buy them at the counter.
The salesman says: "That will be 13 dollars",
The man says: "Here you go"
Then the salesman goes: "Oh, I forgot, do you want a bag with that?"
The man replies: "No, she's not that ugly.."

Don't forget it gets funnier in Norwegian.

Leagues Update

FPL Open : 281 entered, 256 spots, 256th spot @ 200K.

Elite 64 : 215 entered, 64 spots, 64th spot @ 1843th overall.

2 and get wilson soon for stoke coverage

Murray takes 1st set. Game on.

Get in Murray, come on...

Team A:

Bunn, Federici,
Gibbs, Harte, Davies, Clyne, Demel,
Bale, Mata, Walcott, Michu, Guthrie,
RVP, Agüero, Sturridge. (0.0m)

Or team B:

Bunn, Federici,
AZPILI, NASTASIC, CUELLAR, Harte, Demel,
Mata, Walcott, Michu, FELLAINI, Guthrie,
RVP, Agüero, Sturridge. (0.2m)

Thanks in advance.

K lets all take a deep breathe and feck off with the RMTs...

erm why? isn't the whole point of the community to help each other??

+1

The effort to write the RMT is not yours, so if you don't want to reply, where's the harm?

It's WC time.

2 questions honourable gentlemen:

1) Rafael for the fixtures or Zaba for MCI safer defence? (Main opponent has rafa)

2) Keep Caz or switch to Bale (-4 hit means I need him to outscore caz by 5pt at least in the next few GW)
(main opponent has caz)

Which one would you have guys:

A. Rafael Felliani

B. Clyne Bale

That is tough, B I would say. Bale is awesome away from home, potential to score massive

Rafa always risk of rotation. Would rather have bale than Afro.

Kinda makes your decision easier doesn't it?

It is Tough Eddie, and doin' my head in. Felliani playing deep yesterday as me favouring B.

Hey Chrissy Waddle! Don't know if you missed it but you were absolutely right when you got Sherlock Holmes on me... In my dizzy state of mind I mistook Suarez for Sturridge, which equals 2.5 m and then it makes sense... I truly apologize... Honest mistake... And for your question I would say B)...

guys, what do you make of the rate my team tool in the members area?

Although I think its good, i found it quite odd that Silva came out on top from the below MID's from GW 25 to 31.

Silva 31.91
Bale 30.96
Fellaini 28.33
Michu 26.07

On my own workings out I had Silva at the bottom & the other 3 pretty much tied.

What's the latest on Kompany?

definately out for qpr, maybe for liverpool too
Scout Picks
For Gameweek 29
Snodgrass

Lallana

Mata

Hazard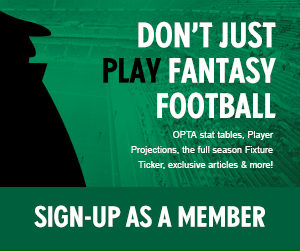 Watchlist
Goalkeepers
Player
Club
Factors

No Change

Boruc
SOT

B

,

Vs

Up

Begovic
STO

C

,

Vs

No Change

Ruddy
NOR

B

,

Vs

No Change

Cech
CHE

A

Up

Speroni
CPL

B

,

£

Up

De Gea
MUN

B

No Change

Howard
EVE

B

,

Vs

No Change

Adrián
WHM

B

,

£

Up

Mannone
SUN

B

,

Vs

,

£

No Change

Krul
NEW

C

Up

Foster
WBA

C

Up

Hart
MCI

B

Down

Marshall
CAR

C
Defenders
Player
Club
Factors

Up

Terry
CHE

A

Up

Evra
MUN

B

Up

Shawcross
STO

C

,

Vs

No Change

Fonte
SOT

B

,

Vs

No Change

Olsson
NOR

B

,

Vs

,

£

Up

Ward
CPL

C

,

£

No Change

Coleman
EVE

C

,

Vs

Up

Collins
WHM

A

,

£

Up

Bardsley
SUN

C

,

Vs

,

£

Up

Kompany
MCI

A

Down

Caulker
CAR

C

Up

Ridgewell
WBA

C

,

£

No Change

Skrtel
LIV

B

No Change

Williamson
NEW

C

,

£

Down

Koscielny
ARS

B

,

VsX
Midfielders
Player
Club
Factors

No Change

Hazard
CHE

A

No Change

Lallana
SOT

B

,

Vs

Up

Mata
MUN

C

Down

Snodgrass
NOR

B

,

Vs

,

Inj

Up

Brunt
WBA

C

,

£

Up

Walters
STO

B

,

Vs

No Change

Ince
CPL

C

,

Rest

,

£

Up

Y Touré
MCI

B

No Change

Nolan
WHM

A

Up

Johnson
SUN

B

No Change

Gerrard
LIV

A

Down

Mirallas
EVE

B

,

Vs

,

Rest

Down

Noone
CAR

C

,

Inj

,

£

Down

Cazorla
ARS

B

,

VsX
Forwards
Player
Club
Factors

Up

Suárez
LIV

A

Down

Sturridge
LIV

A

Up

van Persie
MUN

A

Down

Adebayor
TOT

A

,

VsX

No Change

Lambert
SOT

B

,

Vs

No Change

Rodriguez
SOT

C

,

Vs

,

£

Up

Crouch
STO

B

,

Vs

,

£

Up

Hooper
NOR

C

,

Vs

,

£

Up

Aguero
MCI

C

,

Inj

Up

Lukaku
EVE

C

,

Vs

,

Inj

Up

Remy
NEW

B

,

Vs

No Change

Jelavic
HUL

B

,

£

Up

Borini
SUN

B

No Change

Bony
SWA

B

Up

Carroll
WHM

C

,

Inj
Selection Factors
| | |
| --- | --- |
| A, B, C | Current Form |
| Vs | Favourable Fixtures |
| VsX | Unfavourable Fixtures |
| Rest | Rotation Risk |
| Inj | Injured/Returning from Injury |
| OoP | Out of Position |
| £ | Potential Bargain |
| Sus | Suspended/Near Suspension |
Suspension Tightrope
| Player | Team | YC |
| --- | --- | --- |
| Olsson | WBA | 9 |
| Delph | AVL | 8 |
| Luiz | CHE | 8 |
| Ramires | CHE | 8 |
| Chamakh | CPL | 8 |
| Barry | EVE | 8 |
| Rooney | MUN | 8 |
| Tioté | NEW | 8 |
| Walters | STO | 8 |
| Yacob | WBA | 8 |
"He's working hard at it and so are we. Sometimes we play well but not all the time. We don't have luck on our side. It's easy to point the finger at someone but I'm not like that. We have to do better ourselves."

Robin Van Persie on criticism of David Moyes.