Liverpool hammer Wigan at the DW, as Luis Suarez sweeps aside the lacklustre Latics with a hat-trick. Stewart Downing and Philippe Coutinho also pick up the points as the Reds win on the road for the first time since Gameweek 20:
On the Up
Luis Suarez
Reinstalled to the lone forward role as Daniel Sturridge missed out with a knock, the Uruguayan ran riot at the DW this evening. Suarez's hat-trick took him to 21 goals for the season – two ahead of Robin Van Persie in the race for the Golden Boot. With maximum bonus looking assured, Suarez will now be just 14 points behind the Dutchman at the top of the Fantasy Premier League (FPL) standings and with form, fixtures and guaranteed game time on his side, could well end the season as number one.
Philippe Coutinho
The January signing from Inter scored on his first start for the Reds in the previous league match with Swansea and maintained his strong attacking form with a pair of assists. With Brendan Rodgers keen to protect Raheem Sterling, Coutinho could well be set to feature more prominently in the first XI from here on in and looks a decent mid-price option at 6.5 in FPL.
Stewart Downing
An early opener added to his assist against Swansea in Liverpool's last league encounter, meaning Downing has now produced returns in back-to-back Gameweeks for the first time this season. At 5.7, he could be another option, with starts certainly looking assured – he has been named in the first XI in each of the last 13.
Glen Johnson
Subject of our recent members article, which drew comparisons with Jose Enrique's numbers, it was Johnson's turn to deliver today with a smart assist for Suarez's third goal which could also see him figure amongst the bonus points. That was the right-backs fifth assist of the season and, with his Gameweek 29 fixture secure, Johnson seems set to earn a batch of new suitors after this timely haul.
Going Down
Daniel Sturridge
Brendan Rodgers' decision to omit the former Chelsea man is clearly something of a worry for his owners. Sturridge has missed two out of the last three now and with his manager clearly keen to protect him from further damage as he nurses a troublesome thigh problem, his game time is looking less assured as Sturridge shows a propensity to pick up knocks. With the front three all impressing, Rodgers clearly has no need to rush Sturridge back although he will be expected to be in the frame for the Gameweek 29 visit of Spurs.
Wigan Home Form
It seems last week's 3-0 win at Reading may be something of a false dawn. Many had believed Roberto Martinez's side were on the verge of their annual surge up the table but instead they capitulated – Wigan have now conceded 31 goals in front of their own fans, four more than any other side.
He's on holiday. Some good guesses earlier in the thread from Mark and Daniel (see page 2).

Don't think it. Perhaps he is away on a well-earned break. Have you tried that page that he has - the UEFA one?

Repost
i need help here please mates

i have 2 FT What do u think about this ?
Gibbs > Santon
Mata > sissoko
Pog > Benteke
for -4

Thoughts on Remy for mx few weeks?

Benteke a better option IMO

He looks ice cool, and will convert a high percent of chances. However the QPR midfield need to get the all to him more often, that is the key. Looks a class player to me, his little delay before finishing yesterday, was actually very quick thinking, made a reasonable chance into an easy one. Quality players always seem to have more time.

thinking about 1gw punt La Fondre

how nailed on is he? he should play since pog is susspended?

You just said no more punts in your last post!

Providing Studge is fit, I have 10 for next week - no GK as Jussi is off and I also have Davis so no show for keeper unless Boruc eats one too many pies.
Is it worth taking a hit to bring in Benteke for Studge and bringing in a keeper?
--NO GK--
Debuchy - Samba - Johnson
Michu - Sissoko - De Guz - Bale
Studge - Suarez - Cisse
SUBS - Cameron - Fell - Raf

Surely the man city game will be reinstated - or has an announcement been made.

Looking like Mata is gonna be taking the brunt of the sell off...With no game next week and less than impressive recent figures i can't see anything to stop a 0.5 slide over the two weeks...

FPL Success is based on 4 factors

1) Players in your 15 - 33%
2) Players in your starting XI - 27%
3) Captain choice - 23%
4) Luck - 17%

Thought i'd make a post about the relegation run-in and try to assess the options that could be good, taking into account fixtures too. So for the purpose of this post, i'll assume; QPR, Reading, Villa, Wigan and Southampton are teams involved in this relegation dog fight. Newcastle and Sunderland should be okay now on 30+ points.. i can't see them being dragged into it, especially the former.

Fixtures FROM GW 30 ONWARDS:-

QPR= villa, fulham, WIGAN, everton, STOKE, reading, ARSENAL, NEWCASTLE, liverpool

Reading= man utd, arsenal, SOUTHAMPTON, LIVERPOOL, norwich, QPR, fulham, MANCITY, west ham

Villa= QPR, LIVERPOOL, stoke, FULHAM, man utd, SUNDERLAND, norwich, CHELSEA, wigan

Wigan= NEWCASTLE, NORWICH, qpr, SWANSEA, west ham, SPURS, west brom, arsenal, VILLA

Southampton= LIVERPOOL, CHELSEA, reading, WEST HAM, swansea, WEST BROM, spurs, sunderland, STOKE

Rating the fixtures from an attacking/defensive point of view (1st = best, 5th = worst)

1- Wigan
2- QPR
3- Southampton
4- Aston Villa
5- Reading

A few defensive rotations:

QPR and Villa, giving:
QPR, fulham, WIGAN, FULHAM, STOKE, SUNDERLAND, norwich, NEWCASTLE, wigan.

Reading and Wigan giving:
NEWCASTLE, NORWICH, Southampton, SWANSEA, west ham, QPR, fulham, arsenal, VILLA

Wigan and Southampton giving:
NEWCASTLE, NORWICH, reading, WEST HAM, west ham, WEST BROM, west brom, sunderland, VILLA

Now looking at the players and teams that could be worth investing in, assuming you don't have them already.

WIGAN:

I really think they could prove to be astute purchases for the run-in. Unlike the other 4 teams, they're still in the FA cup and have atleast 1 guaranteed DGW due to no GW29 fixture.

GK and Defence:

Al Habsi is too dear at 5m. Maybe if he was 4.5m it could be worth it, due to Wigan's propensity to give away pens, and his propensity to save a fair few of them.

Alcaraz is an interesting option having just come back from a long injury lay off. Similar goal threat to Caldwell. Being 4.2m makes him the better option of the two. Boyce for me is too dear @ 4.7 when you compare to Figueroa aswell. He's got the best assist potential, due to being a Wing back, and the other 3 CB's. In conclusion, i'd go for the cheapest one so it would be Alcaraz here. Should be nailed on now as he continues to gain match fitness, and his experience could be vital. Prefer his goal threat from corners, to Figuero's shooting from long range aswell.

Wigan's likely 1st choice defence: Al habsi/Boyce-Figueroa-Caldwell-Alcaraz-Beausejour

You can read Roberto Martinez waxing lyrical about Alcaraz here: http://www.wigantoday.net/sport/wigan-athletic/bob-so-glad-to-have-key-man-back-1-5454629?utm_medium=twitter&utm_source=twitterfeed

Mid/Attack:

I can only see 3 options worth investing here, pretty obvious i guess. Maloney, Beausejour and Kone. Maloney is central to Wigan's attack and has set pieces/pens in his locker. Known to be injury prone but recently he's been playing 90 minutes with alarming regularity. Beausejour is reverse OOP but it really isn't that much of a big deal, as he's on set pieces and has great assist potential from his runs down the line. Kone will be the main source of goals for Wigan if they wish to pull off the great escape again. Like Beausejour and Maloney, he's also a 90 minute man every game, if fitness allows. I really think at 1.1% ownership, he could really prove to be a great buy for a 3rd striker option. Just as a comparison. Maloney's ownership is only 2.5% and Beausejour's, 0.2%. Either of the 3 options could be good buys, but i'd tend to lean towards Kone due to there being so many better midfield options from the big teams.

READING:

GK and Defence

I think the two candidates that stand out here are; Federici and Harte. Obviously, look out for Federici's injury update but he is 1st choice now, and a massive save magnet imo. Reading don't have great fixtures, hence his saves putting him above other defensive options in the team. I also think Harte has nailed down a starting berth for Reading lately and would consider him the best option from their defence. Kelly is probably the most nailed on @ RB, but has the least goal threat so i wouldn't touch him. Harte is the standout option at only 4m. Menacing assist threat from set pieces, and may be on pens when ALF/POG/HUNT aren't on the pitch. Pearce and Mariappa are the 1st choice CB's but not totally secure so another reason for leaning towards Harte. I don't believe Shorey will get a look-in as he seems to have had a falling out or something.

Reading's likely 1st choice defence: Federici/Kelly-Pearce-Mariappa-Harte

Mid/Attack:

No standout options here imo apart from Kebe. He got injured though so it's one to watch. I wouldn't fancy Pogrebnyak to do much, and you can't buy ALF and just rely on him to get goals for you off the bench. He doesn't seem to do anything when he starts.

QPR:

GK and defence:

Cesar in goal but probably too expensive @ 5m. QPR's 1st choice fullbacks seem to be Traore and Bosingwa @ 4.8m. Looks to me like Traore is more nailed on though, and it seems Fabio and Onouha both play @ RB so could come in for Bosingwa at any time. Samba and Hill will be their 1st choice CB's for the rest of the season. I've slated Samba for costing too much @ 5m(4.9 now) and not being a good enough defender and maintain that over the course of the season he's not really worth it. However this is a unique situation with it being the relegation run-in, so if you have the funds i'd say Samba could be your key differential in the mini-leagues to try and gain ground. He stands out for me as having the biggest goal threat in their defence, and being a blocksmith, along with making so many clearances per game( good for PPI). So in conclusion, i'd pick Samba from their defence:

Harry on Jose Bosingwa. "He's trained hard and is showing the right attitude again." He seems to not show much commitment on the pitch compared to Onouha but does the simple things okay. I can't see either being too nailed on, so another reason to lean towards Samba.

QPR's likely 1st choice defence: Cesar/Bosingwa(Onouha/Fabio)- Hill-Samba-Traore

Mid/Attack:

Only good option i see here is Remy. Taarabt was recently dropped, and i do think he's a luxury player who will again be dropped. Don't think he's completely nailed on anymore, especially with Hoillet impressing and QPR having won after he got dropped. Probably too dear compared to the other options at 5.8m too.

Harry Redkanpp recently spoke about how he hasn't had the opportunity to play Zamora and Remy together too often, so when both are available, you'd think they would both start, especially @ home. Only problem is both Remy and Zamora seem to love the physio room, so could be really risky buys. You'd imagine Remy needs to stay fit for QPR to have any chance of staying up.

ASTON VILLA:

GK and Defence:

I wouldn't touch anyone from Villa's defence right now. They, to me, are the worst defensive team in the league right now. Wigan have conceded more, but have the experience during the relegation run-in that for me, puts them ahead of Villa. Villa's defenders are very inexperienced, and they aren't helped by a lack of a protective screen in central midfield. This is where they miss Petrov badly. Delph and Westwood are just not good enough, and the way i see it, they'll just have to hope they can outscore the opposition to have a chance of winning games, and surviving the drop. Once again reiterate that i wouldn't touch any of their defenders here.

Aston Villa's likely 1st choice defence: Guzan/Lowton-Clark-Vlaar-Baker-Bennett(in a 3 man defence)

Mid/Attack:

Probably obvious again, but Benteke is the real standout option here. He's a nailed on player who's probably the most important to his team compared to any of the other 4 relegation candidates. Has penalties in his locker too. At 7m, with decent fixtures, he could be the man to go too. However another option i'd look at is N'zogbia @ 5.8m and only 0.7% ownership, compared to Benteke's 8.8%. N'zogbia loves a relegation battle as shown by his exploits for Wigan. Lambert seems to have taken a liking to him lately, and he seems 1st choice/nailed on now too. N'zogbia has come into form massively recently, and seems to creating most of Villa's chances/goals. He has set pieces (corners and direct FK's) in his locker too. Recent form prior to the City game reads as: 1 goal and 5 assists in 5 games. Impressive stuff!

SOUTHAMPTON:

GK and Defence:

There was a bit of a goalkeeping merry go round with Southampton earlier in the season. Davies, Gazzaniga and Boruc having all been rotated between the sticks at regular points. However with the change of manager, Boruc seems to have now established himself as the no.1. Cheaper than most keepers @ 4.4m, and could be a decent bet, but with Southampton, i can't really look past their budget backline.

Clyne and Yoshida seem to be the most expensive of Saints' 1st choice back 4 @ 4.2m and 4.5m respectively. Fonte and Shaw are the cheapest @ 4m. It's pretty easy here to say that Yoshida is the worst option of the 4, being the most expensive. Shaw' seemed to have made the LB position his own, but recently he's been rested and then troubled by injury, unlike Clyne who's played pretty much week in week out. No doubt for me that Shaw's still 1st choice though when fit(Fox is woeful), but if i were going for a Southampton defender now, it would have to be Fonte. Recently back from an injury which caused him to miss so many games. He's also a big goal threat, and can be found raiding into the opposition penalty area on numerous occasions. Seems to be 1st choice when fit now.

Southampton's likely 1st choice defence: Boruc/Clyne-Yoshida-Fonte-Shaw

Mid/Attack:

I think it's a bit of a minefield here, apart from Puncheon and Lambert who seem to be the most "nailed on". Puncheon was rested the other week, and was straight back in this week. Recently signed a new contract, he's been one of their best players this season. Ramirez has dropped to just 5.2m now. He's a good goal threat, has set pieces too, but rarely lasts 90 minutes. I'd also he's less nailed on than Puncheon. Lallana has had injury problems and was injured again this week. Was a 90 minute man week in week out but hasn't been that lately. Don't think he's too nailed on under the new manager, and for 5.8m, there's probably better options too. Can't really say much more about Lambert really. He was the bargain 3rd striker option since the start of the season, and it's been a massive oversight by me to not have had him for longer. Goes without saying, that his goals will be crucial to steer Southampton to relative safety! Still a bargain at 7.2m with pens and fk's too!

Didn't realise Alacaraz was back. Definitely a decent option for the run in.

Keeping my eye on Benteke/Remy/Kone for a cheap 3rd striker too.
Scout Picks
Gameweek 26
Coleman

Ivanovic

van Dijk

Daniels
Payet

Oscar

Roberto Firmino

Ozil
From the Community…
Comments
Hot Topics
Articles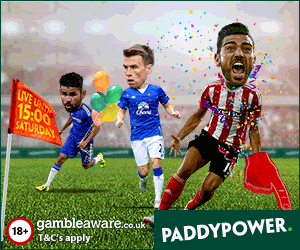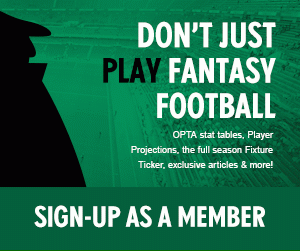 The Watchlist
Goalkeepers
Player
Club
Factors

Up

Forster
SOT

A

,

Vs

Down

Butland
STO

C

,

Vs

Up

Schmeichel
LEI

A

,

Vs

Up

Courtois
CHE

B

,

Vs

No Change

Boruc
BOU

B

,

Vs

Up

Hennessey
CPL

C

,

£

No Change

Cech
ARS

A

,

VsX

Up

Fabianski
SWA

B

No Change

De Gea
MUN

B

No Change

Adrián
WHM

B
Defenders
Player
Club
Factors

Up

Fuchs
LEI

A

,

Vs

,

£

Up

van Dijk
SOT

A

,

Vs

Up

Daniels
BOU

A

,

Vs

,

£

Up

Dann
CPL

A

No Change

Ivanovic
CHE

B

,

Vs

No Change

Alderweireld
TOT

B

No Change

Bellerín
ARS

B

,

VsX

Up

Johnson
STO

C

,

Vs

No Change

Cresswell
WHM

B

Up

Van Aanholt
SUN

A

No Change

Williams
SWA

B

,

£

Up

Smalling
MUN

C

Up

Coleman
EVE

B

,

Vs

Down

Dawson
WBA

C

Down

Moreno
LIV

C

,

Vs

Down

Kolarov
MCI

B

,

Rest

,

Inj
Midfielders
Player
Club
Factors

Up

Mahrez
LEI

A

,

Vs

No Change

Payet
WHM

B

,

Vs

No Change

Dele Alli
TOT

A

,

Inj

Up

Arnautovic
STO

C

,

Vs

,

Inj

No Change

Ozil
ARS

C

,

VsX

Up

Eriksen
TOT

A

Up

Antonio
WHM

A

,

Vs

,

Rest

,

£

Up

Sigurdsson
SWA

A

,

OoP

Down

Barkley
EVE

B

,

Vs

Down

Roberto Firmino
LIV

A

,

VsX

,

OoP

Down

Sánchez
ARS

C

,

VsX

Up

Lingard
MUN

B

,

Rest

,

£

Up

Khazri
SUN

B

Up

Oscar
CHE

B

,

Vs

No Change

Wijnaldum
NEW

B
Forwards
Player
Club
Factors

Up

Vardy
LEI

B

,

Vs

No Change

Kane
TOT

A

Down

Aguero
MCI

A

Up

Diego Costa
CHE

A

,

Vs

,

Inj

Up

Rooney
MUN

A

Down

Ighalo
WAT

C

,

VsX

Down

Lukaku
EVE

C

Up

Afobe
BOU

A

,

Vs

No Change

Giroud
ARS

B

,

VsX

,

Rest

No Change

Defoe
SUN

A
Selection Factors
| | |
| --- | --- |
| A, B, C | Current Form |
| Vs | Favourable Fixtures |
| VsX | Unfavourable Fixtures |
| Rest | Rotation Risk |
| Inj | Injured/Returning from Injury |
| OoP | Out of Position |
| £ | Potential Bargain |
| Sus | Suspended/Near Suspension |
| Player | Team | YC |
| --- | --- | --- |
| Colback | NEW | 9 |
| Yacob | WBA | 9 |
| Byram | WHM | 9 |
| Lucas | LIV | 8 |
| Jones | SUN | 8 |
| Westwood | AVL | 7 |
| Diego Costa | CHE | 7 |
| Huth | LEI | 7 |
| Can | LIV | 7 |
| Mangala | MCI | 7 |
| Shelvey | NEW | 7 |
| Pieters | STO | 7 |
| Dele Alli | TOT | 7 |
| Dier | TOT | 7 |
| Brunt | WBA | 7 |
| McClean | WBA | 7 |
| Noble | WHM | 7 |
"All players will blank a few times during the season. When almost all do it in the same Gameweek, it is tough to take, but that's just the dark side of probability."

Abreu 42 Community regular