With the majority of Fantasy managers licking weekend wounds, we spend Monday lunchtime looking forward to renewing an old debate, speculate on the future of Everton's Belgians, prepare for further Michu punishment and look to the Mr Motivators ahead of Sunday's climax…
The Sturridge vs Suarez debate will rage harder than ever…
Snuggled in the low-to-mid price bracket and with Luis Suarez banned, Daniel Sturridge always looked a tasty Fantasy proposition. Five goals in three games since the FA slapped the Uruguayan with a 10-match suspension have proven Sturridge is more than capable of leading the Liverpool attack and with Suarez sitting out the season openers next term, he will surely tempt heavy investment from the get go. Sturridge's price point is set to be of huge interest and will undoubtedly be a deciding factor in our decision between the Liverpool pairing.
It's ironic to think that, just a few months ago, when Suarez was firing and Sturridge was marooned on the bench and troubled with a thigh injury, there was little or no debate on the weapon of choice in Brendan Rodgers' attack. Now the landscape has shifted dramatically: if Sturridge comes in under Suarez in price, which is a reasonable assumption, then the debate will rage once again. While the Uruguayan is undoubtedly a special talent, blighted by moments of madness, it should be noted that Sturridge has come close to outperforming him based on the statistics. Our members can have fun with the comparison tool but, having tinkered briefly, it's notable that Sturridge has scored a league goal in Liverpool colours every 104 minutes compared to Suarez's 134 – his shooting accuracy and conversion of shots is also stronger. Some considerable food for thought ahead of what will undoubtedly be one of the major discussion points of next season once Suarez is free of his suspension shackles.
Moyes leaves behind a gem in Mirallas…
The tearful departure of David Moyes from Goodison followed on from another efficient and slick display from his team, as they came through an emotionally charged afternoon to see their manager off in some style. Kevin Mirallas took centre stage, dazzling the Hammers back four with quick feet and movement and capping his performance with a brace to take him to six goals for the season. There is surely far more to come from the Belgian. This is a player who, during his time in Greece, notched 34 goals in 52 appearances for Olympiacos. While he's shown flashes of this potential, a role primarily on the flank for the Toffees has perhaps tempered his ability to show his goal power. There's every chance that this could change under a new manager: with Nikica Jelavic stuttering and Victor Anichebe more brute force that fox in the box, there's every chance that we'll see Mirallas become a more central figure at Goodison, in more ways than one. With a price tag of just 6.5 in the Fantasy Premier League this term, we can assume that he'll either sit still or enjoy a modest rise and yet, if he becomes integral to the new manager's plans, he could prove a wily Fantasy acquisition. We will be watching the pre-season with interest.
Fellaini may stay but he could still be lost to us…
As one Belgian hints at prospering next term, another has his future as a Fantasy asset in the balance. Marouane Fellaini has been superb for long spells this season but, in the past two months, his output has been hindered by a constant change in position from a defensive midfield berth to the support striker role that has proved so profitable. Moyes shifted Fellaini back to cope with the menace of Andy Carroll on Sunday and, more significantly, the player himself has recently spoken out about his best position, revealing that he sees his future back in the engine room.
"Sometimes I look at myself and ask, 'What is my best position?' I think it's a defensive midfielder, that's the best one. The manager might like it sometimes when I play up front because I can cause trouble for the defenders, but for me my best position defensive midfield – stopping the opposition and then looking to impose myself on a game. When I play up front, it's hard. It's not my position and I find it difficult. I've played in a few positions. Sometimes I've played well there. I understand why the manager might put me up there."
Whilst Fellaini has stated that he's happy to remain at Everton, despite the desire to play Champions League football, there will be mounting speculation on his future over the summer. A move to United would seem unlikely, however and, if he remains at Goodison, there will be likely be pre-season Fantasy interest given his returns this term. However, with a price hike likely and Fellaini's recent quotes, there is surely every chance that the new manager will seek to appease the Belgian by handing him assurance of his favoured role, building the new Everton around the platform that his imposing presence would bring in midfield, whilst looking for new options further forward – again, with Mirallas perhaps a major factor.
Michu may yet sting us again…
As our earlier Scout Notes highlighted, Michael Laudrup has made a late sprint for "Villain" status after offering an early prognosis on Michu that, ultimately, proved off-beam. After inevitable huge sales throughout the week, the player added the sting in the tail by claiming a well-taken 18th goal of the season in the defeat at Old Trafford. It really could get worse. Swansea face up to Fulham on Sunday – a side who have now lost their last five league matches, conceding 12 goals in the process. With the Swans looking to overcome their own slump and sign off their season in style, the Cottagers look set to be in the firing line. Michu is the chief gunslinger and, having served us so magnificently over the campaign, has now suddenly revealed himself as an unlikely differential for those who were either forced to sit tight or mistrusted the Dane's early injury verdict. We'll prepare a sizeable pinch of salt to accompany Laudrup's press conferences next term.
The Carrow Road clash highlighted the importance of motivation…
We've spent some weeks speculating on the impact of motivation on our close season profits and, on Sunday at Carrow Road, we saw stark evidence of how it can come into play. The Baggies turned up in East Anglia with nothing to play for, having overachieved under Steve Clarke – in many ways there were the perfect opposition for a Norwich side hungry for the victory that would cement their Premier League status. What followed was an exposure of an abject West Brom performance as Norwich, having struggled for firepower all season long, put four goals past their visitors. Clarke's appraisal of his side was refreshing, leaving us in no doubt that his side are ready for the golf course…
"It's been slowly fizzling out for us. If I'm being honest, we need the summer to come."
These are not the kind of words we want to hear from Premier League managers as we look to our Fantasy squads to push to the very end. It underlines the fact that those with the motivation to score goals and earn points will surely be in line to offer the final day profits. While Sunday is a lottery and Robin Van Persie could explode against the sleepy Baggies, having witnessed United's own slumbered state in recent matches, it may well be wiser to look to the relegation battle and the top four tussle for last ditch differentials. Norwich certainly provided a convincing case for such a strategy.
Isn't great to jumped up to rankings into TOP 50 and your Captain yet to play?

Happines...

A) DDG to Reina and bench Fellaini
or
B) Fellaini to Michu and bench Maloney?

Ta

Last home game, he will still be up for it even if they are down..

I would go with A out of those two

a keeper change this late in the game, I'm not inspired, I vote B

Thanks for input

@Count of Monte Hristo:

There are some cracking German films out there and The Downfall and The Lives of Others are two of the best.

For a more light-hearted take on life in the GDR (former East Germany), I'd recommend Goodbye Lenin.

lamar neagle if he's classified as a mid. with martins back he might not be nailed on up front anymore but he's definitely a great option if EJ or martins are injured or off on international duty

Le Toux is oop as well I believe

Magee has played up front and is on a dgw, if Keane is still out, then he's worth it this week IMO.

Thanks, I wasn't sure if it was Magee or Donovon up front as well. Magee of McInerney for captain for me

Yeah McInerney is a decent C shout, though I may give the armband to Landon myself this week.

Good shout. I would do it if I could afford Landon. I could do Zusi to Landon now for a hit to save myself the GW15 and 16 scheduling nightmare but I probably wont

not a bad plan actually. i think he'll hit his stride on the double and I feel he has the highest ceiling of those involved.

wow, just saw that desert of a fixture list, at least we get 3 FTs each of those weeks

Neagle is cheap but it looks like he's playing the minutes that Zakuani has been injured for. However, he scored 2 last game it looks like with EJ playing 90 and Martins subbed on. I have an injury in midfield so could be worth a look at a cheap price.

Le Toux concerns over PT

neagle is in good form so could make a case for himself to play up front but EJ and Martins are first choice up front when fit I reckon. neagle is definitely our next choice striker if we need a sub or one of the two is injured/suspended/not available. and neagle can also play in mf which means he has a higher chance of gametime. however we have a few options in midfield that could compete with him for game time.

if he's cheap he could be a good punt at least. and if he keeps playing this way he could cement a starti

Cheers. When you have 2 FT a week why not make a punt on someone who is cheap and playing OOP?

the money is in Defenders and Mids

top scorer at each position:

GK: 65
D: 93
Mid: 81
Stk: 55

Nagbe, a mid of Portland plays up front

I realized this quickly after starting with expensive Wondo and Keane this year :O

same, just realized it a week or two ago and saw the huge DGW on the horizon and started to switch my funds back

Servando Carrasco is a mid playing in the hole the last few for Seattle, he's on my radar at 5.4

got fed up of studying rotation (physics) so i've come on here to study rafatation 😉

Rafatation is overrated. Physics isn't. Get back to those books.

Oh wait, you already got into college. Screw physics. Back to the study of Demba Ba's gametime.

At least physics is based on logic.

Rafatation is based on FACTS though 😉

Get your study done lad its pouson but got an exam over me this morning feels good.

Looking ahead to next season - any must haves? For me:
RVP
Bale
Baines (only if he stays at Everton)
DDG
Spurs new striker (should be a good price)
Couthino (depending on price)
Sturridge (depending on price)

Higuain (if he joins Arsenal) and Benteke are at the top of my list.

Plus Bale and Sturridge of course. Suarez from GW7 onwards.

Is Zabaleta out of next GW for certain?

They were stretching some of the storylines a bit thin, so sticking to the main arc might be a good thing

with terry injured .. ivanovic will start next week..?

Thoughts on Nolan for GW38?

Carroll on pens if I'm not mistaken..

I don't think I've ever seen him take a pen. I just can't imagine him to be any good at it.

Took a pen this season against Spurs.

Aye I remember the site going crazy. I didn't get to see it though.

Any good? Yeah obviously he scored so it was good enough, but you know what I mean. 😀

Took the last one with Noble out..

Lol, no stalking. Just noticed the post at the top of the page.

In Abu Dhabi. Though I do come to Dubai once a month

Thanks any change of the putting this season badge!

No one is doing the spreadsheet as I am only 14

I knew how to use excel when I was like 12. it's not that hard to figure out

I know how to use it but just can't do it, btw it's a document

The Arsenal game cannot come quick enough. I'm a villa fan with Walcott captain.

my team
jaaskelainen (robles)
ivanovic zabeleta evans dawson jagielka
mata bale coutinho (henderson, mcCarthy)
persie sturridge (pogrebnyak)

gone for 5 def this week .. 2 didn't even play .. flop
thinking of these transfers
evans and ivanovic for johnson and harte
mata and henderson for michu and maybe lampard

any suggestions..?

I would not do those defence transfers.

i dont know if evans or play or not nxt week .. and liverpool vs qpr
johnson can give clean sheet

yes, but you still have Ivanovic, Zab and Dawson.

ivanovic gave just 1 point this week... but with terry injured i guess he will start nxt week
but everton is a tough fixture
on otherhand johnson have more chance to give clean sheet

i will hv to take three hits to do these transfers... so not really sure i will do it or not

I watched The Call yesterday in cinema..

Phew! Fantastic movie, defo recommend

worth swappin bego for a better keeper for a hit?

Since when was it every worth a hit for a keeper?

God no, I'm annoyed I may have to swap a keeper who may not play, for free

I'd expect DDG to play, but if you've got no other moves you want to make, maybe better to be safe than sorry.

a unanimous slap, cheers all

Thanks for the Grav Zep 😀

Evening. How's everyone doing?

So ... the garlics are roasting!

Chicken Breasts, stuffed with fresh sage and roasted garlic, wrapped in unsmoked streaky bacon. Served with rice and English Asparagus!

Cool, sounds good, especially the asparagus!

Doos is a very rude word in South Africa...

I have a slight problem.

Front 8:

Bale Walcott Lampard Fellaini Maloney
RVP Tevez Lukaku

If I do Lukaku + Fellaini > Sturridge + Coutinho/Nolan

Who would you bench from that front 8?

hello gents

any news/ sources to possible man city team to face reading?

are many changes expected or full squad to redeem themselves?

thanks

Mancini in goal complete with scarf?

United Parade on BBC News. Quite possibly the worst bit of TV ever

I don't see the point of open top bus parades. I can't think of anything more boring.
Scout Picks
Gameweek 25
Janmaat

Williams

Alderweireld
Wijnaldum

André Ayew

Dele Alli

Roberto Firmino

Sánchez
From the Community…
Comments
Hot Topics
Articles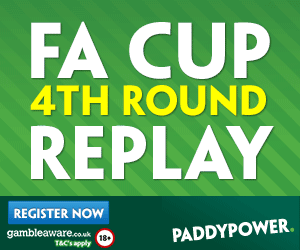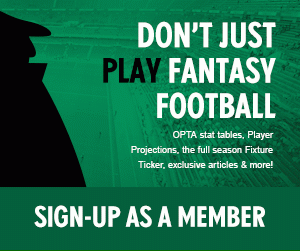 The Watchlist
Goalkeepers
Player
Club
Factors

Up

Hennessey
CPL

C

,

Vs

,

£

Down

Butland
STO

C

,

Vs

Up

Schmeichel
LEI

A

Up

Forster
SOT

A

Up

Courtois
CHE

B

,

Vs

Up

Fabianski
SWA

A

No Change

Boruc
BOU

B

No Change

De Gea
MUN

B

No Change

Cech
ARS

B

,

VsX

Up

Foster
WBA

C

,

VsX
Defenders
Player
Club
Factors

Up

Ivanovic
CHE

A

,

Vs

Up

van Dijk
SOT

A

Down

Baines
EVE

B

,

Vs

Up

Dann
CPL

C

,

Vs

Up

Cresswell
WHM

B

,

Vs

Up

Williams
SWA

A

No Change

Dawson
WBA

C

Down

Alderweireld
TOT

B

No Change

Daniels
BOU

A

,

£

No Change

Fuchs
LEI

A

No Change

Van Aanholt
SUN

A

,

VsX

Down

Bellerín
ARS

C

,

VsX

Down

Smalling
MUN

C

Down

Moreno
LIV

C

,

Vs

Down

Johnson
STO

B

Down

Kolarov
MCI

B

,

Rest

,

Inj
Midfielders
Player
Club
Factors

No Change

Payet
WHM

B

,

Vs

Up

Roberto Firmino
LIV

A

,

Vs

,

OoP

Up

Dele Alli
TOT

A

,

Inj

Up

Barkley
EVE

C

,

Vs

Up

André Ayew
SWA

A

,

OoP

Up

Eriksen
TOT

A

Down

Ozil
ARS

C

,

VsX

No Change

Mahrez
LEI

C

,

VsX

Up

Sánchez
ARS

C

,

VsX

,

Inj

Up

Antonio
WHM

A

,

Vs

,

Rest

,

£

No Change

Willian
CHE

B

,

Vs

,

Inj

No Change

Wijnaldum
NEW

B

Down

Arnautovic
STO

C

,

Vs

,

Inj

Up

Silva
MCI

C

No Change

Johnson
SUN

B

,

VsX
Forwards
Player
Club
Factors

No Change

Aguero
MCI

A

No Change

Kane
TOT

B

Up

Vardy
LEI

C

Up

Diego Costa
CHE

A

,

Vs

,

Inj

No Change

Ighalo
WAT

C

,

VsX

Up

Rooney
MUN

A

Down

Lukaku
EVE

C

,

Vs

No Change

Giroud
ARS

B

,

VsX

,

Rest

Up

Afobe
BOU

A

,

£

Down

Austin
SOT

B

,

Inj
Selection Factors
| | |
| --- | --- |
| A, B, C | Current Form |
| Vs | Favourable Fixtures |
| VsX | Unfavourable Fixtures |
| Rest | Rotation Risk |
| Inj | Injured/Returning from Injury |
| OoP | Out of Position |
| £ | Potential Bargain |
| Sus | Suspended/Near Suspension |
| Player | Team | YC |
| --- | --- | --- |
| Colback | NEW | 9 |
| Byram | WHM | 9 |
| Lucas | LIV | 8 |
| Jones | SUN | 8 |
| Yacob | WBA | 8 |
| Westwood | AVL | 7 |
| Diego Costa | CHE | 7 |
| Huth | LEI | 7 |
| Can | LIV | 7 |
| Mangala | MCI | 7 |
| Shelvey | NEW | 7 |
| Pieters | STO | 7 |
| Dele Alli | TOT | 7 |
| Dier | TOT | 7 |
| Noble | WHM | 7 |
"All players will blank a few times during the season. When almost all do it in the same Gameweek, it is tough to take, but that's just the dark side of probability."

Abreu 42 Community regular