Our final Digest piece of the 2012/13 campaign highlights the return to form of the West Ham skipper and his former Newcastle sidekick, wonders whether the Canaries could offer us something extra in attack next time out and underlines just how crucial the current bonus system proved to be, with the Fantasy Premier League (FPL) crown decided by the finest of margins.
The Player
Kevin Nolan will no doubt remain on Fantasy radars after ending the season in some style. The Hammers captain took advantage of a porous Reading side that had conceded in every road trip of 2012/13 by hitting a hat-trick in a 4-2 home win for Sam Allardyce's side – having finished the campaign with 10 goals, he has now delivered double figures in each of his last four seasons for Newcastle and West Ham, a clear sign of his consistency.
While a total of 149 points saw him finish top Fantasy Premier League (FPL) scorer for Allardyce's side, and 11th in the midfield standings, Nolan's season was frustrating in the main. An instant impact delivered five goals, a pair of assists and seven bonus points by Gameweek 11 as his initial priced rose from 6.0 to 6.9 but Nolan then scored just two more times in 23 appearances before his weekend return to form.
As the season drew to a close, however, his partnership with Andy Carroll proved beneficial to both – particularly at home. Over the final seven home games of his loan spell, Carroll produced attacking returns six times, with four goals, four assists and six bonus points earning him 46 points, while Nolan registered 35 points in the last three in front of his own fans, courtesy of four goals and eight bonus points.
Clearly, while Allardyce needs to address a scoring record that saw his side net a mere 11 times on the road all season – the poorest attack in the Premier League – his side's survival will depend on their Upton Park form. Snapping up Carroll on a permanent deal not only looks crucial to his side's chances, it could well be key to how we assess Nolan's impact for the campaign ahead.
The Team
Having faltered in front of goal for most of the season, Norwich finished with a real flourish by handing City their second home defeat of 2012/13. The Canaries sealed their survival the previous week with a 4-0 hammering of West Brom and followed that up with an unexpected 3-2 triumph at the Etihad – given they have scored seven goals in the nine games previous to Gameweek 37, the upturn in attacking points was hugely unexpected.
Certainly, from an offensive perspective, Robert Snodgrass was the only real positive in Chris Hughton's first term in charge at Carrow Road. His arrival from Leeds last summer proved a masterstroke by the Canaries boss as Snodgrass racked up six goals, nine assists and 23 bonus points – a total of 152 points was over 30 points more than any team mate but Norwich's finish will perhaps afford reason for optimism next time round.
The recent return from injury of Anthony Pilkington was also key for the run in – offering a natural width on the left flank, his recovery from a hamstring problem allowed Snodgrass to return to the right flank in Hughton's 4-4-1-1, with Wes Hoolahan tucked in behind Grant Holt. Pilkington was amongst the goals at the Etihad, serving a belated reminder of the attacking potential that saw him score in four home fixtures in five between Gameweeks 12 and 20 earlier in the campaign. Grant Holt also ended the season on a high. With 35 Gameweeks gone, he'd found the net a mere five times but scored in each of his last three, notching 24 points over that trio of fixtures.
With new signing Ricky Van Wolfswinkel arriving from Sporting Lisbon this summer and looking to add extra bite to the attack, Hughton will be hoping to roll out a more expressive side next time round. Having found his footing in his first season as a top-flight manager, the Canaries boss will be hoping to push on come next August and, as his acquisition of Snodgrass has shown, could potentially offer Fantasy managers solid, mid-price options for our 15 man squads in the season ahead.
The Talking Point
While Sunday failed to deliver the nerve shredding Premier League drama of seasons past, in the Fantasy Premier League (FPL) game things went right to the wire. With just two points separating the top two prior to the arrival of the bonus points, their award was to prove crucial and it was the five points allocated to both Philippe Coutinho and Jose Enrique that were decisive.
While Coutinho's two points were predictable enough, Enrique gained the maximum thanks to a clean sheet and two goal-bound efforts. There can be no complaints: such a result was consistent with previous verdicts from the EA Sports Player Performance Index but perhaps the significance of the award was unfortunate, given that the bonus points remain a contentious issue in a game which is otherwise accepted as rock solid.
It remains to be seen if this area will be revisited by the FPL over the summer months. Meanwhile, with just three points separating the top two, it underlines the narrow margins involved. Indeed, two transfer hits split the top four; food for thought the next time those double Gameweeks tempt the transfer trigger finger.
Seasons over, you can deflate your ego and just go back to HVT

1 now..or maybe even 0..or maybe even a new page..

I have a feeling this might be that last post.. but now since i have waited could be the first..

how many of you guys around here are going to play under-21 euro fantasy???
who do you think are gonna be the impact players???

for me it could be: Gabbiadini, Holtby, Wijnaldum, Dawson, Lansbury

btw do u think Moreno will play???

btw LR did u eventually play the IPL fantasy??? saw i post of yours saying you'll create a league if some are interested!!!

It's all rigged, don't bother.

I played for a friend then got bored.

I might give it a go. Norway did pretty well in the qualifcation so I'm a bit keen to see how they do end up although their squad will not be as strong though.

Trouble is that the best players might be picked to go play the world-qualifier against Albania instead of being sent to Israel with U21s (Nordtveit, Henriksen, Eikrem, King, and Valon Berisha). If any of them are included in the final squad, they're worth a look.

Yann-Erik De Lanlay is also a very exciting prospect who I look forward to see. Vegar Eggen Hedenstad will want to impress on left-back so that he might get Riises spot, and Håvard Nielsen and Harmeet Singh are also good.

I'll no doubt sign up. Whether I take it serious or stick with it or not though remains to be seen,.

pretty sh*te. but better than Carroll. Fifa13 speaking

Oh, I am seriously touched by the way all of you asked me not to leave. I'm sorry if I behaved childish, I'm much younger than you all- probably only Thomas is younger than me. I actually hate it when I don't get a little attention, sorry for that, as well. Cheers, everyone.

And Forca+Tina, it was the first time you commented on my post, okay?

So what does that make you now?

Less replies for this one, I think....

I don't get which posts you wanted replies to.. all the posts I've seen you make are pleas for attention. You'll get the attention you appear to crave by contributing to the forum and putting forward a few ideas.

When will they be updated?

Who knows. Next season when the new FFS League is up with the histories updated.

So if you are a member but don't enter a scout league you won't show up, correct?

Easy season for you when you get into the top 1K by GW8. Big difference on other seasons.

Aye. But it does add a lot of pressure and false expectation to you right from the start, hence not being too happy with my end ranking.

If I rose to the top slowly and ended up here I'd probably be more than happy.

I got to 515th by GW5 in my best season. Dropped out of the top 10K or so then fought back to 848th.

A good start always adds to confidence as FPL can be a game where that is important.

Need to join FFS League. You would near near the bottom or even last.

u and me bby aint nuttin but mammals so lets do it lick they do on the discovry chanel

Your folks called Willis _Hide and FORCA by any chance>

Good to see you haven't left us Christina. I thought your grass might be running to seed.

You*

baby*

ain't*

nothing*

let's

like*

discovery*

channel*

deer chasie lane
i wanted to xplane
im ur biggest fan

n i just wanted to ask
can i eat u ass
rite bak as soon as u can

Ronaldo to Utd? Pfft
Falcao to Chelsea? Ha
Everyone to City? Whatever

Signing washed up defenders on a free transfer is where it's at.

Yolo Kolo

who is a better choice for the 3rd striker spot next season? imagine all of them have favorable early fixtures.

A. benteke
B. lukaku at swansea (there's a possibility)
C. lambo
D. okay let's not forget berba

i know. the likes of Everton & Sunderland may get another target man. if there's no other good options and all these players stay fit, who would you prefer out of those 4, TM?

They'll all be above 8m, hardly third striker spot material.

7.5 is still a decent price for the 3rd spot (e.g Ba at NEW). i went RVP suarez Ba almost the entire season before the 3rd guy went to Chelsea and it served me well. 8m is a bit expensive, i agree.

Completey impossible to tell at this stage. The best policy for a third striker is to keep moving . Strikers thrive on confidence and go on runs, for weaker teams though those runs can be short lived.

Benteke and Lambo will no longer be cheap strikers...good mid range prices.

Carroll is one I'm looking at as he could be cheaper...but I'll move on when his fixtures turn.

The third striker spot is the most fixture specific of them all.

Also for cheap strikers its best to look at the teams coming up. Hull, Cardiff and Watford/Palace could all be sources of cheap strikers. Glen Murray (ex Brighton, so a little biased) scored over 30 goals for Palace last season...at one point there were only two more strikers in Europe more prolific than him in terms of professional football...Ronaldo and Messi. If Palace come up Murray could be 5m and good for 10 goals or so especially against the weaker sides.

Pity that hey? He cold have been massive.

Looking at Cardiff/Hull/Crys pal or Watford where the hell will their goals come from? Their strikers are shit.

I would tend to agree. You always look for a nice run of fixtures to determine who you get for the 3rd striker. Has anyone compared the likes of Benteke/Lukaku/Lambert/Berbatov in a run of favourable vs non favourable fixtures this season? It would be interesting to see if a nice run of fixtures led to an increase in points or what is a patch of form that brought the points regardless of the opposition.

i can definitely understand your arguments, but some players (benteke/berba) are on peno duties and when the team is on form, they don't need to have favourable fixtures to start a bandwagon. (Berba's 16-pointer at the Emirates sprang to mind).

yep, carroll might be a good shout if he stays at WHU. talk about Palace, you just cannot forget Andy Johnson. 21 goals in a newly promoted side. let's hope there'll be another player like him.

Except Berbatov, I do not except any of the other three to be available for anything less than 6.0

you may be right. Papiss was priced at 9.5 ( ) after a miraculous display at the end of 2011/2012 season. and what's the last price now? 8.7 ..i hope they won't go beyond 7.5

Lambert was definitely the most consistent for me throughout the whole season......

I am top 100 & I'm shite. Top 400 next season.

When I say I am leaving, they say that you shouldn't leave.
When I read the replies, and is really touched, and decide not to leave, they bully me.
Wow.

You didn't reply to the replies!

but wouldn't he be even lonelier?

Mate, are you on this site to discuss football, enjoy the community and to improve your fantasy football, or to get attention and new friends?

I always thought it was the former, but now I guess you need the latter first, before anyone cares about what you say.

What is it that you actualy want to say?

Next time don't say anything & leave. This isn't a chat room. The amount of Hello everyone & Goodnight all is overboard.

Screw you!

I like my Hellos and good nights.

Easy does it. This will do no good..

I don't know about everyone else, but I'll be rotating either 4th and 5th midfield slots OR 5th mid and 3rd striker. New in-form players will present themselves over time so long-term rotation means squat. It will help afford the likes of Bale, Ronaldo, Mata, Demel etc...

Plenty like 343 but many would rotate their mids with that formation.

I'm wondering as to what people think is the best strategy to start of the season. I think I was abit naive to the amount of serious players emerging this yr and stayed away form the most owned from GW1. Think it cost me. Certainly cost me to use WC straight away.

None yet..once the prices and fixtures are out..then we can think..

Well i mean in general, every season. Like would/should you start with a good few of most owned players regardless of fixtures or play the ticker, or a mix or whatever

Atm, RVP Bale and Coutinho are 3 players close to being pencilled in my team.

We will have to really on cheap defenders as usual because these big hitters are going to be costly.

I can see Demel being overpriced and Westham going the same route as Newcastle defenders the year before.

I'll be working with the price rise/falls like I did this season.

It's the difference between a straight swap and taking a hit by having to downgrade another player....

I like having my 3 nailed on strikers. Always. Preferably premium.

Get back old Giggsy...

Sounds like a decent plan. I think I prefer 3 good strikers from the start to try and get points on the board early as opposed to subbing cheap players in and out the starting Xl.

3-4-3 is the safest way to go. easier to find a good 3rd striker than a half-decent 5th mid. plus most teams have little to choose from upfront (usually 4 stikers max at 1 club), while at the middle of park, Lampard can screw your team when you go for Mata/Hazard

Something like this I guess.

5m 4.5m
24m
Bale 9m 6m 6m 5m
RVP 10m 5m

No idea how to set up defence.

All depends on the players, prices and fixtures of course though

Sounds good. Do you think RVP will be essential next season?

You think Bale Mata Walcott/Coutinho will be unaffordable in the same team?

Where you fitting your Chelsea players in for DGW 1?

Good point. Mata and a defender are easy to slot in. The striker spot may be hard to predict at Chelsea, so I suppose Hazard can take Bale's position.

+1 Ivan is must have DGW1.. 6.5 there so the rest are 5.5,(ARS defender), 4 ,4, 4 pretty ugly.

7, 6, 4.5, 4.5, 4 = 26 is my budget at the back. I would spend less on the second forward to budget for it. Someone like a Carroll, Cisse or even a Bent if he gets a move should come in around 8

Yep, 3 way rotation to start with. Easier to downgrade to a pair of rotations than upgrade to a 3 way. Something like Luiz and Vertonghen is what i'm looking for

Best CS potential in the PL from this unlikely lot?

Cardiff/Hull/Palace/Watford

Looking at the stats, Cardiff at home should be good for clean sheets. 10 CS at home last season with only 15 goals conceded. Andrew Taylor is man I'm looking at.

They were believe it or not. Never settled though did they? Cardiff/Swansea rotation could work this year

I dunno let's hope for some save points from the keepers.

Almunia
Stockdale

?

Almunia at (h) could be good for save points. He loves a penalty save aswell

Yeah Marshall ex Celtic is a good stopper. Just not sure about the back line making the step up to the PL.

Hull, perhaps. We will see ...

(Cue abuse ... )

I have to say, Hull sound about the least promising FPL team since, erm, Hull......

... my man, Steve Bruce. Nothing.

Well everything, perhaps.

Last season was a nightmare for CS in the first half of the season. Do you think that was unusual compared to previous seasons?

The big teams always step up their CS performance in the second half of the season. Chris Glover did an article on it at the start of last season.

So my plan is to go very cheap until Christmas, and then get two or even three big team defenders/goalkeepers.

That could work well. I'm forgetting how much of a beast Ivanovic was for me from the start. He was the exception though.

Yeah, sort out the mess with Jan WC. My plan as well. None of this WC in gw 3 nonsense again.

I will have ONE monster defender, and TWO rotating pairs.

There is usually some "cycles". The big teams usually pick up CS towards the end.

Eg United had 3 CS in first 19 fixtures and 10 in next 19.

Arsenal and Tottenham?

Yes, I do.

I think we could see a change this season. Mourinho likes to keep it tight, Spurs have a year under AVB so no new system, Liverpool have had a year under Rodgers, Moyes always has built from a solid foundations and United won't be obsessed by losing the title on goal difference etc

HVT B2BB - FALLOUT REVEALED
I took him under my wing, I mentored him all season and pre season for that matter, I told him not be afraid.
"But it's too big a task Boss, I'm not man enough, those young fellas on the Scout are sharks," he cried.
Leave the SKY Game,
make FPL your priority
Get a hard man grav, I said
Don't take shit from anyone and pretend you have a job, they'll soon respect you on the Scout and your rank will also soon improve, it's how it works, I've been down this road many a time.

13 green arrows on the bounce followed for HVT along with a Simpli Special cup win, dizzying highs of top 5k rank, unprecedented success for a Rookie, even for a Rookie under my guidance.

However it all changed, the Cup win got to him, he wouldn't listen any more.
Boozy pre DGW trips to Manchester, panicky wildcard decisions and LUDICROUS punts on GARY O'Neill and VICTOR ANICHEBE ensued,
The work load was clearly too much, well for a rookie at least.
It was time to let go and concentrate on keeping my own team in the top 500 ( 355 btw ).
I advised HVT to do the same, ............he decided he knew best.
He lost his shot at the top 1k, blew our chances in the Doubles Tourney and NOW it's my fault.

The Veterans out there will understand my position, a judgement call, sure he's got talent but now he's come back to bite the hand that fed him. I gave him the reigns, I GAVE HIM HIS CHANCE DAMMIT and he only went and done a Ballotelli.
Maybe if I was the Mancini of FPL it could have worked but I'm the Fergie of FPL and I needed a Moyesy, he couldn't deliver.
HVT was the Chosen One but he's certainly not The Special One, lesson learned, the search for my eventual successor continues..............

"Don't take shit from anyone and pretend you have a job, they'll soon respect you " - genius

What utter Ballacks you talk ...



Can I be your new Padawan?

I have a rule about scousers, what % scouse are you?

However it all changed, the Cup win got to him, he wouldn't listen any more.
Boozy pre DGW trips to Manchester, panicky wildcard decisions and LUDICROUS punts on GARY O'Neill and VICTOR ANICHEBE ensued,
The work load was clearly too much, well for a rookie at least.

is there any bookies still open to Jose>Chelsea bet?

if so, who has the best odds?

SKYBET
Bet 14, you get back 15 if he gets the job.
I laughed at your post but that's sound investment if you have alot of funds to invest.

General consensus is 6-7 players could be leaving Liverpool(Suarez not included) to generate funds, this Papadoupalos bid doesn't seem so farfetched now.

Not sure where you're getting the consensus from but wouldn't be too surprised if Suarez went. My money would be on him staying another season though.

i think i may go with this:

________4.5___________5________
4______4______4.5______4.5_____6
mata___coutinho___walcott___5___5
rvp________city/chelsea__________5

after the dgw get bale in place of mata

I went with something similar to this and was still strapped for cash.

We are going to be soooo screwed this season.

Good plan, but by then it might be too late for Bale ...

With Reading going down, boy I'll certainly miss you Danny Guthrie. A GW 1 punt gave me 9 pts from you, after a tremendous free kick goal against Chelsea that Cech had no chance to get. You've been warming my bench nearly all season. Hope to see you again.

Don

Just read through the changes people would like to see for next season on FPL

I'd like to see the reward for a CS increased by a single point to bring the points potential for defenders in line with the mids and forwards. This would have the effect of making formations such as 5-3-2..5-4-1 viable alternatives to the 3-4-3 currently used week in week out by most players...definitely something I would like to see...!!!

Agree.

the argument against it is always that it would make defenders more expensive....which is true...but the counter argument is that forwards would be less valuable in relative terms and so the makers of the game would (should) bring their value down to reflect the balance of the game...

I like this. Another option would be lowering points for goals 7 assists by 1 but this would make it worse probably.

I like this idea.

We really need to see CDM's being able to earn points aswell. It just seems like a token gesture having full squads in the game when players like Carrick/Lucas/Dembele/Britton/Delph are rendered useless as they can score points playing in the position they do.

Maybe these players can have a separate section where they get more for a CS than the 1 point now.

Benteke/Lukaku/Lambert/Berbatov

Did you bring these players in because they had favourable fixtures or because they were performing well regardless?

I never owned Lambert all season due to having Puncheon but I had the other 3 at different times and it generally worked. Berbatov @ the Emirates being ones of the highlights.

I'm just trying to figure out what makes you hang on to a 3rd striker or sell him for a similarly priced player.

Performing well. Never had Bentekke.
Scout Picks
For Gameweek 15
Hazard

Gerrard

Ozil

Shelvey

Nasri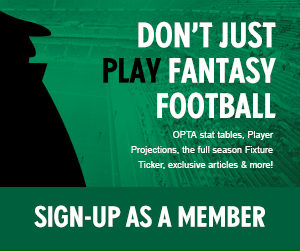 Watchlist
Goalkeepers
Player
Club
Factors

Up

Howard
EVE

A

,

Vs

,

Sus

Up

Marshall
CAR

B

,

Vs

Up

Krul
NEW

A

,

Vs

Down

De Gea
MUN

C

,

Vs

No Change

Cech
CHE

C

Up

Guzan
AVL

B

Up

Ruddy
NOR

B

Up

McGregor
HUL

C

,

Vs

,

£

Up

Lloris
TOT

B

No Change

Speroni
CPL

A

,

VsX

Up

Pantilimon
MCI

B

,

Rest

,

£

Down

Szczesny
ARS

A

,

VsX
Defenders
Player
Club
Factors

Up

Coleman
EVE

A

,

Vs

Down

Terry
CHE

B

Up

Williamson
NEW

B

,

Vs

,

£

Down

Evra
MUN

C

,

Vs

Down

Mertesacker
ARS

A

,

VsX

Up

Olsson
NOR

B

,

Vs

,

£

Up

Turner
CAR

C

,

Vs

,

£

Up

Bardsley
SUN

B

,

£

No Change

McAuley
WBA

C

,

Vs

Up

Walker
TOT

B

Up

Zabaleta
MCI

B

,

Rest

Up

Davies
HUL

C

Up

Ward
CPL

A

,

VsX

,

£
Midfielders
Player
Club
Factors

No Change

Hazard
CHE

A

Up

Y Touré
MCI

A

Up

Ozil
ARS

A

,

VsX

Down

Ramsey
ARS

A

,

VsX

Up

Nasri
MCI

B

Up

Fer
NOR

A

,

Vs

Up

Walcott
ARS

B

,

VsX

,

Inj

Up

Bannan
CPL

B

,

VsX

,

£

Down

Sessegnon
WBA

C

,

Rest

Up

Whittingham
CAR

C

,

Vs

,

£

Up

Michu
SWA

C

,

Inj

,

OoP

No Change

Lallana
SOT

C

,

VsX

Up

Morrison
WHM

B

,

Rest

,

£

Up

Brady
HUL

C

,

£

,

Sus

Up

Barkley
EVE

C

,

Vs

,

Rest

,

Sus
Forwards
Player
Club
Factors

No Change

Suárez
LIV

A

,

VsX

No Change

Aguero
MCI

A

No Change

Lukaku
EVE

A

,

Vs

No Change

Rooney
MUN

A

,

Vs

No Change

Remy
NEW

B

No Change

Giroud
ARS

B

,

VsX

No Change

Negredo
MCI

A

No Change

Rodriguez
SOT

A

,

£

Up

Deulofeu
EVE

A

,

Vs

,

Rest

,

£

Up

Hooper
NOR

A

,

Vs

,

£
Selection Factors
| | |
| --- | --- |
| A, B, C | Current Form |
| Vs | Favourable Fixtures |
| VsX | Unfavourable Fixtures |
| Rest | Rotation Risk |
| Inj | Injured/Returning from Injury |
| OoP | Out of Position |
| £ | Potential Bargain |
| Sus | Suspended/Near Suspension |
Suspension Tightrope
| Player | Team | YC |
| --- | --- | --- |
| Wilshere | ARS | 4 |
| Agbonlahor | AVL | 4 |
| Westwood | AVL | 4 |
| Ivanovic | CHE | 4 |
| Barkley | EVE | 4 |
| Barry | EVE | 4 |
| Howard | EVE | 4 |
| Parker | FUL | 4 |
| Javi García | MCI | 4 |
| Valencia | MUN | 4 |
| Sissoko | NEW | 4 |
| Turner | NOR | 4 |
| Fonte | SOT | 4 |
| Wanyama | SOT | 4 |
| Cameron | STO | 4 |
| Huth | STO | 4 |
| Colback | SUN | 4 |
| Gardner | SUN | 4 |
| Rangel | SWA | 4 |
| Williams | SWA | 4 |
| Paulinho | TOT | 4 |
| Dawson | TOT | 4 |
| Yacob | WBA | 4 |
"He has qualities modern football demands, he is fast, he has a good shot, he can also play on both sides or through the centre. He is multifunctional in attack and I'm very happy the club signed him."

Jose Mourinho talks up his new German forward