With the 2012/13 Premier League season now behind us, it's time to look back at those in the Fantasy Football Scout community who have excelled in our leagues and cups across the Fantasy Premier League (FPL) and Sky Sports Games. We'll also showcase those who have triumphed in some of this season's community managed tournaments.
FPL Scout League Standings
As we announced back on the day, Matt Martyniak gained a Gameweek 38 points haul of 69, the Scout League crown and top spot in the overall game thanks to his decision to hand the armband to Gareth Bale and transfer out Marouane Fellaini for Brazilian starlet Philippe Coutinho. Coutinho's bonus points, along with the maximum from Jose Enrique, ultimately saw Matt triumph by just three points. Congratulations Matt on an incredible achievement.
Former number one Kelvin Travers was the unlucky runner up, finishing with a season score of 2,470. Kelvin's decision to bench West Brom's on loan hat-trick hero Romelu Lukaku will surely haunt him and, with a two-point lead going into the bonus points awards, Kelvin had the crown snatched away as a result of Coutinho and Enrique's bonus returns.
Our ScoutCast star Evs finishes the season third with a total score of 2,456 in the Scout League after his risky decision to captain Swansea star Michu, who sadly for this site regular, drew a blank. Evs did, however, finish top of the Scout Members league.
Julian Zipparo, another to feature on the ScoutCast and also another former overall number one, finishes the season in fourth in the Scout League and second in the Scout Members league with a score of 2,455.
A score of 77, thanks to Lukuka's hattrick and his decision to captain Bale, proved enough for Paul O Gorman to take fifth place in the Scout League and end the season on 2,439 points.
Our FPL top five's achievements helped the Scout League end the season as the game's top ranked league beating our Members league into second place by 21.8 points. That's the first time that both our leagues topped the FPL rankings – a superb outcome and testament to the knowledge and expertise within the community.
Sky Sports Scout League Standings
During the final gameweek, Chris Pearce held on to his lead at the top of our Sky Sports Scout League, finishing 35 points ahead of Paul McAnulty and his "Housewives Favourite" side. Sadly, Chris' achievement was not enough to unseat Simon Ward from top spot overall.
Fantasy Football legend Pascal Evans, who has four top 1,000 finishes in FPL over the last six seasons, shows that he is a master across Fantasy football games by claiming third and fifth spots in our Sky Sport Scout League; Neil Fleeson completes our Sky roll of honour, taking fourth spot.
Once again, the Scout League emerged as the top Private League in this game. Once we've got wind of the prize money, we'll be contacting the top five managers who contributed to our score and distributing the £2500 prize money amongst them.
Champions League Standings
With the Wembley Final pending, Paul will be rounding up the Scout League standings in the official game and the TotelFootall Private Pool in a follow-up article.
Scout Cup Tournaments
Acquafresca emerged victorious in our third FFS Members Cup with a 72-52 win over Eunuch Jelly in April. His decision to captain Robin Van Persie, who racked up 34 points that week, proved the difference.
In January Wild Rover claimed victory in the Fantasy Football Scout Paddy Power Cup Final following his 87-75 win over Mile High in the final, which fell during the double Gameweek 23. Santi Cazorla and Joe Cole's points hauls that week were enough to carry Wild Rover to the crown. He joins previous winners donnellyc, Goonerdave, Ninja_Fit_Saints, sleepingmaster, Mch and some chap called Jonty, in our hall of fame and automatic qualification to future Fantasy Football Scout Paddy Power Cup.
All our Members Cup and Scout Cup and quarter-finalists gained automatic entry to our inaugural FFS Shield. Mr KK gained top spot, beating Fuzzy Dunlop 53-49 in a close final this month.
Community Leagues and Cups
FFS UEFA, which organises a raft of cups and leagues for the Fantasy Football Scout community, had another busy season.
Two sets of league fixtures took place in which community members were given the names of European top flight clubs. During season one Epic Fail scooped the Premier League crown, Boom Shakalaka took La Liga, Sarnab clinched Ligue 1, Forca Inter claimed Serie A's top spot, Valar Morghulis won the Bundesliga and Funky AV achieved victory in the Rest of Europe League. Season two saw Evs win the Premier League, Ajay take La Liga, Aditya crowned champion of Ligue 1, Forca Inter keep his hold on Serie A, 4vets scoop the Bundesliga title and Jinswick named champion of the Rest of Europe League.
Elsewhere among the FFS UEFA competitions, MJ6987 won their Champions League, Acquafresca the Europa League, ENR the European Super Cup and Milanista & Parmtree won the UEFA Nations Super Cup. Aatish and Nitin won the doubles tournament and the Pakistan team, captained by 4vets and coached by Shipstrontrev won FFS UEFA's ICC cricket themed group tournament.
FFS UEFA community is not resting on its laurels during the close season and has a compelling new transfer style game to keep the community busy over the summer. There are more details about that here.
Community regulars Doosra and Ginkapo, who have both featured on our ScoutCast, have also been busy this year running a range of tournaments. Evs won both their "Long and Winding Road" league and one of their five head-to head-leagues. The other four head to head winners were The ParmTree, Mull, Maximerised and that bloke Jonty again. Doosra's Simpli-Special Knockout Cup was won by Hard Van Toulouse.
If you're organising a league or cup competition within the Fantasy Football Scout community, be sure to drop me a line at jonty@fantasyfootballscout.co.uk . Next season, we'll be running weekly round-up articles and will look to feature any tournaments available which are open to the community.
Who am I? I played for four English top flight teams, scored the winning goal against Utd at Old Trafford 3 times, held the FA cup, league cup and UEFA cup simultaneously, and created more goalscoring chances than any other player in my final PL season.

I am 33 years of age.I have played 27 games for France,,scoring only once.I have also played in the SPL amd the greek league.I spent one season in the premier league(2005-06) having made 47 appearances for my club(in all competitions) but failed to score.I have won the SPL, Serie B and the Ligue 1.
Best of luck!

Who am i?

1+1 = ?
Rhyme.
Replace first letter with p.
Add L to the word.

Paste image to win.

Current World cup, European Championships, Champions League, Europa League & all round great guy award.

Let us all just enjoy this last full day of ol' Fernando being the undisputed international football champion of the world.

Yoda wins it.It was jean Alain Boumsong.Hope you guys liked the questions.Please comment on their difficulty as well so that i could improve on it the next time

If person A buys an apple and an orange for a combined fee of $1.10, and the apple costs 10c more than the orange, how much is the orange and for a bonus point, how much is the apple?!

Bemba Da would have struggled

No Vettori. So we will be facing pie-chuckers, again.

2 test series? Pffffft. Not a dig at you Doos, but what's the point?

Who am I?

I have scored 5 times in 47 appearances for my country. In the last 10 years, i have played in the top flights of England, Spain and Italy. I have won La Liga once, Confedrations cup twice, and also won the runners up medal in the League Cup.

During my Time in England, i scored 10 times in 35 appearances in all competitions.

Could be any player. Give us some more hints

Great two hour training match last night. Playing CB we played one hour with a flat back four on a high line and the second hour with very deep CB's and full backs pushed up...knackered this morning. Anybody else play CB on here ?...looking for training tips for the lads to see me through the summer...

AVB high line?

Nah can't help you there pal, I play on the wings.

do you prefer it when the full back pushes up with you or do you prefer a through ball from deeper to run on to ?...I've just started playing again and the team I play for don't really have a plan from back to front so i'm just trying to see their strengths....Personally I prefer a through ball and save the energy for defending well... Not many Leighton Baines play amateur football despite what they think.

Played for many years CB, quite successfully. A decent keeper makes a massive difference.

If anyone sees Snowy84, by the way, would you give him a kicking, from me?

And tell him that he has been defenestrated.

I would if I knew what it was.

Not the kicking, I know that. the other one.

1) Overworked and underpaid?

Four Weddings and a Funeral?

3)

Long time no C (see)

Poor.

These number 3's are terrible

Quite!

Benteke to arsenal.... Hummmm, yes please!

Link? or just rumour DoH?

It must be a joy for club Chairmen to see such loyalty from their players.

For those interested here's the FFS Scout Contributors league results this year.

The league was won by Andy, who bags a finish well inside the top 1,000 with his maverick policy of going most of the season without RVP and then getting him in for the final few weeks in time for his huge hauls. His reliance on Suarez over winter also did him proud.

He pipped me into second place by a good 31 pt margin. Anorak took third on transfers made, tying with fourth placed Mark on 2,281 pts.

Big Dunc completes our top five.

Here's the final table. http://fantasy.premierleague.com/my-leagues/25834/standings/

Hi Zoners,

what have you got for me?

German Cup final played yet?

Are we all DZers these days?

Looks like it...

The official DZ hours are 2 am - 6 am UK time

do you wear a gas mask just to look cool, and own a motorbike with a sidecart that you built yourself from stolen and salvaged parts? then yes

I wish they'd do this after the prices in FF have been set.

Annoying, selfish sods.

Back to the future - same as previous Season. I had him the WHOLE of that Season ... along with Assou-Ekotto.

I think the way Arsenal get clean sheets (relatively unpredictably but well spread out through the year), an Arsenal defender is a good season long fire-and-forget asset. Kosh would fit the bill very well.

... plus, Arsenal and Tottenham rotate ...

My core strategy, usually.

It will be interesting to see how they continue on from they good end of season form.

Sticking to north london, if spurs manage to stop conceding one goal every game regardless of how well they defend then I reckon they will be the two teams to invest in as both won't have a player to break the 6.0mill mark bar maybe Vert) in my opinon.

Hmm, I'm not sure their clean sheets were that well spread out last season. They started off with 3 clean sheets in a row, then had just 4 in the next 21 gameweeks, before finishing off with 7 cleanies out of the final 14 fixtures.

I remember being suckered into buying Gibbs in GW5 and getting very little return out of him (it didn't help he got injured in GW7).

Greyhound called "Granville's Call" about to race at Bendigo #7.
Scout Picks
For Gameweek 14
Shawcross

Terry

Lovren

Mertesacker
Hazard

Ramsey

Gerrard

Lallana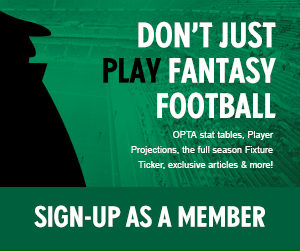 Watchlist
Goalkeepers
Player
Club
Factors

Up

De Gea
MUN

C

,

Vs

Up

Marshall
CAR

B

,

Vs

No Change

Cech
CHE

C

No Change

Szczesny
ARS

A

,

VsX

Up

Speroni
CPL

A

,

Vs

Down

Mignolet
LIV

C

Up

Ruddy
NOR

C

No Change

Guzan
AVL

A

Up

Pantilimon
MCI

B

,

VsX

,

Rest

,

£

Down

Begovic
STO

C

Up

Krul
NEW

A

Up

Howard
EVE

B
Defenders
Player
Club
Factors

No Change

Terry
CHE

A

No Change

Mertesacker
ARS

A

,

VsX

Up

Evans
MUN

C

,

Vs

,

Rest

,

£

No Change

Johnson
LIV

C

Up

McAuley
WBA

C

,

Vs

Up

Ward
CPL

A

,

Vs

,

£

Up

Olsson
NOR

C

,

£

No Change

Flanagan
LIV

C

,

Rest

,

£

Up

Turner
CAR

B

,

Vs

,

£

No Change

Vlaar
AVL

A

,

£

Up

Williams
SWA

C

,

Vs

No Change

Debuchy
NEW

B

Up

Coleman
EVE

B

Down

Pieters
STO

C

,

Vs

Down

Clyne
SOT

C

,

VsX

,

£

Up

Demichelis
MCI

A

,

VsX

,

Rest
Midfielders
Player
Club
Factors

No Change

Hazard
CHE

A

No Change

Ramsey
ARS

A

,

VsX

Up

Gerrard
LIV

A

No Change

Ozil
ARS

B

,

VsX

No Change

Y Touré
MCI

B

,

VsX

No Change

Cabaye
NEW

B

,

Sus

Up

Nasri
MCI

A

,

VsX

Down

Sessegnon
WBA

C

,

Vs

,

Rest

Up

Walcott
ARS

C

,

VsX

,

Inj

Up

Redmond
NOR

C

,

Vs

,

Rest

,

£

Up

Bannan
CPL

B

,

Vs

,

£

Up

Whittingham
CAR

B

,

Vs

,

£

Up

De Guzmán
SWA

C

,

Vs

,

Rest

Down

Lallana
SOT

C

,

VsX

Up

Valencia
MUN

B

,

Vs

,

Rest

Up

Brunt
WBA

B

,

Vs

Up

Brady
HUL

C

,

£
Forwards
Player
Club
Factors

No Change

Suárez
LIV

A

,

Vs

No Change

Aguero
MCI

A

,

VsX

Up

Lukaku
EVE

A

Down

Rooney
MUN

A

,

Vs

,

Sus

No Change

Remy
NEW

A

No Change

Giroud
ARS

B

,

VsX

Up

Negredo
MCI

A

,

VsX

Up

Rodriguez
SOT

A

,

£

Down

Benteke
AVL

C

No Change

Long
WBA

B

,

Vs

,

Rest

,

£
Selection Factors
| | |
| --- | --- |
| A, B, C | Current Form |
| Vs | Favourable Fixtures |
| VsX | Unfavourable Fixtures |
| Rest | Rotation Risk |
| Inj | Injured/Returning from Injury |
| OoP | Out of Position |
| £ | Potential Bargain |
| Sus | Suspended/Near Suspension |
Suspension Tightrope
| Player | Team | YC |
| --- | --- | --- |
| Wilshere | ARS | 4 |
| Agbonlahor | AVL | 4 |
| Delph | AVL | 4 |
| Westwood | AVL | 4 |
| Ivanovic | CHE | 4 |
| Barkley | EVE | 4 |
| McCarthy | EVE | 4 |
| Parker | FUL | 4 |
| Javi García | MCI | 4 |
| Valencia | MUN | 4 |
| Cabaye | NEW | 4 |
| Sissoko | NEW | 4 |
| Turner | NOR | 4 |
| Fonte | SOT | 4 |
| Wanyama | SOT | 4 |
| Cameron | STO | 4 |
| Huth | STO | 4 |
| Walters | STO | 4 |
| Colback | SUN | 4 |
| Gardner | SUN | 4 |
| Chico | SWA | 4 |
| Rangel | SWA | 4 |
| Paulinho | TOT | 4 |
| Dawson | TOT | 4 |
| Yacob | WBA | 4 |
"He has qualities modern football demands, he is fast, he has a good shot, he can also play on both sides or through the centre. He is multifunctional in attack and I'm very happy the club signed him."

Jose Mourinho talks up his new German forward