Filed under: Feature - Posted by: Mark
Fantasy Premier League (FPL) managers have now been handed their second Wildcard of the season. A new broom for the New Year – a chance to refresh their entire squads ahead of the remaining Gameweeks of the campaign.
Some will greet such an opportunity with open arms and look to utilise it with haste, banking on the Wildcard to revive ailing fortunes, whilst also playing the markets to maximise team value. Others may decide to delay their surgery – wait on more data and for new gems to be unearthed, with the January transfer window bringing fresh arrivals and potential targets.
This new Wildcard is a tricky beast – while there is perhaps no wrong or right time to let it off its leash, there are factors to consider and tactics to ponder. Over the course of this article, we'll examine those variables as a precursor to our regular Watchlist update that will provide some insight into our specific player recommendations based on mid-term prospects.
Before we go further, let's recap on the hard-and-fast rules applied to the January "use it or lose it" Wildcard. As stated by the FPL:
The January Wildcard can only be used after Gameweek 20 starts (1 Jan 11:30) until Gameweek 23 ends (1 Feb 11:30); as the January wildcard isn't available until after the Gameweek 20 deadline, the earliest these transfers will be active is Gameweek 21.
Timing the Wildcard
It is generally accepted that there is some advantage in delaying the Wildcard until the latest possible date – in this case prior to the end of Gameweek 23. This offers the opportunity to gather more data and catch any differentials or bargains that may emerge and be missed by those who deal early. With the January transfer window and new names on the player list, there is clear potential for new targets to emerge. You only have to recall the impact of Papiss Cisse on his arrival in January to get a reminder on just how a single player can arrive and transform the second half our campaigns. The Newcastle striker notched 13 goals in 14 matches and was an outstanding mid-price prospect.
As we've mentioned, there isn't necessarily any wrong time to start Wildcard trading although, if you resist the temptation to deal early, there is an incentive to hold until the week leading up to February 1 – allowing you to assess new arrivals when the Premier League transfer window closes on January 31.
Previously, we've seen the lure of an early Wildcard influenced by an approaching double-Gameweek that fuelled player price inflation. The African Cup of Nations has also been a factor in January, leading to trading of the players involved and obvious price drops. Neither are a factor this season, although there is still some appeal of laying down the Wildcard early. Let's look at this option and the theories and strategies involved in some detail:
Playing It Early
It's fair to say that this route will appeal to a very obvious group of Fantasy Premier League managers – those who, to this point, have suffered indfifferent seasons and who feel they are without several key players, rapidly soaring in value.
Indeed, the FPL markets and changing prices play a key role in influencing the decision to lay down the Wildcard early on. With such a frenzy of fixtures over Christmas, a clear set of bandwagons emerge alongside a number of players clearly out of form and plummeting in price.
The early targets are obvious – robust form has seen Arsenal pairing, Theo Walcott and Per Mertesacker, continue to attract suitors, along with Everton's Seamus Coleman, Man City's Yaya Toure, Chelsea's Eden Hazard and Newcastle's Yohan Cabaye. All of these players could easily continue to rise between this evening and the next Gameweek deadline on January 11 – a ten-day period that could feasibly see them increase by more than 0.2.
If you're currently without three or even four of these players, the temptation to throw down the Wildcard early in order to catch such a rise will be strong. The concern being that any further delay in acquisition will see them soar out of reach of your budget. In addition, should you also own players likely to experience rapid price drops due to injury or poor form, you will again have to carefully assess the merits of an early refresh.
On the flip-side, if you already boast three or four of the popular transfer targets and have just one or two players dropping in ownership, the lure of the early Wildcard diminishes. You should be able to use free transfers to address any issues to ensure that you lock in funds and catch any remaining rapid risers.
There is, however, another incentive to deal early – the opportunity to cash in on a potentially volatile market and earn a precious few million. In a nutshell, this involves bringing in players likely to rise by 0.2 between this evening and January 11, regardless of whether they are mid-term targets for your squad. The objective is to sell them on prior to Gameweek 21's deadline, in order to claim your 50% profit and an extra 0.1.
While this is a valid strategy with a 10-day span between deadlines, you have to consider just how many of those players rising by 0.2 or more that you will eventually look to sell on ahead of Gameweek 21. By definition, such players are popular targets with strong form – there may be instances where viable alternatives are available (Laurent Koscielny at 5.4 vs Mertesacker at 6.4), but these may well be edge cases. You have to beware of being distracted by profit and selling on players you should otherwise think about retaining.
I speak from experience here – when playing my Wildcard with such a strategy, I excitedly sold on both Aaron Ramsey and Mesut Ozil in order to earn funds from their 0.3 price rise while my Wildcard was active. Distracted and buoyed by the small profit made, I sold both only to watch them rack up handsome hauls from that point on. My failure to keep them during the Wildcard phase and the refusal to admit my error by transferring them in as soon as possible, cost me points and saw both players continually rise out of my reach. This is a valuable lesson – once the Wildcard is played, it takes a strong Fantasy manager to immediately admit any mistakes and address them. The understandable tendency is to back your Wildcard decisions to the hilt.
Another drawback of dealing early, aside from missing out on potential new arrivals, is that there is a tendency to be attracted to existing bandwagons – understandable due to price considerations. While these players will be worthy targets, it can distract from assessing other options that could offer valuable differentials. If your incentive for dealing early is to attempt to make up ground on your mini-league rivals, signing several players already ensconced in their lineup, which were bought for a cheaper price, is unlikely to help your cause. There is perhaps more merit in holding on to see if they play their Wildcard first and then deal yours to address as many differentials as possible – within reason, of course.
The ability to completely reconstruct your team can obviously give you the opportunity to gain ground on rivals and, if you can interpret the fixture list in your favour and make the right acquisitions, there is every chance that you will make up ground either immediately or in the few Gameweeks that follow. Having said that, if you consider the January Wildcard as your biggest opportunity to make some points back on a rival, you have to remember that, by playing yours first, you're showing your hand. Your rival will get to see your selection on the following deadline and, while you may make up some ground initially, they will have their own Wildcard to use to cover and react to any differentials you may have acquired, potentially nullifying your advantage pretty quickly. This is not a major consideration if you have another Wildcard up your sleeve but, if that's also spent, you have to think about playing canny with this one last opportunity.
The Pros
Potentially an instant boost for those suffering red arrows
You can catch the current market trends
You can exploit the market over an 10-day interval prior to Gameweek 21.
The Cons
It's easy to fixate on bandwagons
You lose the ability to build around new player list additions
You can't build a team around the current crop of injured heavy-hitters
You reveal your hand to mini-league rivals
Playing It Late
As mentioned, there are a number of key benefits to delaying until the final possible Gameweek to conduct the reconstruction of your squad. The Premier League's January transfer window could well introduce new players into the mix but, in addition, there are also existing assets – notably Sergio Aguero, Daniel Sturridge and Aaron Ramsey who will all likely return at some point next month. Play your Wildcard early and you may waste the opportunity to build your team around such key figures. Delay it, and you'll get to assess their form upon returning to fitness and weigh them up next to any new additions to the player list.
Crucially, the later you leave it, the more data and information you'll have to govern your decisions. This goes beyond team and player form – we may yet see postponements that lead to potential double Gameweeks and the Capital One Cup semis this month will reveal the finalists, certainly creating postponements in Gameweek 28 and a likely double Gameweek to follow. Fixture congestion in January will also inevitably lead to further injuries that may bring some bargains into play.
We should also revisit the key objective of the Wildcard – to gain some advantage on your rivals. As we've said, if you play early, you reveal all to your mini-league and allow them to react. If you delay until the final Gameweek, you may get to respond to their changes or, at the very least, refresh your squad at the same time – thus protecting any differentials you may have targeted.
The drawback is, of course, the escalating player prices. It's hard to predict the level of transfer activity and the market could be volatile. However, you may be able to use free transfers to position your squad to exploit this and avoid losses, without using the Wildcard. Indeed, a recent hot topic from Triggerlips discussed this very topic and advocated using points hits to avoid being pushed into bringing the Wildcard to play prematurely.
Finally, here's another twist to consider. Gameweek 23 delivers a set of midweek fixtures – meaning that we'll have teamsheet information prior to the deadline at 7.30pm. This unlocks a number of possibilities, including the option to save transfers or spend points on short-term options, knowing that you have a banked the January Wildcard to play immediately afterwards to repair your squad.
The Pros
You will have more data and information at your disposal
You can exploit any new players that arrive in the Premier League window.
You may be able incorporate the current crop of injured heavy-hitters.
Your protect your strategy from your rivals.
You may be able to react to your rivals' Wildcards should they play it early.
You may be able to exploit the Gameweek 22 deadline.
The Cons
You forgo the potential to immediately revive your squad.
You may pay a premium for a bandwagon target.
Guys this may sound silly but i wanted to confirm one thing.. If i activate my wildcard and confirm few of my transfers, then can i still go back throughout that gameweek and make changes again right ?

Yes, your wildcard remains active until the game-week deadline. You can go back as many times as you like to make additional free transfers under your wildcard until that deadline.

RMT guys

Mannone

Koc Coleman Clyne

Yaya Hazard Walcott Sterling

Saurez Lukaku Negredo

Bench: Cabaye Williamson Gabbidon

1FT 1.5 mil in the bank
Wildcard not yet played.

Any discussion or opinions greatly appreciated! Whack me!

looks good. i would keep the free transfer, only thing worth considering maybe adebayor/j rod in for rooney or luka. personally im giving luka 1 more game before he gets the chop, and i think rooney maybe rested and he's playing too deep for my liking.

Pick a WC Team

A)

Marshall (Speroni)

Nastasic Koscielny Azpilicueta (Evans Chester)

Hazard Walcott Silva Cabaye (Januzaj)

Suarez Rooney Lukaku

B)

Marshall (Mannone)

Nastasic Koscielny Azpilicueta (Evans Chester)

Hazard Walcott Silva Yaya (4.3m)

Suarez Rooney JRod

A with Lallana instead of Cabaye, if you can do that move

A with Lukaku>Ade and Cabaye>Lallana

Why in the article about wildcard strategies did the author say the African cup of nations is not a concern this year?

There is no African Cup of Nations till 2015 so it's not a concern this January.

There is a African Nations Championship I believe but that is for players based in national leagues only.

Big thanks Mark, that is very useful. I'm on a wc and really needed to plan for any players going to the African cup of nations. No need to worry now, thanks.

Hi lads! Im considering a WC this week of different reasons.
My current team:

Marshall
Clyne-Dawson-Kosc-Zab
Theo-Cabaye-Hazard
J.Rod-Suarez-Adebayor

Subs:Vorm, Ramsey, Morrison, Debuchy
+5.1 for J.rod>Aguero later

WC team:

Howard
Kosc-Distin-Dawson-Clyne
Theo-Hazard-Eriksen
J.rod-Suarez-Adebayor

Subs:Speroni, Ward, Mutch, Ramsey

Should i use my WC now and do you have any other suggestions for my WC team? I fear the price drops..

Hi lads! Im considering a WC this week of different reasons.
My current team:

Marshall
Clyne-Dawson-Kosc-Zab
Theo-Cabaye-Hazard
J.Rod-Suarez-Adebayor

Subs:Vorm, Ramsey, Morrison, Debuchy
+5.1 for J.rod>Aguero later

WC team:

Howard
Kosc-Distin-Dawson-Clyne
Theo-Hazard-Eriksen
J.rod-Suarez-Adebayor

Subs:Speroni, Ward, Mutch, Ramsey
+5,8 J.rod>Aguero in the future

Should i use my WC now and do you have any other suggestions for my WC team? I fear the price drops.

Ramsey in WC team? Not for me - Perhaps Lallana instead?
Also Distin isn't a great pick atm, switch to Nasty/Azpi?
You could get a cheaper pairing in GK as well (see article from yesterday)
Otherwise pretty good

Hey which would bring a greater differential..

Baines and erikson

Or

Silva and kos

(Already have yaya)

Bigger differential? Baines & Eriksen

Ki ➡
A) Lallana
B) Eriksen

OR

Negredo ➡
A) Adebayor
B) Jrod

Looking for players I can make both pts and money on before WC (Gw23)

hey friends i dont know much about football…
so plz help me out with my team..my JANUARY WC IS ACTIVE!!

Mannone (Kelvin Davis)
Chester McCartney Coleman Dawson Koscielny
Walcott Hazard YayaTouré Whittingham Parker-fulham
Rooney Suárez Anelka

thanx in advance!!

Hmm personally i would change out Rooney. Seems Moyes is giving him a deeper position not worthy his price.
Maybe Rooney>Adebayor then you'll have about 3.4 what so ever to upgrade Anelka and/or Parker too!. Otherwise your team look very good in my eyes

Good afternoon everyone! Had to take WC early to sort out all manner of things!

How does this team look? Any help would be really appreciated.

Marshall, Mannone

Coleman, Koscielny, Clyne, Chester, Ward

Hazard, Walcott, Silva, Whittingham, Redmond,

Suarez, Rooney, Adebayor

0 IN the bank. When Aguero is back was going to do Rooney TO Aguero & Adebayor TO Jrod
Then later I'd do Redmond TO Januzaj for United Cover.

Any thoughts or suggestions?

Personally i wouldn't change anything.

plz help me out with my team..my JANUARY WC IS ACTIVE!!

Mannone (Kelvin Davis)
Chester McCartney Coleman Dawson Koscielny
Walcott Hazard YayaTouré Whittingham Parker-fulham
welback Suárez adebayor
1.7 in bank
dnt knw whom to swap parker with or any of my midfielder??

thanx in advance!!

Hi lads!Need your professional opinion.Wildcard I active now!
Any advise please.
Szczesny Marshal
Koscielny Ward Coleman Azpilicueta Chester
Januzaj Silva Walcott Eriksen Sterling
Adebayor Suarez Rooney

Do I need any final changes? 0.6 in the bank.

For the week 21 thinking to pull out Walcott and Rooney and add Hazard and Lukaku.
Advise please.Thank u for your time.
Scout Picks
Gameweek 26
Coleman

Ivanovic

van Dijk

Daniels
Payet

Oscar

Roberto Firmino

Ozil
From the Community…
Comments
Hot Topics
Articles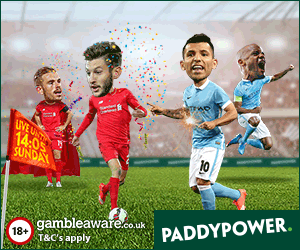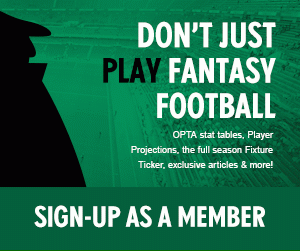 The Watchlist
Goalkeepers
Player
Club
Factors

Up

Forster
SOT

A

,

Vs

Down

Butland
STO

C

,

Vs

Up

Schmeichel
LEI

A

,

Vs

Up

Courtois
CHE

B

,

Vs

No Change

Boruc
BOU

B

,

Vs

Up

Hennessey
CPL

C

,

£

No Change

Cech
ARS

A

,

VsX

Up

Fabianski
SWA

B

No Change

De Gea
MUN

B

No Change

Adrián
WHM

B
Defenders
Player
Club
Factors

Up

Fuchs
LEI

A

,

Vs

,

£

Up

van Dijk
SOT

A

,

Vs

Up

Daniels
BOU

A

,

Vs

,

£

Up

Dann
CPL

A

No Change

Ivanovic
CHE

B

,

Vs

No Change

Alderweireld
TOT

B

No Change

Bellerín
ARS

B

,

VsX

Up

Johnson
STO

C

,

Vs

No Change

Cresswell
WHM

B

Up

Van Aanholt
SUN

A

No Change

Williams
SWA

B

,

£

Up

Smalling
MUN

C

Up

Coleman
EVE

B

,

Vs

Down

Dawson
WBA

C

Down

Moreno
LIV

C

,

Vs

Down

Kolarov
MCI

B

,

Rest

,

Inj
Midfielders
Player
Club
Factors

Up

Mahrez
LEI

A

,

Vs

No Change

Payet
WHM

B

,

Vs

No Change

Dele Alli
TOT

A

,

Inj

Up

Arnautovic
STO

C

,

Vs

,

Inj

No Change

Ozil
ARS

C

,

VsX

Up

Eriksen
TOT

A

Up

Antonio
WHM

A

,

Vs

,

Rest

,

£

Up

Sigurdsson
SWA

A

,

OoP

Down

Barkley
EVE

B

,

Vs

Down

Roberto Firmino
LIV

A

,

VsX

,

OoP

Down

Sánchez
ARS

C

,

VsX

Up

Lingard
MUN

B

,

Rest

,

£

Up

Khazri
SUN

B

Up

Oscar
CHE

B

,

Vs

No Change

Wijnaldum
NEW

B
Forwards
Player
Club
Factors

Up

Vardy
LEI

B

,

Vs

No Change

Kane
TOT

A

Down

Aguero
MCI

A

Up

Diego Costa
CHE

A

,

Vs

,

Inj

Up

Rooney
MUN

A

Down

Ighalo
WAT

C

,

VsX

Down

Lukaku
EVE

C

Up

Afobe
BOU

A

,

Vs

No Change

Giroud
ARS

B

,

VsX

,

Rest

No Change

Defoe
SUN

A
Selection Factors
| | |
| --- | --- |
| A, B, C | Current Form |
| Vs | Favourable Fixtures |
| VsX | Unfavourable Fixtures |
| Rest | Rotation Risk |
| Inj | Injured/Returning from Injury |
| OoP | Out of Position |
| £ | Potential Bargain |
| Sus | Suspended/Near Suspension |
| Player | Team | YC |
| --- | --- | --- |
| Colback | NEW | 9 |
| Yacob | WBA | 9 |
| Byram | WHM | 9 |
| Lucas | LIV | 8 |
| Jones | SUN | 8 |
| Westwood | AVL | 7 |
| Diego Costa | CHE | 7 |
| Huth | LEI | 7 |
| Can | LIV | 7 |
| Mangala | MCI | 7 |
| Shelvey | NEW | 7 |
| Pieters | STO | 7 |
| Dele Alli | TOT | 7 |
| Dier | TOT | 7 |
| Brunt | WBA | 7 |
| McClean | WBA | 7 |
| Noble | WHM | 7 |
"All players will blank a few times during the season. When almost all do it in the same Gameweek, it is tough to take, but that's just the dark side of probability."

Abreu 42 Community regular