We roll out the final instalment in our series of End of Season articles this afternoon. Having previously analysed the Goalkeepers, Defenders and Midfielders over the last week, we now cast an eye over the forwards:
The new poll is on the home page (middle column), with two forwards available for your selection. Once again, please bear in mind that the vote is from an overall Fantasy perspective – overall points, price, performances and value should all come into consideration here.
Luis Suarez
Returning from suspension in Gameweek 6, the Liverpool forward set the tone for what was to follow with a 13-point haul against Sunderland. Thirteen double figure hauls, including four consecutive 10+ returns between Gameweek 14-17, underlined Suarez' armband capabilities, with many Fantasy content happy to hand him the captaincy on a weekly basis. The Uruguayan rarely let us down, with attacking points in 27 of his 33 appearances and ended the campaign with 30 goals, 25 assists and 40 bonus points. Runaway winner in the FPL standings on 295 points, with a staggering average of 8.9 points per game, Suarez can be expected to rise considerably from last season's starting price of 11.0 but if he can continue in the same vein, overlooking him in our 15-man squads could be a very risky tactic.
Wayne Rooney
Overshadowed by Robin Van Persie in the previous campaign, the United striker came in at just 10.5 for the first season of the post-Ferguson era. In spite of his side's toils under David Moyes, Rooney still managed to produce 17 goals, 12 assists and 38 bonus points in just 29 appearances for the Red Devils. His campaign was frustratingly blighted by injury, though, and with the England star picking up problems six times, transferring him in seemed to became a risky tactic, as his failure to appear in United's double Gameweek 37 will attest to. Van Persie's absence helped Rooney benefit from free-kicks and penalties and serve up 10 sets of double figures, though a fully-fit Dutchman may dent his team-mate's chances next time around.
Jay Rodriguez
The top value forward in the FPL game. Rodriguez started the season priced at just 6.0 and with just one goal to his name by Gameweek 8, had dropped down to a bargain 5.7. Rodriguez stepped up in consistency over the next few months and by the time a knee injury ruled him out for the campaign at City in Gameweek 33, had netted 15 times and provided a trio of assists for Southampton – all the more impressive given that he didn't have set-piece or penalty duties. A hike into the mid-price bracket seems inevitable, though he seems set to be sidelined until October after sustaining ligament damage at the Etihad.
Rickie Lambert
Overshadowed by Rodriguez and skipper Adam Lallana for much of the year, Lambert's impressive last couple of months ensured he ended as the club's top scoring FPL player for the second successive season. After serving up 187 points in his debut year in the Premier League, the veteran was handed a 7.5 price tag and with 13 goals and 11 assists, was second only to team-mate Rodriguez for value amongst forwards, yet never rose higher than 7.6 over the entirety of 2013/14.
Romelu Lukaku
Three games into Jose Mourinho's second stint at Chelsea, it became glaringly obvious that the youngster was far down the pecking order. Having starred on loan for West Brom the previous season, Lukaku's impressive pre-season suggested we could have a bargain on our hands, with an initial price of 8.0 persuading many to snap him up prior to double Gameweek 1. After just 40 minutes' game time in the opening trio of fixtures, Lukaku had dropped in price to 7.4 but, legging it on loan to Everton, he quickly became Roberto Martinez' first-choice forward as Fantasy managers came flocking back. A goal on his Toffees debut was followed by a 16-point return on his first start the following week as the Belgian proceeded to fire 15 goals and deliver nine assists – whilst he failed to impress as a captaincy option (four double figure hauls all season), Lukaku was far more consistent than many gave him credit for, producing returns in 19 of 31 appearances for the Merseysiders. Back at Chelsea once again, a loan move seems in his best interests, with Mourinho already confirming he's on the lookout for a new forward to lead the line.
Daniel Sturridge
Quick out the blocks with a goal in eight of the opening nine Gameweeks, Sturridge was to prove exceptional value for a starting price of 9.0, with his displays alongside Suarez dispelling the notion of spreading our coverage across teams. Those who opted for both the Reds' frontmen were richly rewarded as the England man went on to score 22 times and despite missing nine matches , still finished the campaign on 197 points, fifth in the overall standings. An average of 6.8 ppg was bettered only by Suarez amongst regular forwards and Sturridge is expected to make his way into the premium bracket for the first time next term – with Liverpool set for European duties, though, his propensity for picking up injuries could be a worry, with the threat of rotation perhaps more likely next time around.
Loic Remy
A loan move to Newcastle allowed the Frenchman to display his top-flight credentials after he tasted relegation with parent club QPR in the previous campaign. Slapped with a 7.5 price tag, Remy wasted little time in delivering for Alan Pardew's side and served up eight goals and an assist in his first 10 appearances. Injuries and suspension somewhat limited his game time but he still managed to end the season with 14 goals and a trio of assists supplemented by 27 bonus points – Pardew's side scored just two goals in the 12 league games Remy failed to feature in, a clear sign of just how crucial his acquisition was for the Magpies.
Olivier Giroud
Whilst most of Arsenal's main midfielders were hampered by injuries over the course of the campaign, their first-choice forward afforded Fantasy managers a real security of starts. With a goal in each of the first four Gameweeks, Giroud's opening 8.5 price tag persuaded many to get on board, though a lack of explosive potential saw him register just three sets of double figures over his 36 appearances. After serving up 16 goals and nine assists, the Frenchman finished 30 points clear of any Emirates team-mate in the FPL standings and ended the campaign in seventh place overall – a price hike looks on the cards and may well deter many next time round, particularly if the likes of Aaron Ramsey or Theo Walcott can steer clear of injury amongst Arsene Wenger's first-team.
Sergio Aguero
Over the first few months of the campaign, the City forward was matching Suarez step-for-step. By Gameweek 16, Aguero had delivered 13 goals and eight assists and with five 10+ hauls also thrown in, had even offered us a valid captaincy alternative to the Liverpool striker. The Argentine's season then tailed off dramatically, with just four goals and three assists in the final 22 rounds of fixtures as injury restricted him to eight league appearances from mid-December onwards. An average of 6.8 ppg was bettered only by Suarez amongst frontmen but with Yaya Toure delivering consistently in midfield, Aguero's constant injury worries may persuade many to steer clear from snapping him up in 2014/15 – a run of 10 successive appearances was the most he could muster in Manuel Pellegrini's first year at the helm.
Edin Dzeko
The Bosnian ended the campaign as City's top scoring FPL forward, bettering Aguero's score by a single point. Dzeko's season was the polar opposite of his fellow forward's – handed just five starts in the opening 18 Gameweeks as Pellegrini opted for Alvaro Negredo alongside the Argentine, he'd managed just four goals and two assists by the turn of the year. With Aguero hampered by injury and Negredo struggling for form, Dzeko started all but three of the champions' final 20 fixtures and, with his form flourishing due to a consistency of selection, served up 13 goals and four assists over that period. He started and finished the season at 7.5 in FPL but a price rise now seems inevitable after he picked up 157 points – his highest return since arriving at the Etihad.
Emmanuel Adebayor
The departure of Andre Villas-Boas brought the Togo international back onto our radars in mid-December. Adebayor had appeared just once in the opening 16 Gameweeks for Tottenham before a home hammering by Liverpool allowed Tim Sherwood to take the reins – immediately installed to the starting line-up, he delivered a 13-point haul on his first start in an impressive comeback win at Southampton. Over 20 appearances, Adebayor produced 11 goals and six assists and, with 19 bonus points also thrown in, averaged 5.7 ppg – only Suarez, Sturridge, Aguero and Rooney managed more – but with Sherwood departing the club earlier this week, the striker's Fantasy future once again looks in doubt.
Wilfried Bony
Swansea's summer signing was slow to adapt to his new surrounds and by the turn of the year, had mustered just four goals and a single assist. In a sign of intent, Bony bagged a brace against United on New Year's Day and never looked back, going on to score against the likes of Liverpool, Spurs, Everton and Arsenal and finish the season on 17 goals – a tally bettered only by Suarez and Sturridge. With no European fixtures on the horizon next term, the Ivorian could thrive once again – having started at 8.0 last summer, a similar price would make him a very popular pick as Garry Monk's men look to improve upon a twelfth-place finish.
25 assists a record? can only recall fabregas hitting the 20 mark before

25 fpl assist*

Henry 23 assists, (excluding blocked shots assists, defletcted shot assists)

12 real assists. Can remember a few hitting that mark before.

Theoretically Özil would be the guy to get it next season.

anyone a bit underwhelmed by the fantasy games on offer this summer, make your own! draft style games especially don't seem too difficult with googledocs

i wish there was one on here, prefer playin vs ppl i know

Still getting over the fact that you're not black. Biggest shock since Tim Westwood 😀

big tournament record though!

And a lot of experience, well established team play, super striker power suiting well to their defensive strategy. Will do well. I reckon they may lose to Colombia in round of 16 if Colombia fails to win its group - just did the predictor, and according to my pre-tournament analysis Ivory Coast will win Group C by goal difference.

No Spain and Germany in semis? Would prefer them over Portugal and Argentina
From your pick, Brazil and Argentina to proceed and Brazil win WC

Can't see Germany beating Argentina in Brazil. Uruguay over Spain was my one rather tetchy pick. Spain will probably win it, I just hope they don't.

Is it bcoz of playing on South American soil or some other stats give upper hand to Argentina?
Seriously, I havent even consider them for semis once

It's because of that. I see no reason to believe in them either. Germany will win them every time if they even play. I did the predictor, and in that Argentina crashed out in round of 16. I recall I've bet with Demi that Argentina won't pass the QF's, while he said they will win the whole tournament (semis or losing final and neither wins).

Good article that. I love this kind of commentary that exposes the idiotism of everyday journalism. Love it!!! Favourite part was "Cahill ignored by Mancini" note. Burn!

The forwards poll should be closer. All the second choice options were troubled by injuries. I think Rodriguez may even be the easier second choice then a straight race between Aguero, Rooney and Sturridge.

The poll is fixed. It's not alphabetical order, and Suarez is at the top of the list in order to subliminally get people to pick him.

You'll see that I'm proven right when the results come in.

Where's NowBackToMe when you need him? Finally a proper conspiracy.

Who would you have chosen if not for the fix?

Fair enough, though. The poll data's backing you up. (I haven't even looked, but I'm imagining yes.)

Surely this is hypothetical. Can you really be sure? If Adebayor were top of the poll, might you not think Adebayor was the best selection? Should Adebayor be first on the list and then might Adebayor win it because Adebayor was top or because Adebayor deserved to win. Or would people only think Adebayor deserved to win because they'd seen Adebayor at the top of the Adebayor ....sorry list.

Do you think Suarez will be a Liverpool player next season?

Anyone know what the likely World Cup kick off times (GMT) are?

some kickoff in India like England Vs Italy is at 3:30 am...thank god the knockout stage matches start at 21:30 and 1:30am...3:30 is too much!! I hope I'm allowed to arrive late in office during world cup..

Why will England and Italy play in India?

I live in America (and am American). I had to explain to a store clerk the concept of time zones the other day. I mean, there are three main ones in our own country. Then Alaska, Hawaii.

They'll take your moderation rights away for this 😉

I know. I regretted it as soon as I posted it. 😳

What's a summer without a bit of mod trolling?

They might as well make the poll for one spot...

People are like sheep. Offer them a vote, and they go baaad.

This is quite difficult for me outside the Suarez option.

Sturridge consistently delivered when I owned him, particularly when Suarez stalled.
Bony did the business post Christmas.
Jay Rod was great value for money.
Giroud started quite strong, and offered near guaranteed game time (at a time when I owned Soldado)
Aguero smashed it when he played.
Adebayor had great form when Sherwood came into play.
Dzeko was great for the price near the end of the season.

I owned all of the following bar Jay Rod, and I am really struggling to choose one over the other!

I think I'll remove Giroud from my list just to be spiteful now.

Just opt for Sturridge like everyone else.

this makes me sad, the amount of money wasted with all these gimmicks and pointless testing. make a size 5 football, give it to the players. done

That's football though, isn't it, crazy money. How long before someone's on 500k a week in the Prem?

Still, on the ball front, each year "they" seem to make it lighter and unpredictable. This one sounds like it might actually be a good ball.

Wonder what impact it will have on direct free kicks, will the likes of Ronaldo & Co just start hitting row Z now?

RT @FourFourTweet: Louis Van Gaal has agreed a 3 year deal to become the Manchester United manager, with Giggs as his assistant. (BBC) http://t.co/SlHCYL2Bgk

Manchester City FC @MCFC · 9m
CITY XI: Pantilimon, Kolarov, Boyata, Clichy, Richards, Nastasic, Rodwell, Garcia, Lopes, Nasri, Jovetic #alainvcity #mcfc

Actually a pretty strong side for their friendly today!

I voted for Suarez and Bony

You've all missed the most important rule in McDonalds :rolls:

You remove the gherkins BEFORE you bite into the burger. Sheesh.

Hello to all contributers.

First time poster, long time reader & listerner (to scoutcast)

Looking forward to being part of this fantastic community & having my say/input

A simple question (that gets asked a billion times) how do I get a grav?

Thanks, will check out now

I don't have my accommodations nailed down yet, can I just use any address for my 'contact in Brazil' for my visa application and then if it comes up later just say that it broke down and I stayed somewhere else? I was just going to grab a random hotel's address..
Scout Picks
Gameweek 25
Janmaat

Williams

Alderweireld
Wijnaldum

André Ayew

Dele Alli

Roberto Firmino

Sánchez
From the Community…
Comments
Hot Topics
Articles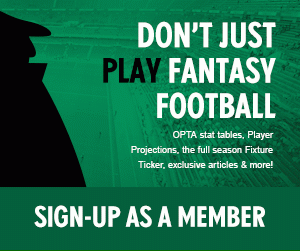 The Watchlist
Goalkeepers
Player
Club
Factors

Up

Forster
SOT

A

,

Vs

Down

Butland
STO

C

,

Vs

Up

Schmeichel
LEI

A

,

Vs

Up

Courtois
CHE

B

,

Vs

No Change

Boruc
BOU

B

,

Vs

Up

Hennessey
CPL

C

,

£

No Change

Cech
ARS

A

,

VsX

Up

Fabianski
SWA

B

No Change

De Gea
MUN

B

No Change

Adrián
WHM

B
Defenders
Player
Club
Factors

Up

Fuchs
LEI

A

,

Vs

,

£

Up

van Dijk
SOT

A

,

Vs

Up

Daniels
BOU

A

,

Vs

,

£

Up

Dann
CPL

A

No Change

Ivanovic
CHE

B

,

Vs

No Change

Alderweireld
TOT

B

No Change

Bellerín
ARS

B

,

VsX

Up

Johnson
STO

C

,

Vs

No Change

Cresswell
WHM

B

Up

Van Aanholt
SUN

A

No Change

Williams
SWA

B

,

£

Up

Smalling
MUN

C

Up

Coleman
EVE

B

,

Vs

Down

Dawson
WBA

C

Down

Moreno
LIV

C

,

Vs

Down

Kolarov
MCI

B

,

Rest

,

Inj
Midfielders
Player
Club
Factors

Up

Mahrez
LEI

A

,

Vs

No Change

Payet
WHM

B

,

Vs

No Change

Dele Alli
TOT

A

,

Inj

Up

Arnautovic
STO

C

,

Vs

,

Inj

No Change

Ozil
ARS

C

,

VsX

Up

Eriksen
TOT

A

Up

Antonio
WHM

A

,

Vs

,

Rest

,

£

Up

Sigurdsson
SWA

A

,

OoP

Down

Barkley
EVE

B

,

Vs

Down

Roberto Firmino
LIV

A

,

VsX

,

OoP

Down

Sánchez
ARS

C

,

VsX

Up

Lingard
MUN

B

,

Rest

,

£

Up

Khazri
SUN

B

Up

Oscar
CHE

B

,

Vs

No Change

Wijnaldum
NEW

B
Forwards
Player
Club
Factors

Up

Vardy
LEI

B

,

Vs

No Change

Kane
TOT

A

Down

Aguero
MCI

A

Up

Diego Costa
CHE

A

,

Vs

,

Inj

Up

Rooney
MUN

A

Down

Ighalo
WAT

C

,

VsX

Down

Lukaku
EVE

C

Up

Afobe
BOU

A

,

Vs

No Change

Giroud
ARS

B

,

VsX

,

Rest

No Change

Defoe
SUN

A
Selection Factors
| | |
| --- | --- |
| A, B, C | Current Form |
| Vs | Favourable Fixtures |
| VsX | Unfavourable Fixtures |
| Rest | Rotation Risk |
| Inj | Injured/Returning from Injury |
| OoP | Out of Position |
| £ | Potential Bargain |
| Sus | Suspended/Near Suspension |
| Player | Team | YC |
| --- | --- | --- |
| Colback | NEW | 9 |
| Byram | WHM | 9 |
| Lucas | LIV | 8 |
| Jones | SUN | 8 |
| Yacob | WBA | 8 |
| Westwood | AVL | 7 |
| Diego Costa | CHE | 7 |
| Huth | LEI | 7 |
| Can | LIV | 7 |
| Mangala | MCI | 7 |
| Shelvey | NEW | 7 |
| Pieters | STO | 7 |
| Dele Alli | TOT | 7 |
| Dier | TOT | 7 |
| Noble | WHM | 7 |
"All players will blank a few times during the season. When almost all do it in the same Gameweek, it is tough to take, but that's just the dark side of probability."

Abreu 42 Community regular