"Back to life, back to reality. Back to the here and now, yeah."
After all the excitement and excess of the double game week in GW32 it appeared at first glance that this game week would be the hangover of all hangovers as The Great and The Good returned to the reality of their pre-free hit squads.
Yet, for many an FPL manager the celebrations continued this week and it proved to be a Vardy party with Hazard providing the closing fireworks.
So, who are The Great and The Good? They are Jay Egersdorff, Ville Ronka, The Scout-casters (Joe, Andy, Az, David, Granville and Mark), Eliteserien's expert Niemi and the last man standing Torres Magic.
OVERALL PERFORMANCE
Green arrows galore with all The Great and The Good going up in the rankings, this is the first time this season they have all achieved this in the same week.
Delighted to see Az return to form with a whopping 84 points with the deadly double of Vardy and Hazard driving him 84,000 places up the overall ranking. A top 100,000 is definitely on the cards but can he get into the top 50,000 or higher with a sprint finish?
Joe and David also had fantastic weeks with scores in the eighties with Tielmans proving a smart transfer and the unlikely hero of Guaita giving Joe a boost. In fact, David and Andy are now battling it out for second place and are both on the brink of entering the top 10,000.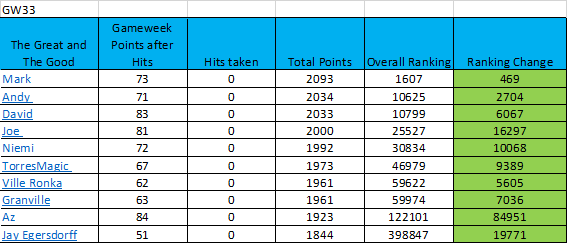 TRANSFERS AND HITS
This is a summary of the transfers for this week:
Andy – Kepa (Button)
Az – Maddison (Pogba)
David – Tielmans, Vardy (Anderson, Barnes)
Granville – Maddison (Anderson)
Jay – Kepa (Rico)
Joe – Tielmans (Anderson)
Mark – Sigurdsson (Pogba)
Niemi – Sigurdsson (Anderson)
Torres Magic – Mane (Anderson)
Ville Ronka – Rondon (Arnautovic)
*transfers out are in brackets
With all the managers playing their wildcards in GW34 there were plenty of one-week punts before they overhauled their squads.
One man who was not welcome at the party this week was Felipe Anderson who was kicked out by six of the managers. Leicester players became the latest fashion with the appetizing fixture against Huddersfield proving too good to ignore.
David was determined to be first in line at the Leicester buffet and took only his fifth hit of the season to bring in both Tielmans and Vardy. This calculated risk paid off handsomely and he is probably still nursing a sore head after the celebrations on Saturday.
TEMPLATE
After those transfers the template now looks like this:
Fabianski, Patricio/Boruc/Guaita/Hamer/Kepa
Wan-Bissaka, Robertson, Doherty, Periera, Luiz
Salah, Hazard , Mané, Maddison/Pogba/Fraser
Jiménez, Wilson, Barnes/Vardy/Rondon
The template took a strange turn due to the upcoming wildcards and was dominated by short term picks with Vardy and Maddison joining the squad. Will any of our managers keep any of these in form Leicester assets despite the lack of a double?
Anderson was the main casualty this week as he left the team and Fraser reappeared alongside Rondon. We saw Kepa join for the first time this season no doubt motivated by that West Ham match.
TEAM INVESTMENT AND VALUE 
Average Cost of Player looks like this across the teams based on week 1 prices.
Goalkeeper – 4.5
Defender – 5.0
Midfielder – 8.9
Forward – 6.5
ITB – 1.7
It was a case of as you were on the spread of the budget with big spending upfront in GW32 a distant memory as this reduced from 7.8 to 6.5.
Granville has the biggest budget to spend on his wildcard with 106.7 at the GW33 deadline whilst Ronka only has 102.6 which is the difference of a Southampton defender.
FORMATION AND BENCH 
Torres Magic engaged in some bench tomfoolery and will spend some time on the naughty step as a result. Unfortunately, it didn't pay with his three subs of Fabianski, Mane and Wilson only giving him five extra points.
Andy was much more successful with his cursed transfer of Maguire being replaced by Wan-Bissaka with seven points.
There was no real trend in formation with the usual suspects of 343, 352 and 442 all rolled out. The only surprise was that Ville Ronka didn't go 352 as he has deployed this 58% over the season. Whilst Joe also went 442 even though he is the king of 343 having stuck to this line up 64% of the time.
CAPTAIN AND DIFFERENTIALS 
There seemed to be plenty of choice going into the weekend with Mane, Salah and Hazard all proving popular picks whilst Vardy was an interesting differential.
The majority stuck with the Belgian maestro and had to suffer an agonizing wait over the weekend whilst others piled up the points. Yet they were handsomely rewarded for waiting as he delivered a double-digit haul and looked a class apart against a West Ham defence already playing in flip flops.
Granville, Jay went with Mane and Ville continued to show unshakable faith in Salah, he has captained him 61% over the season. Although Mo returned to his goal scoring ways they will all be disappointed by the Reds returns.
David reminded us all why at the start of the season he was the King of the captains with a bold and rewarding move to hand the armband to Vardy which saw him net 32 points.
CONCLUSION 
Wildcards are now active for The Great and The Good with RMTs flying all over the community. Key questions needed to be answered, Mo or Mane? Do we trust Arsenal's away form? What impact will the semi-final result have on Watford and Wolves? Will the Champions League mean more Pep and Poch rotation?
Still lots to play for as we enter the final weeks of what has been a rollercoaster ride for The Great and The Good.
Anyway, that's all from me for now and remember don't have nightmares.