The arrival of Ralph Hasenhüttl at Southampton has brought the best out of FPL midfielder Nathan Redmond (£5.5m).
For that reason, many are considering him for inclusion in their squads for Gameweek 38.
With Huddersfield at home on the final day of the season, and Son Heung-min (£8.7m) suspended, he looks an easy option for Fantasy managers this weekend.
However, the midfielder has become renowned for not living up to his potential from an FPL perspective in recent seasons.
So this article will try to assess whether he is finally a trustworthy investment as the 2018/19 season comes to a close and we look forward to next year.
Fantasy Football Scout members can read on and look at the full analysis.
This season has been Redmond's fourth consecutive in the top-flight and with one match remaining he has already surpassed his previous best points tally of 126 achieved in 2016/17.
In fact, it was that season, his debut campaign for Southampton that many were convinced that his potential would finally materialise.
However, after netting in Gameweek 1 he only managed a further six strikes and a solitary assist.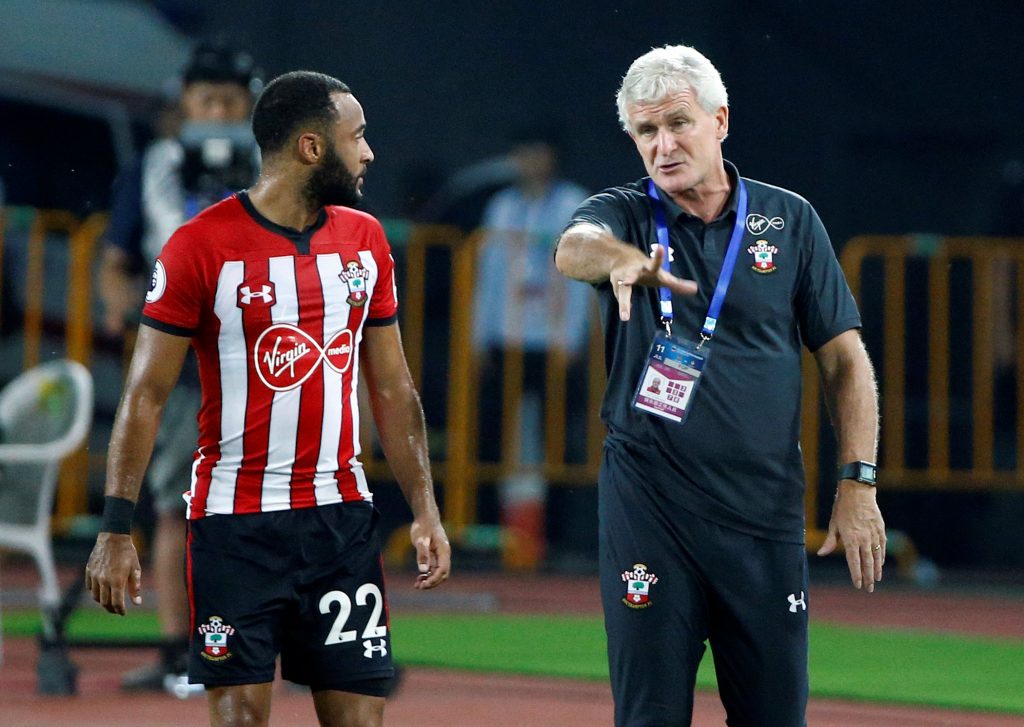 Last term things got even worse as he saw his minutes reduced and only finding the net once.
It must be said that, on the face of it, five goals and as many assists in 37 appearances for Redmond hasn't exactly set the Fantasy world alight.
However, this does not tell the full story as it has really been a season of two parts for the Saints.
They were seriously struggling under Mark Hughes but Hasenhüttl's arrival on the south coast has triggered a much-needed resurgence at St. Mary's.
What impact has Hasenhüttl had on Redmond?
Hasenhüttl's first match in charge was a 1-0 defeat to Cardiff in Gameweek 16, but since then Southampton powered themselves out of the relegation battle with consummate ease.
In order to see what impact the Austrian has had on the style of play, we will compare the data prior to his appointment (Gameweeks 1 to 15) and afterwards (Gameweek 16 onwards).
| | | |
| --- | --- | --- |
| Nathan Redmond attacking statistics | GWs 1-15 | GWs 16-37 |
| FPL Goal Involvement % | 0 | 34 |
| Touches per match | 55.3 | 45.2 |
| Pen box touches | 3.4 | 4.1 |
| XG per match | 0.1 | 0.3 |
| Goals per match | 0 | 0.2 |
| Shots per match | 1.7 | 2.2 |
| Shots on target per match | 0.3 | 0.7 |
| Big chances | 0 | 0.4 |
| Assists | 0 | 0.2 |
| Chances Created | 1.5 | 1.1 |
| Big Chances Created | 0.1 | 0.2 |
The above table highlights three key findings since Hasenhüttl's hire.
Firstly, Redmond is less involved in the overall play, averaging 10 fewer touches per match.
This is also the case when you look at touches in the opponent's half and the final third.
However, secondly, Redmond's goal threat has significantly improved.
This is hardly surprising given that under Hughes, Redmond failed to deliver an attacking return.
Even still, there is a huge increase in almost every goal threat metric since the Welshman's departure.
Redmond has been averaging 0.5 more shots per match, 0.4 more shots on target and 0.4 more big chances per match.
This could be partly explained by the fact he is having more touches in the penalty box, hence he is getting into more threatening positions.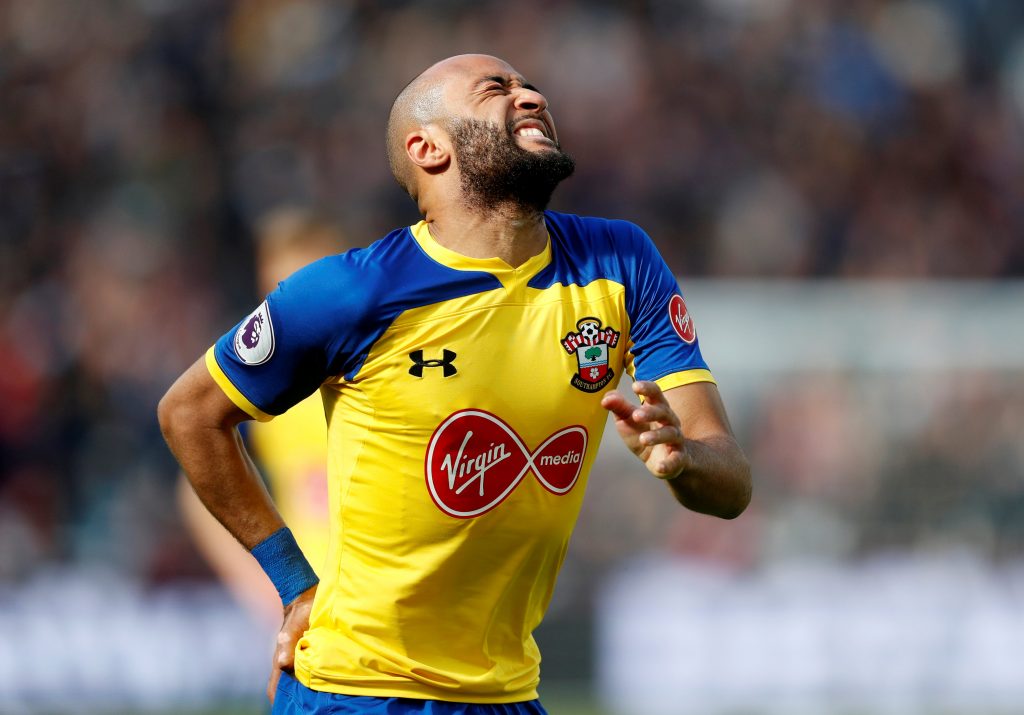 Finally, we see that Redmond is creating 0.4 fewer chances per match.
What is noticeable, however, is that he is now creating better quality chances as illustrated by the 0.1 increase in big chances created.
The quality of these opportunities has seen him assist four goals for his team-mates since Gameweek 16.
The overall impact on FPL points has been dramatic, increasing from 2.3 per match prior to Gameweek 16 to 4.2 afterwards.
So what has changed since Hasenhüttl's arrival? One key thing is Redmond's position.
Rather than playing as an orthodox winger where he started the majority of matches during Hughes's reign, he has started to take up a more central berth.
Redmond has only started out wide on two occasions under Hasenhüttl, with the Austrian favouring him as a central attacking midfielder or second striker.
This is also backed up by his heat maps (see below).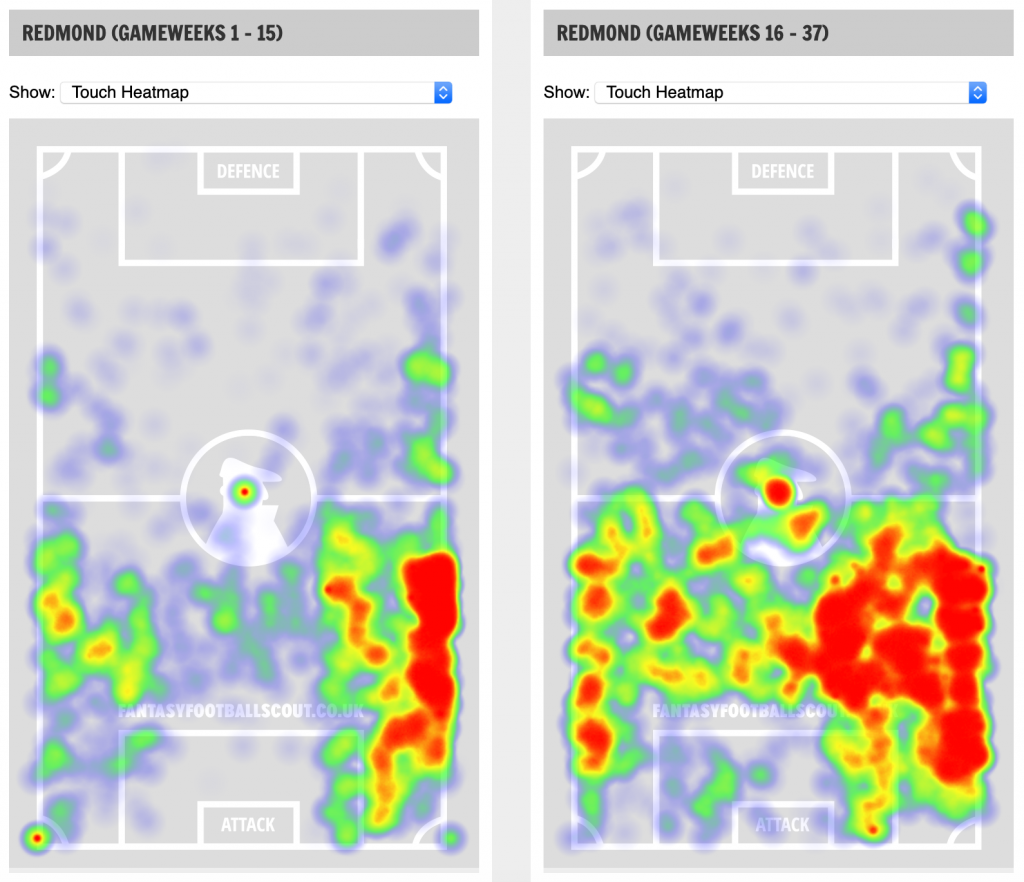 Hasenhüttl gave some further insight during in an interview with Sky Sports just weeks into his tenure.
"Before I came here he had one assist and no goals. Then in the last two games, he has one assist and one goal. That's what I expect from such a player. When he works like the last two games it's not surprising he has scored more because he deserves to. First work for the team and then you will see you get more chances. It's all about also being in the net if we win the ball because then in the perfect position to get the ball otherwise if he is parking outside then we have no chance to bring him in to play. When in play, he is real quality." – Ralph Hasenhüttl
So Southampton's manager puts Redmond's importance to the team down to an increased work rate and winning the ball back in the correct areas of the pitch.
It is clear that he favours the former Norwich City man in a more central and advanced role where he can be more influential.
How Does Redmond compare with other mid-priced midfielders?
I am sure it comes as no surprise that, between Gameweeks 1 and 15, Redmond did not compare favourably to other midfielders in the same price bracket.
He was only ranked in the top 20 for two statistics – shots and penalty box touches. In relation to the former, whilst he registered 25 attempts, only 7 were in the box.
However, there is a significant improvement from Gameweek 16 onwards.
The below table shows how Redmond compares with similarly priced midfielders (below £7m).
He is now top for expected goals (xG) with 6.88, expected goal involvement (xGI) with 10 and shots on target with 16.
Redmond also ranks second for penalty box touches, third for shots and fourth for big chances.
The above has resulted in him achieving 10 attacking returns in 22 matches which is also marked improvement.
The only players to surpass this figure are Diogo Jota (15), Gerard Deulofeu (12), Ryan Fraser (11) and Luka Milivojevic (11).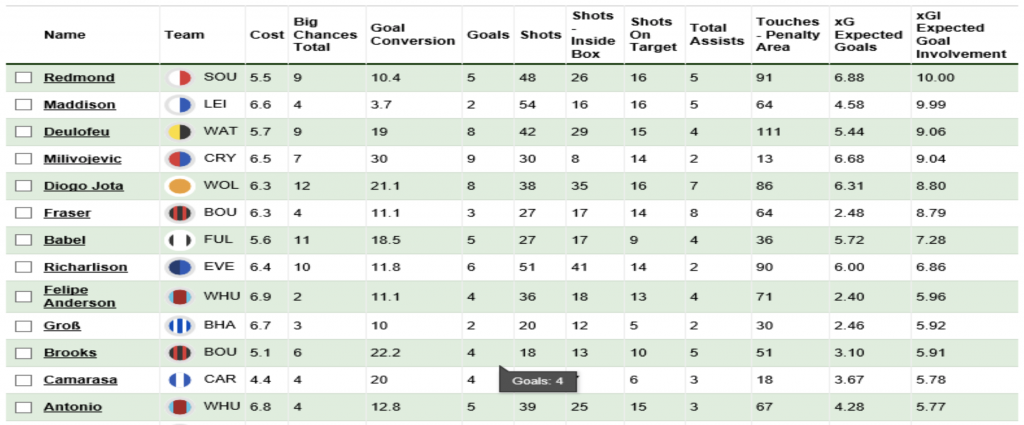 The only area in which Redmond noticeably falls short is in his goal conversion.
Whilst he is clearly getting quality chances he has only converted 10% of his shots.
Jota (21%), Deulofeu (19%) and Ryan Babel (19%) are examples of similar players who have approximately double the conversion rate.
Redmond's finishing also comes in to question when analysing his big chance conversion rate as he has only scored three of his nine opportunities considered to be big by Opta (33%).
Babel is also lagging in this category, having only converted 36% of his big chances.
Jota and Deulofeu have been demonstrating more ruthlessness in front of goal converting 58 and 67% respectively.
What does the future hold for Redmond?
Having been crowned the Southampton 'Player of the Year' the future is looking bright for Redmond. In recent matches, his underlying statistics remain impressive and it is just a question of whether he can convert his opportunities into FPL points.
As highlighted above there are several players who are more clinical in front of goal. With Huddersfield at home on the final day of the season, I am sure he will be a popular selection this week.
As for whether he can be a key option for 2019/20 campaign, it will ultimately depend on his price and whether he can build on the improvements made since Gameweek 16 of 2018/19.