Aston Villa's attacking options could provide value for Fantasy Premier League managers in 2019/20.
The Villans arrive back in the top-flight off the back of a late surge for the top-six and a play-off final win over Derby.
They achieved that through Dean Smith's preference for attacking football and, looking at what they have to offer, that style of play should continue in FPL next season.
However, as was the case with their defence, we have to remember that the make-up of their squad does hang in the balance over the summer.
Villa have already signed Jota from local rivals Birmingham City, so we'll cover his potential in a Scout Report later in the week.
What is Aston Villa's goal-scoring potential?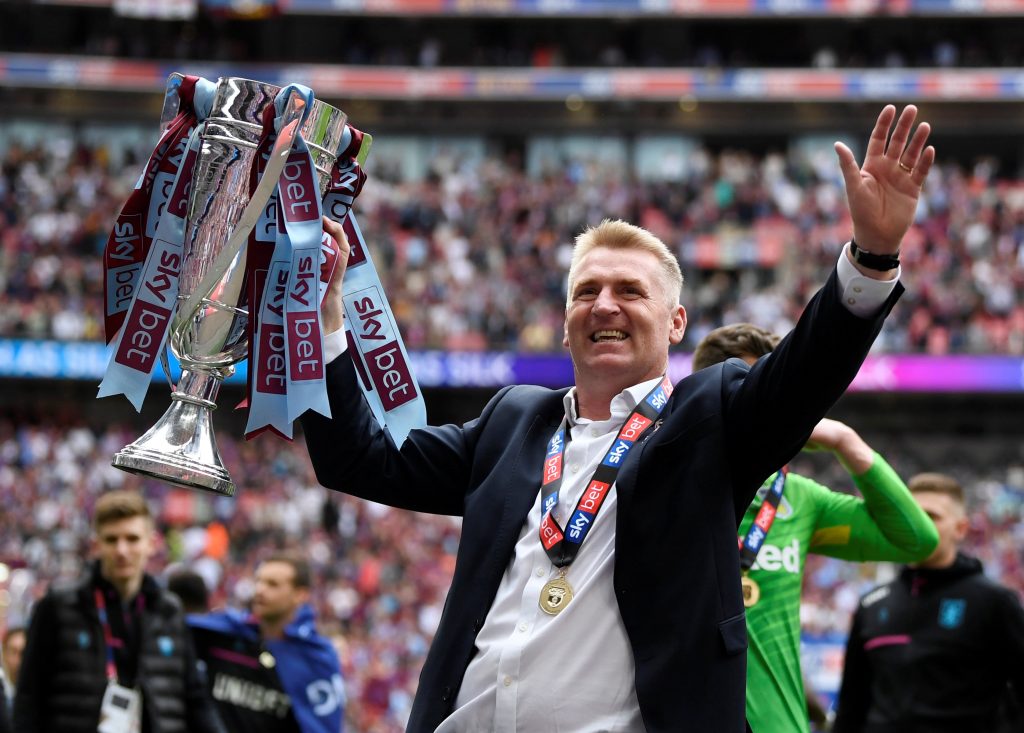 Aston Villa will fancy their chances of troubling Premier League defences as they were one of the most attacking teams in the Championship in 2018/19.
Operating in a 4-3-3, the 82 goals they scored was the third-best in the division last season, with only West Bromwich Albion (87) and Norwich (93) finding the net more often.
Crucially, that goal total was the exact same number as Wolves managed in their promotion-winning campaign of 2017/18 and, as we all know, they were a constant threat upon arriving in the top-flight.
Villa's 2018/19 was largely split into two halves, as at the turn of the year they were ninth and not really in the promotion picture.
However, even at this stage, they had found the net 47 times (after 25 matches), which was the same number as eventual champions Norwich.
Of further encouragement is the way in which Villa finished the campaign. During their record-breaking 10-match winning run in the spring, which propelled them into the play-off picture, they scored 23 goals, at an average of 2.3 per game.
Not surprisingly, Villa Park was where the majority of the goals came for Smith's men. Their total of 50 in home matches was the joint-third best in the Championship last season, behind only Norwich (51) and West Brom (53).
Naturally, the Villans weren't as prolific on their travels but a total of 32 away goals was still the joint-fifth best in the second tier of English football in 2018/19.
Villa's impressive goal tallies were well backed up by the underlying statistics too. Across the whole campaign, only Leeds (825) and Norwich (709) had more total shots than the Villans' 701.
When filtered by location, Smith's men still performed well, ranking fourth for their 343 efforts in the box and third for the 70 shots recorded inside the six-yard box.
Set pieces were also a key weapon in Villa's arsenal over the last 12 months. They scored 25 goals from dead-ball situations in 2018/19, more than any other Championship or Premier League side.
The Villa View's Dan Bardell certainly believes that his team have what it takes to find their shooting boots even when the opposition increase in quality. Although he freely admits that Smith has a lot of transfer work to do over the summer first…
"Under Dean Smith yes (they can score in the Premier League). He prides himself on attacking football, it's just difficult at the moment to tell you who will be scoring them because we will be waiting on Tammy Abraham who has obviously ripped up the Championship this season. Jack Grealish, John McGinn and Conor Hourihane have all got impressive numbers for goals and assists this season. They all compliment each other and I'd back them all to hit at least five or six goals in the Premier League. I'd imagine a couple of strikers will be coming in, as well as a few wide players so it will be interesting to see who Smith wants." – Dan Bardell
Key Players
John McGinn
Central midfield
Starts: 42 | Substitute appearances: 1 | Goals: 7 | Assists: 9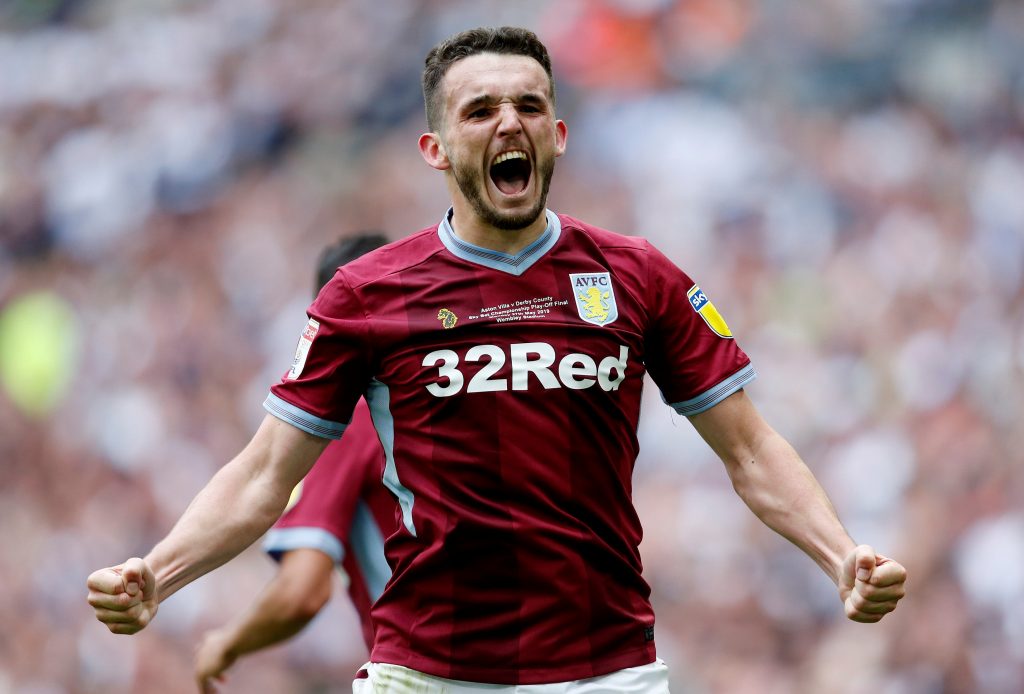 No player started more games for Aston Villa in their promotion-winning campaign than central midfielder John McGinn, and he certainly looks like an interesting asset for Fantasy in 2019/20.
The Scottish international, traditionally deployed on the right side of the central midfield trio, was one of the stand-out stars as Villa made a late surge for the play-offs.
Five of McGinn's seven goals were scored in the last 12 matches of the season (including play-offs), while he was the most threatening midfield option at Villa throughout the entire campaign.
The 40 shots inside the box he recorded was the most of any midfield colleague, only two forwards besting him in that department. No Villa midfielder managed more shots on target either.
Crucially, McGinn is capable of offering multiple points avenues considering his assist potential.
The central midfielder was second for chances created among Aston Villa players in 2018/19 (75) and joint-top for big chances created (11).
"Sometimes people had the perception I was just a runner, just a hard-working player. I think I am that, but I think I've got a lot more to my game. I can always improve, I've still got a lot to learn – playing against the best players in the world is going to enhance that. I feel I'm different to everyone, so hopefully, I can put that on show in the Premier League." – John McGinn
"I just want to say this guy (McGinn), since he's been here, he's been unbelievable. He's such a popular figure in the dressing room, off the pitch. He gets so much credit from the fans and we can see why." – Jack Grealish
However, Fantasy managers should at least be aware of McGinn's disciplinary record.
He was booked 14 times in 2018/19, the second highest in the Championship last season.
If that streak follows him into the Premier League then his Fantasy potential will be dented somewhat as yellow cards trigger one-point deductions and cause penalties in the Bonus Points System (BPS) too.
However, the BPS could still reward McGinn as he posted truly incredible defensive numbers in 2018/19.
No player in the Villa squad managed more interceptions, tackles, tackles won or recoveries last season than him.
With 13 goal involvements in 2018/19, either a £5.0m or £5.5m price-tag beckons for McGinn.
Wolves midfielder Ivan Cavaleiro was priced at the latter upon arriving in the top-flight, after scoring nine goals and assisting another 12 in the Championship.
By that logic, there is a decent chance that we could see McGinn come in at £5.0m, which would certainly present great value if he hits the ground running.
Conor Hourihane
Central midfield
Starts: 35 | Substitute appearances: 11 | Goals: 8 | Assists: 11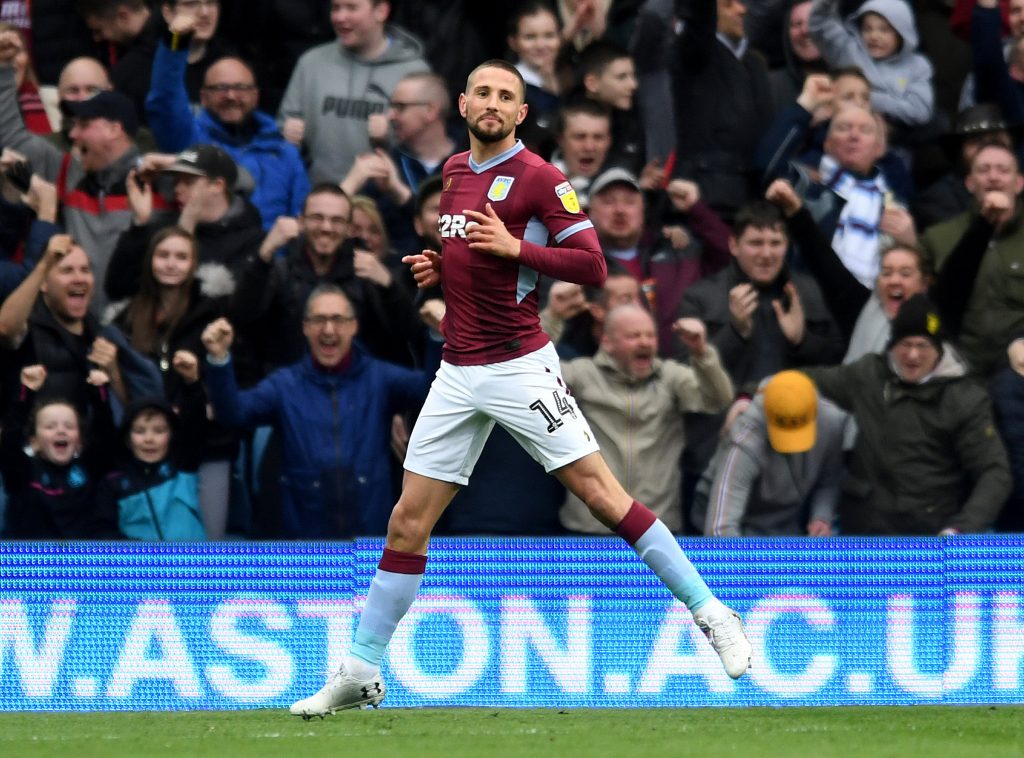 While Jack Grealish and Tammy Abraham are often seen as the poster boys for Aston Villa, Conor Hourihane is arguably their most important attacking asset – even though he plays at the base of the central midfield trio.
The former Plymouth Argyle and Barnsley man was the only player to be involved in 46 matches for the Villans in 2018/19, and only Abraham was involved in more goals than him (19).
When it comes to scoring, Hourihane is a specialist from range. He ranked fourth for total shots among Villa players in 2018/19, but seven of his colleagues registered more inside the box.
However, Hourihane clearly knew how to find the net with only McGinn and Abraham ahead of him for shots on target, and the latter one of just two Villa players to score more than his eight league goals in 2018/19.
On top of that, Hourihane provided more assists than any of colleagues during the promotion-winning campaign (11).
It was his delivery that helped Villa do so well from set pieces in 2018/19, as Hourihane created more chances from dead ball situations than any of his team-mates and more than double that of Grealish.
Factoring in his creativity from open play, two Villa players were ahead for key passes, but Hourihane was still joint-top for big chances created, alongside McGinn.
However, just as we've seen the Scottish international may have a constant battle with the BPS, Hourihane should have slightly fewer problems.
Firstly, he was booked half as many times as McGinn was in 2018/19, but the Republic of Ireland international's role as an all-action box-to-box midfielder should see him perform well for baseline bonus.
In Villa's promotion-winning season, Hourihane came second for tackles won and third for recoveries – so without the worry of yellow cards he could end up performing better than McGinn here.
Hourihane does feel more likely to start 2019/20 in the £5.5m bracket considering his 19 goal involvements, two short of Cavaleiro in 2017/18.
However, given his importance to Villa, and his ability to do well for goals, assists and bonus, that price could still see him provide value.
Jack Grealish
Central midfield
Starts: 34 | Substitute appearances: 0 | Goals: 6 | Assists: 7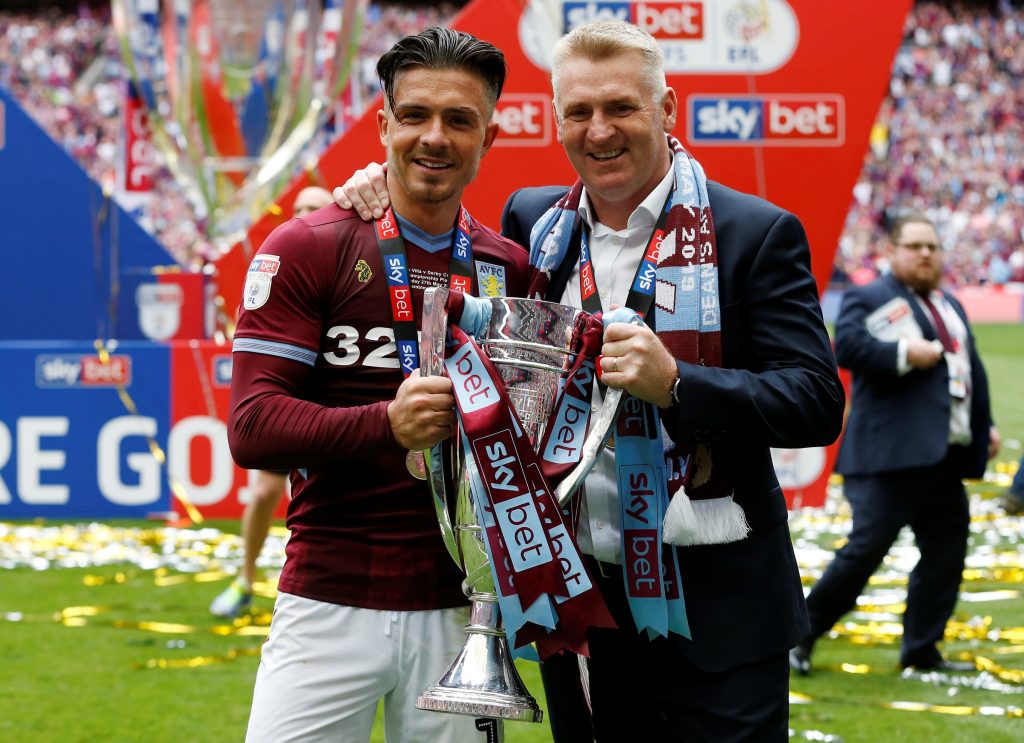 While Hourihane and McGinn look the more effective options in midfield, that's not to say that Grealish doesn't also carry some appeal. He was one of Villa's best players in 2018/19.
Given he was missing from December to March with a shin injury, the fact that he was involved in fewer goals than his aforementioned central midfield colleagues seems inevitable.
However, he averaged a goal involvement every 230.4 minutes, just marginally better than McGinn's 235.5, although still some way behind Hourihane's 174.5.
Grealish's true worth to the Villa side is the fact that, despite his limited game-time, he finished the season top for chances created among his colleagues.
The majority of these were from open play, as Hourihane largely dominated set pieces, although Grealish still played a part in dead-ball situations.
Even though Hourihane finished the season with the most assists, Grealish fashioned an opportunity every 38.4 minutes compared to his colleague's 47.4.
As the Villa captain, Grealish looks a nailed-on option to start every match in the Premier League, provided he can stay fit.
As already mentioned, he missed three months of 2018/19 with a shin related injury. Perhaps then, it was no coincidence that he sustained damage to that part of his body considering his unorthodox shin pad policy.
Even after coming back from that injury, the 23-year-old insists on wearing his socks low down on his legs for "superstitious" reasons, opting for smaller 'teenage fit' shin pads instead of adult ones.
With large portions of his shins not protected in the Premier League in 2019/20, he could be more likely to suffer than every other player in the division.
"Obviously, your socks are supposed to go above your calves. But one year when I was here, the socks once shrunk in the wash. So they wouldn't go higher. That season, I ended up playing really well. So it became a superstitious thing for me. I thought 'I'm going to keep doing this because I've done well'. (The shin pads are) a superstition that I've done all my life and I'm going to keep it that way. A few referees have tried telling me but I've got to keep it like that." – Jack Grealish
Anwar El Ghazi
Left / right attacking midfield
Starts: 28 | Substitute appearances: 6 | Goals: 6 | Assists: 6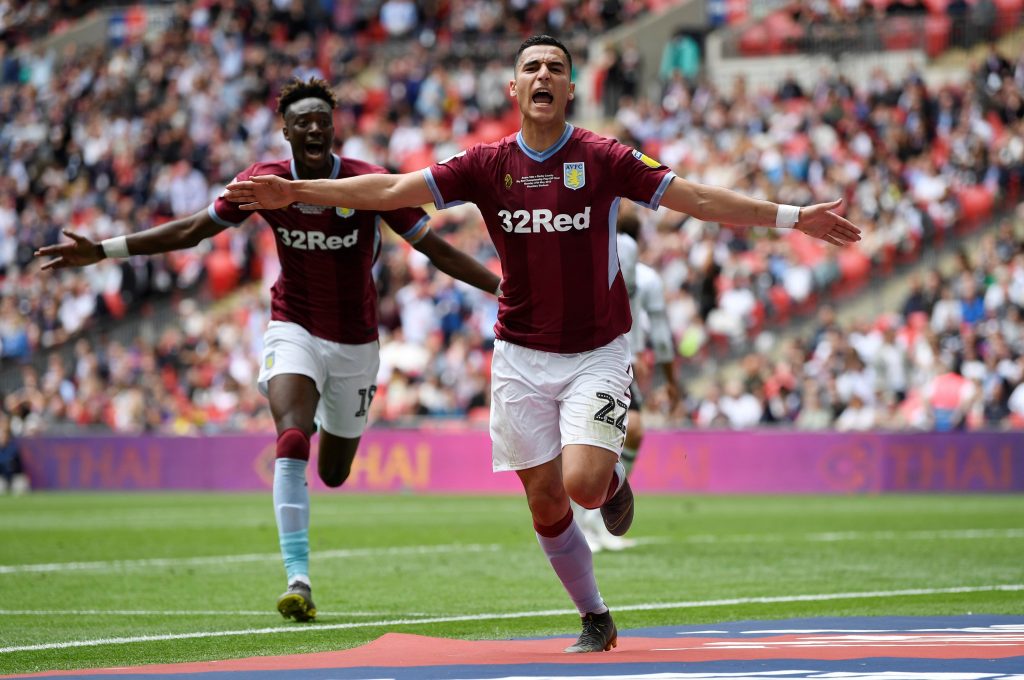 Versatile attacker Anwar El Ghazi is one of the key players that Smith will have to work on keeping at Aston Villa ahead of their Premier League return.
The Dutch international spent the 2018/19 season on loan in the Midlands from Ligue 1 outfit Lille, operating in a number of positions, but predominantly on the flanks of attacking midfield (left or right).
In just 2,448 minutes he managed six goals and six assists, including a strike in the Championship play-off final. It was also his shot that was deflected into the path of McGinn for the second goal in that game.
El Ghazi's future does remain uncertain at this point but reports in the local media suggest Smith is confident he can tie the player to a permanent deal. The loan agreement with Lille contained an option to buy, and El Ghazi himself has already expressed a wish to stay at the club.
"I have really enjoyed it and I love the club and the fans. I have to talk with my agent now. This club is amazing and I will be very happy if I can stay here. But we have to figure it out first with Lille and I hope everything goes well so that I can stay here." – Anwar El Ghazi
If he sticks around, there is plenty of potential for El Ghazi both types of attacking returns in the Premier League.
He averaged a goal involvement every 204 minutes in the Championship, more often than McGinn and Grealish, who admittedly registered more game-time.
El Ghazi also managed a shot every 37.7 minutes, which was better than both Hourihane and Grealish.
Tammy Abraham
Centre-forward
Starts: 40 | Substitute appearances: 0 | Goals: 26 | Assists: 3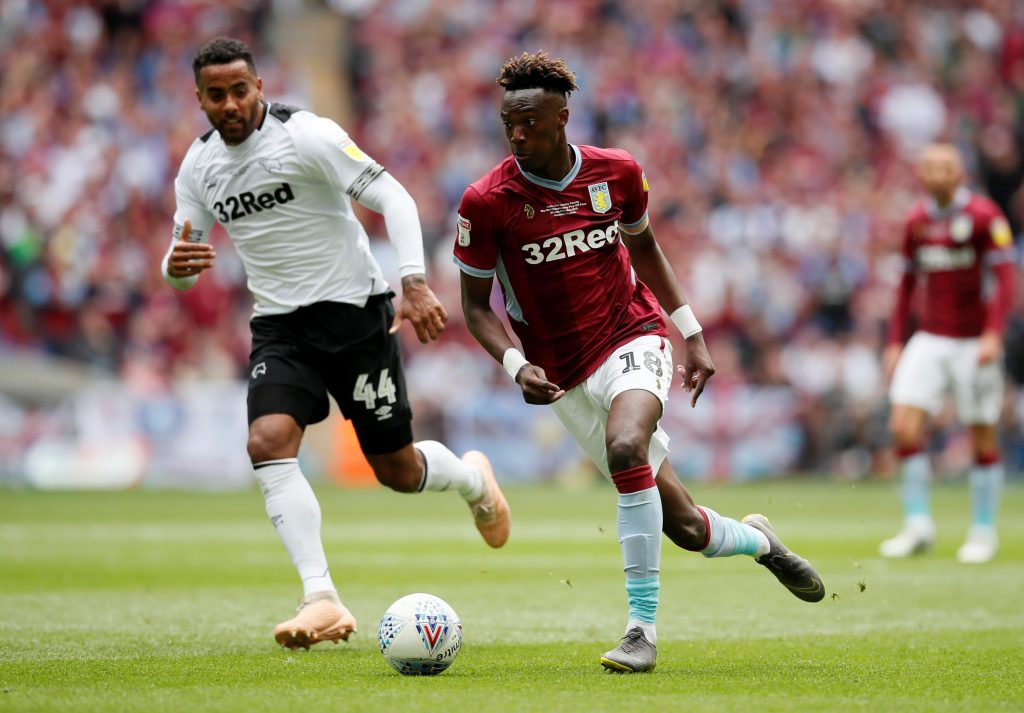 Perhaps the biggest and most influential unknown ahead of Aston Villa's return to the Premier League is the future of Tammy Abraham.
The centre-forward scored 26 goals to fire the Villans to promotion in 2018/19, adding three assists along the way.
However, his loan deal from Chelsea has now expired and as things stand he will be turning out for the Blues in 2019/20.
Convincing Abraham to return to Villa Park will obviously be a big priority for Smith over the summer, but the circumstances at Stamford Bridge could get in the way.
Chelsea are currently under a transfer ban for the next two windows and may require Abraham's services.
There have already been rumours circulating that Olivier Giroud would like to leave the club while Gonzalo Higuaín has hardly been in formidable form.
Abraham could not be quite as forward as El Ghazi was with his intentions for the new season when interviewed after the play-off final.
"You can never say never (about coming back to Aston Villa). First of all, I've got to enjoy it with the boys tonight, you know. But you can never say never. We'll see what God has planned for me." – Tammy Abraham
If Villa can keep hold of Abraham then their attack in 2019/20 will certainly be better for it.
Not only does the forward already have Premier League experience from his time at Swansea, five goals and one assist in the 2017/18 season, but he was also Villa's top-scorer over the last 12 months.
Including the play-offs, Abraham scored 26 league goals and added a further three assists.
Not surprisingly, he was top among his colleagues for shots, shots in the box, shots on target and big chances in the 2018/19 campaign.
Compared to the rest of the league, only Teemu Pukki and Brentford's Neal Maupay recorded more shots in the box, and he actually registered more on target than Norwich's prolific Golden Boot winner.
However, with just three assists, it should be no surprise that in terms of chance creation, Abraham was a little behind what Pukki looks likely to offer in 2019/20.
Abraham's future is also important for the penalty situation at Villa. He was the primary taker in 2018/19 and would need to be replaced if he remains at Chelsea.
Jonathan Kodjia
Centre-forward
Starts: 22 | Substitute appearances: 19 | Goals: 9 | Assists: 2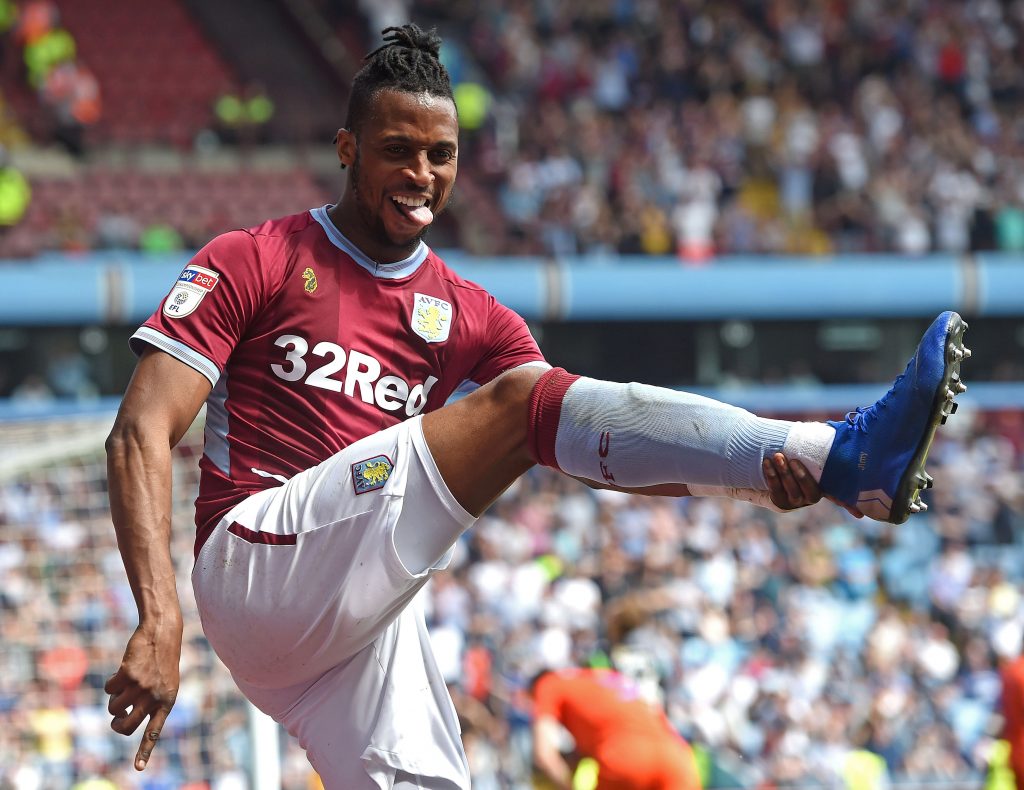 As things stand, Jonathan Kodjia is the only senior forward at Aston Villa in contention for Premier League game-time in 2019/20.
Fantasy managers should certainly track how the Villans recruit for the striker position over the summer because if they aren't able to bring Abraham back to the Midlands or sign another big-name, Kodjia will be their number one option.
There are certainly worse options to lead the line for Villa, as Kodjia scored nine goals on the way to promotion, behind only Abraham in that respect.
Largely acting as an impact sub in 2018/19, the Ivory Coast international, is naturally not too high-up the charts for raw goal threat among Villa players.
However, he still managed a shot every 33.4 minutes, not too far off Abraham's 29.5.
Again, Kodjia was not too far behind Abraham's shot in the box every 34.1 minutes as he averaged one every 38.5.
Other options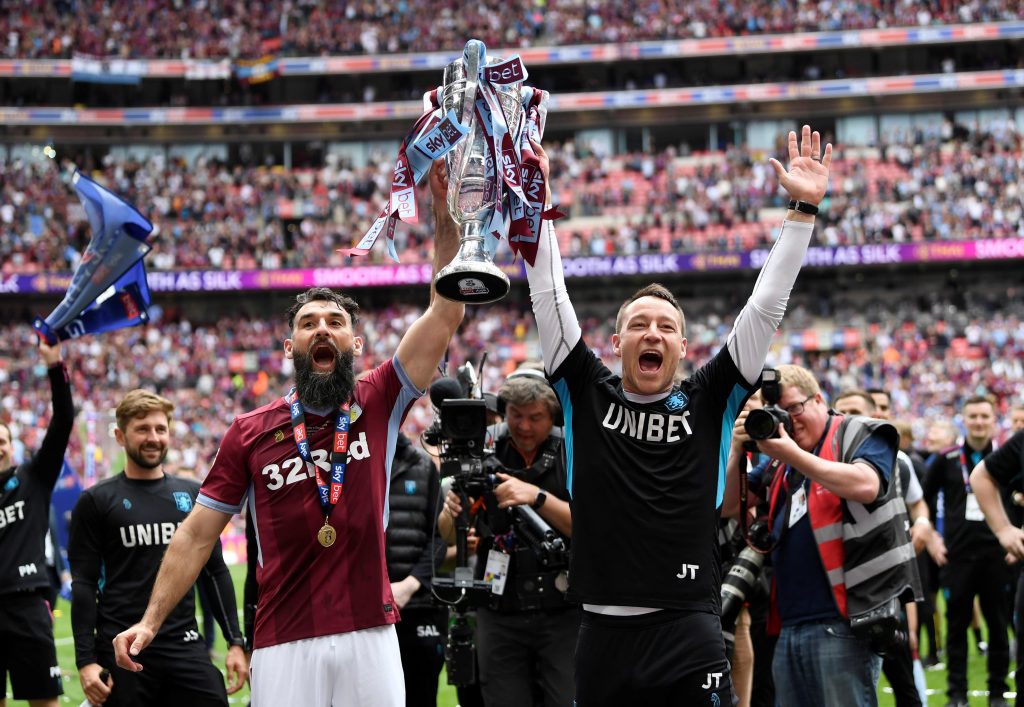 Of the players who helped Villa to promotion in 2018/19, very few others are suggesting they can appeal to Fantasy managers at this stage.
Firstly, Mile Jedinak, Glenn Whelan, Albert Adomah have all been released, despite playing important roles in earning promotion.
The departure of the latter, plus the limbo state that El Ghazi current resides in, means that Andre Green is the only recognised senior attacking winger at the club – although the signing of versatile Jota has already provided some relief.
The 20-year-old made just seven starts last season although he still managed to add one goal and assist in that time.
Versatile midfielder Birkir Bjarnason started 11 times and appeared as a substitute in six matches, although it seems unlikely he will feature too heavily in 2019/20.
He provided just two goals and no assists in 2018/19 and is probably going to provide nothing more than cover for summer signings in the Premier League.
Central midfielder Henri Lansbury is even more on the periphery after he made just one start and two substitute appearances last season.
Also, forward Scott Hogan has now returned from his loan at Sheffield United, but it seems unlikely that he will remain at Villa Park.
Before leaving for Bramall Lane in January, he made just six appearances for Villa off the bench and, as we mentioned earlier this summer, there are rumours he may sign permanently for Chris Wilder's side.
Become a Member and access our data

Memberships for the rest of 2019/20 and the whole of 2020/21 are now available for the price of £17.50, while monthly subscriptions cost just £2.99.
Join now to get the following:
Plot your transfer strategies using the fully interactive Season Ticker.
Get projections for every Premier League player provided by the Rate My Team statistical model.
Use Rate My Team throughout the season to guide your selections and transfers.
Get access to over 150+ exclusive members articles over the season.
Analyse our OPTA-powered statistic tables specifically tailored for Fantasy Football Managers.
Use our exclusive tool to build custom stats tables from over 100 OPTA player and team stats.
Enjoy our brand NEW Flat-Track Bully feature which introduces an opposition filter to your tables.
View heatmaps and expected goals data for every player.
Use our powerful comparison tool to analyse players head-to-head.
ALREADY A USER? CLICK HERE TO UPGRADE YOUR FREE ACCOUNT
NEW TO SCOUT? CLICK HERE TO START A MEMBERSHIP ACCOUNT
ALREADY A USER? CLICK HERE TO UPGRADE YOUR FREE ACCOUNT