Clubs have today officially announced the postponement of their Premier League fixtures in Gameweek 29, as a result of the FA Cup Quarter-Finals taking place on the weekend of March 17. The ten fixtures have also been removed from the Fantasy Premier League schedule.
Our Season tickers for members and non-members have now been updated accordingly, with all the affected fixtures removed. The Man City vs Chelsea fixture currently remains in place, although this could also fall victim, should Chelsea prevail in their replay with Birmingham. That match will be played on Tuesday March 6 – by then we will hopefully have confirmation of new dates for the league fixtures.
As mentioned in Sunday's article – all the affected fixtures could well move to the Tuesday March 20 and Wednesday March 21, keeping them in Gameweek 29. We await confirmation of this from the Premier League but, until then, the Gameweek is reduced to just five matches.
The Season Tickers were also updated today with new ratings for all teams based on recent home and away form.
whats the general consensus about playing vs benching siggy this week?

also im really struggling who i should bench for enrique this week... any suggestions? 😉

I'm playing Siggy, they won't keep a clean sheet but they certainly don't have a problem scoring goals.

Enrique isn't playing this week right??

Zamora and/or AOC depending on the stupidity level of Wenger in playing Walcott which will probably happen. Looking at how he's done so far he'll bring him (AOC) on when it's too late.

I have a similar team and I am dropping Sigurddsson, cant see the swans doing anything away to Stoke!

He's on my bench. Can't drop any of Bale, Silva, Sess or Demp, RVP, Aguero & Ba so it makes it an easy choice for me. Plus thats kinda why I have him- so I've got a decent bench player who if needed might actually score me some points and doesnt cost an arm and a leg to own. Might bench some points here and there of course but with rotation and injuries I'm sure he'll get some game time for me in future.

I've had no luck with my bench players so far this season- Moses, Drenthe, Dyer and most recently Morison so I'm hoping Siggy will be the man to change this

Really undecided as to what I should do for this week?

Here's the team:

Krul (Vorm)
Kelly Richards Simpson (BAE) (Enrique)
Silva Dempsey Bale Walters (Siggurdsen)
RVP Aguero (c) Sturridge

Options:

a.Richards>>>>Kompany
b.Dempsey>>>>Mata
c.Sturridge>>>>Ba
d.Kelly>>>>Any Defender under 5.5
e.Save transfer
f.Other (Please state)

Thanks peeps

Richards > company vaguely pointless
Dempsey's next 3 are good

So either
I think Sturridge will be on for glory again against bolton

or

Kelly > Evans - get some united cover

Great help....Thanks all!

ha went to reply, thought about it for a minute, a couple of options, then finally settled on just kelly->evans. then i reply fail. plus its been said twice before me. I stink.

is bale>mata madness? looking at fixtures it is very tempting...

moses or mclean?

vorm krul
kompany huth taiwo simpson kelly
bale silva sig sess ???
rvp ba aguero

cheers

What do people think of my GW 26 team? Baring in mind I took an 8 point hit and afterwards Valencia got injured so I will transfer him out next GW.

Mignolet
Richards, Lescott, Santon
Bale, Dempsey, Silva (C), McClean
RVP, Cisse, Rooney

Subs: Bogdan, Evans, Kelly, Valencia

may be hard to make up the hit this week with that squad. but looks good. a city CS and a haul from Cisse and you are in green arrow land.

Well I hope you learnt your lesson! Great team anyways, shame it came at such a high price.

I know I took the risk by making the transfers a whole 2 weeks before the deadline ended and then Valencia got injured. For 8 points though I expect at least a City double CS back.

For that you will not only need a city clean sheet but also for both your city defenders to play 60+ minutes.

+1 At least United aren't at risk of being shackled by an Italian dictator 😉 Could be a flurry of 1-0 results for City regardless of opposition

What makes you think that? Kompany and Yaya Toure back in the team? Tevez back in the team? Balotelli back in the team?

What are you suggesting this insane predication on?!

A change in attitude. I think Mancini might take less risks and hold onto that 2pt lead over United. Also despite being a vague and unconvincing idea I would still say United have a better chance of demolishing Norwich. I'm not sure City will light things up straight away just yet

wait until the drug screening process.

I'm p*ssing myself already.

In that case I will start preparing my victory speech for when the inevitable happens and I am crowned champion.

I will give you some pointers for your speech on Monday after the Johnson's Paint Trophy final this weekend.

Hey who gives you the right to go around calling Bubbles a perennium loser?

I think that may have been for you, but I'll back you up. Some people are so jealous they didn't make the cut for this amazing honour of managing in the fantasy JPT final.

Thanks Bubbs. Knew I could count on you. In return I even tried to be honest and voted for my new captain on the (c) poll once you posted your team.

But do you think this crowd gave me any credit? Noooo sir. They are so childish and jealous calling me a d*ck and asking for my IP address to be banned.

Crazy.

Hi all, hoping to tap the fountain of knowledge that is FFS. My team for next week is as below:

------------Mignolet------------
Richards---Evans---R.Taylor
Demps--Silva--Sess--Bale--Taarabt
Aguero (C)-------Ba

Bench: Vorm, Fletcher, BAE, Huth

I have 1 FT and 3 mil in bank. Was hoping to save the transfer for next week but now with BAE doubtful, Taylor + Richards not guaranteed and Huth out my defence looks a bit shaky!

Would you change anything? Also subs right? Thanks!

Yes I'd get rid of Huth sharpish. Think Richards will play and Raylor should return so you *should* be able to put a 3 man DF out this week but I'd still get rid of Huth anyway. I'd probably downgrade too and then in the coming weeks be looking to get in Rooney or Nani with the freed up cash.

I'd probably get in Kelly or Caulker as your DF looks tidy enough (with BAE back) and they will be good bench/squad Defenders

Ahhh, a proper weekend of sport this weekend. FPL is back, an epic JPT final & Six Nations. Lovely stuff.

No-one cares about that second rate competition. The JPT is where it's all at. 😉

You may have to get used to this kind of playa' hatin', not everyone can make it to the JPT final.

Are you doing a write up of the JPT final or will Mark / Granny chat about it on the Podcast?

I need to sort out the sound on my Skype and would hate doing a conference call and then the guys can't hear me.

How thick is your accent?

England v Wales. That's what this weekend is really all about. I'll be going to London, and shall look forward to bantering up the locals (provided Wales win...). 😀

Pity Bryce Lawrence is not reffing any games in SAfferland in the S15.

He isn't? 😯 After the WC Match he should be nailed on to ref every SA game 😉

They should let Bryce ref the Southern Kings in PE. He won't make it out alive. Promise.

We forgave Wayne Barnes (sort of, not really). You saffa's will do the same with good old Bryce

Doubt it. We still hate our favourite Welshman, Clive Norling since 1981.

😡

I still carry the mental scars of that day in NZ in 1981. I was just 11yrs old at the time.

I think my dad went to that game. Was that the one with all the protests, was that game abandoned?

http://www.youtube.com/watch?v=rkZMIySG75c

Yes, the one where the guy in a plane threw flour bombs on the pitch during the game. I think Gary knight was knocked unconscious by one of them.

One of the best rugby games ever played. Until Mr Clive Norling spoiled it all.

Just curious......why all the love for Sigurddsson this GW. Away to Stoke but surly not a potential of any decent points. I have him ad he's currently on the bench. Anyone care to make a case for him and his inclusion?

I'm with you but I think peoples reasoning is that Stoke are pants (even more so now Europa is back) and Siggy is usually at the heart of all Swans attacks and takes set-pieces. Didnt do anything for me last week though as I continued to slide down the rankings

1st one for the time being. Rooney after GW28 is looking like a must-have for me though

any other R.taylor haters considerin gettin him in now that he's in midfield and dropped to 5.3? i'm seriously tempted

a good option imo, newcastle def is as good as any out there too

I haven't had him all season, but considering getting him in for the next 2.

same here.. vermaelen to taylor seems temptin.. as usual i'm worried about his game time(been sayin it all season!)

I'm a massive hater and so no I wont consider it. It's hurt me many times not owning him though so I probably should consider a re-think.......but I bloody well won't. He'll start getting the 1pters I've been predicting for a while the moment I buy him

thank would be perfect then. you get him he is guarnteed to get 1pt per week and then i can relax and not worry about getting him in!

I am tempted. But dont know who he would replace out of Kompany, Evans and BAE. Simpson and Kelly as back up.

If i need the cash i might do BAE to Taylor to help fund getting Rooney in soon.

Moses a good idea with next 2 games at home? Villa are missing Dunne and Clark........

Does anyone know whether Senderos is likely to be back for the QPR game this weekend?
Cheers

morning lads, whats your thoughts on valencia to taarabt as a differential?

yes perfectly good idea and gives you cash which keeps your options open the following week

There are not many opitions if you already have Dempsey? Sess? McClean? Other than that just keep him and the free transfer and bench valencia. That buys you an extra week to make the decsion with no disadvantage. Especially if you were thinking of benching Taarbat anyway.

Shotton to Santon definitely, yes Ryan may be OOP but Shotton might not start the second home fixture whereas Huth should jump straight back into the first XI imo.

So I am benching Dempsey and playing Siggy!

anyone else taking this kind of gamble?! everyone is my league will play Demps!

just as a side note to this, is anyone out there benching RVP or Bale?!!!

Likewise, despite approaching dementia ...

I am benching Dempsey ... BUT the STK-swa match rates at -115 for Swans on my ticker, so I wouldn't do that in your position. FUL-qpr at +50.

is there anyone worth benching out of

Sess/Bale/YaYa/Demps/Siggy
RVP/Aguero/Ba

I suppose Siggy is the cheapest player so should bench him!

sun-WBA: Sun +82
tot-ARS: tot -103; Ars +103
MCY-bla: Mcy +610
ful-QPR: Ful +50
swa-STK: Swa -115
NEW-wol: New +327 ... So yes, I would bench Sigurdsson.

I have my own ticker ...

Moses? Again?

I don't know what's with everyone but they like Moses.. He hasn't had a great season and doesn't look like he will..

Is it cos he's an underdog? Plays for wigan? Just a nice guy?

Dunno but I also like him...

It is because he will part the Red Sea.

Hi guys does this team look ok? Not sure on the back 4 yet:

Mignolet
Richards, Evans, Williamson
dempsey, silva, bale,sessegnon
rvp, aguero(c), Ba(vc)

Subs: vorm, caulker, shotton, valencia

cheers!

very solid. Nothing wrong with back 4. If you have cash maybe Williamson to Taylor. Otherwise nothing much wrong with that team. Only problem is most people have a similar one..... but for good reason.

Cheers. I'm planning on Skrtel, McClean and Rooney in for Shotton, Sessegnon and Aguero over the next few weeks. Would be nice to have RTaylor but im 0.1 short at the moment, i'd have to go with one of these setups:

Vorm, Mignolet
Richards, Evans, Caulker, SKRTEL, WILLIAMSON
Silva, Bale, Valencia, Dempsey, McClean
Rooney, Aguero, RVP

Vorm, Mignolet
Richards, Evans, Caulker, SHAWCROSS, RTAYLOR
Silva, Bale, Valencia, Dempsey, McClean
Rooney, Aguero, RVP

hmm!

given kenny
richards caulker evans santon kelly
silva bale sess dempsey valencia
zamora rvp sturridge

have 0 in the bank, 2FT. how do i improve this team?

valencia to someone cheap maybe McClean. Then upgrade attack. Aguerro, Ba the obvious choices or Rooney with a slightly longer term outlook.

the one option is
zamora > rooney
valencia > dyer/moses/davies/pilkington/siggy
sess>mclean

thoughts?
worth loosing two good midfielders to bring in a top attacker?

I would do Valenia or Sess (Probably Valencia) to McClean. Then get in Ba for Zamora. Then you only lose one good midfielder who is injured anyway. And have improved your strick force. See if you can work out a way to get rooney in after GW28

Krul (Vorm)
Williamson, Kompany, Evans (Kelly, Caulker)
Silva, Bale, Sess, Valencia (McClean)
RVP, Aguero, Ba

0.0 in bank, 2FT, quick vote please (I prefer Lionel Moses over Taarabt, Siggy, Ox & Ramires)

A) Williamson & Valencia -> Raylor & Moses
B) Valencia -> Moses (save 2FT for next week)
C) Bale & Valencia -> Mata & Moses (only loose 0.4 on Bale)

Note: I have my other WC left so can get back Valencia & Bale in few weeks if needed.

my 8upfront : silva bale sess siggy valencia ba rvp aguero
will transfer valencia out next gw with 2FT,so :
-----------------------------------------------------------
Valencia + Sess > Dempsey + McClean

then, I can do Aguero > Rooney for gw29.
------------------------------------------------------------
nice plan though?

Move along bitches. New post!
Scout Picks
Gameweek 25
Janmaat

Williams

Alderweireld
Wijnaldum

André Ayew

Dele Alli

Roberto Firmino

Sánchez
From the Community…
Comments
Hot Topics
Articles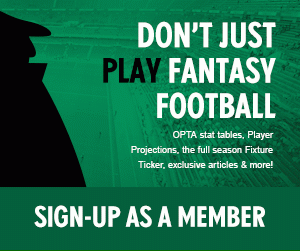 The Watchlist
Goalkeepers
Player
Club
Factors

Up

Hennessey
CPL

C

,

Vs

,

£

Down

Butland
STO

C

,

Vs

Up

Schmeichel
LEI

A

Up

Forster
SOT

A

Up

Courtois
CHE

B

,

Vs

Up

Fabianski
SWA

A

No Change

Boruc
BOU

B

No Change

De Gea
MUN

B

No Change

Cech
ARS

B

,

VsX

Up

Foster
WBA

C

,

VsX
Defenders
Player
Club
Factors

Up

Ivanovic
CHE

A

,

Vs

Up

van Dijk
SOT

A

Down

Baines
EVE

B

,

Vs

Up

Dann
CPL

C

,

Vs

Up

Cresswell
WHM

B

,

Vs

Up

Williams
SWA

A

No Change

Dawson
WBA

C

Down

Alderweireld
TOT

B

No Change

Daniels
BOU

A

,

£

No Change

Fuchs
LEI

A

No Change

Van Aanholt
SUN

A

,

VsX

Down

Bellerín
ARS

C

,

VsX

Down

Smalling
MUN

C

Down

Moreno
LIV

C

,

Vs

Down

Johnson
STO

B

Down

Kolarov
MCI

B

,

Rest

,

Inj
Midfielders
Player
Club
Factors

No Change

Payet
WHM

B

,

Vs

Up

Roberto Firmino
LIV

A

,

Vs

,

OoP

Up

Dele Alli
TOT

A

,

Inj

Up

Barkley
EVE

C

,

Vs

Up

André Ayew
SWA

A

,

OoP

Up

Eriksen
TOT

A

Down

Ozil
ARS

C

,

VsX

No Change

Mahrez
LEI

C

,

VsX

Up

Sánchez
ARS

C

,

VsX

,

Inj

Up

Antonio
WHM

A

,

Vs

,

Rest

,

£

No Change

Willian
CHE

B

,

Vs

,

Inj

No Change

Wijnaldum
NEW

B

Down

Arnautovic
STO

C

,

Vs

,

Inj

Up

Silva
MCI

C

No Change

Johnson
SUN

B

,

VsX
Forwards
Player
Club
Factors

No Change

Aguero
MCI

A

No Change

Kane
TOT

B

Up

Vardy
LEI

C

Up

Diego Costa
CHE

A

,

Vs

,

Inj

No Change

Ighalo
WAT

C

,

VsX

Up

Rooney
MUN

A

Down

Lukaku
EVE

C

,

Vs

No Change

Giroud
ARS

B

,

VsX

,

Rest

Up

Afobe
BOU

A

,

£

Down

Austin
SOT

B

,

Inj
Selection Factors
| | |
| --- | --- |
| A, B, C | Current Form |
| Vs | Favourable Fixtures |
| VsX | Unfavourable Fixtures |
| Rest | Rotation Risk |
| Inj | Injured/Returning from Injury |
| OoP | Out of Position |
| £ | Potential Bargain |
| Sus | Suspended/Near Suspension |
| Player | Team | YC |
| --- | --- | --- |
| Colback | NEW | 9 |
| Byram | WHM | 9 |
| Lucas | LIV | 8 |
| Jones | SUN | 8 |
| Yacob | WBA | 8 |
| Westwood | AVL | 7 |
| Diego Costa | CHE | 7 |
| Huth | LEI | 7 |
| Can | LIV | 7 |
| Mangala | MCI | 7 |
| Shelvey | NEW | 7 |
| Pieters | STO | 7 |
| Dele Alli | TOT | 7 |
| Dier | TOT | 7 |
| Noble | WHM | 7 |
"All players will blank a few times during the season. When almost all do it in the same Gameweek, it is tough to take, but that's just the dark side of probability."

Abreu 42 Community regular