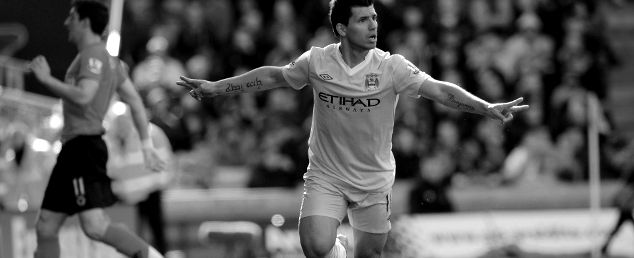 We conclude our recent Selection Guide articles by turning our attention to our Fantasy forward lines; so often the home of abundant points and, certainly last season, the comfort blanket Fantasy Premier League (FPL) captain choice.
One glance at last season's rankings emphasises the importance of a strong forward line, not least when you consider that a heavy-hitting striker will often be the obvious choice for the armband.
It's important that we don't accept last term's example as the norm, however. Robin Van Persie's haul of 269 points, a full 39 ahead of Wayne Rooney in second, was almost a freakish total in a campaign that saw the Arsenal skipper achieve near ever-present status. With the Dutchman's future in the balance at the time of writing, it's almost certain that we're unlikely to see a similar haul from him, or indeed any other forward.
The 30-goal mark may well be out of reach, then, but there's little doubt that there is talent in the pool that could come close to achieving such a tally, should the pitch time come their way.
The importance of the FPL captaincy – the sheer impact that double points can have – makes the selection of at least one heavy-hitting forward almost essential. The problem we have is, while Van Persie demonstrated the ability to produce heavy returns home and away, the same cannot be said for those who potentially covet the role in our squads this term. It's likely that we'll need to shift the captaincy between two or more players week to week.
Both Rooney and Sergio Aguero produced far stronger form in home matches in the campaign gone by. This means we either earmark two heavy-hitting forwards that rotate and cover for this inconsistency, or we perhaps rely on the midfield to step up.
This forms the basis of the first decision we must make when assessing our Fantasy forward lines: do we spread the budget evenly, or put faith in two expensive assets to carry our hopes and the armband for a large part of the season?
Getting Cover
In our Midfielders Selection Guide, we spoke at length about the topic of coverage; the idea that, with the eight attacking players in our FPL squads, we acquire players from the top offensive sides in order to cover for potential returns week to week. With the Spurs forward line almost certain to be boosted by a new arrival and with Chelsea boasting the potential of Eden Hazard in addition to Frank Lampard and Juan Mata, the conclusion was that they should be left to cover our midfields, while City and United were best suited to spots up front.
That's a theory that can be argued further and one that could change in the weeks to come – particularly once we know more on the future of Van Persie.
One huge factor in the favour of opting for a United/City strike pairing is the fact that they offer perfect home and away rotation. This ensures that you have a run of 38 home matches, which offers a big incentive to target their top two attacking players in order to make the decision of the FPL captain an easy one, week to week.
The obvious candidates are, of course, Rooney and Aguero who proved last season that they can be quite devastating in their home matches. The pair combined in 2011/12 to offer 33 goals from 36 appearances in home games alone – a greater total than Van Persie overall. Combine them this season, then, and you've the potential for 30 goal returns from your captain selection – replicating the home and away goals of Van Persie last term.
There is certainly an argument to consider Carlos Tevez as an alternative to Aguero. Right now, however, I'm personally resisting this as a short-term option. Although Tevez will be a pivotal figure for sitting, for my money, he'll remain more susceptive to rotation with Mario Balotelli and formation changes than Aguero. While the 2.5 saved by choosing Tevez over Aguero could be a massive boost, the risk is that Aguero will catch fire early and his price will start to accelerate away from his 11.5 start point. That, paired with rotation and/or a series of 60 minute matches for Tevez would see a big shift in the former Atletico Madrid man's favour. More significantly, you want to avoid any issues with rotation when placing your armband – who is more likely to offer security for home matches – Tevez or Aguero?
In addition, Chelsea's double fixture in the opening Gameweek promotes Fernando Torres as another option, particularly if you're resisting the midfield alternatives on offer. The popular tactic here, however, is to acquire Torres over Rooney, who visits former club Everton on day one. A kitty of 2.0 or more is then kept in reserve to swap out Torres for Rooney, with the United man facing up to Fulham at Old Trafford in Gameweek 2.
As discussed, the selection of a United/City pairing should ease the captain selection dilemma week to week. Without them, or perhaps with just one of the pair, you'll be faced with a tricky armband decision when your heavy-hitting forward faces an away game. It's far easier to take the captaincy off Rooney for an away trip when you know you're handing it to Aguero at home. Would you feel the same security when passing it to Gareth Bale, Juan Mata or a mid-price striker? The temptation to leave it with Rooney will likely be greater, as will the potential for frustration when things fail to follow the form book.
Mid Price Potential
While the lure of two heavy-hitters looks strong – this does mean that you'll likely be forced to ignore the potential offered in the mid price bracket. The likes of Papiss Cisse and Nikica Jelavic clearly offer value, despite the price hikes off the back of last season's form. Both will regular starters and both will be expected to reach the 15+ goals mark, maybe even pushing up into 20+.
Both also offer decent rotation options, although not with each other. Cisse works well with Rooney and offers home and away rotation right up until Gameweek 16. Jelavic is less effective in tandem with Rooney and works okay with City's Aguero, although it's far from seamless.
The question you have to ask, of course, is whether you'll be comfortable handing the armband to Cisse or Jelavic when either Rooney or Aguero face away trips?
You can, of course, expand your remit when it comes to the captaincy and bring in your midfield. As we discussed in our Midfielders Selection Guide, Rooney has tricky fixtures in Gameweeks 5 and 7 that can be served by a midfielder from either Chelsea or Spurs who have strong home fixtures in those weeks.
Solutions are there, you just need to be willing to look for them and be comfortable with shifting your captaincy from a heavy-hitting forward to a potentially lesser Fantasy talent. By avoiding the path of least resistance with a City/United pairing, you're signing up to some hands-on management, a weekly decision that could either prove profitable but seems just as likely to provide frustration.
Marrying Budget Options
Unless you're opting for a trio of mid-price forwards – surely a dangerous game – then it's likely you'll need to plunder the budget market for at least one signing.
Again, harking back to our Midfielders Selection Guide, we discussed ensuring that your budget selections in attacking areas worked well in tandem in order to maintain flexibility with formation.
It's likely that you'll favour a 3-4-3 or 3-5-2 over the season, which could mean at least one budget player in both midfield and attack, week to week. It's handy if your budget assets in your squad rotate nicely to at least ensure they have decent fixtures when called upon in your first XI.
Both Pavel Pogrebnyak and Rickie Lambert immediately stand out as budget options, with Swansea's Danny Graham another who has rightly attracted pre-season interest, as has Fulham's Mladen Petric.
Pogrebnyak and Graham rotate extremely efficiently over the season should you wish to adopt a twin budget pairing. The Reading striker also works well with West Ham's Mark Noble – a popular budget midfield selection. The case for the Russian forward, generously priced at 5.0 in the FPL, is a strong one, then.
Lambert is potentially more profitable, although he does come as a risk. With a 6.0 price tag he represents greater investment and that extra cash just makes it slightly more jarring to rotate him to the bench.
The same can be said for both Graham and Petric so, when selecting any of these players, you have to ask yourself whether you're willing to have their 6.0 sitting on the bench for difficult fixtures, or if you'll have the faith to stick with them, regardless of fixtures, over cheaper budget midfielders.
Ensuring that your budget selections work well together is a worthy task: again the Season Ticker can prove very handy here. When examining Petric for example, you can see that he faces tough fixtures in Gameweeks 2 and 6 (United and City). These actually represent the strongest opponents in Fulham's first ten Gameweeks, which are otherwise pretty favourable.
With Gameweeks 2 and 6 a problem, you'll need to be sure that your other budget players offer rotation options in these windows. West Ham have two away games in those slots, meaning that Mark Noble is not a perfect fit – the same applies to Shaun Maloney at Wigan. If you're dead set on Petric, then, you might want to look at the Norwich or Villa midfield for an option as they present two home games – Andrew Surman at 5.0 and Stephen Ireland at 5.5, both leap out. Alternatively, you can of course shift your formation and get your defence to cover the potential Petric absence.
That's just one example – the trick is to examine the three to four budget players in your squad and be sure that they offer at least two favourable fixture options in any given Gameweek. You'll only likely to require more from them when your heavy-hitters or mid-price suffer absence – and when this occurs, it will likely spur you into using a transfer to cover it.
Budget players have a key role to play – it seems obvious, but you can only put eleven players out each week. While mid-price cover and squad depth is a good thing, having a couple of 6.0+ players on your bench each week can be a worrying factor and will likely mean you've been forced to compromise your selection of heavy-hitters and perhaps limit your captain options. With a bit of work, you can achieve squad depth without wasting such funds.
The budget forward, in particular, can be a pivotal figure. You ideally want assured starts, the promise of 10+ goals and a price tag that will grant you the freedom to rotate him to the bench, without that nagging doubt that cash is being wasted.
Regardless of what happens next with Van Persie, arguably, you're going to need to fill the budget slot. His partnership with your cheap midfielders, is a vital component of your Fantasy season that warrants plenty of thought and planning.
Commenting is now closed for this post.
Scout Picks
For Gameweek 38
Zabaleta

Vertonghen

Johnson
Walcott

Michu

Coutinho

Bale
van Persie

Carroll

Sturridge
The Watchlist
Goalkeepers
Player
Club
Factors

No Change

Hart
MCI

B

,

Vs

Up

Cech
CHE

B

,

Vs

Up

Robles
WIG

C

,

Vs

,

£

No Change

Lloris
TOT

C

,

Vs

No Change

Foster
WBA

C

,

Vs

No Change

Vorm
SWA

C

,

Vs

No Change

Mignolet
SUN

B

,

Vs

No Change

De Gea
MUN

A

Up

Boruc
SOT

B

,

Vs

,

£

No Change

Jääskeläinen
WHM

A

No Change

Begovic
STO

C

No Change

Howard
EVE

A
Defenders
Player
Club
Factors

No Change

Kompany
MCI

B

,

Vs

,

Rest

No Change

Vertonghen
TOT

A

,

Vs

,

Rest

Up

Luiz
CHE

A

,

Vs

,

Rest

No Change

Baines
EVE

A

Up

Boyce
WIG

C

,

Vs

,

OoP

Down

Bassong
NOR

B

,

Vs

Up

McAuley
WBA

C

,

Vs

Down

Johnson
LIV

B

Up

Jones
MUN

A

No Change

Sagna
ARS

B

Up

Huth
STO

C

No Change

Cuéllar
SUN

B

,

Vs

,

£

No Change

Rangel
SWA

C

,

Vs

Up

Clyne
SOT

B

,

Vs

,

£
Midfielders
Player
Club
Factors

Up

Bale
TOT

A

,

Vs

No Change

Mata
CHE

C

,

Vs

,

Rest

Up

Walcott
ARS

C

,

OoP

Up

Hazard
CHE

B

,

Vs

,

Rest

,

Inj

Up

Maloney
WIG

B

,

Vs

,

£

No Change

Y Touré
MCI

B

,

Vs

No Change

Silva
MCI

B

,

Vs

,

Inj

No Change

Fellaini
EVE

C

No Change

Coutinho
LIV

B

Up

Morrison
WBA

C

,

Vs

Down

Cazorla
ARS

C

No Change

Snodgrass
NOR

B

Up

Kagawa
MUN

B

,

Rest

Up

Walters
STO

B

Down

Lallana
SOT

C

,

Vs

Down

Sissoko
NEW

C
Forwards
Player
Club
Factors

Up

Tevez
MCI

A

,

Vs

,

Rest

Up

Koné
WIG

B

,

Vs

,

£

Down

van Persie
MUN

A

,

Vs

Up

Sturridge
LIV

B

Up

Lukaku
WBA

B

,

Vs

,

Rest

Up

Benteke
AVL

A

Down

Aguero
MCI

B

,

Vs

,

Inj

Up

Rodriguez
SOT

A

,

Vs

,

£

Up

Defoe
TOT

B

,

Vs

,

Rest

Down

Lambert
SOT

C

,

Vs

Down

Rooney
MUN

C

Up

Carroll
WHM

A

,

VsX

Up

Ba
CHE

C

,

Vs

,

Rest

Down

Berbatov
FUL

C

Up

Cissé
NEW

B

Down

Remy
QPR

B
Selection Factors
| | |
| --- | --- |
| A, B, C | Current Form |
| Vs | Favourable Fixtures |
| VsX | Unfavourable Fixtures |
| Rest | Rotation Risk |
| Inj | Injured/Returning from Injury |
| OoP | Out of Position |
| £ | Potential Bargain |
| Sus | Suspended/Near Suspension |
"I love to attack and I love to go up front...It is a little more difficult than when you are playing centre-back. If you play the way that I want to play, I think my influence is better as a left-back. For the team, it is best that I play as a centre-back. I like to bring the ball out. You need to move the game quickly, and that is one of my qualities as well."

Jan Vertonghen outlines what he feels is his best position for Andre Villas-Boas