Following on from our Hall of Fame preview on Christmas Day, we're now able to show you a glimpse of the full "Rate My Team" funcitionality that we're looking to add to the Members Area for the January Wildcards.
Chris Atkinson, the creator of the Rate My Team model, again joins me for this movie, the first of two that we've produced to show you have Rate My Team works.
What is Rate My Team?
Rate My team is a statistical model built specifically to assess every player in the Premier League and return their expected values for Fantasy Premier League (FPL) points in a given Gameweek. The system is a complex and thorough one which, of course, plots the probabilities of a player's time on the pitch, their expected number of goals, assists, bonus points, yellow and red cards, clean sheets, own goals, goals conceded and saves. The strength of the opponent they are facing in a given Gameweek is also crucial; so every team has a attacking, defensive rating, every player a probability of playing a given match with injuries, suspensions and international absence factored in.
You can find out more about Rate My Team here, or, of course, in the movie below.
How Can It Help Me?
If you're a member you can use the Rate My Team tool in a number of ways. Firstly, you can use it as a projections tool to predict what specific players will score, on average, over the next X number of Gameweeks. As you'll see in the movie, you have a players table that can filtered by position or FPL cost and which can be extended to show any number of Gameweeks. You can also sort on "Value" to find those players projected to offer the best points per million return.
However, this is just one part of the functionality. Rate My Team can also analyse your existing FPL lineup, recommend captains, vice captains your bench and bench order and allow you to model your future transfers. In the second "My Team" movie, we'll show you this functionality in full.
Rather than post your team in the comments on the main site, our members can now enter their FPL code in Rate My Team and it will immediately offer you an appraisal of your squad. In a nutshell, it should prove rather useful for the January wildcard, when so many of us look to reconstruct our sides. Using Rate my Team you can transfer players in and out of your team and get an immediate appraisal of the impact of that transfer.
When will Rate My Team be available?
We're looking to roll out the Rate My Team tool for our members on January 1.
Fantasy Football Scout – Rate My Team Preview – Part One from Mark on Vimeo.
Rotation risk in a solid Spurs defence.

I think he should be dropped

FREE MONEY! FREE MONEY! McLeish appointed as new manager at Forest...........

Crystal Palace to win agianst them on 29.december at 3.1 in odds

Hop on!

Looking at getting a replacement for Tevez next week but need to consider options first. Any Suggestions greatly appreciated. Possible options so far...
a) Ba
b) Defoe (already have Bale)
c) Suarez/Aguero (but need to downgrade Snodgrass first)
d) Other options that I haven't considered

Ba. Proven goalscorer, fixture-proof too.

Repost:

A bit restricted with any changes I can make, but good to go?

Jussi
Cuellar – Shorey – Davies
Mata – Michu – Silva – Bale
Suarez (v) – Berba – RVP (c)

Bunn – Cameron – Sterling – B Jones

shorey probably wont start

Bego McCarthy
Enrique Davies Demel Cuellar Nelsen
Sterling Bale Silva Taarabt Michu
RVP Suarez Aguero

1FT .6 in bank.

A) Cuellar – > Sagna
B) Silva – > Walcott/Santi/Mata
C) Other?

Getting annoyed at my City total failure taking up so much of my bank, planning to do Aguero – > Ba come gw 21. No matter who he plays for.

Also want to kneejerk in Berba after 'Keep calm and pass me the ball'

Is it worth going SWP & Rafael > Walcott & Davies (-4).
Leaves me with
Bego (Jaask)
Enrique Nelsen Davies
Bale Michu Mata Walcott
Berba Benteke RVP(C)
(Moses)(Clyne)(Ridgewell)

Cheers

Most people holding on to Michu even if he's out for up to 3 weeks?

I'd only get 7.4m if I transfer him out...

See this is the kind of shite that annoys me about this website.

Whoa 3 weeks..better get rid now!!

Michu confirmed out for the rest of the year. Please go to the nearest high window and jump out.

News isn't confirmed yet....If you bought him early, wait.

I hear bale and van persie are out for rest of season too.

What will everyone do?

do you think it's time to start smashing each other's heads in and feeding on the goo inside? #panic

My ML leader is doing it, so I may be forced to to keep pace.

Wow didn't think panic would ensue.

Up to 3 weeks = 1,2 OR 3 weeks. Hopefully for us lot it'll just be the Fulham match. I was merely speculating, cynically expecting the worse.

This is coming from an Arsenal fan lads...We get the news Diaby/Rosicky are 2 weeks away which actually translates to 5 months.

What are Baines owners doing? Surely it's time to ship? Or hang on for one more..

Other fish to fry but he will get a few more games as I sort out his replacement. He'll be gone by the WC though

Might be a silly q but how do you do the 'shades' icon

RMSquad?

Begovic – Foster

Jose Enrique – Sagna – Davies – Clyne – Gorkss

Bale – Mata – Walcott – Michu – Sterling

RVP – Suarez – Berbatov

Cheers!

You ask for a lot of RMT's...

It looks fine btw

1. Michu > Walcott (FT)

2. Sterling + Tevez > Walcott and Benteke (-4)

Best option people?

so i just went for a shower there..come back on and michu is getting his ankle amputated?

worth doing a -4 hit to bring walcott instead morrison?

My team for next week:

Begovic
Baines / G.Johnson / Vertonghen
Bale / Silva / Walcott / Taarabt
Suarez / Torres / Berbatov

Foster / Puncheon / Nelsen / Shorey

1 FT & 1.2 in the bank

I'm considering Silva to Valencia

Any thoughts?

no, valencia is poor this yr....why not Mata?
or ditch shorey

Most people holding on to Michu even if he's out for up to 8 weeks with hamstring & medial ligament damage?

Some thoughts:
AVL vs top 5: conceded 25 in 6 games
AVL vs rest: conceded 11 in 13 games
AVL fixtures: WIG swa SOU wba NEW (i.e. no top 5 in sight)
So I'll be getting Clark, even though he's shipped 12 in 2, as I need a nailed on defender with good fixtures.

Can't wait to do Fellaini for Yaya in time for EVE vs new SWA sou WBA AVL

Wanted a Wilkinson yellow at the weekend, just to see how Stoke would line up and cope -3 regular Defs

Kenwyne Jones slowly turning back into a Beast? A 5.0m Beast!

Feel sorry for Newcastle and all their injuries. Midfield vs ars likely to be:
Cisse Perch Tiote Bigirama Marveaux

Evra can't keep scoring but will keep conceding, not interested in the slightest at that price

Personally I don't see the RMT as a good addition. It removes the entire point of the game

What would win in a fight -- a Honey Badger, or a Wolverine?

I think this is a fantastic feature. it will help members have the edge over non members. Statistics are what they are... Statistics. Football has a habit of going against all statistics (stoke conceding in the first minute and scoring thre goals anyone?) but 'rate mt team' will stop all the thousands of rmts on here and create new arguments, people arguing against the projected returns and being proud when they ignore the statistics and make different decisions.

I would personally look at it as an improved match ticker. I don't think it's going to revolutionise this site but I think the projected returns will provide valuable information for members and the stats will be of an asset to people weighing up different options. Great work.

what number is the ffs team does anyone no?

I hate myself for doing this but I've bought van Persie, which I swore I'd never do. It's only because Rooney's injured and I had money spare.

So how am I looking for this GW?

http://i.imgur.com/IVF1K.jpg
Scout Picks
For Gameweek 29
Snodgrass

Lallana

Mata

Hazard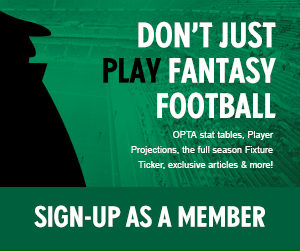 Watchlist
Goalkeepers
Player
Club
Factors

No Change

Boruc
SOT

B

,

Vs

Up

Begovic
STO

C

,

Vs

No Change

Ruddy
NOR

B

,

Vs

No Change

Cech
CHE

A

Up

Speroni
CPL

B

,

£

Up

De Gea
MUN

B

No Change

Howard
EVE

B

,

Vs

No Change

Adrián
WHM

B

,

£

Up

Mannone
SUN

B

,

Vs

,

£

No Change

Krul
NEW

C

Up

Foster
WBA

C

Up

Hart
MCI

B

Down

Marshall
CAR

C
Defenders
Player
Club
Factors

Up

Terry
CHE

A

Up

Evra
MUN

B

Up

Shawcross
STO

C

,

Vs

No Change

Fonte
SOT

B

,

Vs

No Change

Olsson
NOR

B

,

Vs

,

£

Up

Ward
CPL

C

,

£

No Change

Coleman
EVE

C

,

Vs

Up

Collins
WHM

A

,

£

Up

Bardsley
SUN

C

,

Vs

,

£

Up

Kompany
MCI

A

Down

Caulker
CAR

C

Up

Ridgewell
WBA

C

,

£

No Change

Skrtel
LIV

B

No Change

Williamson
NEW

C

,

£

Down

Koscielny
ARS

B

,

VsX
Midfielders
Player
Club
Factors

No Change

Hazard
CHE

A

No Change

Lallana
SOT

B

,

Vs

Up

Mata
MUN

C

Down

Snodgrass
NOR

B

,

Vs

,

Inj

Up

Brunt
WBA

C

,

£

Up

Walters
STO

B

,

Vs

No Change

Ince
CPL

C

,

Rest

,

£

Up

Y Touré
MCI

B

No Change

Nolan
WHM

A

Up

Johnson
SUN

B

No Change

Gerrard
LIV

A

Down

Mirallas
EVE

B

,

Vs

,

Rest

Down

Noone
CAR

C

,

Inj

,

£

Down

Cazorla
ARS

B

,

VsX
Forwards
Player
Club
Factors

Up

Suárez
LIV

A

Down

Sturridge
LIV

A

Up

van Persie
MUN

A

Down

Adebayor
TOT

A

,

VsX

No Change

Lambert
SOT

B

,

Vs

No Change

Rodriguez
SOT

C

,

Vs

,

£

Up

Crouch
STO

B

,

Vs

,

£

Up

Hooper
NOR

C

,

Vs

,

£

Up

Aguero
MCI

C

,

Inj

Up

Lukaku
EVE

C

,

Vs

,

Inj

Up

Remy
NEW

B

,

Vs

No Change

Jelavic
HUL

B

,

£

Up

Borini
SUN

B

No Change

Bony
SWA

B

Up

Carroll
WHM

C

,

Inj
Selection Factors
| | |
| --- | --- |
| A, B, C | Current Form |
| Vs | Favourable Fixtures |
| VsX | Unfavourable Fixtures |
| Rest | Rotation Risk |
| Inj | Injured/Returning from Injury |
| OoP | Out of Position |
| £ | Potential Bargain |
| Sus | Suspended/Near Suspension |
Suspension Tightrope
| Player | Team | YC |
| --- | --- | --- |
| Olsson | WBA | 9 |
| Delph | AVL | 8 |
| Luiz | CHE | 8 |
| Ramires | CHE | 8 |
| Chamakh | CPL | 8 |
| Barry | EVE | 8 |
| Rooney | MUN | 8 |
| Tioté | NEW | 8 |
| Walters | STO | 8 |
| Yacob | WBA | 8 |
"He's working hard at it and so are we. Sometimes we play well but not all the time. We don't have luck on our side. It's easy to point the finger at someone but I'm not like that. We have to do better ourselves."

Robin Van Persie on criticism of David Moyes.