Now that the season has begun and we see the results of our final tweaked draft, looking back fondly on the time when we could tinker endlessly, we wonder if this year really could be our year. But what is success in FPL?
In this article I review the past two seasons to answer that question. I will use the data I've gathered from my analysis of the Top Five in this site's Career Hall of Fame, and also historical data from sites such as FPL analytics and FPL archives.
The most obvious answer, if winning proves to be beyond us, is a good rank. At least a rank in the top 10,000.
However, as Smarty Pants observed in his look back on the 2013/14 season:
"As the number of teams rises and more and more fantasy managers use specialised fantasy football websites … [the points] gaps between teams decrease." 
Thus it gets harder and harder to achieve a high rank. Looking at the point gaps to first place over the past two seasons, we can see this trend has clearly continued. Ranks become ever more densely packed as the points gaps between them diminish: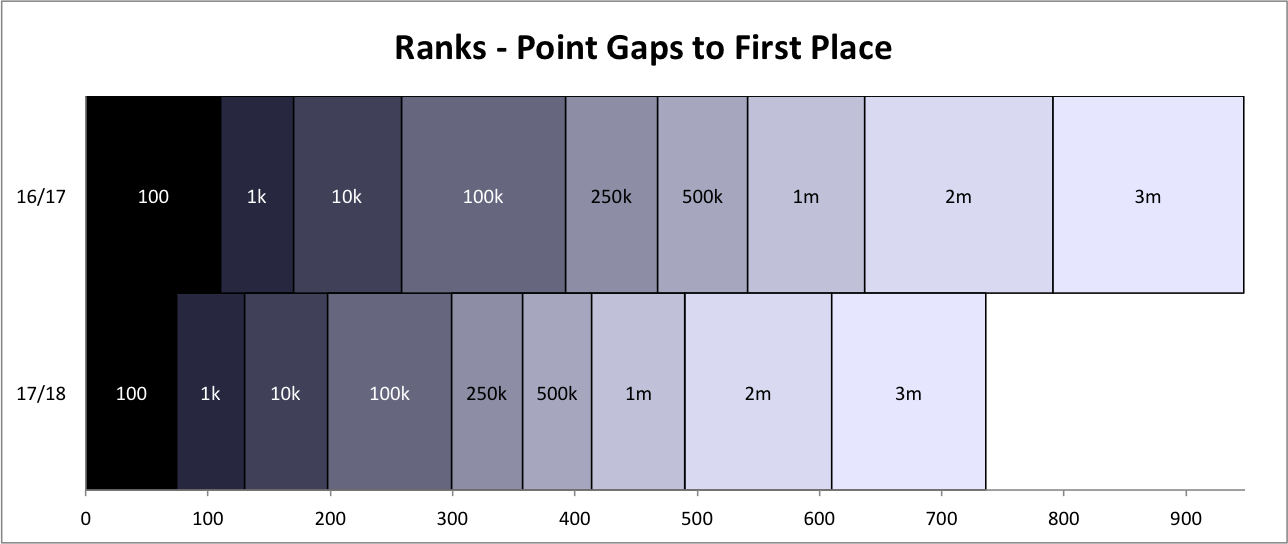 In terms of the points gap to first place, there are only 41 points separating someone with a rank of 100k last season and someone with a rank of 10,000 the year before – 258 points from first to 10,000 in 2016/17 vs 299 points from first to 100k in 2017/18.
Comparing ranks across different seasons is not really comparing apples with apples.
Interestingly, when calculating HoF ratings, Chris Atkinson (RMT professor) doesn't use rank at all. Instead he uses each manager's points total to calculate a percentage of the 'maximum score', which he defines as:
"An 80% mix of the average of the top 5 scores that year and a 20% mix of the average score that year."
This accounts for any luck or randomness in the winning points total.
HOF Top Five – Comparing the Past Two Seasons
| | | |
| --- | --- | --- |
| Averages | 16/17 Season | 17/18 Season |
| Total Points | 2,324 | 2,261 |
| Points Gap to First | 240 | 251 |
| Points Gap as a % | 9.4% | 9.9% |
| FPL Rank | 13,843 | 86,565 |
For a large part of last season, the Top Five for 2017/18 had scored more points but had a worse rank than their counterparts from the 2016/17 season.
In Gameweek 36 the average total points for last season was 52 points up on the season before. Yet the average rank was nearly four times worse – 18,235 vs 71,863.
Only a poor Double Gameweek 37 last season compared to an excellent Double Gameweek 37 in 2016/17 changed things around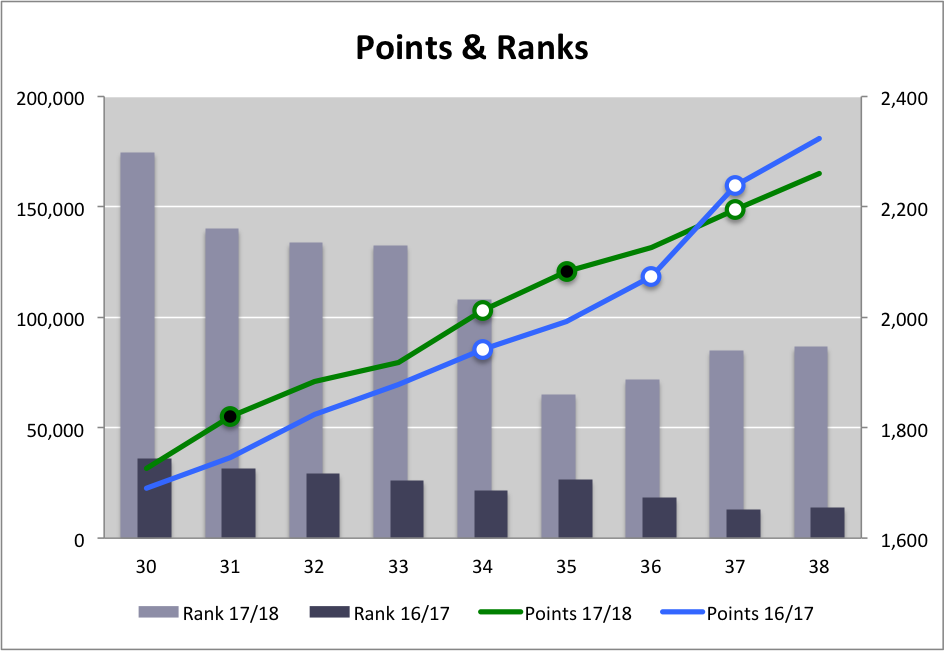 (white circle = double gameweek, black circle = blank gameweek)
Last season was much more competitive and therefore, despite scoring well, our Top Five managers weren't able to achieve the same high ranks. That the percentage gap to first place only differed by half a per cent – 9.4% (2016/17) v 9.9% (2017/18) – illustrates the point further.
As can seen from the chart below, even the FPL dream team for last season would have ranked outside the top 100k. There was a time when beating the FPL dream team would have guaranteed a top 10,000 or even top 1,000 rank. To quote Smarty Pants again:
"These days, you don't only have to figure out who the best players of the season will be and 'ride their points', you need to pick them during their good spells and drop them during their bad spells for the better performing ones.
Where Did All the Fun Go?
| | | |
| --- | --- | --- |
| | 16/17 Season | 17/18 Season |
| Transfers Made | 50 | 46 |
| Immediate Transfer Points Minus Hits & Free Hit chip | 248 | 73 |
There was a marked difference in Immediate Transfer Points between the two seasons – 73 points vs 248 points.
Immediate Transfer Points are a sign of our ability to predict which players are going to score well in the upcoming gameweek, and perhaps they are also a reflection of how much fun the game is.
Whilst achieving a good rank is important, that buzz we get from nailing a good transfer – successfully predicting when a player is about to haul – can really enhance a gameweek. Endorphins are released in our brains, and kudos is gained from fellow fantasy managers. Making successful transfers is part of the enjoyment of playing FPL.
Aside from the Free Hit chip played in Blank Gameweek 35, last season's Elite Quintet were starved of immediate transfer success. It was a pattern repeated for many outside the Top Five – it was simply a season in which it was difficult to predict outcomes; an easy home fixture for Harry Kane often resulted in a blank; Sanchez and Hazard had poor seasons by their high standards.
This is in contrast to the 2016/17 season in which we had Romelu Lukaku scoring four goals at home to Bournemouth in Gameweek 24; Sanchez and Kane scoring 27 and 31 points respectively in Double Gameweek 37; or perhaps you were shrewd enough to buy Josh King ahead of his hat-trick at home to West Ham in Blank Gameweek 28.
Mark wrote in his preamble article to Gameweek 36 last season that, "it feels like I've been treading water."
I wonder if that feeling was in part a consequence of a lack of immediate transfer success, and the season becoming a little less fun as a result.
Will This Season Be More Fun?
Comparing the top 10 highest scoring players from each of the past two seasons reveals what we might expect – that on average players scored less last season than in 2016/17 – 207 vs 213 points.
Take out Salah from last season and Sanchez from the year before, and the difference is even more pronounced – 197 vs 208 points.
Top 10 Players – 16/17

Top 10 Players – 17/18

Sanchez

MID

264

Salah

MID

303

Alli

MID

225

Sterling

MID

229

Hazard

MID

224

Kane

FWD

217

Kane

FWD

224

De Bruyne

MID

209

Lukaku

FWD

221

Eriksen

MID

199

Eriksen

MID

218

Mahrez

MID

195

De Bruyne

MID

199

Vardy

FWD

183

Costa

FWD

196

Firmino

FWD

181

Sigurdsson

MID

181

Sané

MID

179

Firmino

MID

180

Son

MID

178
However when we look at defenders and goalkeepers the reverse is true – last season the top 10 defenders and goalkeepers averaged 157 points compared to 150 points the year before.
Top 10 GK & DEF – 16/17

Top 10 GK & DEF – 17/18

Cahill

DEF

178

Azpilicueta

DEF

175

Alonso

DEF

177

De Gea

GK

172

Azpilicueta

DEF

170

Alonso

DEF

165

Heaton

GK

149

Ederson

GK

158

Lloris

GK

143

Fabianski

GK

157

Walker

DEF

142

Otamendi

DEF

156

Courtois

GK

141

Pope

GK

152

de Gea

GK

136

Valencia

DEF

146

Baines

DEF

135

Ryan

GK

146

Daniels

DEF

134

Pickford

GK

145
This seems to make sense – if attacking players are scoring less points on average then it follows that defenders and goalkeepers are probably going to score more points.
As Jay is fond of saying "focus on your most expensive players and make your budget work for you". The problem last season is that the expensive players underperformed while the cheaper players (defenders and goalkeepers) overperformed. This caused ranks to become more condensed and less spread out.
It's no wonder that managers who favoured mid to premium priced defenders did so well, as I discovered when I analysed the top three FPL teams last season in the second part of my season review. The way last season panned out meant that the advice given by RedArrows in August 2017 in his article on the value of premium defenders became even more prophetic.
Will the same happen this year? Will the game become less fun as expensive players continue to disappoint? Will premium defenders rule again?
The answer is we don't know. One thing we do know is that Fantasy Football continues to increase in popularity, and the number of managers playing the game is bound to go up again this year.
Below are the FPL Dream Teams from the past two seasons. Both teams are unaffordable – based on each players starting price for the season, they come in about £7m to £8m over budget (assuming the cheapest bench possible). Fail to beat this year's FPL Dream Team and you are almost certain to finish outside the top 100k.
Perhaps rank should no longer be our default for measuring success?
Dream Team – 2016/17

Dream Team – 2017/18

Heaton

GK

149

De Gea

GK

172

Cahill

DEF

178

Azpilicueta

DEF

175

Alonso

DEF

177

Alonso

DEF

165

Azpilicueta

DEF

170

Otamendi

DEF

156

Sanchez

MID

264

Salah

MID

303

Alli

MID

225

Sterling

MID

229

Hazard

MID

224

De Bruyne

MID

209

Eriksen

MID

218

Eriksen

MID

199

De Bruyne

MID

199

Mahrez

MID

195

Kane

FWD

224

Kane

FWD

217

Lukaku

FWD

221

Vardy

FWD

183

Total Points

2,249

Total Points

2,203