"I'm a shooting star, leaping through the sky. Like a tiger defying the laws of gravity
I'm a racing car, passing by like Lady Godiva. I'm gonna go, go, go. There's no stopping me"
Happy new year everyone!
There was certainly no stopping the FPL action over the festive period. It saw some of The Great and The Good flying like shooting stars whilst others fizzled out like a pound land firework.
So, who are The Great and The Good? They are Jay Egersdorff, Ville Ronka, The Scoutcasters (Joe, Andy, Az, David, Granville, and Mark), Eliteserien's expert Niemi, and the last man standing Torres Magic.
OVERALL PERFORMANCE
Just as the Premier League title race is hotting up so is the fight for the crown of the greatest of The Great and The Good. We have a new leader for the first time since GW6 as Mark now sits at top of the tree. David plays the role of Spurs in 3rd place and is less than 2,000 places away from the early season favourite Ville Ronka.
Unlike many Joe has had a great festive period and again over GW20 and GW21 was the top scorer amongst these group of managers with 136 points and now sits at his highest position for the season at 22,000. He nailed the captaincy over both weeks with Salah and Kane, brought Pogba in early, played the Wolves duo of Jimenez and Doherty versus Spurs and kept faith with Sane for the Liverpool. Let's see if he can continue his push up the rankings.
Meanwhile, Ronka will want to forget the last few weeks as he now had 5 red arrows in a row although admittedly this had only seen him drop less than 5,000 places. The biggest New Year's Eve hangover will belong to Az who just can't catch a break and has dropped 177,000 over the last 4 weeks.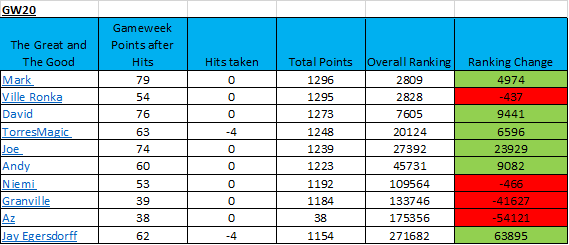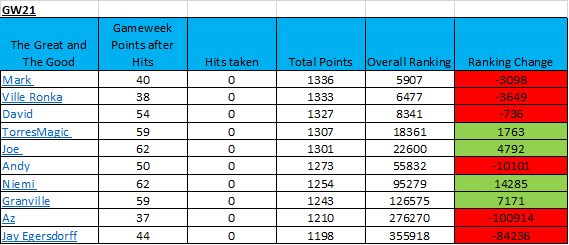 TRANSFERS AND HITS
This is a summary of the transfers for this week:
Andy
GW20 Pogba, Kane (Sterling, Aubameyang)
GW21 No transfer
Az
GW20 Shaw (Kolasinac)
GW21 Pogba, Salah (Sterling, Sané)
David
GW20 Luiz, Pogba (Alonso, Fraser)
GW21 No Transfer
Granville
GW20 Digne (Alonso)
GW21 Pogba (Martial)
Jay
GW20 Rico, Pogba, Salah (Ryan, Sterling, Sané)
GW21 No transfer
Joe
GW20 Foster (Hennessey)
GW21 No transfer
Mark
GW20 No transfer
GW21 Arnautovic, Bamba (Mitrovic, Shaw)
Niemi
GW20 Digne (Alexander-Arnold)
GW21 Pogba (Sterling)
Torres Magic
GW20 Pogba, Son (Sané, Sterling)
GW21 No transfer
Ville Ronka
GW20 Hazard (Sterling)
GW21 Zanka, Pogba (Fraser, Robertson)
*transfers out are in brackets
Jay made sure auld acquaintances were not forgot as he took a hit and brought Salah back into his team in GW20, this is the first time the Egyptian has been in his squad since GW5.
Pogba was the most sought-after guest at the New Year's Eve FPL celebrations and the most popular transfer in GW20/21.  Although his dance moves will have done little to impress Az, Niemi, Rönkä and Granville who were late to this party, only bringing him onboard for his blank in GW21.
The main casualty was Sterling who was kicked out after a poor run with only Mark staying loyal. Even the patient Ville Rönkä showed Raheem the door after only two weeks in his squad.
Meanwhile Mark seems to be hanging around the cheap defender bargain buffet for a little too long he has now tried Balbuena, Shaw, Schlindler and now Bamba over the last four weeks.
TEMPLATE
After those transfers the template now looks like this:
Fabianski, Hamer/Patricio
Wan-Bissaka, Robertson, Doherty, Alonso, Digne
Richarlison, Hazard, Salah, Pogba, Anderson
Kane, Jiménez, Ings
With the chiming of Big Ben, the template has a new member with Pogba now one of the favourite options. In these two Game weeks he has gone from zero to hero and is in all ten teams joining Doherty in that exclusive group.
Meanwhile, Digne has cemented his place in the back line over TAA and Schindler. The City duo of Sterling and Sané must be nursing a hangover as they have been transferred out by many. They certainly made a fuss with a goal and an assist before they left.
TEAM INVESTMENT AND VALUE 
Average Cost of Player looks like this across the teams based on week 1 prices.
Goalkeeper –  4.4
Defender – 4.9
Midfielder – 8.6
Forward – 7.7
ITB – 1.2
A small shift towards the front line over last couple of game weeks but intriguing to see so much in the bank for some of The Great and The Good. Andy, Niemi and Torres Magic all have more than 2.5m to spend. Is it time for all of them to splash the cash and bring back Salah?
Torres Magic could overindulge on the best champagne as he has the highest TV of 105.6. Mark and Granville can at least afford to be at the party with both above 105m whilst Jay can only press his face against the window at 103.2. Please note TV is as of GW21 deadline for those following along.
FORMATION AND BENCH 
The 3-5-2 proved the go to formation over the 4 GWs during the festive period and ended at 60% deployment by The Great and The Good. Ville Ronka, who has been a key supporter of the formation, surprisingly decided to go 3-4-3 for first time this season in GW20 which ended badly as it meant Kamara's penalty mishap cost him a -1.
Despite the fears of mass rotation over the holiday season it was in fact minimal with these managers only looking to their bench 8 times between them over the whole of the 4 weeks.
CAPTAIN AND DIFFERENTIALS 
The captain choice came down to Kane vs Salah for GW20 and Kane vs Hazard in GW21 for these managers. Granville was refreshingly different in going for Anderson and Aubameyang.
There has been a general shift towards Harry since GW16 and he has been the preferred option at 38% over those game weeks. Although Salah remains the most popular armband choice across the season and I expect that lead to increase over the coming weeks.
David has regained his captaincy mojo and went Salah and Kane in GW20 and GW21. He has only blanked once all season and is fighting it out with Mark for king of captains. The FPL Godfather has a 20.2 point average to the young pretender's 20.1
In terms of differentials, the pick of the bunch is Mark: Mark has Sterling and Arnautovic in his squad, and no one else does. As mentioned before Niemi has differential Aguero who, with his goal against Liverpool, demonstrated his worth.
CONCLUSION 
So, as we go into 2019 and take a well-deserved break from FPL whilst watching the FA Cup, what will be our resolutions?
Will Jay, Niemi, Torres Magic and Andy resolve to never to go without Salah again?
Will Ville Ronka take at least one hit in 2019?
Will Mark stop taking hits and bringing in budget defenders?
Will Granville resolve to stop picking maverick captain picks and messing up my spreadsheet?
Will Az resolve to find some luck?
Will Andy resolve to forgive himself for selling Son in GW18?
Will David never ever pick Sane as captain again?
All this and more to be answered in the second half of the season.
Anyway, that's all from me for now, remember don't have nightmares and have a very happy 2019!