Once again, the Fantasy Football Scout members area will be a helpful tool for managers planning to play the Free Hit chip in Double Gameweek 32.
This is the first in another series of articles researching the optimum 15-man squad for next weekend's expanded round of fixtures.
We have run comparisons on the top options from each of the four positions using the data available to us in the members area, and will be publishing a members article on each of them.
This article on the best goalkeepers is free for all the public to view, but only Fantasy Football Scout members will be able to read on and access our analysis on defenders, midfielders and forwards published at a later date.
Now that we are past the half-way stage of the season, memberships are now available for just £10, so make sure you get the most of it while you can by signing up HERE.
READ MORE DOUBLE GAMEWEEK 32 FREE HIT COVERAGE:
The Double Gameweek fixtures:
Brighton: Southampton (H) + Chelsea (A)
Cardiff City: Chelsea (H) + Manchester City (A)
Chelsea: Cardiff City (A) + Brighton (H)
Crystal Palace: Huddersfield (H) + Spurs (A)
Fulham: Manchester City (H) + Watford (A)
Manchester City: Fulham (A) + Cardiff City (H)
Manchester United: Watford (H) + Wolves (A)
Spurs: Liverpool (A) + Crystal Palace (H)
Watford: Manchester United (A) + Fulham (H)
Wolves: Burnley (A) + Manchester United (H)
Defensive Form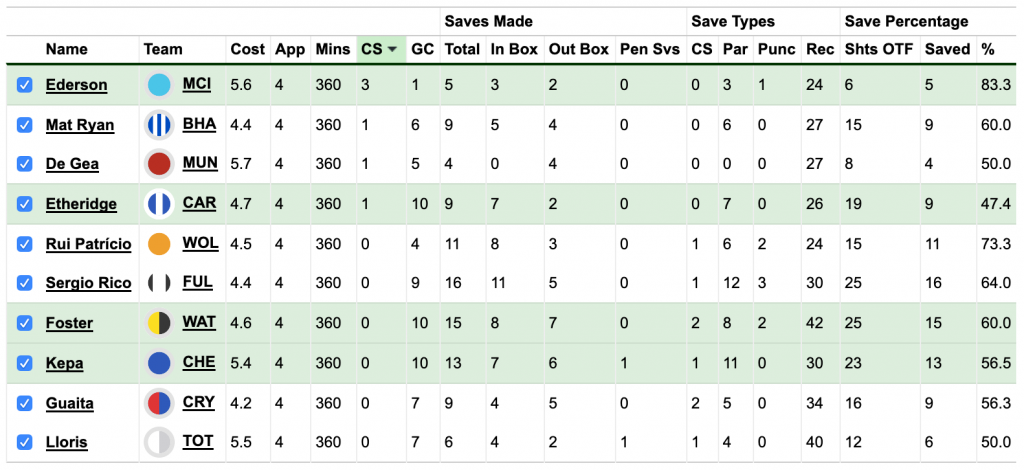 A look at the individual data from the last four matches suggests that Ederson (£5.6m) is the most likely to help his side keep a pair of clean sheets in Double Gameweek 32. From those who will have two fixtures, nobody has more than his three shutouts in their last four, while no goalkeeper faced fewer shots on target than him. Furthermore, Ederson also has the highest save percentage in our sample (83.3%).
However, whether the Brazilian will fit into the plans of Fantasy managers considering the Free Hit chip relies on investment elsewhere. With Manchester City's double fixtures arguably the most appealing, a triple-up on their assets will be hugely popular. Two of those spaces will almost certainly be taken up by Sergio Aguero (£11.8m) and Raheem Sterling (£11.6m) with defensive options vying for a third. Ederson will then be competing with options such as Aymeric Laporte (£5.9m), David Silva (£8.5m) or Bernardo Silva (£7.5m) and with no goal threat to offer himself, the goalkeeper may well lose out. About the only factor that Manchester City's goalkeeper has over his colleagues for Fantasy inclusion is his security of starts, having played every minute of the Premier League campaign so far in 2018/19. For more information on Manchester City rotation, read this article.
The case for David de Gea (£5.7m) is not particularly strong in comparison. While he has only faced two more shots on target than Ederson in the last four matches, he has saved fewer and kept just one clean sheet. In a crucial difference to last season's form, de Gea has stopped just 50% of the accurate shots fired at him, the second lowest of any goalkeeper with two fixtures in Double Gameweek 32.
Generally, the clean sheet potential of the options included in the table above is not hugely inspiring from a form perspective. They combine for just six clean sheets over the last four matches, 50% of which were recorded by Ederson.
Opposition attacking form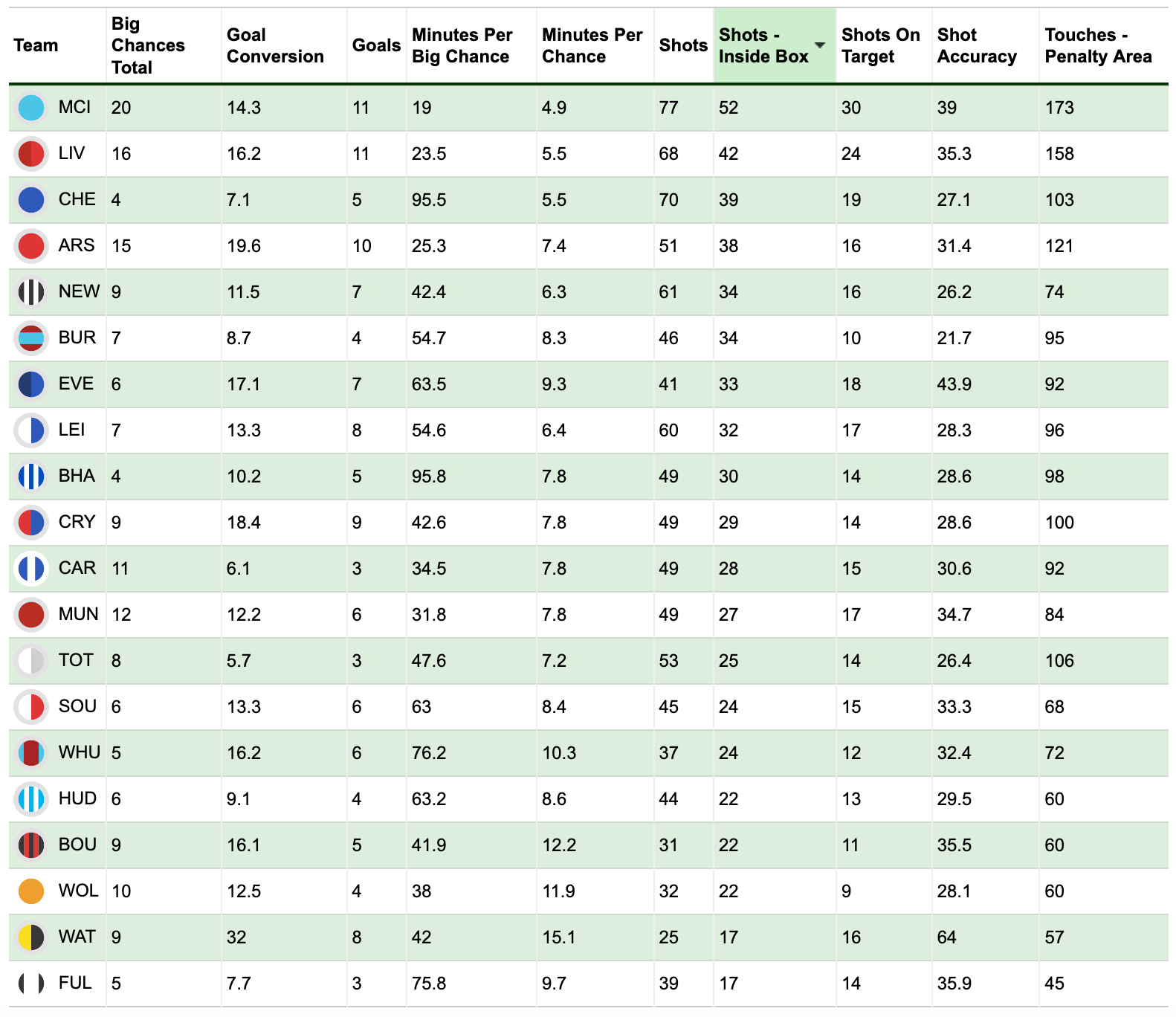 A look at the attacking data of the opponents over the last four matches helps strengthen Ederson's case. His initial opponents Fulham are in the bottom six for shots inside the box (17), efforts on target (14) and big chances (five) over that time. Meanwhile, Cardiff are bottom of the league for big chances (two) and second-worst for shots on target in the last four away matches.
However, it does also suggest some hope in anyone looking to de Gea or Kepa Arrizabalaga (£5.4m), despite their own questionable form. In the last four matches, Watford are joint-bottom of the league for shots inside the box (17), while Wolves are second-worst (22) and bottom themselves for shots on target (nine). While Cardiff have been fairly dangerous at home ahead of Chelsea's trip to South Wales, the Blues do then go on to host a Brighton outfit that is bottom of the league for big chances (four) in their last four Premier League outings.
Crystal Palace man Vicente Guaita (£4.2m) has something of a mixed Double Gameweek as he faces Huddersfield Town first before travelling to play Spurs. The first of those bodes particularly well, even if the Terriers scored three against a poor West Ham defence in Blank Gameweek 31. In the last four away matches, Jan Siewert's men are still third-worst for shots in the box (18), fourth-worst for shots on target (12), second worst for big chances (four), while their three goals in this period all came in one match. Spurs have not been at top form in recent weeks so there's a slight chance of another shut-out for the Palace, with Mauricio Pochettino's men just about in the bottom half for shots in the box (25), shots on target (14) and big chances (eight) across the last four matches.
Mat Ryan (£4.4m) is another budget goalkeeper with mixed fixtures in Double Gameweek 32. Up first is Southampton at home, who are currently in the bottom six for shots inside the box (24) and big chances (six) over the last four matches, but after that, the Seagulls travel to Chelsea. There is a glimmer of hope in the fact that the Blues are actually joint-bottom for big chances in that time (four).
Save potential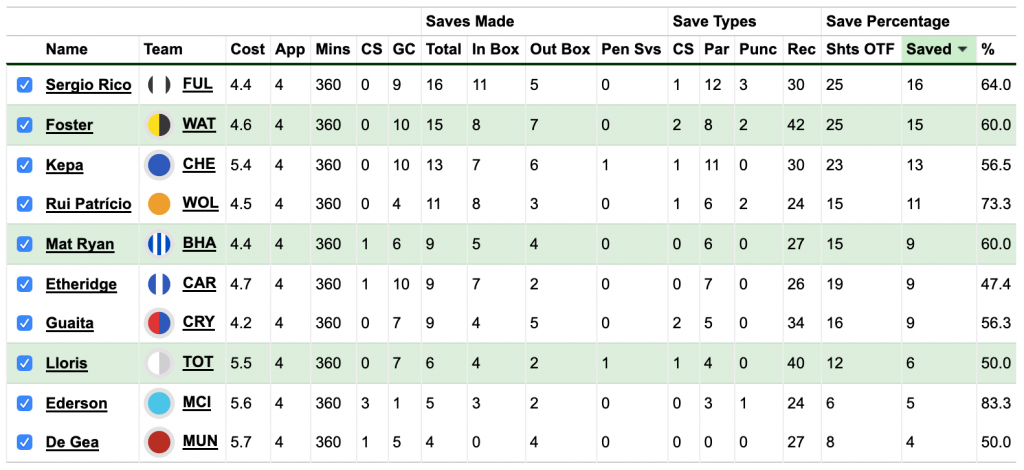 What counts against assets such as Ederson and de Gea when we compare them with other goalkeepers that have two Double Gameweek 32 fixtures is save potential. You will see that from our selection of shot-stoppers, those towards the top end for saves in the last four matches are largely the cheaper options, with lower clean sheet potential.
Fulham's Sergio Rico (£4.4m) has made more stops than any of the other goalkeepers in our sample with 16, while Ben Foster (£4.6m) is just behind him on 15. As they are also the two to have faced more shots on target than any of the other options, Fantasy managers may be a little put-off, by Rico especially as Fulham are facing Manchester City and Watford in Double Gameweek 32.
However, a little extra analysis of Foster's individual data suggests he might be able to provide a great balance between saves and clean sheet potential. As you can see from the table above, a healthy portion of the Watford man's stops came from shots occurring outside of the box. In fact, none of our selected goalkeepers registered more than Foster's seven in this department. That might suggest that Watford are to some extent limiting their opposition to efforts that are easy for their goalkeeper to save, perfect for Foster to rack up save points, whether or not he keeps a clean sheet or not.
Similarly, Chelsea's Kepa falls into the same category. He ranks third for saves made in the last four matches, his 13 behind only Rico and Foster, while six of those were from shots outside the box. Only the Hornets' shot-stopper has more than him from our selected assets, the pair remarkably close when it comes to what that represents as a portion of their saves. 46.7% of Foster's saves came from shots that originated outside the box, and 46.2% of Kepa's were from the same region.
Rui Patrício (£4.5m) is worth looking at too, considering his save percentage of 73.3%. Ederson was top of this category but obviously, 83.3% of a small number of shots on target faced does not equate to too many saves. Of those who have made 10 saves or more in the last four matches, Patrício is comfortably top for save percentage. Not a huge portion was secured from shots outside the box so they were mostly at closer range, but that's not necessarily an issue if Patrício is still making the save. In fact, considering it's Burnley (away) and Manchester United (home), there should be a decent number of efforts for the Portuguese international to stop which, if he does help keep a clean sheet, he could be adding on those all-important additional points.
Conclusion
In conclusion, there is certainly merit to hiring an expensive 'set-and-forget' option in goal for Double Gameweek 32, with Ederson especially having a strong clean sheet potential and De Gea facing opponents that are theoretically goal shy according to their offensive data.
However, spending elsewhere in our Free Hit squads will dictate whether or not that is the right route to go down. The fact that Manchester City's number one is unlikely to face too many shots on target means he will find it hard to add saves or bonus. For that reason, Ederson can probably offer nothing more than six-pointers per match, while his colleagues in defence could throw some goal or assist threat into the mix.
Perhaps the only more expensive Double Gameweek goalkeeper with the best balance in terms of points potential is Kepa. Chelsea's fixtures against Cardiff and Brighton both offer a decent chance of clean sheets while his potential to rack up saves from distance could see him pull in some extra points. However, the Chelsea man's save percentage does remain fairly low, which could count against him.
Of the budget options, Foster, Patrício, Ryan and Guaita are the ones to consider. Of those four the latter stands out the most for his price and that initial fixture at home to Huddersfield, although a question remains about his chances of starting both matches.
Guaita has started six of the last seven matches for Crystal Palace and does appear to be the first choice. The only thing that might hold Fantasy managers back from signing the budget goalkeeper up is the fact that he was benched for tactical reasons in Gameweek 29 when the Eagles travelled to Burnley. Roy Hodgson explained at the time that Wayne Hennessey (£4.5m) was selected that day to bring his height into the team in order to better cope with aerial balls into the box.
Patrício may be in a similar position, despite being the number one for Wolves. He was rested for the Gameweek 29 win over Cardiff as manager Nuno Espirito Santo wanted to give John Ruddy (£4.2m) a run-out ahead of upcoming FA Cup action. Five days after Wolves' second Double Gameweek 32 fixture with Manchester United, they will meet Watford in the FA Cup semi-finals at Wembley Stadium, so Patrício might be given the day off for one of the league fixtures to allow his understudy to warm-up for such a big occasion.
Foster and Ryan seem significantly more nailed-on for their respective sides and, as already mentioned, both have the potential for a spread of points. Each of them has one tough trip to a top-six side and a home match against lesser opposition so there's not a huge deal to choose between them in that respect. Foster looks to just edge the save-potential, while Ryan is the cheaper option.
READ MORE DOUBLE GAMEWEEK 32 FREE HIT COVERAGE: