Fantasy Premier League managers playing the Free Hit chip for Double Gameweek 32 need to work out which Manchester City options are most likely to start both matches.
The defending champions have been handed a hugely attractive pairing of Fulham (away) and Cardiff (home) in the next round of fixtures.
In order to maximise exploitation of goals scored against those two sides, Fantasy managers will need to pick the players most favoured by Pep Guardiola.
READ MORE: Our initial thoughts as all Double Gameweeks confirmed for 2018/19 season
However, as many of us know, that is easier said than done.
We have gone back over the last eight Premier League matches to see which assets were used the most when they were available.
Goalkeeper

Not surprisingly, Ederson (£5.6m) has played every minute of the last eight FPL matches. The Brazilian has now been on the field for every second of Manchester City's league campaign.
With Claudio Bravo (£4.8m) injured, Arijanet Muric (£4.5m) has been warming the bench for Ederson but unless the number one goalkeeper gets injured, it looks as if he will be playing both matches in Double Gameweek 32.
Defenders

Despite being an ever-present for much of the campaign, Aymeric Laporte (£5.9m) is no longer the most nailed-on Manchester City defender.
Over the last eight league matches, Guardiola has used him either at centre-back or left-back 83.3% of the time he has been available. That may have been to preserve his fitness as the Frenchman missed Gameweeks 28 and 29 with injury, hence why he remained an unused substitute against Watford.
However, Laporte remains the favourite centre-back over this period of time. Vincent Kompany (£5.2m) is the second-most used when fit, starting two of the last three since returning from injury. Between Gameweeks 28 and 30, Guardiola used the Belgian for 82.2% of the maximum minutes possible. Kompany has now returned to the physio room after missing the most recent Champions League and FA Cup matches with a muscle injury.
Nicolas Otamendi (£6.0m) sits in third place among the centre-backs having played 75% of the maximum minutes possible in the last eight matches. In six of those, he completed 90 minutes, including the last three in a row, left on the bench twice in the selected sample of games. However, like Kompany, he is yellow-flagged going into Double Gameweek 32, having pulled out of the Argentina squad with an ankle injury earlier this week.
John Stones (£5.2m) seems the least likely to start both matches in Double Gameweek 32, having been used for 58.7% of the Premier League minutes from Gameweek 23 onwards. The former Everton man has missed two matches with injury and has now pulled out of the England squad with a groin problem.
Interestingly, the most-used defender over the last eight matches is right-back Kyle Walker (£6.4m). The England international has started every game since Gameweek 23 with the exception of the Gameweek 28 win over West Ham.
There does seem to be very little competition for Walker's place in the side right now, with Danilo (£5.0m) the only one in the first team capable of playing his position. The Brazilian has been involved in just 36.4% of minutes in the last eight matches though, and only one appearance from his three made in that time was on the right, the other two on the left.
The left-back position looks a little more open with Oleksandr Zinchenko (£4.7m) the most-utilised defender capable of playing there since Gameweek 23, but not the only. The Ukrainian, classified as a midfielder in FPL, has started on the left for the last four league outings in a row now.
But Laporte is obviously able to play at left full-back, as was demonstrated in the last Double Gameweek, and feels like the most likely competition for Zinchenko. Danilo has played on the left just twice in the last eight, both appearances coming in Gameweeks 23 and 24, while Fabian Delph (£5.3m) has registered just 10 minutes of league football in our sample. Guardiola retrospectively reported an injury to the England international but he has been an unused substitute twice in our sample and it seems clear he has fallen out of favour for Premier League matches.
Midfielders

It should come as no surprise that the most nailed-on Manchester City midfielder, when fit, is Fernandinho (£5.3m). The Brazilian has missed the last three league matches with a muscle injury but is reportedly close to a return.
Benefitting from his absence, Ilkay Gündogan (£5.4m) is just behind his injured team-mate having started the last six Premier League matches in a row.
However, neither one of Fernandinho or Gündogan is likely to offer much in the way of attacking returns, with assets further up the field the more attractive for Fantasy managers.
Unfortunately, it is these more advanced players who Guardiola likes to rotate the most.
David Silva (£8.5m) was the most-used of these over the last eight matches, registering 81.1% of the maximum minutes available to him in the Premier League.
That came from six starts and two substitute appearances, the Spaniard recording 90-minute outings in each of the last three Gameweeks.
Encouragingly for those looking at getting him in their Free Hit squads, just behind Silva among most-used attacking midfielders is Raheem Sterling (£11.6m) on 80.6%.
Interestingly, that is higher than Bernardo Silva (£7.5m), who sits roughly 7% behind him on 73.1%.
The England international has made six starts since Gameweek 23, featuring off the bench in Gameweeks 25 and 28.
While Sterling's involvement in this research is quite high, we should point out that he did not start both matches last time Manchester City had a Double Gameweek, in the first XI for the visit of Arsenal, but on the bench for the trip to Everton.
Bernardo actually started both of those two matches, but still has fewer starts than Sterling in the run in question. He has made five league starts since Gameweek 23.
Kevin de Bruyne's (£9.7m) involvement is not as low as one might expect, having played 70.5% of Manchester City's minutes over the last eight matches.
Given his fitness problems this season, Guardiola has been reticent to allow the Belgian to play 90 minutes very often, and he has done so just twice in his last seven Premier League outings.
In total it's six starts in the league for de Bruyne since Gameweek 23, which suggests he is still an important player for Guardiola when fit.
He is currently out with the hamstring injury he sustained against Bournemouth in Gameweek 29 that Guardiola said would keep him out for a while.
It is possible that de Bruyne is close to a return though, and the international break will certainly help him with that.
Bernardo and David Silva are the two players most likely to suffer some rotation if he comes back into the mix.
Leroy Sané (£9.3m) and Riyad Mahrez (£8.2m) are the two attacking options in midfield that are not particularly worth considering for Fantasy inclusion.
The two players have combined for just six Premier League starts between them since Gameweek 23, making for involvement in 39.3% and 29.4% of matches respectively in that run.
Forwards

The research into Manchester City's last eight Premier League matches tells a pretty convincing story: Sergio Aguero (£11.8m) is the much-preferred option up front for Guardiola.
The Argentinian has played 91% of the minutes available to him since Gameweek 23, managing to make it past the 79th minute on all but one occasion.
The only time Aguero was substituted around the hour mark in this run was when Manchester City were already 5-0 up on Chelsea, courtesy of his most recent hat-trick.
Admittedly, Gabriel Jesus (£9.9m) did have an injury during this sample of Premier League games, but that only ruled him out of Gameweek 28, as he featured as a substitute in all but one match over the last eight.
That made for involvement of just 11.4% of the minutes between Gameweeks 23 and 31, showing just how far apart Jesus and Aguero are right now. In fact, the only players with smaller percentages for their involvement are Delph and Phil Foden (£4.5m).
But as has been the case with de Bruyne, perhaps the reason for Jesus' minimal minutes is because Guardiola is keen not to rush him back into action following injury. The two-week international break might help things for the Brazilian, but he has been called up by his country, while Aguero has not.
What happened in Double Gameweek 25?
Looking a little closer at the dates between the matches in our sample we have pulled out the list of players who started twice in the last Double Gameweek.
Manchester City played Arsenal (home) and Everton (away) back in January, with nine players featuring from the beginning against each opponent:
Ederson
Kyle Walker
Aymeric Laporte
Nicolas Otamendi
Fernandinho
Ilkay Gündogan
David Silva
Bernardo Silva
Sergio Aguero
The impact of other competitions
While the last eight Gameweeks make for a good yard-stick about Guardiola's rotation plans, Manchester City will arguably have more high-pressure games to balance with their Premier League commitments in March and April than they did across January, February and March.
Here is their full upcoming schedule:
Sat 30-Mar-19: Fulham (home) [Premier League]
Wed 03-Apr-19: Cardiff (away) [Premier League]
Sat 06-Apr-19: Brighton (Wembley) [FA Cup semi-final]
Tue 09-Apr-19: Tottenham (away) [Champions League quarter-final, first leg]
Sun 14-Apr-19: Crystal Palace (away) [Premier League]
Wed 17-Apr-19: Tottenham (home) [Champions League quarter-final, second leg]
Sat 20-Apr-19: Tottenham (home) [Premier League]
Wed 24-Apr-19: Manchester United (away) [Premier League]
Sun 28-Apr-19: Burnley (away) [Premier League]
In order to see how these matches might impact on the Premier League game-time, we've had a look back at every cup meeting Manchester City have played in since Gameweek 23.
We found that there were a number of players who were more involved in these than in the league games, and also that there were a number of key first team options who largely received rests.
Obviously, the run we have researched does not quite compare like-for-like with Burton Albion, Newport County and Swansea City as games against them were arguably lower pressure than an upcoming FA Cup semi-final and a two-legged Champions League tie with Spurs will be. However, this sample of research still includes a cup final, which Guardiola heavily prioritised, as well as two crucial European ties.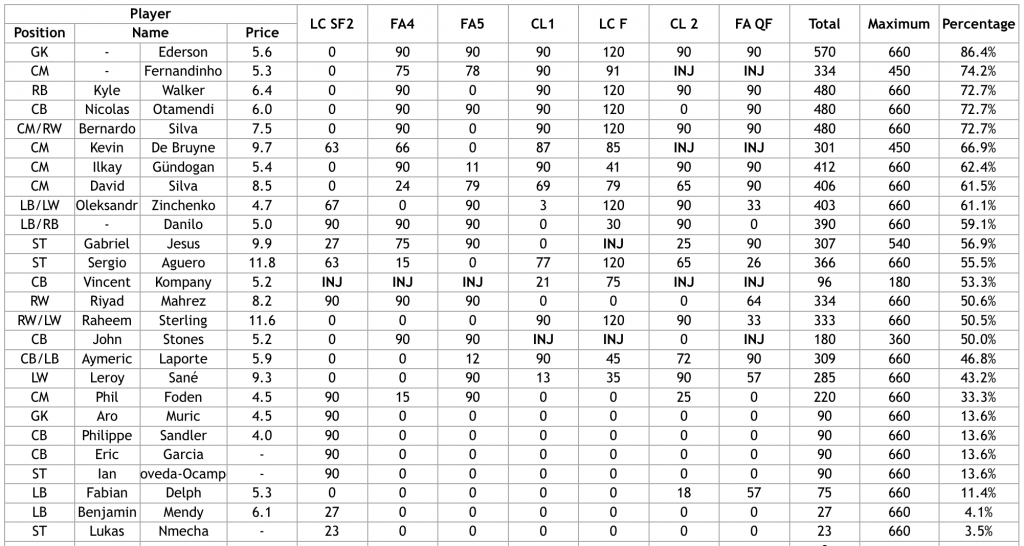 Of the attacking midfield options, Bernardo Silva has been turned to the most often, involved in 72.7% of the cup competitions from the League Cup semi-final second leg. That might be why players such as Gündogan and David Silva have managed more game-time in the league, the two of them on 62.4% and 61.1% of maximum cup minutes respectively.
There is further encouragement for those looking at Aguero as we see that he has been less involved in matches outside the Premier League than Jesus. There is not much between them, but 120 minutes of Aguero's 55.5% involvement came in one match, the League Cup final against Chelsea.
Outside of that, it was just three starts, all of which featured heavy management of his minutes, none of his appearances lasting longer than 77 minutes.
Laporte is another option who has been used in cup competitions only sparingly, having registered just 46.8% involvement since the second league of the League Cup semi-final. That may mean rests for him against Brighton and Spurs and gives him a decent chance of starting both league matches in Double Gameweek 32.
Conclusion

The crucial takeaway from this research concerns Aguero and his credentials for Double Gameweek 32. Any doubts over his chances of starting against Fulham and Cardiff should be allayed by his heavy involvement over the last eight Premier League matches.
Despite being seen as a rotation threat for much of this campaign, since Gameweek 23, only Ederson has recorded a higher percentage of game-time than his 91%.
A part of that has been linked to Jesus' fitness but the fact that Aguero is getting the international break off, and his Brazilian colleague is not, only helps push the pendulum back towards the Argentinian.
It is worth saying that even if Aguero does feature only as a substitute in one of the two Double Gameweek matches, that may not hinder his attacking potential. His 24-minute cameo against Swansea demonstrated that perfectly, when he came on and was involved in all three goals that helped the Citizens come from behind to secure passage to the FA Cup semi-finals.
Furthermore, the 6-0 win over Chelsea shows that if Manchester City are three or four goals to the good against Fulham on March 30, Guardiola may substitute Aguero to then increase his chances of orchestrating a similar early lead against Cardiff midweek.
Sterling's place in the side is not quite as assured with Bernardo Silva, Mahrez and Sané all options Guardiola could rotate in for him. However, it is definitely encouraging to see that the England international was more involved than all of them over the last eight matches.
Sterling has been involved much less in the games outside the Premier League than Bernardo, which bodes well but he is roughly equal with Mahrez and ahead of Sané in this area. With the Champions League matches with Spurs in particular expected to be big games for Manchester City, Guardiola may want Sterling involved over Sané or Mahrez. After all, the Englishman started both Champions League last sixteen legs and played 120 minutes in the League Cup final, while the other two mustered just one start between them from a possible six. Given that Manchester City's FA Cup semi-final opponents are Brighton, this could be when Guardiola choses to rest Sterling, and hopefully not against Cardiff.
The fact that David Silva was the most involved in the Premier League of the more attacking midfielders should not go unnoticed. Guardiola has used him much less often in cup competitions than he has Bernardo, which seems to have helped his credentials as an FPL transfer target for a Free Hit squad.
Ederson looks the key man in goal, although Fantasy managers may prefer one of Laporte or Otamendi to supplement a Manchester City triple-up. They are both at the top end of involvement for centre-backs in the Premier League in our sample of research.
However, Walker could prove a differential option for those looking to invest at the back. He has been the most nailed-on defender for Manchester City in the last eight matches, with very little realistic competition for his place, while at centre-back Stones and Kompany could compete if fit.
Finally, with the quadruple still in Guardiola's sights, it is possible that rotation may ease slightly anyway.
There are very few fixtures in the schedule above that are not high-pressure and must-win for Manchester City if they want to hit their aims for the season.
So there is a case to be made that the important players like Aguero, Sterling and the like will all get more game-time in each competition accordingly.
In order to keep competing on all fronts, Manchester City's best players may have to be deployed as often as possible, Guardiola hoping that the rests he has staggered throughout the campaign will give them the energy they need to play extensive minutes between now and May.
READ MORE: Our initial thoughts as all Double Gameweeks confirmed for 2018/19 season