With a stork delivery just around the corner, I drag Mark, nappies and all, into the studio for one more ScoutCast before the little time thief bundle arrives.
Keeping my distance, despite getting over the worst of my stinker that had me bed-ridden last week, I find time to lament my latest "miffed", torment Mark about his belated sale of Victor Moses and gloat just a little about closing the mini-league gap via Clint Dempsey's haul.
The regulars are all present and partially correct, delivered in husky tones, fuelled by Lemsip. Other cold cures are available. Other chaotic Fantasy Football podcasts aren't.
Get the this latest episode without the help of midwife via this link.
goooooood mornin'

fantasy ACON Rd 3, how do i look? 75 people in FFS mini league and Im 33rd, NOT GOOD ENOUGH!!!

Diakite (BOT) [Ovono (TUN)]

K. Toure (ANG), Paintsil (GUI), Kante (BOT), Kily (ZAM) [Ifa (GAB)]

Y. Toure (ANG), Ayew (GUI), Keita (BOT), Zita (TUN) [Korbi (GAB)]

Drogba (ANG), Gyan(C, GUI) [Msakni (GAB)]

anyone here playing? if not, dont hate me if i repost in a couple hours.

231

1) aguero + McClean or
2) Dzeko + Sess ?

Rest of mids and forwards are:
Silva, Bale, Valencia , Dempsy
RVP & Ba.
Thoughts appreciated.

after this week you will probably bench sess over your other options anyway. may as well use mcclean in that role and get the better quality everyweek striker.

Aguero IMO safer and I feel he has a lot of opportunity to score over next few wks, your mf is strong anyway so you'll need a bencher, no point in trying to bench a heavyweight each week, it'll wreck your head esp if there's pts on that bench .

Can u all gv some opinions on my team for tis week... Not a WC team..

Mignolet

Richards Evans Enrique

Bale Silva Valencia Sess HBA

Aguero RVP(C)

Vorm Simpson Morison Caulker

change your subs order.
Morison should be first. ( Norwich can score goals and Morison is always in the mix)
And i fency Swansaa to shout out chelsea more than Newcastle aginst Blackburn).
You may even play morsion ahead of HBA.

its a tough call, Blackburn are leaky at the back, so probably play HBA.
and Morison as first sub and caulker ahead of simpson. ( Blackburn usually score at home).

if hes starting mignolet, then morison would counter that CS potential. Id play bafa, may as well try to get use out of him while you can.

Not bad go with your gut , the crystal ball can be quite difficult to read at times anyway.

So, barca are now 7 points behind madrid, obviously too early to write them off but if barca only win the copa del ray, I don't think messi will win the ballon'd'or or at least I hope not.

not too happy with that 7 point gap... especially with the madrid not dropping many points.

copa del rey + champions league + club world cup + european super cup + spanish super cup = he will probably win it again.

even without the champions league he could still win it. who else would you give it to? Ronaldo?

Adebayor is the Schrödinger's cat of players, isn't he.

I know for sure that if I put him in my team against Wigan he'll do feck all, but if I don't he'll play the game of his life and score a hat-trick.

You'll be the first to know, Udit. ✔

Also you can't tell from his goals scored if he's dead or alive...

Call me a sadist, but I can't wait for Tuesday night to blow away our carefully laid plans. This week has been just too comfortable...

How is my team looking for next few weeks??

Stockdale,

Enrique, Bae, Evans

Silva, Bale, Valencia, McClean

Torres, RVP, Aguero

Vorm, Senderos, Ben Arfa, Simpson

I hv 2.4M and 1 FT , any changes shud i make??

Morning all

While it's fairly quiet on here can I get some opinions on my current dilemma. My team for this weeks currently looks like this:

Vorm
Evans, Enrique, Skelly
Gerrard, Sessegnon, Silva, Mata
RVP, Dzeko, Best

Subs: Krul, Walters, Santon, Shawcross

4.2m in bank, WC played last week, FT already used to do Rooney > Dzeko. (Dzeko is a short term punt for 2/3 weeks)

Should I

a) take a 4pt hit this week and do Walters to Valencia this week, play 5 in midfield with Best as first sub and just do Best to Ba next week for no hit or
b) leave as is this week and take a 4pt hit next week to do Gerrard to Valencia and Best to Ba

Option a) I keep Mata until GW29 and take a hit this week and option b) I keep Walters until GW28 and take a hit next week.

muchas gracias

Actually, as my brain slowly wakes up, may I enquire why you don't do a Gerrard to Valencia move now?

Stoke have three lovely home games in the offing ...

I could do the Gerrard move now, but Liv have a good fixture this week which is why I thought of keeping til next week.

And Stoke's lovely fixtures are part of the dilemma and Walters rotates well with Sess.

My original plan was no hit this week and then b) next but Rooney's potential absence forced my hand somewhat this week as I couldnt afford to have him on the bench.

I dont think Best will do anything, he was just a placeholder until Ba came back.

Are you now thinking b)?

Avoid hitsmac IMO you don't need to, true Toni is on fire but not sure if you'll get the desired outcome against stoke/Chelsea

Hard Van, you dont think that playing Valencia this week as opposed to Best will offset the 4 points?

Actually, thinking about it you may both have good points there. I could leave as is this week, just do Best to Ba next week and then Gerrard to Valencia the following week for no hits.

Thanks HVT, Doos and TW, I think I'll do that 😀

Jolly good.

Possibly not, now that Rooney is out.

Play 5 mf, and after a lot of thought best>ba next and monitor gerra for returns. Your team is solid mac, you know more than most what your doing stick with your gut, it's usually what I do and I find things have a habit of working themselves out.

My problem is that I get side-tracked with price rises and fixtures and sometimes cant see the wood from the trees which is why I value opinions on this site. It helps me to keep a proper perspective.

And I may well yet end up keeping Gerrard, after GW27 their run until the end is pretty sweet.

Many thanks HVT, Doos - invaluable help!

IMO this strategy of 5 strong mf is causing a lot of consternation out there, peeps are struggling with who to bench , hell a lot benched bale last wk against city and we all know how that went , I think a weak 5th man is the order of the day unless you go with a very weak 3rd striker and bench him, I think this is your wood from your trees , jus need to work out which seed to sow, - ultimately Mac " the holy grail "

can someone explain to me why most don't think newcastle will get the cs vs blackburn?

ahhh, that explains it. didn't realize that was the case. you don't think no yak and going against a usually tight defense will change that though?

apparently Liverpool offered Citeh Andy Carrol in exchange for Tevez??? 😆 😆 😆

is Bogdan bound to start all the matches now after recent results nd performances ?

Jaaskelainen is still injured ...

Another slow day with the GW nowhere in sight... what better way to make it worse than posting a RMWCT :D?

Krul/Lindegaard
Richards Evans Brown/Santon/Rangel
Silva Bale Valencia Sess/Walters
RVP Aguero Ba

Interesting that you have gone for Walters over Dempsey but I can see why. Your defense is very similar to what my WC defense will be, although I see you have gone for triple rotation with Evans playing ever game, not a bad option.

Yep Walters for their home fixtures coming up, and he rotates perfectly with Sess - - so long he stays on pens obviously - Evans and Richards always start as their teams have the best CS records in the league, if Evans is ever dropped should be able to find another defender from the 3 rotated.

Main doubt for me is Walters, is Sinclair or indeed Dempsey a better bet?

Rule Sinclair out imo. Its either Dempsey or Walters, obviously you save money with Walters so it depends if your happy with where that is spent. I have gone for Dzeko over Aguero in order to afford Dempsey.

Yep, could be pretty close between both options. I hear Aguero will be on pens though if it helps.

Here is my effort, its similar to yours but with two double rotations

Krul/Linde
Richards, Evans/Santon, Shotton/Kelly
Silva, Bale, Dempsey, Sess, Valencia
RVP, Dzeko, Ba

Nice, eleven of fifteen the same! MUN/NEW and STO/FUL both rotate very well. Only avoided STO/FUL because I see both Shotton and Kelly as not entirely nailed on.

Fair enough, I am willing to take the risk as I will be happy for Evans to fill in if necessary on a permanent basis so that limits the risk a little for me. The other issue is choosing who to bench. Ba this week and probably Dempsey the following week as they play City. It could be problematic but it means I have a descent player who can play if someone gets injured or is a doubt

Yep more options are better than none.

Just realized you might be wrong about Aguero being on penalties. Surely it will be Milner, no?

Sorry, I meant Walters rotates well with Sess to GW28. Awful after that.

Like it a lot, although I'm not sure about Rangel - or any Swansea.

+1 I wouldn't have any Swansea although with the triple rotation he could fit in. Not sure I agree with that policy though

Dunno. I have a pair as well - Koscielny and Assou-Ekotto. I like the run ins of their respective teams.

Yeah Swansea coverage is only justified for me by the triple rotation. On the few occasions the other two are bad fixtures, playing Rangel at home is a nice thought. Have tried to make my defenders as attacking as possible.

Yep. He may become Clichy temporarily, who goes well with Koscielny - but I am tempted to let it ride and swap Shawcross out ...

I'm with you on that one Ryan. Barring mishaps, I'm planning on Shawcross to BAE in GW28. After that they only have Chelsea in GW30, then they have a great run right through, so avoiding Spurs until then.

I rather enjoyed his point's haul the other week ...

Also, if I do McAuley to Santon GW 26, I will be pretty secure ... hmmm that is a plan ...

I reckon you have a crystal ball Doos 😉 BAE and Dempsey with their points hauls. I seem to manage to miss them

Unfortunately, it seems to malfunction at crucial moments - misty, and too much in love ... 😉

aguero taiwo mcclean or dzeko sess dawson for 3 weeks then swap the first combo? I think its worth getting dzeko while balo is out.

Thoughts?

I've been monitoring Rooney this week.

Thinking of doing Rooney and Walters ---> Valencia and Welbeck leaving me spare cash to bring in Demba Ba next week -4points tho this week.

Thoughts?

I'm very happy about that I am the only one in my ML whos the big 5 in midfield! 😀

Bale, Silva, Walters, Dempsey and Sess?

Morning guys.

Got 2 FT before i can wc the following gameweek.

Seems like Rooney and Nani cant make it. So which option should i pick?

A. Rooney, Nani -> Aguero, Valencia
B. Rooney, Nani -> Adebayor, Sessengon
C. Rooney, Nani -> Aguero, VDV
D. Different combination of the above

Team
Vorm (Krul)
Evans BAE Senderos Brown (Simpson)
Walters Silva Bale (Nani Moses)
RVP Rooney Sturridge

New post gents, and ladies

Guys, please can I have some help with my wc team. A or B

A. Lindy, Krul,
Kompany, Evans Enrique, Sendors, Simpson,
Bale, Dempsey, silva, Valencia, McLean
Rvp, aguero, Ba

B. Lindy, Krul,
Richards, Evans, Simpson, Kelly, caulker
Bale, Dempsey, silva, Valencia, sess
Rvp, aguero, Ba

All of David Silva's assists this season: http://www.mcfc.co.uk/citytv/Features/2012/January/Silva-service

Also another reason to have both Silva and Aguero in your team

Enjoy!
Scout Picks
Gameweek 25
Janmaat

Williams

Alderweireld
Wijnaldum

André Ayew

Dele Alli

Roberto Firmino

Sánchez
From the Community…
Comments
Hot Topics
Articles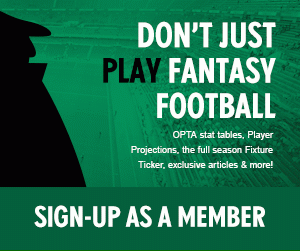 The Watchlist
Goalkeepers
Player
Club
Factors

Up

Hennessey
CPL

C

,

Vs

,

£

Down

Butland
STO

C

,

Vs

Up

Schmeichel
LEI

A

Up

Forster
SOT

A

Up

Courtois
CHE

B

,

Vs

Up

Fabianski
SWA

A

No Change

Boruc
BOU

B

No Change

De Gea
MUN

B

No Change

Cech
ARS

B

,

VsX

Up

Foster
WBA

C

,

VsX
Defenders
Player
Club
Factors

Up

Ivanovic
CHE

A

,

Vs

Up

van Dijk
SOT

A

Down

Baines
EVE

B

,

Vs

Up

Dann
CPL

C

,

Vs

Up

Cresswell
WHM

B

,

Vs

Up

Williams
SWA

A

No Change

Dawson
WBA

C

Down

Alderweireld
TOT

B

No Change

Daniels
BOU

A

,

£

No Change

Fuchs
LEI

A

No Change

Van Aanholt
SUN

A

,

VsX

Down

Bellerín
ARS

C

,

VsX

Down

Smalling
MUN

C

Down

Moreno
LIV

C

,

Vs

Down

Johnson
STO

B

Down

Kolarov
MCI

B

,

Rest

,

Inj
Midfielders
Player
Club
Factors

No Change

Payet
WHM

B

,

Vs

Up

Roberto Firmino
LIV

A

,

Vs

,

OoP

Up

Dele Alli
TOT

A

,

Inj

Up

Barkley
EVE

C

,

Vs

Up

André Ayew
SWA

A

,

OoP

Up

Eriksen
TOT

A

Down

Ozil
ARS

C

,

VsX

No Change

Mahrez
LEI

C

,

VsX

Up

Sánchez
ARS

C

,

VsX

,

Inj

Up

Antonio
WHM

A

,

Vs

,

Rest

,

£

No Change

Willian
CHE

B

,

Vs

,

Inj

No Change

Wijnaldum
NEW

B

Down

Arnautovic
STO

C

,

Vs

,

Inj

Up

Silva
MCI

C

No Change

Johnson
SUN

B

,

VsX
Forwards
Player
Club
Factors

No Change

Aguero
MCI

A

No Change

Kane
TOT

B

Up

Vardy
LEI

C

Up

Diego Costa
CHE

A

,

Vs

,

Inj

No Change

Ighalo
WAT

C

,

VsX

Up

Rooney
MUN

A

Down

Lukaku
EVE

C

,

Vs

No Change

Giroud
ARS

B

,

VsX

,

Rest

Up

Afobe
BOU

A

,

£

Down

Austin
SOT

B

,

Inj
Selection Factors
| | |
| --- | --- |
| A, B, C | Current Form |
| Vs | Favourable Fixtures |
| VsX | Unfavourable Fixtures |
| Rest | Rotation Risk |
| Inj | Injured/Returning from Injury |
| OoP | Out of Position |
| £ | Potential Bargain |
| Sus | Suspended/Near Suspension |
| Player | Team | YC |
| --- | --- | --- |
| Colback | NEW | 9 |
| Byram | WHM | 9 |
| Lucas | LIV | 8 |
| Jones | SUN | 8 |
| Yacob | WBA | 8 |
| Westwood | AVL | 7 |
| Diego Costa | CHE | 7 |
| Huth | LEI | 7 |
| Can | LIV | 7 |
| Mangala | MCI | 7 |
| Shelvey | NEW | 7 |
| Pieters | STO | 7 |
| Dele Alli | TOT | 7 |
| Dier | TOT | 7 |
| Noble | WHM | 7 |
"All players will blank a few times during the season. When almost all do it in the same Gameweek, it is tough to take, but that's just the dark side of probability."

Abreu 42 Community regular