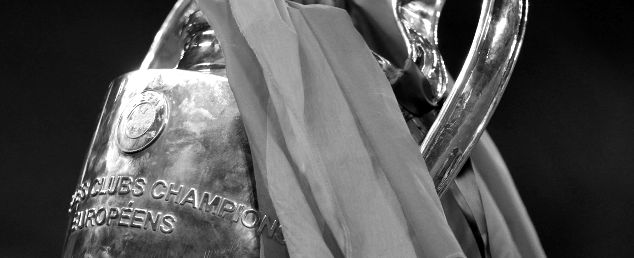 On Saturday we announced the UEFA Fantasy Champions League was up and running for the 2012/13 season and confirmed we would – once again – be tagging along for the ride with some Fantasy Football Scout coverage, lead by yours truly.
Those looking for some European action to distract from the domestic Fantasy campaign can get involved right now – our Scout league code is 191091-421065.
We've decided to somewhat scale back our input from last season but content will still be created ahead of every Matchday in line with how we directly approach the Sky Sports and Fantasy Premier League (FPL) games with the introduction of a 'Champions League Focus' article.
For anyone unfamiliar with the UEFA game and interested in joining us this season, we've dusted off our comprehensive breakdown of how it all works, the key differences in the rule set and a "brief" run-through of some select choices from our first glance at the player list.
Points Scoring
Well over two million Fantasy managers are more than accustomed to the FPL game and, luckily, having been forged by the same hands, this UEFA Fantasy Champions League offering bears a great deal of similarity – but for a few small differences. They are…
Earning a penalty for a foul in the box picks up 1 point irrespective of whether it is converted or not – as a result, there are no assists for penalties.
Converse to that fact, a player who concedes a penalty will score -1 for their infringement.
Every 5 recovered balls (completed clearances and tackles gaining possession) will add 1 point to a players tally.
Beyond the three mentioned points all the scoring is similar to FPL (with no PPI influenced bonus points here) but can be run through via this link if you need a refresher.
The third point is perhaps the most notable of all. This rule was introduced last season and memory recalls that this was often a solid source of added points if you managed to back the right man. Defenders, and chiefly centre-backs, seemed to be the most successful players at picking up these points last time round but that evidence is purely anecdotal.
Transfers
Fantasy managers accustomed to the one free transfer per week of FPL will feel they are in God's playground when they look at the amount of chopping and changing they get to do across a season in this game. There is, of course, a level of attrition through the Champions League which means managers have to be able to transfer accordingly as sides get knocked out – but the powers that be give them plenty of room for manoeuvre.
A 13 Matchday season sees Fantasy managers granted two wildcards (one which must be played at the closure of the group stages) in addition to six free transfers to make at the end of each knockout round. Every other Matchday, most notably during the group stages, grants the standard one free transfer.
This concurrent run of single transfer allowances in the group stages means that the "open" wildcard is more often than not executed by the experienced European Fantasy managers during this time. There have normally been two schools of thought to this practice, to date.
The first sees Fantasy managers set up a side for the first couple (or even just one) Matchdays, fully expecting to change their squad in its entirety as they hop on and off all of the right bandwagons for the remainder of the Group stages. The other side of the coin sees Fantasy managers use their wildcard in Matchday six when many sides will have already guaranteed their place in the knock-out stages and begin to rotate squads accordingly – the perfect time to snap up that key differential.
It should also be noted that any superfluous trades made will only set you back two points – a much greater encouragement to take a punt in the transfer market in any given Matchday.
Team Management
Managing your squad is where the real key differences start to kick in.
Fantasy managers get a lot more chances to be active in the Champions League game, as a squad game takes effect with the introduction of "Managers Substitutions" – man management and pushing the deadlines are an added perk for those willing to be hands-on.
Each Matchday – bar the final in Wembley next May – will be spread across more than one day. What this means for Fantasy managers is that you can field all your players who play on a Tuesday and, if they under-perform, you can bring one of your squad with a game to play on Wednesday off the bench and gamble that their score will end up higher.
The same can be said for your captain's armband – if your team leader fails to deliver the first time round, or if you just want to gamble that someone in your team the next day can do even better, the armband can also be moved to a player who has yet to take to the field, with the previous captain then no longer having double points to his name.
If any of your players pick up a red card, however, not only will their points deduction stick but they also can't be replaced. You'll want to be careful around the most hot-headed of players, then.
A prudent manager won't be selecting bench-fillers in their squad as a result – they'll need a full battery of 15 players they can call to arms as they rotate their players to maximum effect.
However, if a manager chooses to make use of any of the previously described Manager Substitutions then it must be noted that the auto-subs rule (where any players who do not make the field are automatically replaced by those from your bench) is negated and cannot come into effect. So the less hands-on Fantasy Managers can still get the usual assistance if one of their starting XI doesn't end up playing.
Squad Selection
You pick a squad of 15, a captain will score double and, in the opening stages at least, you can only choose two players from any given side.
An old formation quirk from seasons gone by has also fallen by the wayside. The unrealistic but often heavily utilised 2-5-3 formation has disappeared, with European Fantasy managers now afforded eight standard tactical alternatives (ranging from 4-4-2 to 5-2-3) to set up their sides from.
Here follows a brief heads-up on just some likely names we'll be keeping a close eye on in the tournament. We will look at a small handful of Matchday specific "Ones to Watch" ahead of each round of play; these are just the men who caught our eye in some way, shape or form on initial inspection. The pricing of many players this season definitely had us scratching our heads…
Defence
In goal the prices are so closely grouped together between the "better" sides in the Champions league that the choice really should come down to personal taste as much as anything. Personally, I am a fan of sticking on the cheaper side, however, so the players that really caught my eye were Helton of FC Porto and Salvatore Sirigu of PSG both at a mere 4.5, and Vyacheslav Malafeev from Zenit who comes in a spot cheaper at just 4.0.
The defenders see us skip entirely by the most premium options (dominated by the Barcelona back-line who do, in fairness, have a group that may be littered with clean sheets) and drop in a buck cheaper at 6.0 where the likes of Thomas Vermaelen and Nemanja Vidic offer points potential at both ends of the pitch.
Howeve, our favourite option by far has to be Arturo Vidal of Juventus, who is priced at a mere 5.5. Not only is he not a defender -you'll generally find him in the centre of midfield alongside the likes of Andrea Pirlo- but he also takes penalties for the Italian champions. There's potential for a lot of points in this man. Team-mate Stephan Lichsteiner can be found at wing-back and comes in at 4.5 as another very strong option.
The money pumped into PSG means they will be hoping for immediate success on the continental stage so the 5.0 price-tag afforded to centre-back Alex makes him a very interesting proposition. A whole host of full-backs (Patrice Evra, Rafael, Kieran Gibbs to name but a few) from the English sides come in at either 5.0 and 4.5 which could also prove to be an absolute steal as long-term investments.
Three of the Zenit St. Petersburg back-line (Nicolas Lombaerts, Tomas Hubocan and Domenico Criscito) also find themselves at 4.5 as well and could offer strong returns for relatively meagre expenditure.
We've not even got to the bargain basement options like Atsuto Uchida of Schalke (4.0), Swedish international Mikael Lustig (3.5) and the rest of the Celtic defence and a whole host of defenders from the lesser favoured sides – including reigning Ligue 1 champions Montpellier.
Midfield
Andres Iniesta is the only midfielder to be priced in double figures but it is Eden Hazard (9.0) and Santi Cazorla (8.0) who look like they are set to be favourites in this format – given their showstopping introductions to the Premier League, this is of little surprise.
Relatively soft draws for the likes of Bayern Munich and Manchester United also mean that making the right choices between the likes of Arjen Robben, Franck Ribery and Toni Kroos (still at just 6.5) and the United wingers of Ashley Young, Nani and Antonio Valencia could reap many rewards.
The mid-price ballpark is littered with players asterisked with the sign "could be good, could do nothing much at all". Jakub Blaszczykowski (otherwise known as 'Kuba') at 7.0 is going to have to hold off Ivan Perisic and Kevin Grosskreutz for that spot alongside Marco Reus and Mario Gotze in the Dortmund offense but, if he does, he may provide some comparatively cheap sparkle. Andrea Pirlo costs the same and will inevitably dictate a lot of the play for Juventus – it's just a matter of how much of that will translate into Fantasy points on any given weeknight.
Released from his shackles at Barcelona we could be set to see Ibrahim Afellay provide some real positivity in support of his Schalke strikeforce for just 6.5 while Younes Belhanda of Montpellier at an increment cheaper (6.0) will be vital if his side are to make any kind of impression on this tournament.
Then we get down to players costing 5.5 and there are a few surprisingly cheap candidates – most notably Roman Shirokov of Zenit St. Petersburg. He'll be in a lot of teams when Matchday One kicks off. If Abou Diaby can shake off his recent muscle problem we've already seen what kind of impression he can leave.
They have arguably the toughest group of all teams but Ajax offer up some of the strongest fifth midfielder options ranging from captain Siem De Jong at 5.5 to old friend Ryan Babel at the bottom with a cost of just 4.0. Celtic offer similar options with Kris Commons and Joe Ledley both coming in at just 4.5 of your total allowance.
And, finally, my colleague Akers would not be pleased if I wasn't to mention Renan Bressan at just 4.5 as another budget squad filler. The BATE Borisov midfielder always seem to get the points right when my fellow Scout contributor chooses him.
Attack
The attack is by far the most infuriating position this season. There is a bounty of players, such as Shinji Kagawa, Dimitri Payet, Juan Mata and Danny to name but a few, who European Fantasy managers would have strong hopes to be classified as midfielders but have, rather frustratingly, been shunted to the top of the park, where competition for the three forward places in your team is rife.
That competition is only compounded by the fact that most out there will struggle to not own Lionel Messi. The most expensive player in the game at 13.0 and a rite of passage for any manager out there, the Barcelona man is currently owned by over 70%. Throw Cristiano Ronaldo (also 13.0) into the mix too and not only is the budget incredibly top heavy but it leaves just one place left to round out the squad if you back the La Liga based duo.
Sliding past a 12.0 Zlatan Ibrahimovic -who we rate, a lot, but just can't see justifying the price- the 11.0 options give Fantasy Managers a bit more choice for those unable to splash out ranging from Robin Van Persie to Karim Benzema.
Considering he is nigh on the only striker Chelsea can rely on, Fernando Torres at 9.5 looks a hard one to resist, priced alongside strong contenders from the Bundesliga in Klaas-Jan Huntelaar of Schalke and Robert Lewandowski of Borussia Dortmund.
Juventus are readjusting to being a Champions League outfit but the 8.5 needed to gain the wares of Mirko Vucinic seems more than fair. The same price-tag looks reasonable for Giampaolo Pazzini at an AC Milan side very much in transition right now – with Anderlecht and Malaga in their group they should still be able to forge goals from this new side. With Mario Gomez expected to be sidelined for several weeks after ankle surgery last month, Mario Mandzukic will profit for the same value in a side destined to score goals.
Aleksandr Kerzhakov of Zenit could be a valuable acquisition for European Fantasy managers now his side have added the likes of Axel Witsel and Hulk (himself a 9.0 favourite) to the fray for the upcoming campaign. Lille's first season in the Champions League last year, meanwhile, was not much of a success but, with a bit of experience under their belt, the cheap option from Nolan Roux could round out strike-forces nicely.
Finally, if you fancy a Premier League flashback, there's always a mid-price punt available on Johan Elmander, John Utaka or Milan Baros for just 6.0 of your budget.
For any further advice the Champions League's themselves seem set to tout their own new triumvirate of tipsters who may offer a helping hand as the season roll on. Keep your eyes peeled for our first "Champions League Focus" ahead of tournament kick-off next Tuesday afternoon.
Commenting is now closed for this post.
Scout Picks
For Gameweek 38
Zabaleta

Vertonghen

Johnson
Walcott

Michu

Coutinho

Bale
van Persie

Carroll

Sturridge
The Watchlist
Goalkeepers
Player
Club
Factors

No Change

Hart
MCI

B

,

Vs

Up

Cech
CHE

B

,

Vs

Up

Robles
WIG

C

,

Vs

,

£

No Change

Lloris
TOT

C

,

Vs

No Change

Foster
WBA

C

,

Vs

No Change

Vorm
SWA

C

,

Vs

No Change

Mignolet
SUN

B

,

Vs

No Change

De Gea
MUN

A

Up

Boruc
SOT

B

,

Vs

,

£

No Change

Jääskeläinen
WHM

A

No Change

Begovic
STO

C

No Change

Howard
EVE

A
Defenders
Player
Club
Factors

No Change

Kompany
MCI

B

,

Vs

,

Rest

No Change

Vertonghen
TOT

A

,

Vs

,

Rest

Up

Luiz
CHE

A

,

Vs

,

Rest

No Change

Baines
EVE

A

Up

Boyce
WIG

C

,

Vs

,

OoP

Down

Bassong
NOR

B

,

Vs

Up

McAuley
WBA

C

,

Vs

Down

Johnson
LIV

B

Up

Jones
MUN

A

No Change

Sagna
ARS

B

Up

Huth
STO

C

No Change

Cuéllar
SUN

B

,

Vs

,

£

No Change

Rangel
SWA

C

,

Vs

Up

Clyne
SOT

B

,

Vs

,

£
Midfielders
Player
Club
Factors

Up

Bale
TOT

A

,

Vs

No Change

Mata
CHE

C

,

Vs

,

Rest

Up

Walcott
ARS

C

,

OoP

Up

Hazard
CHE

B

,

Vs

,

Rest

,

Inj

Up

Maloney
WIG

B

,

Vs

,

£

No Change

Y Touré
MCI

B

,

Vs

No Change

Silva
MCI

B

,

Vs

,

Inj

No Change

Fellaini
EVE

C

No Change

Coutinho
LIV

B

Up

Morrison
WBA

C

,

Vs

Down

Cazorla
ARS

C

No Change

Snodgrass
NOR

B

Up

Kagawa
MUN

B

,

Rest

Up

Walters
STO

B

Down

Lallana
SOT

C

,

Vs

Down

Sissoko
NEW

C
Forwards
Player
Club
Factors

Up

Tevez
MCI

A

,

Vs

,

Rest

Up

Koné
WIG

B

,

Vs

,

£

Down

van Persie
MUN

A

,

Vs

Up

Sturridge
LIV

B

Up

Lukaku
WBA

B

,

Vs

,

Rest

Up

Benteke
AVL

A

Down

Aguero
MCI

B

,

Vs

,

Inj

Up

Rodriguez
SOT

A

,

Vs

,

£

Up

Defoe
TOT

B

,

Vs

,

Rest

Down

Lambert
SOT

C

,

Vs

Down

Rooney
MUN

C

Up

Carroll
WHM

A

,

VsX

Up

Ba
CHE

C

,

Vs

,

Rest

Down

Berbatov
FUL

C

Up

Cissé
NEW

B

Down

Remy
QPR

B
Selection Factors
| | |
| --- | --- |
| A, B, C | Current Form |
| Vs | Favourable Fixtures |
| VsX | Unfavourable Fixtures |
| Rest | Rotation Risk |
| Inj | Injured/Returning from Injury |
| OoP | Out of Position |
| £ | Potential Bargain |
| Sus | Suspended/Near Suspension |
"I am happy with the way I've started, but on the other hand, I should have scored four or five more, so that's something for me to work on."

Robin Van Persie talks about his early form at United ahead of his first Manchester derby