In a somewhat surprising transfer deadline-day deal, Stoke boss Mark Hughes snapped up midfielder Stephen Ireland on a season-long loan from Aston Villa. The 27-year-old is the fifth new arrival at the Britannia this term and follows Erik Pieters, Marc Muniesa, Marko Arnautovic and Oussama Assaidi to the club as Hughes looks to restructure the Potters' playing approach after succeeding Tony Pulis over the summer:
Speaking to the club's official website, the Stoke Chief Executive Tony Scholes revealed the player's previous performances under Hughes at the Etihad persuaded the Potters boss to acquire his services:
"Stephen is a player that Mark knows really well and when the opportunity arose he was keen to add him to his midfield and attacking options. Arguably the most successful period of Stephen's career to date was when he played for Mark at Manchester City and we hope that he can rediscover that form."
The History
A product of the Man City youth academy, Ireland joined the club at the age of 15 back in August 2001. The midfielder made his debut during the 2004/05 season but took his time to make an impact, producing a single goal and pair of assists across 47 appearances in his first couple of campaigns at the club.
After notching four goals and three assists in 33 appearances the following year, Ireland's nine goals and nine assists in 35 league games across 2008/09 earned him City's Player of the Year award under the guidance of Hughes but he failed to maintain his consistency. The Welshman's dismissal in the early stages of the following season saw Ireland become a peripheral figure under Roberto Mancini and, after producing just two goals and a pair of assists, he was transferred to Aston Villa as part of the deal that took James Milner to the Etihad.
Ireland's time in the midlands proved bitterly disappointing as his once-promising career began to fall apart. Over the next three years, he failed to convince a trio of managers and was handed a combined tally of 47 games by Gerard Houllier, Alex McLeish and Paul Lambert, producing just a single goal and four assists.
The Prospects
With just a year left of his contract at Villa, Ireland's switch to Stoke means he is now effectively playing for his future. Despite failing to feature this term so far, the midfielder insists he is fully match sharp and is desperate to make an impact at the Britannia:
"I'm fit and raring to go. I don't want to be eased in and I don't want to have to take my time; I just want to get straight in there as fast as I can. I want to participate in whatever way I can, whether that be for the full 90 minutes or whether it be coming off the bench for the final five minutes. Whatever time I get I will give it everything I have. It's been a long time in the waiting for me so I want to get going and show everyone what I am capable of."
To an extent, Ireland's situation mirrors that of his manager. Hughes was also written off by many after a hugely unsuccessful stint at QPR led to his dismissal last term and the pair have plenty to prove this time out – the new Stoke manager's tactics are steadily making an impact, however, and have now harvested three straight wins in all competitions after a narrow Gameweek 1 defeat at Liverpool.
As the Staffordshire outfit become more accustomed to their new manager's possession-based approach, it's clear we can no longer view them in the same way as we once did under Pulis. Hughes' 4-4-1-1 formation could certainly favour Ireland and hand Fantasy managers an intriguing cut-price prospect if he can nail down his preferred role in "the hole" behind a lone forward, though it's uncertain whether he'll be immediately handed a starting berth.
Indeed, much depends on where fellow new boy Marko Arnautovic ends up. If the six foot three Austrian – classified as a midfielder across the Fantasy games – is utilised as a lone forward, then he looks the one to consider, though a shift to the right flank would likely see Jon Walters moved into the middle, thus denting Ireland's prospects.
Coming in at a mere 4.8 in Fantasy Premier League (FPL) and 4.4 in the Sky Sports game, his lack of impact over the past few seasons means Ireland is particularly budget friendly. Fantasy managers will be understandably sceptical but if Hughes can help reignite the potential that saw him shine at the Etihad, we may have an unlikely cut-price contender on our hands.
Further Reference
Pepin! I don't do RMT's on FFS but what about this?

WC

Mignolet, Rudd
Zab, Coleman, Vidic , Ward, Chester
Theo, Coutinho, Lamela, Hernandez, Brady
Studge, Giroud, Benteke

Bank: 0.4m

Lamela & Studge could be out. I reckon Studge will play so just Lamela > Eriksen?

I stopped reading at Coleman

Laaverly. Prefer Erikson over Lamela for now I think but I guess it's a personal choice...

That midfield is well dodgy.

Theo - A1, Coutinho - C3, Lamela - E3, Hernandez - WTF?, Brady - A1

OK. I think that all of your picks, apart from Theo and Brady, are well crap.

Couldn't agree more about Lamela. Aaron Lennon reborn

Is this a WC or what? You have 1 FT?

I like it all apart from Ward. Quite close to my ideal WC i'd say

Consider Lewis as the 4.0 in goal in case of Marshall aggravating his injury

Is Lamela definitely out?

Who else apart from Ward, Archie?

I'm happy with Rudd at the mo... zero thought make me a happy man

Kagawa out for tomorrow and Rooney could play.

With Rooney's type of injury I guess it's a start the game or not play at all scenario. Worth taking the risk on him do you think, considering I think I want him long term? Should have a decent bench in case he doesn't play.

You're pissing in the wind, feller.

Okay, I'm really not sure about this team. It costs -4, and I get to keep my WC.

Migs (4.0)

Clyne, Chester, Cole (Collins, Turner)

Coutinho, HBA, Walcott, Brady, Kim

RvP (c), Soldado (Bent)

Enough in the bank for Bent > Lukaku next week.

Decent enough?

Yes it should be ok - you'll have to hope Clyne has won his place in the team again though... Could still be Chambers...

Lost on last page....

HAY NUMBER 2
Ok....good to go or more tinkering required?

Boruc (mig)
Ivan evra Chester (turner) (Coleman)
Ozil coutinho Brady hba (Hernandez)
Giroud Sturridge soldado

I am on a wc so it would be much appreciated

Ivan out, RVP in. 😛

Also, I think Coutinho is a bum shout.

You stay out of my balanced team 😉 which of the three strikers would you dump in that scenario?

I did try.....

Evra to vidic
Giroud to rvp
Ozil to wallcot
Coutinho to lams

And I still only have 3.1 to replace Ivan :/

Mignolet is your problem.

Also, I don't think that we should be spending so much on midfield. Just my opinion.

Therefore, Coutinho is a no-no.

Look at Charlie Adams if you are on wild card.

About to confirm Silva ➡ HBA and Dzeko ➡ Benteke (2FTs)

Any last words?

I'm still not convinced by HBA yet but there aren't really any better options in that price range

I could just go with Brady altogether and use the cash elsewhere but I'm not sure who I'd even upgrade with it tbh.

Feel free to copy this FPL Gold

Mignolet

Cole Vidic Shaw Chester

Michu Walcott Brady

RVP(C) Benteke Soldado

Bench: some 4m guy, Collins, Whittingham, JWP

Just did Giroud Coleman and Zab > RVP Cole Vidic.

No it is not a definate no but AVB said he was back late from international duties and had not trained much with the squad yet ?

Screw it I'm going with my gut and buying him. I want him for the long term anyway and Whittingham is adequate enough cover for this GW if he doesn't play.

Is Dawson likely to start the next few weeks does anyone know or will Kaboul or Chic get the nod?

I think he will inevitably be rotated over the course of the season.

Hi chaps - I'm stuck between choosing

A) Vidic & Ivanovic

B) Evra & Terry

Rest of my team (in my WC):

Mig / Lewis
Coleman / Lovren / .... / .... / Chester
Walcott / Lamps / Coutinho / Brady / Ward-Prowse
Benteke / Giroud / Soldado

0.7m in bank
Many thanks!

Lovren ----> Mertesacker next week...

Yes could do that... Not sure if they'll get a clean sheet vs Sunderland away and would prefer Mert long-term so would still end up using that transfer I think...

You can - I have toyed with putting Walker in... Do fm you not fancy Chelsea to pick up a clean sheet against blunt Everton attack?

Mignolet - Marshall
Toure - Coleman - Turner - Ivanovic - Collins
Walcott - Silva - Coutinho - Mirallas - Ravel
Dzeko - Soldado - Lambert

Silva to who have £9.4M

Hit or free transfer?

Hazard or Lamps would be good shouts...

Soldado or Benteke (c)?

Newc have been solid since the City game.

Out of those two I'd pick Benteke but I'd pick Walcott as my captain if I had your team because Sunderland are dreadful.

Really? Interesting. I think I'd (c) him if I knew Ozil would be playing.

I'm leaning that way too.

Doubt Newcastle will stop Benteke at home... Benteke (C) for me... Soldado (V) ...

Hey vets, been meaning to catch you and give you my ideal lineup from our TWS

Hart
Marcelo, Lescott, Pepe, Johnson
Mascherano, Illarramendi
Sanchez, Hamsik, Ribery
Negredo

Bench: Viviano, Jovetic, Mkhitaryan, Guarin

Definitely arguments for Jovetic and Mickey to be playing, but I reckon this has a crack at winning the TWS imaginary league

I'm keeping quite on this one but post it up there.... I have doubts about he-man on the bench though!

Thoughts?

Mignolet
Koscielny, Jose Enrique, Chester
Brady, Walcott(v), Ben Arfa, Hazard/Lamela
RVP(c), Benteke, Giroud

Subs: Lewis, Whittingham, Burner, Ward

Vidic, Enrique, Zabaleta (was), Mertesacker, Walker are the best 6m defenders IMO.

I know this is your hideout and I will go away after this post, just want to know what you think of my wildcard team, any changes needed? 😀

Mignolet Lewis

Vidic Coleman Collins Fonte Chester

Walcott Lampard HBA Brady Redmond

RVP Benteke Sturridge

I's off! All the best, guys - may your captain choices be lucky ones! 😀

20.2m to spend on a striker and a mid.

I have to get RvP, really, don't I?

Yep....that's what I have decided too....tough or what!

Any members, try sticking Pablo Hernandez in the comparison tool.

He compares very favourably to the likes of Nolan, Ben Arfa, Nani, etc and even to Coutinho and Michu

That's settled my decision, Silva to Hernandez it is

I have him but do not trust RMT in any way. It's one man's data against your skill... feck that!

Give me one good reason why you should trust RMT?

I'm using the tool to back up my gut feeling that Pablo is a good pick

If the data didn't fit my conclusions I'd grumble about it being a crap tool, but as it confirms what I think (know) I like it 😉

Heh... same here, and i have Pablo too.

Seriously, it's shite and only used by us idiotic, clueless, twats as we don't know what we're doing and have no ability to think for ourselves. Even as a comfort it's flawed as it it's simply crap... so why?

On that note, my coach seems to have turned into a pumpkin, so I'm off to bed.

All the best for the current gw!

K.

Rate my risky team

Mcgregor boruc
Coleman vidic turner Chester moxey
Lamps Walcott hba Hernandez Brady
Rvp soldado Sturridge

It's sorta tough to spend that much on one player, but I guess it's easier to down scale rather than upscale....guess I better captain him 😉

Cheers for your help man

Yeah....I kinda feel uneasy with that combo, hopefully they will rotate well.

Mignolet - Marshall
Toure - Coleman - Turner - Ivanovic - Collins
Walcott - Silva - Coutinho - Mirallas - Ravel
Dzeko - Soldado - Lambert

Silva to who, max of £9.4M?

Used my FT midweek for Nolan > Hernandez before Silva confirmed out (I know, I know!)

Do I need to take a hit to deal with Silva (and perhaps Studge), or are this lot passable?

Jussi (Marshall)
Ivanovic, Shaw, Chester (Reid, Ward)
Hazard, Wally (c), Hernandez, Kim (Silva)
Lambert, Giroud, Studge

Mignolet - Marshall
Toure - Coleman - Turner - Ivanovic - Collins
Walcott - Silva - Coutinho - Mirallas - Ravel
Dzeko - Soldado - Lambert

Help need to replace Silva, 1 FT £9.4M?

HBA or Brady so you can easily upgrade Dzeko on your next free transfer.

Coutinho dropping tonight? Compaired to Fiso he is but Total Fpl have him at 60%. Would like to finalise my team tonight so I don't have to wake early to make the change. But I will do it if he has a chance of falling. Can anyone help me?
Scout Picks
Gameweek 25
Janmaat

Williams

Alderweireld
Wijnaldum

André Ayew

Dele Alli

Roberto Firmino

Sánchez
From the Community…
Comments
Hot Topics
Articles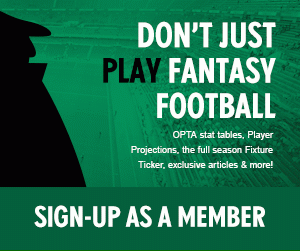 The Watchlist
Goalkeepers
Player
Club
Factors

Up

Forster
SOT

A

,

Vs

Down

Butland
STO

C

,

Vs

Up

Schmeichel
LEI

A

,

Vs

Up

Courtois
CHE

B

,

Vs

No Change

Boruc
BOU

B

,

Vs

Up

Hennessey
CPL

C

,

£

No Change

Cech
ARS

A

,

VsX

Up

Fabianski
SWA

B

No Change

De Gea
MUN

B

No Change

Adrián
WHM

B
Defenders
Player
Club
Factors

Up

Fuchs
LEI

A

,

Vs

,

£

Up

van Dijk
SOT

A

,

Vs

Up

Daniels
BOU

A

,

Vs

,

£

Up

Dann
CPL

A

No Change

Ivanovic
CHE

B

,

Vs

No Change

Alderweireld
TOT

B

No Change

Bellerín
ARS

B

,

VsX

Up

Johnson
STO

C

,

Vs

No Change

Cresswell
WHM

B

Up

Van Aanholt
SUN

A

No Change

Williams
SWA

B

,

£

Up

Smalling
MUN

C

Up

Coleman
EVE

B

,

Vs

Down

Dawson
WBA

C

Down

Moreno
LIV

C

,

Vs

Down

Kolarov
MCI

B

,

Rest

,

Inj
Midfielders
Player
Club
Factors

Up

Mahrez
LEI

A

,

Vs

No Change

Payet
WHM

B

,

Vs

No Change

Dele Alli
TOT

A

,

Inj

Up

Arnautovic
STO

C

,

Vs

,

Inj

No Change

Ozil
ARS

C

,

VsX

Up

Eriksen
TOT

A

Up

Antonio
WHM

A

,

Vs

,

Rest

,

£

Up

Sigurdsson
SWA

A

,

OoP

Down

Barkley
EVE

B

,

Vs

Down

Roberto Firmino
LIV

A

,

VsX

,

OoP

Down

Sánchez
ARS

C

,

VsX

Up

Lingard
MUN

B

,

Rest

,

£

Up

Khazri
SUN

B

Up

Oscar
CHE

B

,

Vs

No Change

Wijnaldum
NEW

B
Forwards
Player
Club
Factors

Up

Vardy
LEI

B

,

Vs

No Change

Kane
TOT

A

Down

Aguero
MCI

A

Up

Diego Costa
CHE

A

,

Vs

,

Inj

Up

Rooney
MUN

A

Down

Ighalo
WAT

C

,

VsX

Down

Lukaku
EVE

C

Up

Afobe
BOU

A

,

Vs

No Change

Giroud
ARS

B

,

VsX

,

Rest

No Change

Defoe
SUN

A
Selection Factors
| | |
| --- | --- |
| A, B, C | Current Form |
| Vs | Favourable Fixtures |
| VsX | Unfavourable Fixtures |
| Rest | Rotation Risk |
| Inj | Injured/Returning from Injury |
| OoP | Out of Position |
| £ | Potential Bargain |
| Sus | Suspended/Near Suspension |
| Player | Team | YC |
| --- | --- | --- |
| Colback | NEW | 9 |
| Byram | WHM | 9 |
| Lucas | LIV | 8 |
| Jones | SUN | 8 |
| Yacob | WBA | 8 |
| Westwood | AVL | 7 |
| Diego Costa | CHE | 7 |
| Huth | LEI | 7 |
| Can | LIV | 7 |
| Mangala | MCI | 7 |
| Shelvey | NEW | 7 |
| Pieters | STO | 7 |
| Dele Alli | TOT | 7 |
| Dier | TOT | 7 |
| Noble | WHM | 7 |
"All players will blank a few times during the season. When almost all do it in the same Gameweek, it is tough to take, but that's just the dark side of probability."

Abreu 42 Community regular