There's very little fizzing away within Granville's Fantasy lineup right now but, while the Mancunian can justifiable lament his stagnant squad, I'm having to console myself with the smallest of victories – namely a sniveling 9-point Gameweek victory. Get some perspective, Granville.
That's not the reasoning behind this weeks moniker, however, as once again it's the questions from the community that inspires the title of another ScoutCast episode. Rounding off with the usual interrogation from you, the listener, we start by dropping in on the regulars, whilst reviewing the ins and outs of the transfer window and touching on the Carroll's flailing arm and Chelsea's shackling of City.
Make Your Mind up via this link or get a Piece of the Action* via the handy player below.
*Admittedly I had to look this one up. Not even my knowledge of awful 80's pop could stretch that far.
Giroud to...

A) Dzeko
B) Negredo
C) Rodriguez
D) Lambert

blank is still possible gw 29

Start Hazard and bench Eriksen?

uh let me think about that, for a nanosecond

If you can't start them both, Hazard it is, without a doubt. Did you see last game vs. City? Hazard was absolutely brilliant.

I guarantee you, if Carroll wasn't a British player playing for West Ham ahead of a World Cup, this would have never gotten this far. Imagine if Chico Flores had gotten sent off instead, do you think so much would have been made of it? Heck no.

Do you think it was a definite red card?

No, I've seen the replay and it's not 100%. However, the ref's ruled it, the FA have ruled it, just accept it and move on. It's as if some great injustice has been done; clearly exaggerated by the fact he's English, West Ham are fighting the drop, and there's a World Cup coming. It's a bit annoying.

Years ago I would have agreed with you. The games changed though, its not merely a sport but a massive business. Why should West Ham blindly accept the FAs decision? If there are avenues to go down to fight your corner, they should be taken. "Taking it on the chin" has never helped us.

I recall certain managers blasting referees for every poor, or otherwise, decision they made. The result - refs bend over backwards to appease them. Now I'm not saying for a second that is what will happen for West Ham, probably the opposite, but I'm glad we're fighting our corner. From what I've read elsewhere it seems many other fans/pundits agree.

West Ham have agreed to accept todays ruling as final.

Could not agree more. If this was Suarez Hazard or even Hernandez it would not be looked at!

Both very good options and have very good fixtures, I'll go with the better player... Hazard

I personally don't think either is a great (c) option, but if those are your only options, I'd go with Hazard

not keen on hazard myself. been burnt by him before. plus he seems less selfish these days.

Sturridge as an alternative to Suarez as captain?

I'm having a dilemma who to play at the back. I will play Cahill and Ward + Boruc in goal so it leaves one free space in my defence. So which one would you play:

A) Mertesacker (liv)
B) Bardsley (HUL)
C) Zabaleta (nor)

Cahil, Bardsley and Zabaleta

It's likely, but so are the other three and Bardsley and Zabaleta carry some attacking threat as well.

Bench Suarez and start Sturridge or Start Suarez and bench Sturridge?

Sturridge is on more form than Suarez atm IMO.

IM reeeeally tempted to captain Benteke this week.

Need to update your team link mate

I do! ya guna join our league nxt season?

captain options are: hazard/mata/suarez/benteke

my transfer is prob guna be giroud to JRod/Lambert/Dzeko or Rooney

He's a great option, I think. Though 0 attempts on goal last week is a bit worrying.

I didn't know that stat... glad of the assist!

not convinced with curent form

His form is 4th best behind Sturridge, Suarez and Dzeko on fpl.

3 goals, 2 assists and 3 bonus in last 5 games...

For us SaS owners, is it better to "spread the risk" by captaining someone else than Suarez this gw? If Pool blanks 2/3 attackers including captain fail.

Does it make more sense to captain someone else than Suarez if you own Sturrdige as well?

@LA ROJA

Do you reckon Peperoni will keep his place or Hennessey could challenge very soon?

Save my FT is the plan, agree? Not 100% set on captain choice btw.

Boruc
Chambers Ward Azpi
AJ Mata Yaya (c) Hazard (vc)
Studge Ade Suarez

Mert, Noone, Bruce.

Very similar to mine and I am quite happy with this lot. Since Chambers was doubtful, I did Koscielny to Cahill and I will double up on Chelsea for the time being. As for your captain, I would go Hazard instead, simply for the home factor (and Chelsea's form, too).

Sounds good! Planned to do the same, but I want Lallana in for AJ next round but with 3 Soton (Chambers + Boruc/Davis) I need to save a transfer to replace Davis with Price or any other GK at 3.9.

Sounds like a plan. Since I can definitely see your defenders getting cleanies this week, save the transfer for your next week plan, then, you're good to go!

Hi all could you rate my team

Adrian ( k Davis )

Ivan Rafael shaw ( chambers / Faye )

Oscar hazard sterling ozil ( Johnson )

RVP Suarez Giroud

Looking to get rid of oscar and get mata after that week the mans are not playing. Also want to get rid of Raphael........

....??...???.........

Dzeko (c) anyone?

City did beat Norwich 7-0 earlier this season so they'll be scared..

What's your other options?

Could work. Dzeko seems to be the most nailed-on City striker and they need to bounce back from the Chelsea defeat. If you feel like taking a little risk, go for it -- otherwise just captain Suarez.

Im 1 point behind my league leader so gonna take a bit of a risk and go for it. Dzeko could explode and score 5 😉

Sounds good, mate. Provided Arsenal do keep Liverpool quiet, captaining someone else other than Suarez/Sturridge could be a massive differential.

I do that over Suarez this week, could be a nice earner in your mini league...as everyone will probably be (c) Suarez as per usual..........

HE WHO DARES RODNEY.....HE WHO DARES!!!

Rate in order of preference for captain
Suarez,Hazard,Mata.Silva

Hazard, Suarez, Mata, Silva

Had a nightmare this night. Dreamed that I had three West Ham defenders starting for my team even though they were playing Arsenal that week. Spent the entire dream kicking myself for having done that. I wouldn't wish that feeling on my worst enemy.

Did the arsenal score a hat full then?

We won 4-0 and the cherry on top of that was Kim Kallstrom getting amongst the goal scorers.

It's a bold strategy!
I had a dream City beat Norwich 4-1, with Dzeko bagging a brace. Ruel Fox scored a consolation goal for Norwich, so I'm not too sure how much to read into that!

A) Studgeface out for Roonpiggers

OR

B) Cathorla out for Mata

OR

C) Save tranny and go without any Utd players

That grav 😆

B or save imo.

For a freebie? B, then. Bear in mind that Santi scored at the Anfield last season, though.

Suffering the same agony... going without Utd coverage

I'd save - it's tempting to get ManU for the Fulham game but next 4 after that:

Away, away, blank, away.

New Post

Any news on Evans? Assuming he is out, would you opt for

a) Shaw
b) Azpi
c) Kolarov

Already have Kos, Terry and Ward

Cheers

Shaw or Ivan if you got the money

guys ...pls help me

mannonne
terry jagielka ward evra
silva lallana YYT
giroud sturridge RVP(C)

bench: boruc bacuna mccartney colback

i have 0 in the bank.....i want RVP to stay ....but eriksen < colback and mirallas < bacuna
i m ready to break up my defence except for terry,ward,and mannonne,.....i am also planning to bring in Kolarov for Evra.....pls HELP !!!!!!!!
Scout Picks
Gameweek 25
Janmaat

Williams

Alderweireld
Wijnaldum

André Ayew

Dele Alli

Roberto Firmino

Sánchez
From the Community…
Comments
Hot Topics
Articles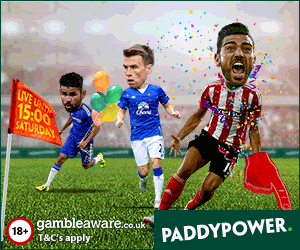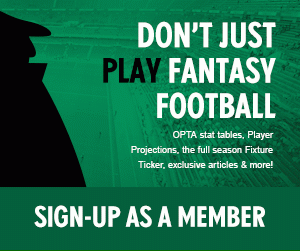 The Watchlist
Goalkeepers
Player
Club
Factors

Up

Forster
SOT

A

,

Vs

Down

Butland
STO

C

,

Vs

Up

Schmeichel
LEI

A

,

Vs

Up

Courtois
CHE

B

,

Vs

No Change

Boruc
BOU

B

,

Vs

Up

Hennessey
CPL

C

,

£

No Change

Cech
ARS

A

,

VsX

Up

Fabianski
SWA

B

No Change

De Gea
MUN

B

No Change

Adrián
WHM

B
Defenders
Player
Club
Factors

Up

Fuchs
LEI

A

,

Vs

,

£

Up

van Dijk
SOT

A

,

Vs

Up

Daniels
BOU

A

,

Vs

,

£

Up

Dann
CPL

A

No Change

Ivanovic
CHE

B

,

Vs

No Change

Alderweireld
TOT

B

No Change

Bellerín
ARS

B

,

VsX

Up

Johnson
STO

C

,

Vs

No Change

Cresswell
WHM

B

Up

Van Aanholt
SUN

A

No Change

Williams
SWA

B

,

£

Up

Smalling
MUN

C

Up

Coleman
EVE

B

,

Vs

Down

Dawson
WBA

C

Down

Moreno
LIV

C

,

Vs

Down

Kolarov
MCI

B

,

Rest

,

Inj
Midfielders
Player
Club
Factors

Up

Mahrez
LEI

A

,

Vs

No Change

Payet
WHM

B

,

Vs

No Change

Dele Alli
TOT

A

,

Inj

Up

Arnautovic
STO

C

,

Vs

,

Inj

No Change

Ozil
ARS

C

,

VsX

Up

Eriksen
TOT

A

Up

Antonio
WHM

A

,

Vs

,

Rest

,

£

Up

Sigurdsson
SWA

A

,

OoP

Down

Barkley
EVE

B

,

Vs

Down

Roberto Firmino
LIV

A

,

VsX

,

OoP

Down

Sánchez
ARS

C

,

VsX

Up

Lingard
MUN

B

,

Rest

,

£

Up

Khazri
SUN

B

Up

Oscar
CHE

B

,

Vs

No Change

Wijnaldum
NEW

B
Forwards
Player
Club
Factors

Up

Vardy
LEI

B

,

Vs

No Change

Kane
TOT

A

Down

Aguero
MCI

A

Up

Diego Costa
CHE

A

,

Vs

,

Inj

Up

Rooney
MUN

A

Down

Ighalo
WAT

C

,

VsX

Down

Lukaku
EVE

C

Up

Afobe
BOU

A

,

Vs

No Change

Giroud
ARS

B

,

VsX

,

Rest

No Change

Defoe
SUN

A
Selection Factors
| | |
| --- | --- |
| A, B, C | Current Form |
| Vs | Favourable Fixtures |
| VsX | Unfavourable Fixtures |
| Rest | Rotation Risk |
| Inj | Injured/Returning from Injury |
| OoP | Out of Position |
| £ | Potential Bargain |
| Sus | Suspended/Near Suspension |
| Player | Team | YC |
| --- | --- | --- |
| Colback | NEW | 9 |
| Byram | WHM | 9 |
| Lucas | LIV | 8 |
| Jones | SUN | 8 |
| Yacob | WBA | 8 |
| Westwood | AVL | 7 |
| Diego Costa | CHE | 7 |
| Huth | LEI | 7 |
| Can | LIV | 7 |
| Mangala | MCI | 7 |
| Shelvey | NEW | 7 |
| Pieters | STO | 7 |
| Dele Alli | TOT | 7 |
| Dier | TOT | 7 |
| Noble | WHM | 7 |
"All players will blank a few times during the season. When almost all do it in the same Gameweek, it is tough to take, but that's just the dark side of probability."

Abreu 42 Community regular