Our series of pre-season Great Expectations articles, focusing on those players we reckon will make a difference next time around, gets underway with Stoke's enigmatic playmaker:
After his career at Werder Bremen had come to a standstill, a summer move to Stoke offered Marko Arnautovic the chance to start afresh. In his first year at the helm, Mark Hughes trusted the former Inter player to supply the creativity as he looked to bring about a change in playing style after years of direct football under Tony Pulis.
Initially, Stoke struggled to adapt – eight Gameweeks into the season, they'd scored four goals and won twice. Arnautovic also toiled in spite of a security of starts and by the turn of the year, the big Austrian had produced just one goal and a couple of assists and had dropped from 5.5 to 5.1 in price.
As the Staffordshire outfit started to click, Arnautovic became more pivotal to their attacks and, stepping up in consistency over the last few months, ended the campaign with four goals, 10 assists and eight bonus points – second top scoring Stoke player in the FPL game, with 116 points to his name. Last month Hughes was quick to acknowledge the Austrian's series of displays which reportedly have Spurs and Newcastle, in addition to Liverpool eyeing up his services:
"He's come into an environment that appreciates him, appreciates what he can do for the team, and his personality is different and players enjoy being around him. It's not easy to come in and have an impact, certainly as a creative player. It's easier for defensive-minded players. When you are a creative player the onus is on you to win games and that's more difficult. But once he's got to grips with it, the second half of the season has been good for the team and good for him."
Key Factors
Arnautovic's end of season form certainly gave us hope that he'd finally become a reliable Fantasy prospect. Delivering returns in six of the final nine Gameweeks, he served up three goals, five assists and seven bonus points in a run which saw him play a part in eight of his side's 16 goals – furthermore, he produced more shots (31) than any midfielder in the league over the final nine Gameweeks and was second for efforts on target (10). Stoke won six and drew one of those fixtures on their way to a ninth placed finish and the results show how Hughes' side flourished after they became more accustomed to his change in style and could be worth considering if they continue that momentum into the new campaign.
Mainly stationed on the left of a 4-2-3-1, Arnautovic's versatility offers Hughes alternatives in any of the attacking positions. The recent return of Oussama Assaidi saw Hughes trial a 4-3-3 with the Austrian shifted to the right, though at six foot three, he's also capable of playing through the centre if Hughes is looking for a target man alternative to Peter Crouch. At a time when Jon Walters and Charlie Adam have fallen out of favour and reduced our Stoke midfield options, added to the fact that Peter Odemwingie is classified as a forward, Arnautovic is staking a claim as the best route into Hughes' ever-improving side.
In spite of his impressive finish to the season, a price hike across the Fantasy games is debatable. Arnautovic's 116 point over 30 appearances, with just four goals to his name, is the type of performance which may creep under the radar when the Player Price List is rolled out later in the summer – there'd be no surprise if he even stayed at 5.5 in FPL, with 6.0 likely to be the ceiling. Given that he ended the season with less than 1% ownership, his impressive showings over the last couple of months failed to catch many managers' eyes, though, and hints that the Austrian could enter the new campaign as a differential.
The recent omission of Walters and Adam from the Stoke starting XI has elevated Arnautovic in the spot-kick pecking order. With both of the former two on the bench when Hughes' side were last awarded a penalty – at Cardiff in Gameweek 35 – the Austrian stepped up to convert and, bearing in mind the likes of Crouch and Odemwingie were on the pitch, it seems he would go into the new season as the Potters' first-choice taker.
Will Coleman cost more than Baines next season?

doubt it. 7.5 baines and 7 coleman for me, though hopefully he is a gunner then 😛

No chance.
Same minutes = only 1 winner.

Prob be about same, but agree with Beavis, 7.0 & 7.5 respectively, poss Coleman 6.5!

i am thinking of drafting in gayle next year, surely palace's best striker?

What price do you think he will be?

I'd say 6 as late season form is normally remembered by FPL.

yeah that's true. i think so. i was thinking of playing, 3-5-2 with him as third striker as when he plays he a brilliant finisher, he was out for like 9 months come back in an under 21 game and scored 5 goals if i remember rightly... it would be a risk, but i will monitor him for sure.

yes their is this, he isnt exactly nailed on, and 2 games do not make you a world beater, i just think he should be monitored.

he's definitely got talent, palace fans love him & he's barely played & i'm sure playing under another manager he'd do well but we all know pulis likes to play the chamakh/crouch type players, he only tend to use smaller/faster forwards as impact subs.

what does he know, its not like he won manager of the season..... 😉

haha well maybe its best to truly monitor him if he gets a transfer?

good points though getfunky appreciate it mate.

you never tho, chamakh's out of contract so that leaves murray & jerome thomas, he might get more game time if they dont re-sign chamakh or another target man

poor old chamakh, i still remember his first 6 months as a gunner. he really isnt that bad when he has confidence.

How on Earth does Sepp Blatter have a job. When will football finally see the end of him.

when corruption and bribery no long exist i expect.

Did FPL towers release some prices in drips and drabs last season like previously?

*scratches head

😯 You haven't had enough of this season?

Well, what else must I do? Everybody seems to know everything about the summer WC community tournie.

Except me.

😕

McDonalds? It hasn't launched yet. You know all about it sherly 😉

I believe they did, but more closer to start of season......

So delving into last season stats as a whole, Adrian looks the outstanding keeper pick. West Ham near the bottom for shots conceeded, yet not far off the top for clean sheets, equalling Southampton and Everton with 15

will the ufpl and fpl reside as separate entities or will they incorporate the rules of ufpl into fpl, or dont we know. i personally think they will be separate

okay, cheers guys, just seems silly having one set of rules for one game and one set for another but i guess what epicfail says makes sense.

did you guys play/enjoy the beta, is it worth playing for real?

I thought it was really good, but there are contrasting opinions on it. I'll definitely be playing next season. And its nowhere near time consuming as people think. In fact it takes up less time than FPL. Only problem is you have to be around at specific times for the line-ups in order to maximise your chances.

Yeah I really enjoyed it and finished within the top 50 of it. The only time-consuming part is the initial squad, after that it's relatively simple...

okay cheers guys, i think i will play it, i like the fact you get some lineups early and the deadline is flexible, i also like the rules. cheers lads appreciate the feedback. let me be the first to wish you all good luck next year.

I enjoyed it. Just got to remember to make changes Saturday night / Sunday morning - forgot once and it cost me decent points.

You can also take some more risks. If you've got an in-form player playing on the Sunday, then you can captain someone you wouldn't normally throw the armband on for Saturday.

like a kolarov, if city play saturday and pool play sunday? 😛
i think the consensus is most people enjoyed it.

Fwiw - I thoroughly enjoyed UFPL , OR 352 ,
Granted it's not perfect and needs tweeting but 8.5/10 for me Whitman.

8.5 is a decent score hvt. I think on that score, i will 100% give it a go, cheers hvt, much appreciated.

oh and awesome OR :). well played.

I hit 400+ OR but I was amazed how many of my team were walking wounded at the end - maybe 6 players were dead or MIA. With no transfers and only short term loans its going to be really interesting seeing how we manage that dynamic over the course of a season unless they have a wildcard.

With reports Bacary Sagna could be heading to Manchester City on a free transfer, former Arsenal striker Alan Smith has been telling Sky Sports News Radio it's Arsene Wenger's fault and he's too involved in financial dealings at the Emirates

sky sports news...

great. we better sign a player to replace him and not rely on jenk

Do you reckon this year's beta UFPL OR will be stored in our game history?

I highly doubt I will get anywhere near as high ever again.

*sends dirty text message to Epicfail's missus

You look sexy in those panties.

😳

I never played UFPL this season. Do you recommend it?

Not if you are the type of person that takes a player on loan for 4 weeks, at a cost of -20pts and then forget to bring the player in on your bench, instead of leaving him to rot with the reserves.

😥

no idea, but you have it in your memory bank 😀

Price predictions for Bony, Michu and Shelvey?

Swansea's attacking form really improved under Monk, eyeing up Michu for gw1

Ivan rakitic 10 goals and 12 assits for sevilla. If he joins epl wil he be the next michu or the next aspas ??

yeap he has talent which club do you think will be interested in him. Spurs,swansea??

Real Madrid.

...who, however, do not play in PL.

United and Pool could do with him

he's not a michu, he is more of a playmaker, but if you mean will he be top or will he be flop: he will be top.

now that chamakh is mentioned, I just wanna give my view on him at arsenal...he was quite good in his first 6 months at the club, however because he who shall not be named was always on the treatment table back in the day and lord bendtner on loan at sunderland, he played every minute in that time period and got burned out, barely playing again the rest of the season...then robin van pursestrings came back, and chamakh knew that robin van punk was a much better player than him, and so lost a lot of confidence and gave up on regaining his place in the xi...and then he just kept going downhill from there

far out wenger why cant you get us some good striker depth and stop playing our important players every minute until they get injured eg. wilshere, ramessi, ozil

agree with this 100%, but i cant believe arsenal signed voldermort?

😆

that's the level of hate I have for him 😀

hope he re joins Bordeaux, it might give him the confidence he needs, the fans there love him. and what if arsenal went back in for him ;)?

oh god no!

year he should go back to france, will be on the bench for Cpl next season I envisage

i too would be sceptical, but imagine if eh fired us to the pl title, i am sure you and i and the rest would forgive him. no?

yeah, but I cant see him coming back with lvg at united...anyway he is 31 now, his best years were his last with us and first with united

I wonder what is there to forgive for. He gave good service until he got dead tired and was forgotten somewhere in the end of the bench.

Me too. when Gervinho found his scoring shoes at Roma - and seriously, only thing that was wrong with Gervinho at Arsenal was that when it was the chance to score he did something else and never scored, which has nothing to do with the level of the opponents - he said that, as we all know, scoring is a lot about confidence, but you need to feel that the manager has that confidence to you, and with Wenger that wasn't the case, he didn't have manager's confidence and thus just lost his own as well. Or so he explained it. Back with Garcia and things started to roll again.

yes, if you are playing well, wenger is ideal, but if you lose confidence, he isnt the arm around the shoulder manager that these types of players crave.

Yeah. some players need less of that, some more. Mourinho seems to be very much specialized to this kind of player managing. He always knows what to do. Criticizes and cherishes, gives them his caring love and demands a lot from them on the field. Most players end up doing their best with him. Of course, there are exceptions, mostly players who can't take critique. Can only think of Cristiano Ronaldo, but maybe there are others.

Mods deleted my First post , do I lose or gain more points because of this ?
- who has the spreadsheet ?

You gained 12 points, but you lost them for boasting about it

Howdy fellas; hope you're all enjoying the football hiatus!

Looking for a site that will give info on likely starting lineups for World Cup teams as I'm in an Auction League and first lot starts today.

Anyone know the best site for info?

How can it start today?! Final squads are not even released yet for many countries

I don't know if there is one this early. But there are a few twitter accounts that give "likely" teams for their countries. Not sure if there's a general one for all teams yet

Also the team preview articles on here offer some insight. Should be a few more coming through for the remaining sides

Something along these lines
"We're shite, but when we get ko'd, we're gonna blame United for distracting LVG" 😛

What ever you do, don't buy Benteke.

belgium:
if 4-3-3
witsel, dembele, chadli; de bruyne, lukaku, hazard
if 4231
witsel, dembele/fellaini; mirallas/chadli, de bruyne, hazard; lukaku/mirallas

defence and keeper pretty much picks itself.

more i read about/hear about de bruyne more i think he could be central, he was named with the 6 midfielders, and when discussing januzaj the manager complimented how good he was on the right against hull and then mentioned how de bruyne had done very well centrally at wolfsburg lately

A post about the article for a change...

Arnautovic may be one of those tricky 'inbetween' players at the start of next season. At 5.5 or 6.0 he is too expensive to be rotated with another cheap midfielder but is he reliable enough to play every game?

this article is very good, its what got me thinking along the lines, of jenkinson gayle etc..

i think a player on pens. oop and playing regularly should be seriously considered.

one of those guys you would get in for a good run of fixtures

I think I will be looking at one (possibly two max but more than likely one) big hitter in midfield with an inbetween mid priced and expensive say around 8-9m and two mid priced say 5.5-7.5 with one budget mid that plays if possible so he will be high on my watchlist.

I had a lot of success when I went away from the Yaya's, Hazards, Silva's etc after christmas this season and concentrated the cash on the strikers and the defense so will likely try that strategy again next season.

@ramessi and others should we run through the gw39 rules?

you can have 3 players from hull, arsenal, barca and atl and a captain?

or what do you think?

im confused...is this like a mini-game you are creating and we just put our teams on this post?

Arnie

If priced reasonably with nice fixtures I could be interested.

NEW ARTICLE POSTED

Looking for classical music similar to carmina burana o fortuna. Any ideas?
Scout Picks
Gameweek 25
Janmaat

Williams

Alderweireld
Wijnaldum

André Ayew

Dele Alli

Roberto Firmino

Sánchez
From the Community…
Comments
Hot Topics
Articles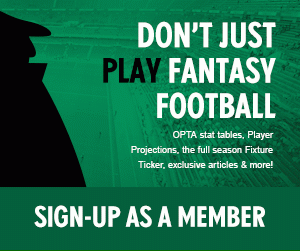 The Watchlist
Goalkeepers
Player
Club
Factors

Up

Hennessey
CPL

C

,

Vs

,

£

Down

Butland
STO

C

,

Vs

Up

Schmeichel
LEI

A

Up

Forster
SOT

A

Up

Courtois
CHE

B

,

Vs

Up

Fabianski
SWA

A

No Change

Boruc
BOU

B

No Change

De Gea
MUN

B

No Change

Cech
ARS

B

,

VsX

Up

Foster
WBA

C

,

VsX
Defenders
Player
Club
Factors

Up

Ivanovic
CHE

A

,

Vs

Up

van Dijk
SOT

A

Down

Baines
EVE

B

,

Vs

Up

Dann
CPL

C

,

Vs

Up

Cresswell
WHM

B

,

Vs

Up

Williams
SWA

A

No Change

Dawson
WBA

C

Down

Alderweireld
TOT

B

No Change

Daniels
BOU

A

,

£

No Change

Fuchs
LEI

A

No Change

Van Aanholt
SUN

A

,

VsX

Down

Bellerín
ARS

C

,

VsX

Down

Smalling
MUN

C

Down

Moreno
LIV

C

,

Vs

Down

Johnson
STO

B

Down

Kolarov
MCI

B

,

Rest

,

Inj
Midfielders
Player
Club
Factors

No Change

Payet
WHM

B

,

Vs

Up

Roberto Firmino
LIV

A

,

Vs

,

OoP

Up

Dele Alli
TOT

A

,

Inj

Up

Barkley
EVE

C

,

Vs

Up

André Ayew
SWA

A

,

OoP

Up

Eriksen
TOT

A

Down

Ozil
ARS

C

,

VsX

No Change

Mahrez
LEI

C

,

VsX

Up

Sánchez
ARS

C

,

VsX

,

Inj

Up

Antonio
WHM

A

,

Vs

,

Rest

,

£

No Change

Willian
CHE

B

,

Vs

,

Inj

No Change

Wijnaldum
NEW

B

Down

Arnautovic
STO

C

,

Vs

,

Inj

Up

Silva
MCI

C

No Change

Johnson
SUN

B

,

VsX
Forwards
Player
Club
Factors

No Change

Aguero
MCI

A

No Change

Kane
TOT

B

Up

Vardy
LEI

C

Up

Diego Costa
CHE

A

,

Vs

,

Inj

No Change

Ighalo
WAT

C

,

VsX

Up

Rooney
MUN

A

Down

Lukaku
EVE

C

,

Vs

No Change

Giroud
ARS

B

,

VsX

,

Rest

Up

Afobe
BOU

A

,

£

Down

Austin
SOT

B

,

Inj
Selection Factors
| | |
| --- | --- |
| A, B, C | Current Form |
| Vs | Favourable Fixtures |
| VsX | Unfavourable Fixtures |
| Rest | Rotation Risk |
| Inj | Injured/Returning from Injury |
| OoP | Out of Position |
| £ | Potential Bargain |
| Sus | Suspended/Near Suspension |
| Player | Team | YC |
| --- | --- | --- |
| Colback | NEW | 9 |
| Byram | WHM | 9 |
| Lucas | LIV | 8 |
| Jones | SUN | 8 |
| Yacob | WBA | 8 |
| Westwood | AVL | 7 |
| Diego Costa | CHE | 7 |
| Huth | LEI | 7 |
| Can | LIV | 7 |
| Mangala | MCI | 7 |
| Shelvey | NEW | 7 |
| Pieters | STO | 7 |
| Dele Alli | TOT | 7 |
| Dier | TOT | 7 |
| Noble | WHM | 7 |
"All players will blank a few times during the season. When almost all do it in the same Gameweek, it is tough to take, but that's just the dark side of probability."

Abreu 42 Community regular